Let's face it. Until recently, vegan travel could be a bleak experience. Poking around looking for the ONE veggie restaurant in the city where, frankly, a falafel wrap was the best you could hope for. Well, plant-based people, the tide has certainly changed. So much so that, in Barcelona, you're knee-deep in tofu scrambles from the moment you arrive. Vegan Barcelona is a plant-based foodie's nirvana.
That said, keen-eyed vegans will spot the odd flexi, veggie or even omni label here and there on our list. And, yes, we could have just recommended 100% vegan restaurants in Barcelona. But vegans rarely travel in a flock. And, there's something else worth mentioning. Blu Bar (more on them later) went 100% vegan in 2019. Now, that may have little to do with the sheer number of vegan pizzas we ordered – but we're always here for restaurants that welcome us with open arms.
Brunch
7am is not an hour best suited to a vegan full English. Come 11am though, and all bets are off. We've pottered around iconic sights, schlepped along gorgeous, and no doubt cobbled, streets and it's time to dine. Depending on your approach to holiday eating, you'll either still cram in three square meals or calorie load to tide you over 'til dinner. Happily, vegans in Barcelona can do as they please…
With so many vegan restaurants in Barcelona, it might seem crazy to suggest a vegan bakery. But look, we've all got a lot on. Places to go, Sagrada Família's to see. So trot along to La Besnéta and grab some vegan baked goods to go. Because, when did you last swagger into a bakery and take your pick of the entire tasty, sugary, patisserie-based lot? A rare treat indeed. Throw in their locally-sourced, healthy-eating philosophy and, well, someone needs to tell the pastry chef to expect a marriage proposal.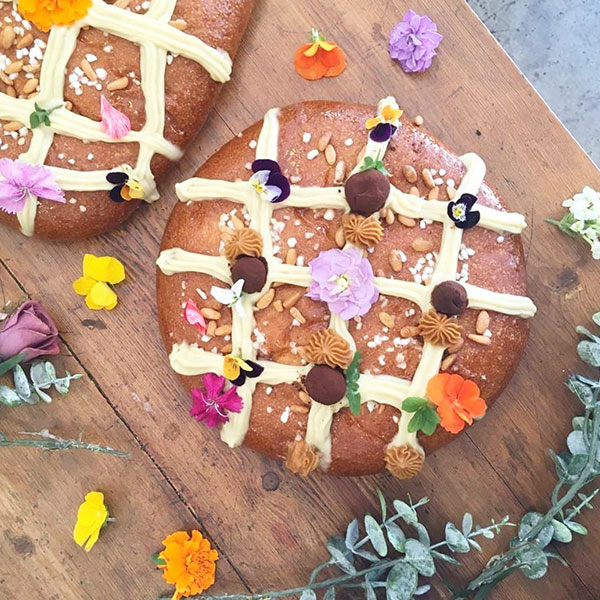 All. Day. Brunch. Are there three finer words vegans in Barcelona can hear? Well, actually Cactus Cat Bar have found some. Triple. Cheese. Toastie. There's little point continuing this overview, as you'll already be Barcelona-bound, determined to live on nothing but grilled sandwiches until your money runs out. But while you're there, the all-day breakfast, vegan donuts and chocolate muffins will make a nice change from all that cheese. There's no better, calorie-laden way to start the day.
This cafe is small and popular. So small that the dessert menu is an elusive creature – rarely spotted in the wild. Breakfast options run from wholesome porridge and super food bowls to a full English – complete with vegan bacon. We mostly drop by for the pancakes. Or the full English. Or both. By all means try a green detox juice, but it's worth mentioning that they put peanut butter in their chocolate and avo smoothies. At Eqvilibrium, it seems gods really do walk among us.
Not every dish on the menu here is vegan. But those that are? Delicious. The decor's serving 'gram ready realness and the food definitely doesn't fall short. At breakfast, you'll be whipping your phone out to snap your smoothie bowl. Inspired by global travel – hence the quirky name, your bowl could see some dragon fruit or Brazilian acai tempting those taste buds. The banana bread and vegan cookies make this menu a winner. And just wait until you see how they serve a matcha latte.
Lunch
How do you like your lunches? Lengthy, wholesome affairs with enough micronutrients to keep your gut biome good until Christmas or junk food feasts that leave you slightly distended? We've got both covered – and something a little more moderate. We've covered the one vegan travel essential a mid-afternoon vegan ice cream.
If you find yourself at Barcelona's nudist beach around lunchtime, pop some clothes on and skip straight here. You'll not miss the beach, the surf theme keeps you feeling suitably zen. The best part? The menu offers the kind of choice vegans dream of. You've got your plant-based staples. Hello hummus and buddha bowls. Then you'll spot a cheeky mention of the Beyond Meat sausage. And then things start to get really tasty, with Blu's pizzas and calzones. They do use meat substitutes, but they also rustle up their own vegan ricotta. Absolute. Legends.
Orbzii tip:
Despite being a bar, Blu has a surprisingly good soft drinks list. We'll have a 'sweet vampire', if you're ordering.
Before you flee from the very nutritious restaurant name, we promise this one's worth it. This is the sort of gaff where the in-house R&D team workshop their way to proteins so tasty, they named it the OMG! Plant-Based Burger. If that all sounds a bit technical, you're starting to get a feel of the place. Precise, and gourmet, your macro-nutrients will be suitably replenished. And can you really ask anything more than that at lunch? If your answer's 'yes, what about dessert?', you're our kind of people. And Flax & Kale's – because all the post-kale treats are vegan.
Orbzii tip:
If you love Flax & Kale, the founder Teresa Carles has different outlets all over Barcelona. More on those later, but for now, do allow time to peruse the very extensive drinks menu. Indecisive types may need to book a few extra days in Barcelona.
Firstly, let's dish the dirt on this gelato's deal with dairy. There are two branches (in the same street), you'll want the one labelled 'Vegana'. Here all of the artisan creations are vegan. But, the pesky little frozen goods peddlers still pop a bit of dairy in their hot drinks. Definitely ruling them out for a best coffee in Barcelona mention. But before we get the placards out, let's focus on those artisan flavours. There's always over a dozen on the menu. Regular hits – we're looking at you chocolate and coffee, sit alongside some contenders to the throne. Chilly chocolate or matcha anyone?
Dinner
You're in Spain, which means you must abide by the unwritten rule that states tapas is more or less compulsory. The slight catch is, the Spanish do love their ham. But, vegans are nothing if not inventive in the face of adversity. So of course, we've snuffled out a vegan tapas option in Barcelona for you – but dinner doesn't begin and end on those small plates…
For 30 years, Teresa Carles has been championing vegetarian eating. But where does that leave us vegans? It leaves us sitting pretty with a dinner menu where, among twelve mains, eight are plant-based. This is fine dining, with dishes created by a woman who certainly knows how to season her vegetables. Veggie options will keep any omni or flexi companions happy, especially if they are still convinced life just isn't acceptable without cheese. No matter, you might even tempt them to sample the vegan starters. We can't stop talking about the vegan croquettes and eggplant rolls.
Orbzii tip:
Teresa's name is a good one to watch out for as you explore around the city. As well as her main restaurant, she's got a few Flax & Kale branches, a grab-n-go outlet and the new 'stairway to health' – which is basically an odd way of describing her healthy juice bar and take out joint.
Vegan. Sushi. Booked your table yet? Thought so. To be honest, we didn't expect an Asian/Japanese fusion restaurant to be among the best vegan food options in Barcelona, and yet, here we are. Don't be disheartened by the minimal, simplistic aesthetic. The white walls keep your eyes firmly on the beautifully presented sushi. If it hangs around long enough. We're all about the sushi platter – but the mains are stellar too. We just can't say no to just one more plate of avo makis though, no matter how hard we try.
If you're in the market for a very Spanish evening – complete with paella, Sangria and tapas, we'll always point you towards Bar Celoneta. The 100% vegan menu means you won't be prodding at your 'shrimp' fearing the worst. Yes, there are fake meats here – including some very convincing faux seafood in the paella, but otherwise, dishes stay true to Catalan cooking. If you're looking for a Spanish thirst-quencher, without the booze, there's even a couple of alcohol-free Sangrias to sample. A smidge pricey? Maybe, but you'll not find another vegan joint like it in Barcelona.
Thinking a quick weekend in Barcelona is looking far too short? Pop our app in your phone and you can Dream, Plan and Book your way to the ultimate vegan Barcelona break.