One of the biggest draws to Athens is, without a doubt, the food. From traditional Greek fare in tavernas that play invigorating bouzouki music to top-quality international cuisine where you can choose from the likes of Ethiopian Shiro to Pad Thai, you will be spoilt for choice when it comes to Athens' expansive culinary scene. 
Sure you can eat your way around plates of feta, moussaka and tzatziki, but there's so much more to dining out in Athens. As you might expect from the Greek capital, you can indulge in everything from souvlaki kebabs to haute cuisine gastronomic opulence.  
Whether you want to eat where the locals dine out, snuff out the best seafood spots or explore a new breed of culinary alchemy, we've got you covered. 
At Orbzii, we've done the research for you, on where to enjoy the best restaurants in Athens for breakfast, lunch, and dinner. 
Breakfast
Carb swervers look away now. If it is your wish to breakfast like an Athenian, then you can fully expect to load up on the the likes of traditional Greek breakfast fare like koulouri bread rings, delicate bougatsa (which are puff pastry creamy treats) and of course the obligatory tyropita – a traditional Greek cheese pie.  
Whatever your breakfast choice, you can be sure that your breakfast experience will be a long-lasting one, and will remain one of your culinary highlights whilst in Athens. Make sure that you set yourself up for the day with some of the best restaurants in Athens for breakfast.
Oi Pites tis Sofias
Did we mention you can't beat a great pie? Call off the search as we found one of the best pies in the city at Oi Pites tis Sofias. This little cafe can be found in the pretty seafront neighbourhood of Palaio Faliro, but Athenians come from far and wide to try the 'crispiest pie crust in town'. Though they cater for lovers of both savoury and sweet ingredients, their delicious chocolate pie is a must-try for anyone. The menu pays homage to traditional Greek authentic pie recipes but fuses it with a modern twist. Make sure you don't 'pie off' Oi Pites tis Sofias and add this eatery into your 'best restaurants in Athens' list.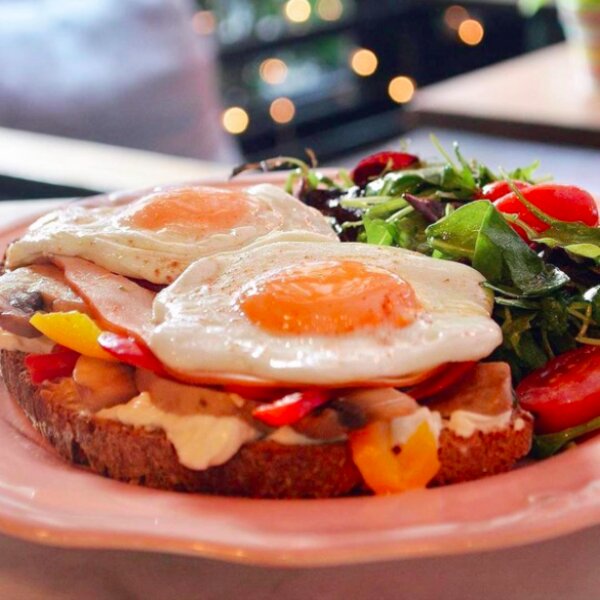 Kyrios Who
Serving some of the best coffee in Athens, Kyrios Who offers pancakes, homemade lemonade and more in a beautiful courtyard setting behind a neoclassical building in Petralona. This uber cool brunch spot is ideal for a leisurely breakfast or brunch on weekends where you can mix with the young Athenian crowd and try some of the tasty dishes on the menu. We love french toast, eggs benedict and croque madames. If you choose to linger until lunchtime, why not try one of the cocktails? If colourful beverages are your thing, then you must indulge in the 'Deep Purple' which is made from a Greek herb called mastiha.
Lunch
Make sure you get on the inside track on the best restaurants in Athens. Carve out some time for lunch to take advantage of some of the best lunch spots in the city and beyond. Whether you want a quiet lunch in a snug corner of the city or a bustling restaurant that overlooks the famed Acropolis, Athens has everything a foodie could want (including Michelin-starred experiences!) 
Therapeftirio
You know it's going to be good if the locals gravitate towards it. Deemed as one of the best restaurants in Athens, you can understand why the Athenians venture far and wide to this traditional taverna in the picturesque neighbourhood of Petralona.  
However, it's not just for the food. The swift service, ample portion sizes and the friendly and buzzing atmosphere are also part of the reason why locals flock here to Therapeftirio lunchtime, and it's fast becoming a foodie destination for tourists too. 
You won't find complicated culinary alchemy here, but perfectly grilled seafood which includes the catch of the day, sardines, lentil salad and more.
Dinner
When it comes to finding the best restaurants in Athens, we are confident that our picks will change your thoughts on Greek food forever. You have some strong fine dining options which offer menus shaped by high quality local ingredients from a variety of cultures. You can also find  reinvented Greek classics, farm-to-table offerings, avante garde experimental dishes and more in charming street-side cafes, rooftop terraces, swanky bistros and hipster hangouts. 
Fita
Centred around seafood, Fita in Neos Kosmos serves traditional Greek fare with a creative modern twist.  Meticulously executed, choose from tasty taramasalata, succulent seafood such as grilled sardines and eel or pumpkin soup, amongst others. It is one of the best value for money restaurants in Athens and offers great service and a buzzing atmosphere. 
Ama Lachei
Located in the quirky bohemian neighbourhood of Exarchia sits Ama Lachei – a modern Greek restaurant that has been converted from a school. Sit outside on the leafy patio under the shade of vines and enjoy a carafe of wine or two! If you love meze, you are in for a treat – expect a myriad of small places of refreshing salads with fresh ingredients like apple, cheeses, gigs, honey and more. Call it a Mediterranean pick and mix as opposed to a traditional meze, just make sure you opt for some of the local cheeses, lamb kebabs and tiny shrimps. If you are vegan or vegetarian, there's no need to worry as there's plenty of vegetable-based mezedes too.