From eclectic eateries to sizzling steak and everything in-between. If you packed your appetite for the Windy City, you can't really go wrong. Whether you are looking for Pan-Asian powerhouses, plant-powered plates or simply the best hot dogs in downtown, our guide to the best restaurants in Chicago will have you primed for plate-side success. 
With our help, you'll find a restaurant to suit every taste, dietary requirement, and mood when hunger strikes. So, why not let us take you through where to eat for breakfast, lunch and dinner in the Windy City. From steakhouse staples to the restaurants that are pushing culinary boundaries to getting a 'pizza' the action – deep pan of course! 
Take a bite into the foodie scene that makes the Windy City one of America's best places to eat.
Breakfast
Rise and shine with Chicago's best breakfast joints. Whether you are an early riser, eager to start your day in the Windy City or if you prefer a leisurely brunch in a hop hangout, we have your breakfast offering SORTED.  
Bang Bang Pie & Biscuits
Doing EXACTLY what is says on the tin – legendary cafe Bang Bang Pie & Biscuits in Logan Square is a Chicago institution. From their custom-roasted coffee to its matcha cheesecake, it's impossible to just 'walk past'. And then there's the biscuits which includes their scratch made biscuits with candied bacon, avocado, caramelised onions, garlic dijonnaise topped off with a sunny egg. 
Have more of a sweet tooth? We dare you to try and resist the OG Biscuit. smothered with honey butter & blueberry lavender jam. Absolutely exquisite! This joint is definitely one to add to your best restaurants in Chicago list.  
Luella's Southern Kitchen
Where the deep South meets the Mid West. We can't discuss the best breakfast spots in Chicago without mentioning Luella's Southern Kitchen. It's easy to see why people regard it as one of the best restaurants in Chicago. It's cosy, comforting and oh so tasty, this is Southern fare at its very best. Luella's was named after the owner's great-grandmother who hails from the South.  
When it comes to the delicious food it certainly feels like it's a family affair. From the crisp buttermilk biscuits to the crispy fried chicken and golden waffles with a serving of gravy on top. You can also opt for another Southern favourite – Grits!  
Lunch
From budget to blowout, take out to take a few hours, lunch is a formidable affair when you are in the Windy City. Whether you prefer your lunch to go as you check out some of the best things to do in Chicago or prefer to make lunch part of your sightseeing experience, we have got all bases covered with our handy guide to the best restaurants in Chicago for lunch. 
Devil Dawgs
Ask any local what their go-to food is when running around the city – and you can expect them to utter the word 'dogs'. We will let you into a secret, the citizens of Chicago take their hot dog fare very seriously – there's no messing about here! Onions, mustard, relish – oh my! When it comes to the hottest dogs in town, you might not want to look much further than Devil Dawgs. 
Choose from six tasty varieties which includes the Coney dog with sweet Coney sauce, mustard, and onions,the eponymous Devil Dawg with sweet relish and peppers and if you have just one dog, why not make it the quintessential Chicago dog which simply teams the all-beef dogs with lip smacking mustard, onions, pickle, tomatoes and more. Devil Dawgs can be found in four different locations throughout the city including Lake View. 
Original Soul Vegetarian
If meat isn't your thing, then do not fear as Chicago has plenty of vegan and vegetarian restaurants to choose from. In fact, some of them should even be on any meat eaters 'best restaurants in Chicago' list. The good folk at Original Soul Vegetarian have been 'serving food as medicine' to plant-powered Chicagoans for over three decades. 
Specialising in offering innovative vegan and veggie cuisine, they pride themselves in making their dishes as healthy as possible as well as being 100% plant based, animal and chemical free. There are no refined sugars, flours or rice, but don't think for one minute that this means compromising on taste. This is where you will find some of the best tasting vegan and veggie food around. 
From the oh so moreish fried cauliflower to the sensational stir fry, for budget friendly vegan food, this little eatery ticks all the right boxes. 
Dinner
Where can you find the most exciting dinner spots in Chicago? From Uptown to Downtown and everywhere in-between, we are certain you will find the most varied and exciting restaurants in Chicago. Whether you are flying solo, with the family, having a crazy catch up with friends or even if it's date night, we have road tested the best restaurants in Chicago for the main event -for your eyes only. 
The Coach House
Ticking all the boxes when it comes to first-class food, a spectacular location as well as it being a completely incredible culinary experience. The Coach House in Wicker Park is the place to be if you have one blow out meal in the city. Located (as you may have guessed!) in an old coach house which is over 100 years old in Wicker Park behind its sister restaurant – the Wazwan,  this elegant restaurant offers up South Asian dishes in the shape of an eight course tasting menu where you can try chewy fara dumplings drenched in clarified beet butter amongst others. 
What makes it an incredible experience is that every dish has a story which elevates it to an even higher level. Despite its price point, dining here feels relaxed and unstuffy. You can't beat the ube jalebi soaked in saffron syrup and served with pistachio ice cream for dessert.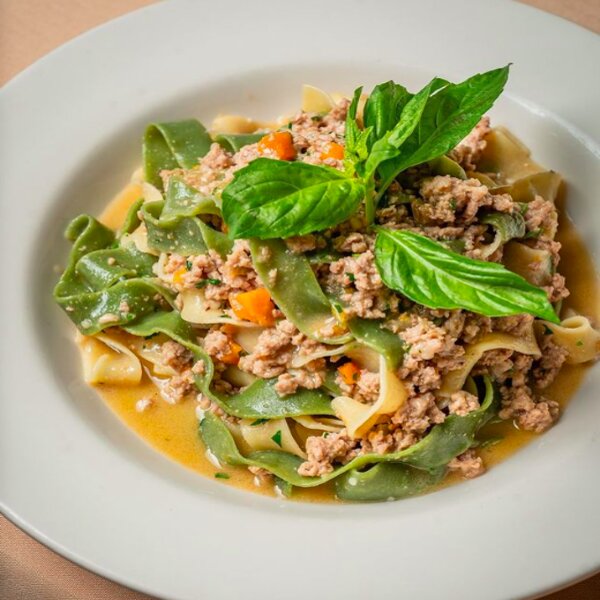 Gene & Georgetti
Can you say you have eaten out in Chicago if you haven't eaten steak? Probably if you are a vegetarian, but if you are a meat eater, then a slab of beef Chicago style has to be on your foodie bucket list. Chicago is swimming with steakhouses, but when it comes to the brown (or pink!) stuff, where are the best restaurants in Chicago?  
You have your new kids on the block, but if you are only in town for a few days, head on down to Gene & Georgetti—Chicago's oldest steakhouse for some seriously good sirloin or rib eye.   
Thay have been serving some of the best steaks in town since the early 40's and you can expect to eat some perfectly-cooked steaks as well as other delights like buttery shrimp, lobster and  tasty signature pastas. 
You will be in good company too – celebrities that have graced their tables over the years have included Gladiator star Russell Crowe, legendary singer Frank Sinatra and comedy star Will Ferrell.