How do you rate the best restaurants in Crete? Glittering coastal views, recipes that date back generations, healthy options for when your willpower just can't say no? Crete's restaurants have all that and more. And, while it's fair to say that in Crete, food is a way of life, rather than fuel to keep you on the road to your next adventure, there's a lot to be said for whiling away an hour or two over a lengthy lunch. We've brought together family tavernas, island institutions, Crete's best coffee roastery and even a hotel restaurant you'll want to pop in your Crete itinerary. Bon appetite! 
Breakfast
Monogram - Chania
Serious about your single origin cuppa – wherever you are in the world? Have a chat with the lovely bean roasting folk at Monogram. To find them? Follow your caffeine deprived synapses into Chania's Old Town, where their roastery quietly draws in everyone from globetrotting coffee lovers to locals looking to perk up their early start. This is very much a place to perch on the pavement seating with coffee and a croissant kinda place, So you'll not be settling into an all day breakfast here. But they can rustle you up a donut, perhaps a gluten free cookie or a sandwich. In all honesty, you're here for the best coffee on the island and to buy enough beans to ensure you'll be thinking about acquiring a second carry-on for the journey home. 
Crumb - Heraklion
When we say that Crumb serves up a whopping slice of global gorgeousness, we really mean it. The HUGE menu of brunch options has been whipped up by a chef and nutritionist, ensuring you can still get hold of your five-a-day, omega 3 and just about ANY health fix you need on your travels. Of course, avo toast is in the mix, but there's a slew of buddha bowls, pancakes, eggs, chicken, salmon, gyros, smoothies, juices and cakes to have a crack at too. Vegan options pepper the menu, with Cretan goodies making star appearances too. Don't let the healthy vibe fool you into thinking this is a mung bean filled ploy to get you to snack on limp buckwheat pancakes devoid of joy. Crumb caramelises and syrups their way to sugar highs without any refined nonsense.  
Orbzii tip: If you're fully onboard Crumb's guilt free fun train, nip back later for one of their healthy cocktails. The White Flower packs in Cretan honey and tsikoudia for an unforgettable taste of Crete. 
Lunch
Achinos - Rethymno
Rethymno's water-side restaurants perch precariously along the Venetian harbour and, by and large, are all worthy stops for lunch. You'll find seafood, wine and genial hospitality – and plenty of it. But there's a terrace that tops them all. Achinos takes the lunch experience to another level – and we're not just talking about their first storey terrace. For a start, the menu dares to do more than a salade niçoise and the daily catch. The seafood is celebrated and served without fanfare or faff. Expect everything grilled in a such a way that lets the dish really shine. Don't be too distracted by the delectable orzo pasta with shrimps to forget to order from the cocktail menu. It adds more than a splash of luxe to Rethymno's slightly crumbling aesthetic. The city might be a little rough around the edges, but this lunch spot makes it worthy of a place in your itinerary.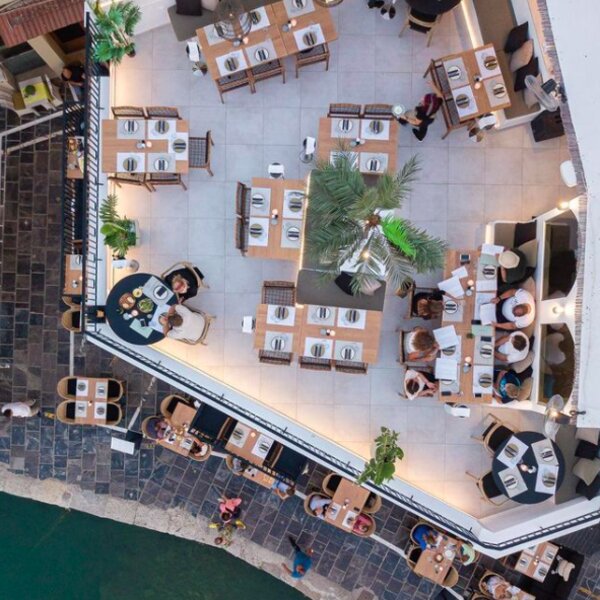 Kalliotzina - Koutsouras
When you find a restaurant with a hidden instagram and a barely functioning website, how do you feel? If a frisson of foodie excitement is simmering away nicely, read on. Kalliotzina might not be all over the socials, but they've been steadily feeding Crete food, the old-fashioned way, to the village of Koutsouras since 1954. Cretan recipes have been handed down through the generations and the beachside cafe has flourished into a rustic, shorefront taverna. To fully enjoy this one you'll want a table right on the beach under the sun-weathered palm umbrellas. There's little chance your eyes will be on the views once the stuffed courgette flowers and stifado arrive, but there's time for that later. 
Homemade Cretan food that's well worth the drive to get here. Just the kind of place you'd revel in chancing upon yourself. Think of Kalliotzina as inspo. Crete's full of these family-run tavernas for you to track down. 
Dinner
Avocado
Plant-based food hasn't quite taken Crete by storm. Yes, some of the best restaurants in Crete have menus with accidentally vegan options for those Cretans looking to lose the lactose or go veggie, but you can never be quite sure just how vegan the dishes are. So if you'd rather not wonder whether the feta's fallen in your felafel salad, book a dinner at Avocado. A lovely little nook of ethical dining within the walls of the Apollonia Hotel, it's a dinner only affair. Dishes are Cretan inspired – so there's a smattering of island produce and authentic recipes to be had. If there's one area Avocado could improve on? Dessert. Gone are the days when a vegan's only options should be fruit salad or a sorbet. Thank heavens for the vanilla cream then. 
Migomis Piano Restaurant - Agios Nikolaos
The romantic vibes are ramped right up to 11 at Migomis, all thanks to a little tinkling on the ivories just a few feet away from your table. A piano alone doesn't make this restaurant stand out though. It's the lake views, cliff teetering terrace and Mediterranean menu of somewhat traditional eats that rounds out the whole package. And, Migomis isn't new to the wining and dining wooing game. Attracting diners since 1952, this is very much the upscale dinner equivalent of Kalliotzina. The historic building you're dining in just adds another plus on the scoresheet – and perhaps a Euro or two on the bill. 
No matter, it's worth every penny for a trip back in time to a bygone era of dining so few restaurants can really replicate. If terrines, medallions and brulees feature highly on your foodie favourites, you'll adore Migomis. 
Orbzii tip: If you've landed in Crete in the off season (Nov-March), you'll miss a chance to dine at Migomis. All is not lost, the neighbouring Migomis cafe is open year–round.