For a main island you can drive around in under two hours, Grenada punches well above its weight when it comes to great dining options. There's a cornucopia of local delights made in all sorts of places, from high-end glinting-steel kitchens to a dilapidated wooden shack that's flanked by chickens and grandpas drinking rum. The importance of tourism to the island also means there's some great international options for those who want to travel the world at dinner. Of course, another beautiful thing about Grenada is just how casual many of these options are when it comes to attire – it's one of the few places in the world you'll get world class food in swimming gear and with sand between your toes. Soon, you'll be an expert at the Caribbean concept of 'liming' – sharing food, drink, and laughter – and maybe you'll even manage to bring some of that laid-back spirit back home. 
Breakfast
Le Papillion
Although currently in the process of finding a new permanent home, Le Papillion have enough fans that no matter where they rock up next there'll be a load of punters waiting for their morning meal. It did share a space with the Siesta Hotel in Grand Anse and the new location will be in the vicinity of the seaside resort, but as long as the chef and staff maintain their standards, it doesn't matter where the bricks and mortar are. 
The café has some of the best fresh juice we've ever had the pleasure of tasting, honeyed and thick yet refreshing – a perk of being on a tropical island. The baked goods are excellent, so those with a sweet tooth will have plenty to dig into, but those who want something a little more refined can get the pancakes, which come in a variety of local flavours – the banana and caramel is great, but the brown butter and lime is indescribably good, hitting all the flavour spots you'd hope for. There's also plenty for savoury lovers – their take on an Egg's Benedict, an inventive sandwich, is exceptional.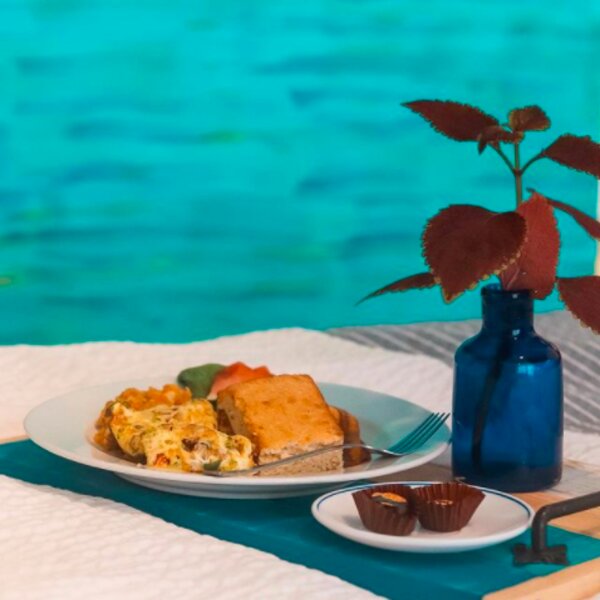 Dodgy Dock
Although this ocean-view restaurant, located in True Blue Bay Boutique Resort, is open for all meals during the day, it's at breakfast where the spot really comes into its own. Catering for all types of dietary requirements, there's really few better ways to start the day than with breakfast by the idyllic bay the restaurant overlooks. 
If you're looking to fill up before a big day of activities, then the True Blue Serving Station should be your first stop: here you can help yourself to omelettes, freshly baked bread and pastries, local fruits, and other classic breakfast items like sausages and bacon. However, if you prefer to be served your meals, you can select from a number of different choices. The Grenadian Breakfast is beautifully presented, so much so you almost feel bad for digging in – although with every bite the guilt is ebbed away by how delicious it is.  
Lunch
Patrick's Local Homestyle
Although it might not look like much, this little gem on the outskirts of capital St George serves some of the best Grenada food on the entire island, at an absurdly good value. A bit of a local institution, Patrick's is not for the tourists who want to tour the world with their food – tannia root, oppssum meat, and other interesting local dishes are all available for you to dig into. 
There is, of course, a great version of 'Oil Down' here – the Grenada national dish. However, if you're going to head to this laid-back little spot, then you have to go through the tapas menu: with fifteen to twenty dishes, you'll get little tastes of paradise and the real local experience. One thing is for sure: the tapas meal is the chance to try something new from this eclectic cuisine, and despite the relaxed nature of Patrick's, plates are imaginative and good-looking.  
Dishes change seasonally as everything is made with local produce. If you do get the chance, the chocolate cake made from locally harvested cacao is phenomenal, although we'd mostly recommend trying one of the game meats you'd likely turn your nose up at in another country, but will definitely be desperate for more of here. 
Umbrellas Beach Bar
The epitome of Caribbean cool, this relaxed restaurant and bar offers everything from light sandwiches to cool twists on Grenada food. There's a lot of great, fresh seafood on offer here, although the menu is mostly bar classics like sandwiches, burgers, and steaks. Don't assume that it's Wetherspoons quality, though – the food here is top class, with locally-sourced meats and veggies adding a freshness to the food that is more reminiscent of white tablecloths and Michelin stars than beach bars with reggae on in the background. 
Of course, as a bar, there are plenty of great cocktails to be tried and tipples to be sipped on. Margaritas are a favourite here, especially frozen versions of the tequila-based drinks, although we think their house drinks are all astoundingly tasty, and will go straight to your head. Try the Rum Punch – top of the drinks list for a reason, it packs a punch but is dangerously downable.  
Dinner
BB's Crabback
While Oil Down is the Grenada national dish, it's nowhere near enough to show off the full range of what Grenada food has to offer – but the menu at BB's Crabback does a great job of trying to take you through a culinary tour of the Caribbean island. The most obvious thing to try is the crab back, which is simmered in a simple broth with local spices before being presented back in its shell.
However, those a little squirmish around seafood still have plenty of local delights to dig into. The ribs are melt-in-the-mouth good, and the goat curry is a local favourite inspired by the pan-African cultural heritage of the island. The restaurant itself is comfortable and homely, and the owner grows many of the ingredients himself. The dishes are all also named after members of his family, giving everything that personal touch. Despite the casual atmosphere of the place, everything is served beautifully – like a lot of places in Grenada, you're getting high-end cuisine in casual-wear when you visit BB's.  
Armadillo
A small, high-class menu defines this restaurant and guesthouse, which is a little off the beaten path on the northern tip of the island, whereas most of the tourist activity is in the south. The relative lack of visitors here, however, is not indicative of quality or taste – far from it. Armadillo has some great local dishes on offer, as well as a couple with some international, fusion-like twists that are certain to cause an explosion of flavour. The restaurant focuses on local, fresh produce, and has some Thai influences – the chicken satay starter and sautéed chicken breast on Thai curry sauce are the two main beneficiaries of this – but for the most part just delivers excellent Grenada food, especially seafood.  
Dessert is to die for here: the chocolate banana rum cake is a revelation, with the flavours all coming from within a short driving distance. Presentation is also key at Armadillo; the food is displayed elegantly, and although the staff here don't quite expect tops and tails, you might want to throw on a shirt if you decide to give this spot a go.