You'd expect Milan restaurants to come with a blend of style and sophistication baked in. We are, after all, mingling with European fashionistas, business magnates and urban go-getters in this city. What you'd likely not expect is a wok full of chilli spiced sea bream at brunch, sushi to sit alongside Italian classics or a live game (based on a Netflix hit) to liven up dinner a little. All bets are firmly off in this art-laden metropolis that serves up anything but the expected. Except when it comes to pizza. Milan takes this noble foodstuff seriously indeed. 
Breakfast
Cova
Looking to brunch in style? Skip along to Cova for precisely portioned poached eggs with a little foliage added for that pasticceria touch. Exquisite and extremely instagrammable, Cova also manages to brew up a more than decent coffee. Which is to be expected for a restaurant that's been pouring hot water over ground beans since 1817. Now a global brand, Cova's original restaurant on Via Montenapoleone is THE place to start the day in the city. Though consider swerving the savoury menu for a gluttonous deep dive into the restaurant's famous tiramisu. A work of art that you'll never quite forgive yourself for plunging a cake fork into.  
God Save the Food
This Milan restaurant likes to do things a little differently at brunch. And, while we are entirely on board with God Save the Food's East Asian take on breakfast – the citrus sea bass wok is unmissable – the pancake, smoked salmon and egg combo could raise a flutter of cuisine controversy. That gourmet indiscretion aside, this is one of the best restaurants in Milan for grabbing a substantial bite before lunch. Club sandwiches, a classic eggs benny and pancakes with fresh fruit go up against the champion of brunch heavyweights, a full English breakfast. The woks really are the star here, if you can get on board with chillies and soy sauce before 11am. 
Orbzii tip: God Save the Food has four locations dotted across Milan, though the Duomo branches menu is a little pared back – to match the smaller eatery that's tucked neatly next to the escalator of La Rinascente's Design Supermarket. 
Lunch
Marghe
This city might be fashion-forward but in Milan, pizza still reigns supreme as the go-to lunch of choice. As you'd expect, things have moved on from the traditional pizzas of yesteryear. Vegan, gluten free, no yeast, gourmet and pizza by the slice have all found their way on to the menu. But, if you want to tuck into a no frills pizza with Neapolitan roots, eat at Marghe. This is the kind of place that lets their dough rise for two whole days, ships in the best tomatoes from San Marzano and uses the creamiest Fior di latte from Milan to minimise food miles. You'll be tempted by Marghe's mouthwatering menu of toppings. But be sure to order a margherita if you want to really keep things traditional. 
Orbzii tip: In a nod to the plant-based movement, Marghe's popped a vegan pizza on their menu. And it's one worth trying, no matter your dietary needs. Piennolo del Vesuvio cherry tomatoes, baba ganoush and fresh basil all play together rather nicely in this kitchen's wood fired oven.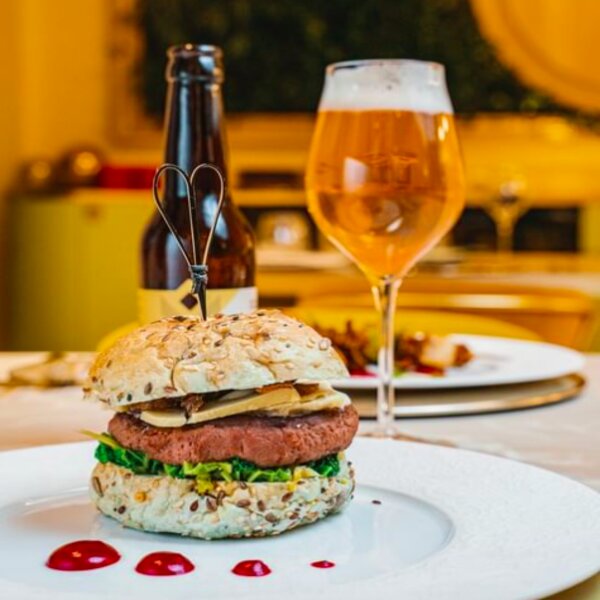 Linfa
If the vegan pizza at Marghe has your plant-based tastebuds craving more Italian classics with a veggie twist, book a table at Linfa. A rather gorgeous little nook of Milan that's been picked out by Vanity Fair as one of Italy's top 20 vegetarian restaurants. High expectations then for this avant–garde eatery that dares to serve sushi as a starter, alongside focaccia or polenta and pate. A mixed menu then – but handy for those that may have been in Milan a while and can't face yet another fork and spoon tussle with spaghetti. Yes, the peanut butter and lime risotto almost dares you not to order it, but unleash a little gourmet bravery and you'll not go far wrong. It's rare to find a vegan fine dining spot – take advantage, it's one of the best restaurants in Milan. 
Dinner
Oro Restaurant
If you're looking for a quiet dinner for two in a Milan restaurant, Oro isn't the place to go. If, however, you're looking for a night that includes DJ sets, cocktails, live music, a floor show and a cracking menu, read on. Oro is bold. Pictures of Rihanna, Barbie and Leo DiCaprio line the neon lit walls, games play out in the dining area (think a lighter take on the Netflix hit Squid Game) and cocktails and seafood stray from the Italian-infused cuisine scene. An altogether different dining experience then. Happily, the menu mixes sushi, seafood platters and enough Mediterranean hits to remind you that you're in Milan, otherwise Oro could stray into the 'could be anywhere' category. 
Joia
Joia's got a long list of sustainable credentials. Handy if you're carbon-offsetting your way around Europe, but the restaurant's Green Michelin star shouldn't be what gets you through the door. No, you're booking a table here to feast on courses with a flair for flavour. Vegetables are the king of every dish – add in a little innovation and some Heston Blumenthal style innovation and the menu shapes up to become an evening of gastro discovery. As the only veggie restaurant in Italy to earn a star, this is definitely a must add for your list of Milan restaurants. 
Orbzii tip: If you'd rather not ramble through the longer tasting sessions in the evening – or are curious about Joia's cuisine, swing by at lunch for a mini version of the evening menu.