When it comes to New York cocktail hour is most definitely a thing. In fact, America is the spiritual home of the cocktail, and nowhere does them better than the Big Apple.
After all, not every city gets a drink named after each of their boroughs, and there's good reason for that.
In New York, old world class meshes with new world inventiveness, producing some of the finest drinking establishments on earth.
It's no surprise that Sinatra spent his evenings boozing around the city that never sleeps, and libation wise things have only gotten better since then.
There isn't much that can beat savouring a Manhattan whilst overlooking that famous skyline (although those with a sweet tooth might be more partial to sipping on a Bronx). It's safe to say that the New York cocktail scene is one of the best on the world.
The fact is New York is home to some of the best cocktail makers – and cocktail making classes – the world has to offer.
You might balk at the idea of tipping after every round, but once you find a bartender who understands your taste buds, you'll be happy to pay for a plane fare to bring them back home.
Even if you know the classics, there's a wealth of incredible beverages to imbibe in bars across all five boroughs, and soon you'll be wondering how you ever got by on just mojitos and margaritas.
Grab your ice and get ready to learn why James Bond was wrong to order his Martini shaken not stirred, because we're going to show you how to drink in New York, the right way.
New York cocktail classes
Shaken or stirred? Orange or lemon peel garnish? And what on earth is Chartreuse?
Sometimes the world of mixology can seem highly specialised, making you want to settle for a simple Rum and Coke (or a Cuba Libre, if we're setting the scene), but once you get a grip on the basics, a world of invention is at your fingertips.
If you want to learn how to sling drinks like the best of them, then head to one of the following New York cocktail making classes:
Located in the heart of NoHo and a stone's throw from Washington Square Park, The Astor centre is famous for its booze-inspired classes, and the beginners cocktail class is one of the most highly rated.
However, if you fancy something a little more specific (or accidentally overbought gin in your weekly shop), they have a range of classes focusing on cocktails made with specific spirits.
These classic New York cocktail making classes can be taken alone or in a group, so anyone can get in on the action, but they fill up quickly, so make sure to book in advance.
If you want to bring back that hipster knowledge from your holiday, then the Thursday night cocktail making classes in New York's Huckleberry Bar are a must.
A Williamsburg favourite, the bar is accessible from Manhattan by the L line.
Your mixologist for the evening will give you a crash course on everything cocktail, all under ambient candlelight.
You'll also get a chance to sample some of the unique syrups and fresh juices they make in-house, whilst sipping on a number of stronger drinks during the two-hour session.
Afterwards, you can hang around and try some of their liquid creations, although you might already be feeling the buzz.
New York cocktail bars with a view
Part of the joy of a good cocktail is how drinking it makes you feel, and the pleasure of lapping up a great drink is amplified when paired with a view.
New York benefits from a glut of well-placed bars to soak in the skyline, but if you fancy something really special, then head to one of these unmissable New York cocktail bars with a view:
It's common knowledge that the best view in NYC isn't from the Empire State Building, which suffers from long queues and a painful abundance of selfie sticks, but from the Rockefeller Centre.
When it comes to enjoying a New York cocktail bar or two, the Top of the Rock has the added benefit of being home to several bars and restaurants, and the Rainbow Room is the best of these.
The cocktails are on the pricey end of the scale, but you definitely get what you pay for with top-class ingredients, innovative bartenders, and sweeping views of both Central Park and Downtown.
There's also a chance of doing some celeb spotting, as the centre is the home of NBC.
When it comes to New York cocktail bars with a view, Brooklyn delivers yet again with this wraparound bar on the 18th floor of The William Vale hotel.
A far cry from the dingy hipster dive bars that make up most of the New York cocktail spots in the area, it's easy to see why even Manhattan folk – picky at the best of times – are willing to make the trek over the Williamsburg bridge to have a few in this venue.
The views are stunning, with the hotel overlooking the East River and Lower Manhattan, but this does come at a price: if you want a table, make sure to grab a reservation a few days in advance, otherwise you will be left standing.
New York cocktail hidden gems
Although we're (thankfully) nearly a century past the prohibition era, the speakeasy spirit is alive and well all over NYC.
Whilst some of these New York cocktail bars can feel gimmicky or unwelcoming, there are tonnes of excellent establishments that cater to the discerning drinker who wants a more intimate and refined experience than downing a bud light in a Greenwich dive bar.
Here are two of the best: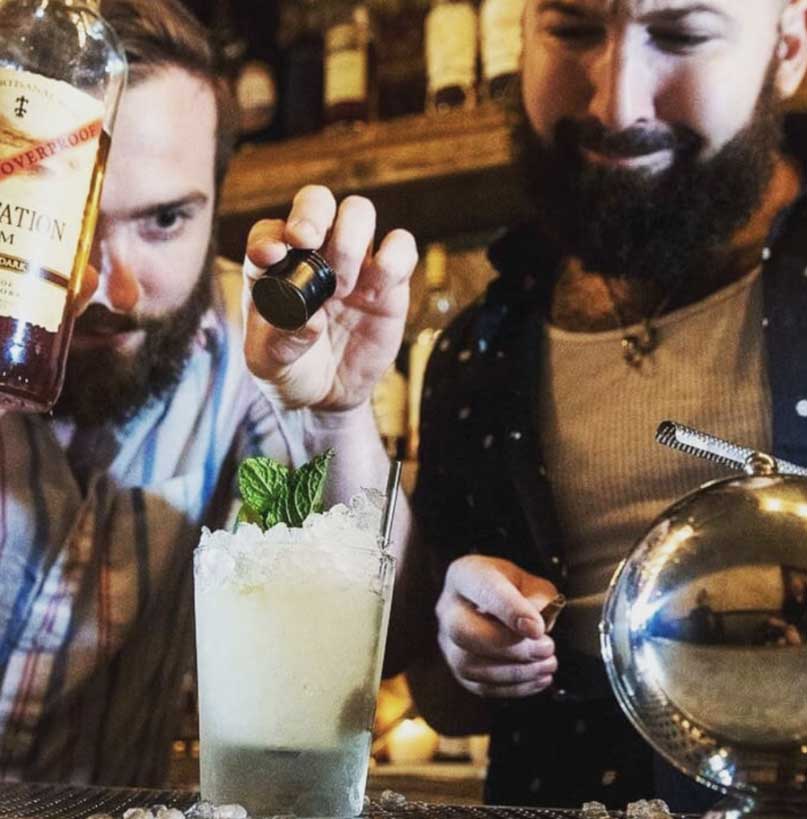 Hidden behind an unassuming metal door and only accepting parties of six or less, this New York cocktail bar operates on a first-come, first serve basis, so it's best to get there early.
Even if you are a little late and have to join the queue, you will be rewarded (plus, the gaggle standing around outside is pretty much the only thing that signifies the location of the venue).
Run by two of the finest mixologists in the world, you can order one of the brilliant cocktails from the menu, or you can give them a rundown of your tastes and have a custom drink whipped up right in front of you.
People often overlook Queens, having decided to either have a refined Manhattan experience or an edgy Brooklyn break, but this stylish hidden gem shows why New York's biggest borough is worth visiting.
Named after a hamlet that used to occupy the space, Dutch Kills is behind a door marked simply with the word "Bar" and serves up old classics and creative new flavours.
With a real speakeasy vibe, this New York cocktail bar is the perfect mix of local and high-end, and to top it all off is much easier on the wallet than comparably classy joints.
If all of these swanky New York cocktail bars have got you chomping at the bit to explore New York in all its glory, download the Orbzii app today to Dream, Plan and Book your next trip.
On the prowl for a bite to eat before you make a start on the Manhattans?
Check out our lowdown on the best Breakfast, Lunch and Dinner in New York.