While Venice isn't exactly known for being a culinary hotspot, this is Italy; land of literally everything tasting better and going home heavier than when you arrived, so there are still plenty of amazing eats in the city. Worried you're going to miss out? Nope! When it comes to being gluten free, Venice is actually surprisingly welcoming. Most restaurants now have several gluten free options, staff are clued up, and as you wander around the city you'll spot signs offering gluten free pasta and pizza at almost every turn. There's even a gluten-free supermarket!
So, the next question is, where can you find the city's best gluten free meals? Look no further – here's our pick of coeliac-friendly eateries that offer the most delicious dishes and sweet treats. Elasticated waistbands at the ready…
Gluten free Venice specialties
Sure, you could spend your time in the city munching your way solely through all the varieties of gluten free pasta, but how about something a little more Venetian? Rubbing shoulders with the locals at a traditional 'trattoria' or 'osteria' is a fantastic way to enjoy a more authentic dining experience here, and happily many of the dishes served are gluten free.
Start with 'sarde in saor' (sweet and sour sardines) or 'risi e bisi' (rice with baby peas), then try 'granseola alla Veneziana' (Venetian-style spider crab), 'risotto al nero di seppia' (squid ink risotto), or 'fegato alla Veneziana' (Venetian-style liver). Polenta is also an important staple in the region, and a great alternative to pasta. If the other mains are a bit too adventurous for your tastes, give 'polenta e schie' (polenta served with small shrimps from the lagoon) a go.
Breakfast
Some might consider it the most important meal of the day, but, like elsewhere in Italy, breakfast just isn't much of a big deal in Venice. The locals here typically start the day with a coffee and a pastry or some fruit. While breakfast options for gf-ers can be a bit more limited, there are some solid choices for fueling up for a day's sightseeing, including:
Majer Bakery
If you want breakfast the Italian way, here's where to come. Grab a cappuccino and a pastry at  trendy Majer bakery  – there are a few dotted around the city so you're never too far from one. There are various gluten free cakes, pastries, biscuits and macaroons on offer here, so the only problem is having enough restraint to pick just one. Well, you're on holiday – get one of each and live your best life, no judgement here.
Niki Bar
For something a little more on the healthier side, drop by Niki Bar in San Polo. This friendly cafe doesn't do breakfast by halves; and thankfully there are a decent range of gluten free options on the menu. From omelettes and oatmeal to fruit and yoghurt, you can fill up on lovingly-prepared dishes washed down with fresh juices.
Despar Teatro Italia
If you're just looking to grab something quickly on the go, what better place to head than the 'most beautiful supermarket in Italy'? The title may be self-proclaimed, but this SPAR store set inside a former cinema definitely is rather special, with its arch windows and painted ceilings. The good news is there are plenty of gluten free options here, with a whole dedicated section (including sandwiches), alongside the usual naturally gluten free supermarket fare.
Lunch
Ready for lunch? Good – because there are some seriously tasty dishes waiting to be devoured. Whether you're in the mood for an impressively-sized pizza or some traditional seafood plates, you'll find great grub at all of these…
Al Giardinetto da Severino
What makes this restaurant particularly special for those with a gluten free diet is the fact it's been recommended by the Associazione Italiana Celiachia (Italian Coeliac Disease Association), or AIC. There's a whole gluten-free menu to choose from, with a healthy amount of pasta, fish and meat dishes to choose from. The garden is the perfect spot for an al fresco lunch, or there's the rather grand dining room (a former chapel, no less) for chillier days.
Vecia Cavana
Another gluten free Venice hotspot, the staff at this cosy traditional restaurant have been trained by AIC staff, so they're knowledgeable about ingredients and also cross contamination. The dedicated gluten free menu includes authentic local dishes such as swordfish, potato gnocchi with prawns, and tagliatelle with salmon. Converted from an old boathouse, the indoor dining room has all the character and charm you want from a Venetian restaurant, though if it's sunny you'll want to take advantage of the tables outside.
Ristobar San Polo
If you want pizza, this daytime eatery won't disappoint. The homemade gluten free dough is a delight, as are the portion sizes. The staff at this family-run spot are attentive and a filling lunch here is great value. Other gluten free options include lasagne, tortellini and cannelloni, as well as profiteroles and tiramisu. Grab a table outside and enjoy a leisurely lunch whilst people-watching.
Dinner
It's time to reward yourself with a hearty meal after all that sightseeing. A gluten free Venice dinner can be as fancy or as humble as you like. Here's where we recommend heading for a dinner you'll be daydreaming about weeks later…
Trattoria Al Gazzettino
While a super traditional tavern-style restaurant may not be the type of place you'd expect to be a gluten free gem, but this friendly family-run trattoria, beloved by locals, is just that. Take your pick from the dedicated menu (it includes gluten free bread!), and soak up the warm and cheery atmosphere – just make sure to save room for the glorious tiramisu or profiteroles.
La Zucca
If you want the ultimate Venetian dinner experience, how about rocking up to the restaurant by boat? This canalside spot has a door opening directly onto the canal, so you can feel every inch the movie star (there's still the slightly less glamorous front door, too). There's a good selection of gluten-free dishes on the menu, and the staff are very clued up. One word of warning – book ahead; it's hailed as one of the city's best restaurants and it's a tiny place.
La Colombina
A few minutes walk from the Rialto Bridge, you'll find this tasty spot handily tucked away from the usual tourist trail. Don't let the dated decor put you off – the food here is superb. The colour-coded menu helpfully highlights the gluten-free options; the polenta is particularly yummy. It may be no frills, but with great service and quality dishes, who cares?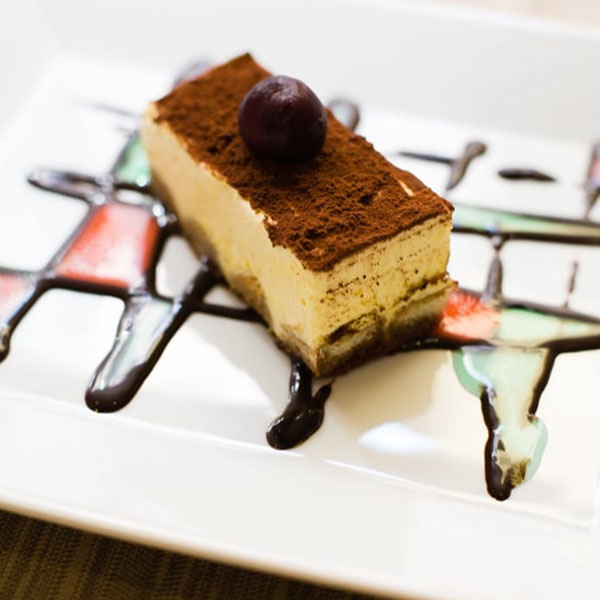 Snacks
Need a little pitstop? Grab a quick gluten free bite from one of these spots:
Grom
If you want some gelato while you're in Venice (of course you do), you can't go wrong with a visit to Grom. This ice cream parlour is 100% gluten free, from the cones to the biscuit toppings, so you can create your dessert masterpiece with total peace of mind. There are several locations in Venice, so you have opportunity for a cheeky second (or fifth) helping while you're wandering around.
Mea Libera Tutti
No Venice gluten free guide would ever be complete without mentioning this place. This store, completely dedicated to gluten free products, has everything from pasta to cereals, plus all of the biscotti you can fit in your suitcase. The owner, a friendly fountain of knowledge on everything gluten-free in Venice, was inspired to create the store following her own family's struggles to find gluten free staples in the local shops. The result is a fantastic variety of products, all carefully researched.
Worked up an appetite? There's only one thing for it – a trip to eat your way through Venice. No time like the present… send the Orbzii app to your phone now to get planning and booking your perfect Italian getaway.