Think Athens is all Acropolis and Tzatziki? Think again – there's so much more to this intriguing city than meets the eye. Whether you're planning a trip to the Greek capital, love a cheeky factoid or have a penchant for a pub quiz, these facts about Athens will blow your mind.
Athens is the oldest capital city in Europe
Surprised? Not only that, Athens is also one of the oldest cities in the world and its origins go back over 3,400 years, making it one of the most important cities ever in Western history. Considered the cradle of Western civilization and the birthplace of democracy and philosophy, some of the world's greatest philosophers,Plato, Socrates and Aristotle made Athens their home. Why not follow in the Athenian greats' footsteps by taking a tour?
The first ever ancient Olympic Games was NOT held in Athens
Contrary to popular belief, the first ever ancient Olympic Games did not take place in Athens. It was held in Greece though, in ancient Olympia in 776 B.C. – an ancient Greek sanctuary site (now listed by UNESCO as a World Heritage Site) which was dedicated to the worship of Zeus in western Peloponnese. 
In a slight plot twist, the city state of Athens did hold their own games which started in 566 B.C called the Panathenaic Games. 
The first ever ancient Olympics was initially a one-day event until 684 B.C, which was then extended to become a three day event, including classic sports like running, long jump, shot put, javelin and more. 
Now, if you've ever heard the rumour that there is a link between nudity and the Olympics, you would be right! As legend has it, an Olympic athlete in 720 B.C completed and subsequently won his 185m race after his loincloth fell off. So ensued a trend where nudity was all the rage, however the cultural tide changed with the modern Olympics in 1896, where clothes were decreed essential and aiding in performance. 
Athens was the first European culture capital
Every year, cities all over Europe vie for the prestigious title of the European Capital of Culture, designated by the European Union. Celebrating the heritage and cultural richness and diversity in Europe, Athens was the first city to earn this title in 1985.  
This title was the brainchild of Melina Mercouri – a former Greek Minister of Culture – and her French counterpart, Jack Lang. 
Other cities that followed included Florence, Amsterdam, Berlin and Paris, but it was Athens that really set the standard. This accolade was celebrated in Greece with a series of events which included traditional dancing, theatre and musicthat took place around the city.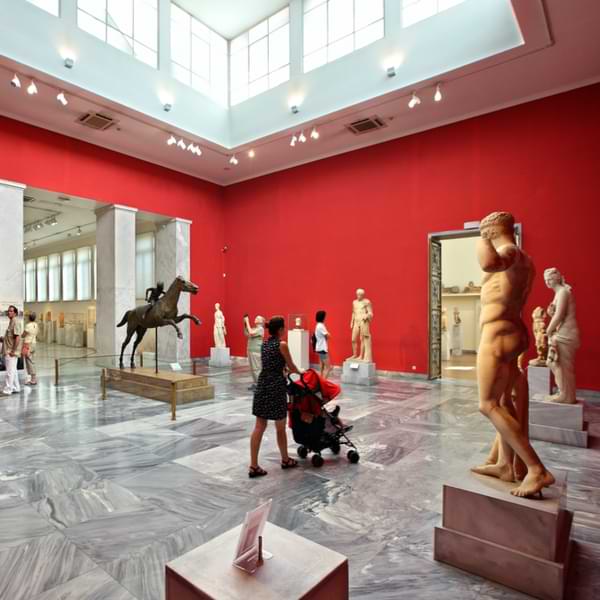 Athens is not alone in attaining this impressive title for Greece. Other Greek cities that have been named as a European Capital of Culture include Thessaloniki, Patras and Elefsina. 
Athens is the birthplace of democracy
The ancient city of Athens was steps ahead of its European counterparts when it comes to democracy. Athens is THE birthplace of democracy after the process of voting was initiated in 500 B.C and Athenians were able to choose their preferred leaders. 
In fact, the word 'democracy' comes from two Greek words demos (people) and kratos (rule), therefore creating the concept that the people rule. This set the standard for a country's citizens having a proactive role in the ruling of the country by the government and it being managed by elected representatives. 
Although initially perceived as positive, there was a downside as not everyone could vote. Only 'free men' could be deemed as 'citizens', sounfortunately women and slaves were not eligible for the vote, making this quite a flawed democracy. 
Athens is a hub for culture
Unsurprisingly, Athens is one of the top European cities for culture thanks to its 18 UNESCO Heritage sites within just one city. The first that surely springs to mind is the world-famous Acropolis and its monuments like the Parthenon, all of which are universal symbols of Ancient Greece and the most distinctive and formidable examples of the architecture of that time. Simply a must-visit when in Athens, this historic landmark is awe-inspiring and visitors should carve out time to see the Parthenon – undoubtedly one of the finest monuments on the Acropolis. The Parthenon was built between 447 and 438 B.C as a temple dedicated to Athena Parthenos, the patron of the city.  
Another standout of the Acropolis is the Temple of Athena Nike which was built in 426-421 B.C and dedicated to the goddesses of the same name.  
Athens has the longest coastline in Europe
As if you didn't have enough reasons to visit Athens, we're going to throw its beautiful beaches into the mix. Athens has the longest coastline in Europe and has won awards for both its clean beaches and clean water. Even if you're visiting in the cooler months, in Athens it remains relatively hot, so you'll want to cool off a smidge – and what better way to do so than a refreshing dip in the ​​Aegean Sea? 
You can take a short tram ride to Glyfada Beach. It might not be devoid of pebbles and there are arguably better beaches a longer distance away if you've got time to make the trip, but if you are pressed for time Glyfada is a brilliant choice for one of the free beaches in Athens. 
The beautiful beach at Votsalakia is one of the locals' favourites and it's easy to see why thanks to its gorgeous soft sand and fantastic facilities, including an open air cinema. It's also ideal for those with young families and mobility issues as it has a wheelchair ramp into the sea.