The buzzing town of Marmaris is one of the most popular resorts on Turkey's 'Turquoise Coast' and it offers something for everyone from beach lovers and party animals to history buffs and families.
Whether you want to explore ancient relics or have an aquatic adventure under the sea or try a Turkish bath and try some of the local cuisines, you will adore the many fascinating attractions of Marmaris and its unique 'anything goes' atmosphere.
If you are thinking about where to start your search when it comes to hotels in Marmaris, then we'd recommend you start right here! From contemporary and chic to family friendly, we've rounded up six of our favourite hotels in Marmaris that should be on your radar.
Casa De Maris Spa & Resort Hotel
Whilst this is one of the top family friendly hotels in Marmaris, the Casa De Maris Hotel is also a perfect getaway for couples.
This 5* boutique hotel located on the beach in Marmaris is ideally located to take advantage of both the beautiful Turquoise Coast and the Old town.
It has some fantastic facilities like a sauna, Turkish Bath and one of the coolest swimming pools in Marmaris.
It's surrounded by pine-cloaked hills and whilst it has a shingle beach, there's plenty of room around the pool to relax and soak up the sun.
Despite the peaceful surroundings, you're only a 5-minute taxi ride from Marmaris' Bar Street where you can take advantage of the exciting Marmaris nightlife.
If a stylish hotel is top of your list when it comes to picking hotels in Marmaris, then this one is definitely a contender when it comes to tippity top style credentials.
From the achingly-cool metallic egg chairs in the lobby to the tangerine -dream coloured lounge chairs that look like they've been transported from the '70's in the rooms.
This is a hotel that is made for Instagram!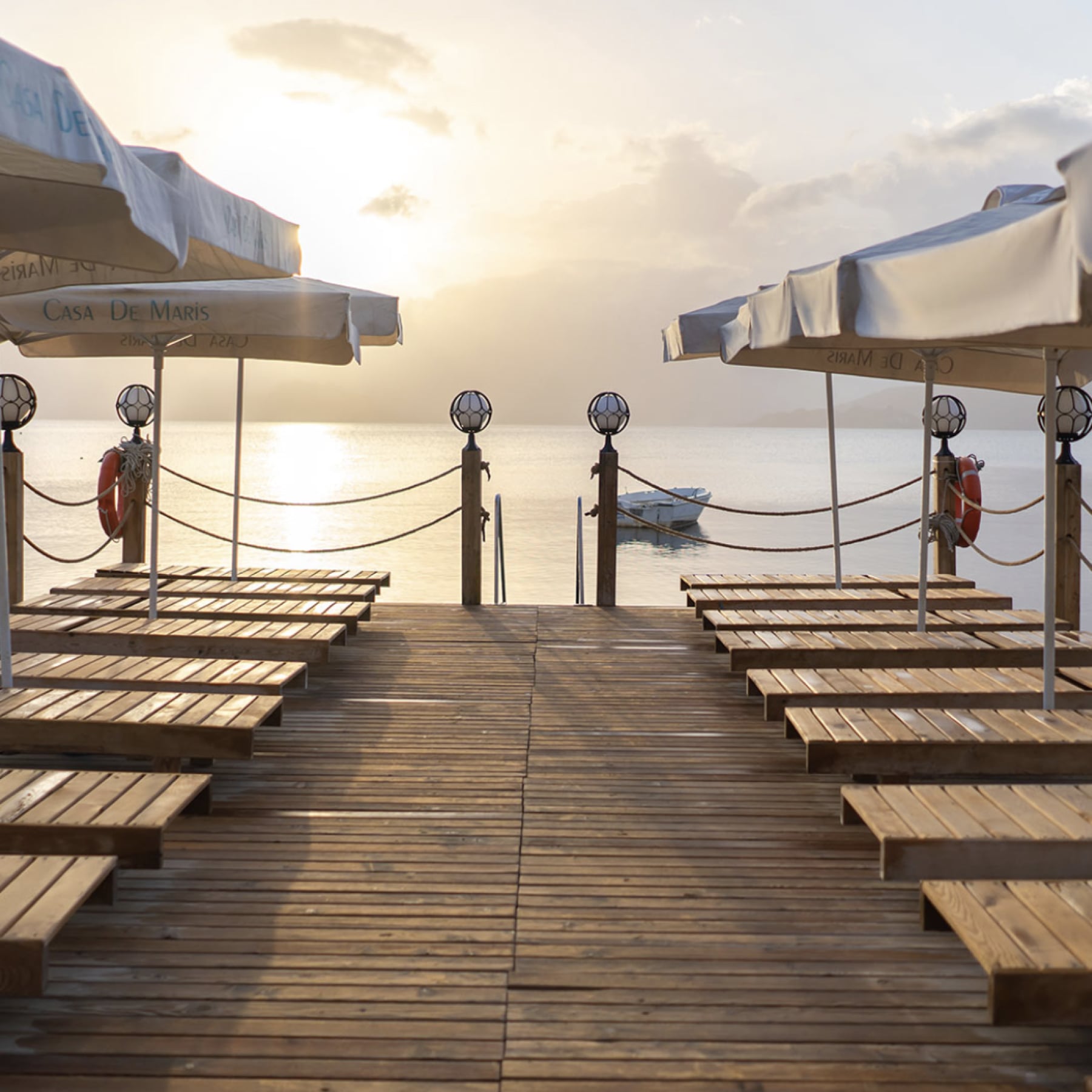 Blue Bay Platinum Hotel
Set in the perfect location, right in the middle of the busy resort of Marmaris and only a few minutes from the beach, the all-inclusive Blue Bay Platinum hotel is one of the most striking-looking hotels in Marmaris.
If you are looking for a contemporary and chic hotel that is a mere hop and a skip away from the bars, restaurants and shops, this should tick all your boxes and then some.
Everything's really contemporary – especially the bedrooms, which come with blonde-wood furniture, beach-scene wall murals and refreshing aqua accents.
It has a great swimming pool with a waterslide and comes with its very own beach making it a superb choice for families.
If you fancy a night in at the hotel, you can enjoy a drink (or three!) watching the live entertainment which is provided by the hotel.
Motto Premium Marmaris
If you are looking for a more cost-effective holiday, you'll be pleased to learn that Turkey is one of the best places to visit right now from the UK.
The Motto Premium Maramis is one of the most budget-friendly hotels in Marmaris.
But don't think by saving the pennies, you will be compromising on quality. 
You can relax by the outdoor swimming pool or if you want to indulge, take advantage of the sauna, or steam room or why not take a dip in the indoor heated pool?
If you want to relax on the beach, there's a private area that you can take advantage of at the back of the hotel where you can sunbathe by the sea.
When it comes to the hotel dining, you can expect a variety of local and international cuisine.
Indulge in all you can eat dishes at the international buffet restaurant, or why not book at table at the BigChefs à la carte restaurant, which offers a varied menu.
Cooks Club Adakoy, Marmaris
It's arguable that the Cooks Club Adakoy is not only a real Turkish delight (do you see what we did there?!) but it's also one of the best hotels in Marmaris.
Not only is there a private beach, there's also a pine tree-cloaked nature reserve that you can take advantage of via one of the easy-to-navigate walking routes. 
Some of the rooms have far-reaching views of the beach and nature reserve which makes for spectacular views when you wake up and watch the sun rise.
This hotel has some of the best food in Marmaris, they take pride in offering an array of both international and Turkish cuisine.
We happen to think that the crème de la crème of all the hotel's facilities is the sea-view pool which is situated right by the beach, so you can take in the views of the coast while you soak.
Green Nature Diamond Resort
Ideal for families who love nature, the Green Nature Diamond Resort has a waterpark and go karting track in close proximity.
Making it an ideal choice for those wanting a little bit of action when it comes to selecting hotels in Maramis.
It has a great selection of water sports and other activities to take advantage of and kids will love making friends at the kids club.
Adults who can relax by the pool will love the elegant decor that is giving us total cruise liner vibes thanks to the hotel's glass-ceilinged atrium, opulent marble floors and stylish chandeliers.
Foodies will love the great selection of à la carte restaurants, which includes seafood, Mexican, European cuisine and an Italian trattoria.
There's also seven bars dotted around the hotel grounds that you can also take advantage of.
Julian Club Hotel
With a fantastic pool, excellent facilities for families and a superb location, the Julian Club hotel is one of the top choices when it comes to considering the best hotels in Marmaris.
Whilst it's not in the centre of Marmaris, you can find bars and restaurants nearby and the Old Town is a mere 20 minute walk away.
Don't fancy the walk? There's a bus that can take you there in just five minutes.
There's a great pool scene here, with four swimming pools to choose from including one with slides which the children will adore.
If you are looking for entertainment as well as for one of the best hotels in Marmaris, this could be a winner as there's always some fun activity going on both during the day and at night.  
This hotel offers choice, value, style and comfort as well as having a very friendly atmosphere making it a great choice for family holidays to Marmaris.