The go-to facts about Jordan tend to centre around the Dead Sea. Yes, it's the lowest point on earth sitting at a whopping 420m below sea level, but there are more exciting facts about Jordan to be had. Our Orbzii Insider intel file is chockfull of facts ranging from the world's oldest statues and mosaics to how to ask for another coffee. But perhaps the most interesting Jordan fact? There's so much more to discover about this country. So much remains hidden in the sands of Petra and even in residential basements…
There are over 100,000 archaeological and religious sites in Jordan
'100,000 sites' is quite a stat for a country the size of Jordan. But the numbers may well stack up. The Romans ruled here for four centuries – leaving behind some of the best-preserved ruins in the world. But there's also a  long list of biblical locations to factor in. Mount Nebo, where Moses saw the Promised Land. Machaerus, said to be the location of Herod's palace and Pella where Jacob wrestled with God. Then there's the formidable rock city of Petra, Lot's Cave and Umm Qais' views over the Sea of Galilee. We won't list all 100,000 sites here – but you get the idea. 
A Jordan museum exhibits the world's oldest human statues
You'd expect a country that boasts 100,000 ancient and religious sites to have some seriously ancient art. But the pick of the bunch has to be the Ain Ghazal statues on display in the Jordan Archaeological Museum and the Jordan Museum. Thought to be the earliest models depicting humans, the busts and statues made from reeds and lime plaster were found in an underground cache in the mid 80s. Which leads us to wonder, what else lies undiscovered in Jordan? 
85% of Petra has yet to be excavated
Many of the mind-blowing facts about Jordan come from within the city walls of Petra. The huge rose-red rock city, rises from the canyon wowing all who visit. Sprawling, with towering facades, it takes more than a day to fully see this open air museum. Exploring the 800 sites take you back in time to an era when Petra was a thriving capital. But even then, you're only looking at 15% of the entire city. The rest is still buried under the desert. Scientists have been using satellite imagery as a kind of 'space archaeology' to discover more about the ever expanding city. Worth remembering as you wander through the tombs, theatre and treasury. 
It takes 40 days to walk across Jordan
If you've got the time – and the sturdy shoes, you can walk across Jordan in 40 days. Which, isn't a bad shout. The Jordan Trail covers 420 miles and passes by some of Jordan's best tourist attractions.  You'll swing by three sites on the UNESCO heritage list – Wadi Rum, Petra and As-Salt – as well as wandering through around 75 villages. Stopping along the way to look at the Roman ruins in Umm Qais may well add some time on to your walk. So if you fancy a hike through Jordan – but can't quite commit to 40 days, the walk is neatly broken up into eight regions that take 4, 5 or 6 days to complete. 
It pays to look down, as well as up, in Jordan
There's a very simple way to find out what Jordan and the surrounding area looked like in the 6th century. On the floor of the Church of Saint George in Madaba, the world's oldest map mosaic details part of the Nile Delta, the Dead Sea, the Moab Desert, Bethlehem, Lebanon and Jerusalem. Not all of the sprawling map has survived the various fires and centuries of worshippers passing by, but the mosaic tiles that remain clearly show the region's topography – and iconic structures that still stand today. Created using over three million fragments of glass, stone and pottery, only one million original pieces remain in the map.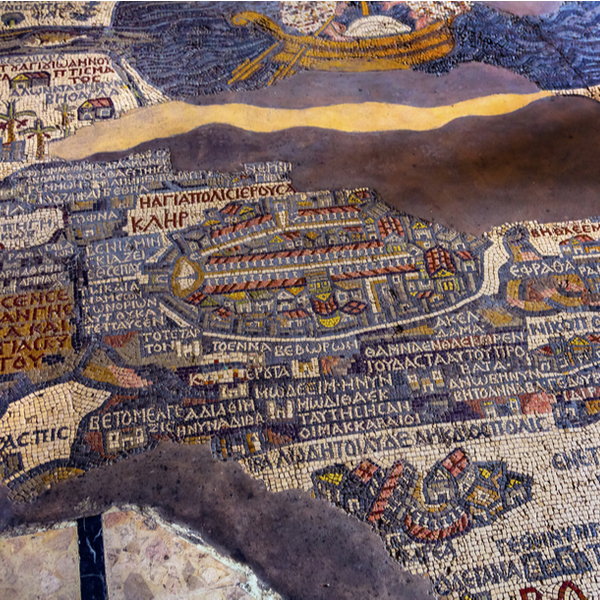 Petra doubles as an open air museum and movie set
If you hop off the mini bus and start the walk into Petra thinking, 'this looks ever so familiar', chances are you've seen Indiana Jones and the Last Crusade, The Mummy Returns or An Idiot Abroad on your streaming service recently. The list of directors choosing Petra – and wider Jordan, as a film location is lengthy, so much so that prepping a little game of movie location bingo wouldn't be a bad idea. 
Orbzii tip: Other movies shot in Jordan include, The Hurt Locker (Amman), The Martian (Wadi Rum) and Transformers: Revenge of the Fallen (Wadi Rum, Petra), and Dune (Wadi Rum).  
Jordanians take their coffee seriously
You might think, as a single origin evangelist, you already take your coffee seriously enough. But do you perform a ceremony when you pop to your Tassimo for a cheeky caffeine hit? In Jordan, brewed beverages are revered. Instant is off limits and turning down a cuppa is the ultimate insult. If you do find yourself in the midst of a coffee ceremony, know three things. Always take your cup with your right hand, expect to have cardamom added to your brew and you'll have to take it black. Milk and sugar rarely sully the expertly brewed cups – but sides of dates, and occasionally baklava, offer sweet relief from coffee's bitter hit to the palate. 
Orbzii tip: If you're at a Bedouin coffee ceremony, shaking your cup from side to side shows you'd like a refill.