Whilst Cancun has a (well deserved) reputation as a place to party, it's large and diverse enough that there's something for everyone, including the little ones. Whilst others might be nursing hangovers on the beach, you can be off exploring ancient ruins, thrill seeking at one of the many local water parks, or learning about the wildlife that makes this area such a beacon of natural beauty. There's so much to do here as a family that it can be hard to fit it all into a weeklong vacation, but with the right planning you can spend your time having fun and learning about the storied history of this little slice of paradise. Strap in the car seat, because we're going to show you the best things to do in Cancun for families.
Explore Isla Mujeres
A few short kilometres off the coast of Cancun lies Isla Mujeres, a stunning and more relaxed version of the famous seaside city. The island is home to some of the most serene stretches of beach on earth, and like the surrounding spots has plenty of entertaining history to get lost in. Children will be enchanted by the magic of Hacienda Mundaca, a ruined house reputedly built by 19th century pirate Fermin Antonio Mundaca de Marechaja for an unrequited love.
There's also Crayola House, a private residence that has been decorated to look like a massive box of crayons. It might seem like a big island to cover; but numerous places on the island rent golf carts, so you can zoom around without getting too caught by the sun or tiring yourself out, making it one of the best things to do in Cancun with your family.
As you step off the boat to the island you'll be presented with a multitude of options for carts; ignore these and head a little further down the road for cheaper deals.
A reasonable cost for a "large" cart (fits two adults and two children) for the day is around MXN 1,200 (GBP 40), although most places offer half day or hourly rates if you're not keen on staying out too long.
Visit Mayan Ruins
If you're raising a budding anthropologist, or just want to expose the family to the wonders of the ancient world, there are a number of ancient Mayan ruins in the area surrounding Cancun that are both mightily impressive and highly educational. Chichen Itza is the most well-known site, with the pyramid shaped Temple of Kukulcan dominating the area.
The complex is just under three hours away from Cancun, but it's an established tourist route so requires almost no planning to go and see; you can simply book on a tour. Cancun Vacation Experts offer an excellent day tour for MXN 1,500 (GBP 50) per person.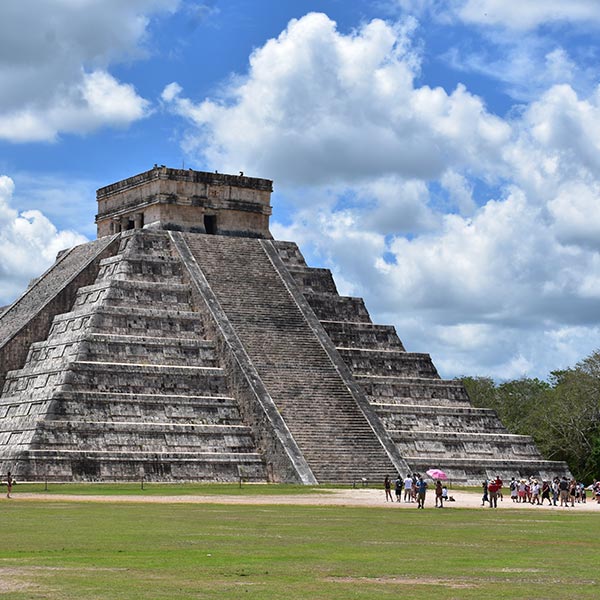 If you're looking to stay closer to your hotel or residence, El Rey Archaeological zone is a mere twenty-five minutes from the Hotel Zone and delivers on impressive ruins, whilst also having the added benefit of allowing visitors to walk among the structures freely, all for just MXN 50 (GBP 1.70). Combine this with a trip to Museo Maya de Cancun in the centre of town to really get to grips with Mayan culture (MXN 80/GBP 2.80).
Having fun in Cancun doesn't have to mean swimming with sharks or staying out until the wee hours: at Ventura Park, people of all ages can become thrill seekers for the day. Aimed specifically at families, this massive complex has everything from super-fast water slides to paddling pools for toddlers and younger. Aquaphobes are catered for too; within the park there are several sections that each offer something different.
Fun World delivers more traditional theme park rides, the Grand Prix section lets you feel the burn as you race against your family and others, and the Underworld section lets you escape into a world of virtual reality, laser tag, and bumper cars.
Prices vary depending on the season and due to online discounts, but generally speaking to buy a ticket for the day costs MXN 820 (GBP 28) for adults and MXN 550 (GBP 20) for kids.
A couple of hours south of Cancun in Playa del Carmen, Xcaret is a one of a kind nature park that has something for everyone. Split between natural and cultural attractions, this eco-park offers everything from swimming in underground rivers to educational activities about the flora and fauna that make up this part of the world.
It's easy enough for a day here to flash by in the blink of an eye, making it an excellent option if you're wondering what to do in Cancun with your family.
Adult tickets cost MXN 2,1700 (GBP 75), and for children under 12 it's MXN 1,100 (GBP 38). You can add transportation from Cancun for an additional MXN 580 (GBP 20) for adults and MXN 260 (GBP 9) for children.
Mayan for "where the water is born", this amazing park two hours south of Cancun offers the very best of water-based activities on the Mayan Riviera, all in a safer environment than the open sea. Most famous for the snorkelling that's on offer, there are a series of other adventure activities, including cliff jumping, zip lining, and water slides.
The park is also home to Queen Conch Sanctuary, a wildlife reserve that serves as a research hub for various Mexican universities. Definitely one of the best things to do in Cancun with the family, tickets for adults start at MXN 2,000 (GBP 70). For children, it's MXN 990 (GBP 35). For transport to and from your Cancun hotel, it's an additional MXN 600 (GBP 21) per passenger.
Sky Zone
Sometimes the simplest things in life are the most fun, and nowhere is this truer than Sky Zone trampoline park. One of the best things to do in Cancun for families, this monument to bouncing is located in the Plazza Malecon Americas shopping mall and offers a cheap yet exciting way to get the kids all tired out, and maybe to help them meet some friends. Half an hour of bouncing costs MXN 135 (GBP 4.85), so it's great value for money, especially if you're wondering what to do in Cancun with your family.
Ready to whisk the family away to the Mayan Riviera? Download the Orbzii app today to Dream, Plan, and Book your next getaway!