Newlyweds, you could book your Amalfi Coast honeymoon in almost any spot on this coastline and find yourself in a sea of Italian romance, a whirlwind of gourmet eats and opportunities for hand-in-hand strolls. But the best Amalfi Coast honeymoons come with a little research, a little local intel and some handpicked places to elevate your trip a notch or two above an ordinary stay. We've picked out some Amalfi Coast gems for your honeymoon inspo… 
Towns
Ravello
To spend your Amalfi Coast honeymoon gazing out over fairytale sea views, make your way to the lofty peaks of Ravello. You'll be able to wander the historic gardens and sculptures of Villa Cimbrone – but the best views can be found on the infinity terrace. For more flowers, shady umbrella pines and classic Moorish architecture, the grounds of Villa Rufolo are the ideal place for romantic strolls, sea views and a peak into the town's history. 
Orbzii tips: Avoid the peak summer crowds of the towns below by heading up to Ravello in the late afternoon. Do also check your honeymoon dates don't clash with Ravello's summer opera festival. 
Atrani
Could this tiny town deliver on everything you need for the best Amalfi Coast honeymoon? Absolutely. Quaint, chic and definitely a little more easy on the eye than some other Amalfi Coast towns, Atrani is a honeymoon haven. Fewer crowds – as this town gets inexplicably overlooked, a beautiful beach and just enough pastel painted houses to keep the Amalfi vibes flowing. Come here to experience the real Amalfi Coast – and be dwarfed by idyllic cliff views of terraced lemon groves, terracotta roofs and classic Italian architecture. 
Restaurants
Da Adolfo
Sailing into the rustic Da Adolfo restaurant by boat has to be up there with one of the most romantic ways to spend an afternoon. Low key, and no frills, this rather exclusive but pared back venue attracts celebs and those in the know for a slice of the Amalfi Coast from days gone by. Food is served at 1pm and 3pm (though if you chat with the staff, you're free to stay on the beach a little longer). 
Orbzii tips: The only way to get to this exclusive restaurant and beach is the small shuttle service that picks up in Positano harbour. Book your spot by telephone – email reservations aren't the done thing at Da Adolfo. 
Ristorante Franchino
Pair candlelit dining with stunning sea views at Ristorante Franchino. For 50 years they've been cooking up delicious seafood dishes in Praiano and regularly topping the lists of best restaurants on the Amalfi Coast. Yes, the views over Conca dei Marini are gorgeous, but the menu makes this much more than a place to stare at the sea. Ristorante Franchino have also mastered the knack of making the dining experience feel intimate and private, not an easy feat on this often bustling coast. 
Things to do
Marina di Praia
This tiny beach near Praiano has little to offer in the way of sunbathing. But if you want to add a romantic stroll to your Amalfi Coast honeymoon, it's perfect. Weave your way through the fishing boats and nets, across the pebbles to the cliffside. You'll find a walkway hewn into the rocks that winds around the cliffs – and takes you right to the welcoming sun loungers of Il Pirata Beachclub and Restaurant. Swing by at night for a lantern lit stroll and a sumptuous meal. 
Orbzii tip: You can sunbathe right on the beach at Marina di Praia – where you'll find a handful of loungers for hire. As a working fishing beach, it gets pretty crowded with boats, fishing gear and onlookers taking snaps of the colourful, traditional boats.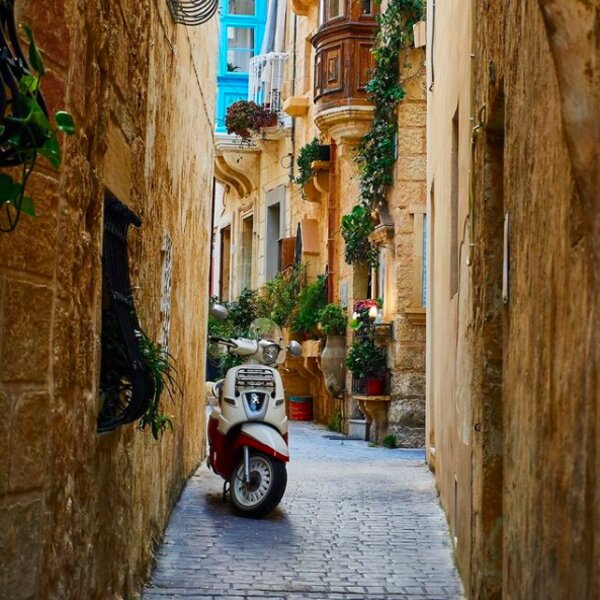 Hop on a scooter
Maps, narrow roads and limited parking could all spell a.r.g.u.m.e.n.t on your honeymoon. Which isn't ideal. So rather than swerve driving the Amalfi Coast altogether, consider hiring a scooter. Positano Scooter can deliver and collect your wheels – and get you on the road for around €60 a day. Though, consider spending an extra €20 for the classic Vespa 125, if only to add another touch of Italian style to the honeymoon snaps. Grab a scooter each – or share one for breath taking journeys around the stunning Amalfi Coast's hairpins and ocean-side roads. 
Take a cooking class
You'll find opportunities for Italian cooking classes around almost every corner in Southern Italy. But for the best Amalfi Coast honeymoon experience? Find your way to Tenuta San Francesco. Set on an 18th century wine estate, up in the Tramonti hills, the vineyard hosts lunchtime cooking classes – leaving the afternoon free for mountain hikes – and wine tasting events. Learning to cook a delicious Italian meal together, you can bring your new found cooking skills – and recipes home to recreate your honeymoon memories whenever you like. 
Orbzii tip: If you'd rather give the cooking a miss – don't miss the chance to taste the Tramonti region wines. Tintore grapes grow almost exclusively on these hills – and the wines made have a distinct flavour.