Rainforests, beaches, and mountains: in three hours in Bali you can see all the above and then some. This diversity makes it the perfect place for any budding photographers to get in some snaps that will wow even the most ardent of feed scrollers. Cameras at the ready, because here's your photographers guide to Bali for the ultimate shots for the gram. #Wishyouwerehere…
Tegalalang
If you're brave enough to hop on a moped here, you're bound to come across some beautiful Bali rice fields whilst zooming around, so getting a few great pictures in won't require any forward planning. However, if you're not keen on risking a Bali limp, then you need to head over to Tegalalang, just outside of Ubud. This Bali rice field is in a valley and is terraced for a gorgeous effect. Sunrise is the ideal time to head here for the best snaps for the grid.
Pererenan
If you're located on the south of the island and don't fancy driving into the centre, then this small farming village just outside of Canggu offers an equally stunning landscape to capture. Head down Jalan Pantai Pererenan and you'll see hundreds of different great photo spots to capture these Bali rice fields, and as a bonus you can visit one of the black sand beaches in the area.
We're not saying that this is the closest you'll ever get to feeling like Disney royalty, but this experience at Karsa Spa in Ubud certainly makes you feel special. Not just great for relaxation, this Bali flower bath is as visually appealing as it is in an olfactory sense. A thirty-minute bath costs IDR 150,000, but must be bought as either a spa package or in conjunction with a massage.
Five Elements endeavour to take care of their environment just as well as their visitors, and if they give half the care to their surroundings that they give to their customers, the world will be just fine. They offer a range of traditional Bali flower baths to suit your needs, each of which are as pretty as they are relaxing. These can be bought as a standalone experience for IDR 800,000.
The oldest swing park in Bali and certainly the most well-known, the trek up the stairs to get to this Bali swing is tiring but worth it. Overlooking a massive, viridescent canyon, this park perfectly combines adventure with aesthetics. The park offers a package of seven swings for IDR 500,000, and there is also the opportunity for dress rental or to purchase professional photos if you don't trust whoever's in charge of your phone or camera!
Air Terjun
Air Terjun offers a double whammy of photography joy here, with multiple waterfalls and a great nest swing that delivers stunning scenic views. Less touristy than other waterfalls and much quieter than the other Bali swings, entry prices vary here. Adrenaline junkies are better suited to the classic swing, as this one is more geared towards the view.
Sambangan Secret Garden
TLC were right about a lot of things, but we have to disagree with them on one point: chasing waterfalls in Bali is a must do. The island has dozens of great, cascading natural beauties to choose from, but Sambangan Secret Garden is home to some of the best waterfalls in Bali, all surrounded by jungle. Ideal for great photos are most definitely worth of the grid.
Banyumala
The Banyumala Twin waterfalls are some of the best waterfalls in Bali from an aesthetic perspective. Unlike a lot of attractions on the island, they're well signposted, if not a little difficult to get to because of road conditions. Don't let that put you off, though: snaps taken here would make even the most ardent aquaphobe jealous.
Located a short car or bike ride from Ubud city centre, this paradisiacal hotel offers more than just a retreat away from it all. Their floating breakfast is regarded as one of the best in Bali, and like all good meals takes you on a sensory journey. Made up of local fruits and dishes, the only thing better than the presentation is the taste. But make sure you get your shots in before taking the first bite!
When you first walk into Puri Gangga, it feels almost magical. The wonder doesn't stop there, though: they deliver one of the best floating breakfasts in Bali too. Local fruits and dishes make up the bulk of it, but international favourites can be included.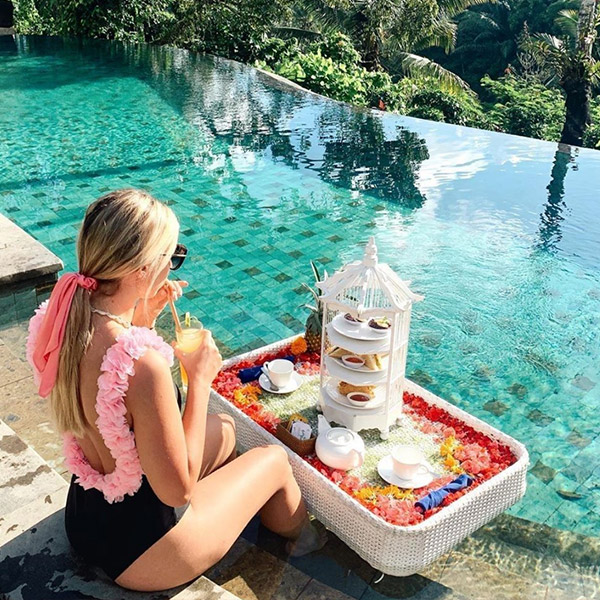 When people talk about paradise, they're probably picturing this resort in Bali. The infinity pool here stretches out into the Balinese jungle, and on occasion the local monkeys join you by perching on the edge; even they seem to be awed by just how beautiful it is.
It might be stating the obvious, but this resort run and designed by premium brand Bulgari is another level of gorgeous. The infinity pool here overlooks a massive cliff drop into the ocean, and swimming in it feels otherworldly. It's a prime location for a winning Instagram shot, to say the least.
Mount Batur
It might sound crazy to trek up an active volcano at four in the morning, but once you watch the sunrise from the peak of Mount Batur you'll be wondering why everyone on Earth doesn't start their day this way. Tour groups are recommended, and they all usually include breakfast. As the sun rises over the morning mist and smoke from the crater, you'll understand why the locals consider this place holy.
Ulun Danu
A Hindu temple, this floating masterpiece is magnificent at any time of day, but at sunset it comes into its own. Ethereal, enchanting, and exciting, as the sun sets over it you'll be lost for words.
Tanah Lot
Another floating temple, Tanah Lot sits right on the south western tip of Bali and the actual temple structure can only be accessed when the tide is right. Being on the Western side of the island, it's a truly unique experience and a joy to be here for sunset, and being able to capture it on camera is a privilege.
Can't wait to turn it up to a whole new level on social media? Download the Orbzii app today to Dream, Plan and Book your trip to Bali.