Santorini weddings are romantic, sea-scaped and sunset filled days of joy. And we don't say this lightly. Those among you who've always imagined your perfect day to be something approaching a fairytale wedding – this is your island. Ice white terraces gleam in the sunshine – providing the perfect blank canvas for your colour scheme. Caldera views and – sorry for the cliche – sparkling seas are your backdrop. Plus Santorini's wedding venues come with everything from on-site accommodation to firework displays and gourmet food. But it's not all glitz and bridal glam. Santorini beach weddings are no less impressive – but there are venues where the main focus is a chilled out vibe and, of course, the after party.
You'd be right to be cynical about our love for Santorini. But just one glimpse of any of the bloom-strewn terraces and picture-perfect receptions and you'll be just like us. Smitten.
Before you've even looked at Santorini wedding venues, the weather question will have cropped up a few times. And while we can't promise to predict conditions on your perfect day, we can clue you in to what to expect over the Santorini wedding season.
If you're budget-minded but want spring vibes, April, May and early June are your months. Looking for a hot, beach wedding when Santorini's season's in full swing? Late June, July and August are for you. Holding out for September? Expect spaces to be sparse everywhere. This is Santorini's 'Goldilocks' month, where almost all conditions are near perfect. If we had one word of warning for September? Things can get a little breezy. If weather's not on your radar and you're in the market for something quiet, low key and low cost, October through the winter months are the times to bag the best bridal deals.
Church and Chapel weddings
Depending on your religion, this is where things can get complicated. Unlike civil ceremonies, your options are limited. Catholic weddings only take place at the cathedral in Fira – though there was a phase where even this was off limits to visitors. Greek Orthodox weddings have the island's many chapels and cathedrals to choose from, but both of your religions will need to be one approved by the Greek Orthodox church. Lastly, same-sex marriages aren't legally binding in Greece. Though you can still have a symbolic wedding – just remember to sign those legal documents once you're back home.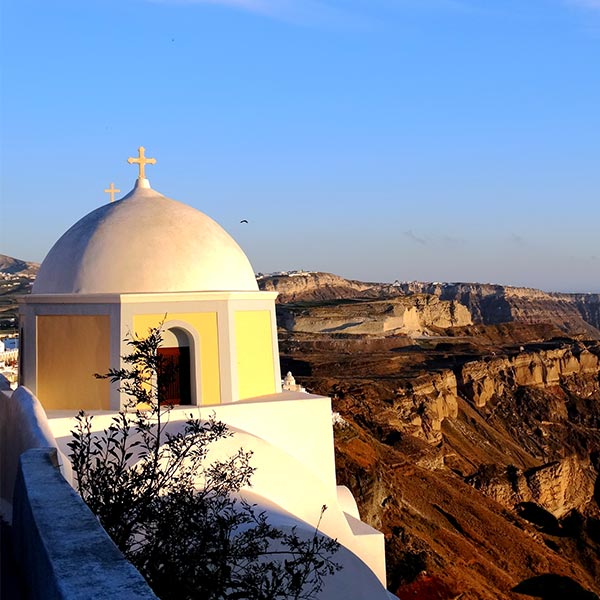 Wedding catering
All the venues we've listed, with the exception of El Viento Villa, offer their own in house catering. But that doesn't stop you shopping around for something more suited to your – and your guests tastes. Mario Catering has been in the business for 35 years – and with traditional recipes handed down from Grandma, you know you're in for something suitably Aegean. Spicy Bites Catering is a tad more eclectic, Greek, Indian and even a chocolate fountain appear on their menus. If you're concerned about organising your canapes and mains, consider the services of an event planner. Organised and in-country, companies such as Marryposa Royal Events can plan everything from your flowers and photography to catering and music.
Santorini Wedding Traditions
You'd be forgiven for thinking you'll need to stock up on a few plates for your Greek wedding. But the stereotypical post-wedding plate smashing is mostly a thing of the past. By all means still smash a few – venue allowing, but Santorini weddings have a few more refined customs to choose from. We're quite charmed by thought of musicians gathering at the groom's house on the morning of the wedding. They then accompany him to the bride's house – where they then provide the soundtrack all the way to the church. A tad flamboyant – but what a way to make an entrance.
If you're looking for something a little easier to slot into your big day, it's traditional for guests to throw rice and flowers at newlyweds as they leave the church – though you could easily adapt this for any Santorini wedding day. There's also a rather elaborate tradition involving the priest, best man, a few villagers and a trip to a winery. The priest is there to gather vines for your wreath, the best man is needed to hand over sweet wine – to bless the vines – and the villagers? We're still none the wiser. As with all the best traditions, there's a slight air of mystery about this one. And those wreaths, a big part of the Greek Orthodox ceremony, they are then kept under your marital bed for luck.
Perhaps there's one Greek wedding tradition we can all get on board with – the celebration. Big parties, with big numbers – and a great excuse to invite everyone to a lavish wedding in Santorini.
Looking to taste a selection of fine wines for your big day? Check out our wine tasting tour of Santorini for all you need to know.
Got your guest list sorted? Get one step closer to your big day by sending the Orbzii app to your phone to dream, plan and book your ultimate wedding in Santorini.