Some things just work well together: rum and coke, mac and cheese, and Prague and stag dos. The ancient city has an ideal blend of cheap, raucous nights out and a plethora of fun, interesting activities that will make any pre-wedding blow out a memorable (or not so memorable) one. When you combine this with excellent beer and welcoming locals, you can see why a Prague stag is seen as the gold standard. If you're about to tie the knot or planning a party as the best man, then read ahead; we're giving you the run down on the best Prague stag do ideas.
Daytime Activities
Shoot some guns
There's nothing quite as exhilarating firing a gun. Whilst shooting can be dangerous, especially as a novice, there are several gun ranges in Prague that offer this amazing experience in the safest possible environment, so you can release your inner gunslinger without fear of causing any long lasting damage (other than developing a newfound love of all things ballistic).
Avim Praha is one of our favourites in the city; operating for over a decade now, the complex has two ranges and a variety of handguns to choose from, as well as more powerful guns if you're willing to pay.
A thirty-minute session on the range for two people with an instructor and all the equipment will cost around CZK 1,110 (GBP 38), although costs can vary and may be cheaper if you book as a group.
If you're looking for something a bit more traditional, Trebotov Shooting Range is more in the vein of clay pigeon shooting with shotguns, although they also offer pistol range shooting. You can rent the entire range for an hour for CZK 1,000 (GBP 33), although gun rental and instructors are an additional cost of around another CZK 1,000.
Action Park is a one stop shop for all things adventure, so if you're looking to cram in as many Prague stag activities as possible, then this is your best bet.
There are a huge range of activities on offer, but some of the best are Stag Darts (where the stag is hung in the middle of a giant dartboard and his friends kick balls at him – CZK 379 (GBP 13) per person), Zorb football (CZK 489 (GBP 17) per person), giant beer pong (CZK 279 (GBP 10) per person with a round of beers, or CZK 409 (GBP 14) for unlimited beer), and a car demolition (where you can release your inner caveman by going to town on a car with baseball bats and sledgehammers – CZK 6,990 (GBP 240) per car).
You need to book ahead, but the grounds are large enough that they can accommodate a fair few groups at any given time, so availability shouldn't be too much of an issue.
Brewery Tours
There are multiple different brewery tours you can do in the centre of Prague, but these are smaller breweries that don't really offer much more than a few interesting titbits and some free beer.
Your best bet for a comprehensive tour that's only a short drive from Prague city centre is the Kozel tour at Velke Popvice. The tour teaches you about the history of Kozel and how the beer is brewed and packaged today, and you can also learn how to pour the perfect pint from their inhouse bartenders.
The tour price varies depending on group size, but you're looking at roughly CZK 2,000 (GBP 70) for the four-hour experience.
If you want to do something truly unique for your Prague stag do, then this military jet experience is for you. It's definitely not one for those on a budget, but as far as one of a kind, memorable experiences go, it's up there with the best in the world.
You will have to take the two-hour (one way) trip to Brno, but the town itself is full of great pubs and bars for your friends to hang around whilst you have the flight of a lifetime. A fifteen-minute flight on an L39 Jet Fighter costs around CZK 45,000 (GBP 1,535), but if you're big on planes or just want to try something spectacular, it's definitely worth getting the wallet out.
Night-time Fun
Known colloquially as "Dog Bar" because of the large hound that roams about, this ultra-cool bar is built like a maze, with dozens of different hidden spots all over the venue for you to have a few drinks in. They operate on a token system, which means instead of paying with cash at the bar you put some money on a token that's given to you as you walk in, which is then used in the same way you would a contactless card.
Drinks are fairly standard for Prague, so about 30 CZK (GBP 1) for a beer, and there's usually live music and random jam sessions happening throughout the venue, so if you're keener on that sort of vibe as opposed to electronic or dance music, this is the spot for you.
The biggest club in Prague bar none, this massive venue sprawls over five different floors and has been running for over two decades. Each floor offers something unique, although you're likely to spend most of your time on the bottom one, which is where they play popular chart music.
The other floors all play different genres: electronic, disco, hip hop, and more chilled music, so no matter what your group is into, you'll find it here. There's no dress code, although we'd always recommend smart casual to avoid any potential incidents with bouncers. The entry fee is CZK 250 (GBP 9), and drinks are more expensive than what you'd pay in a bar, but still quite cheap.
If you want to chill out, the club has an Ice Bar attached, where you can drink in sub-zero temperatures. The Ice Bar is open earlier than the club, so you can even have a few there before heading to the main club.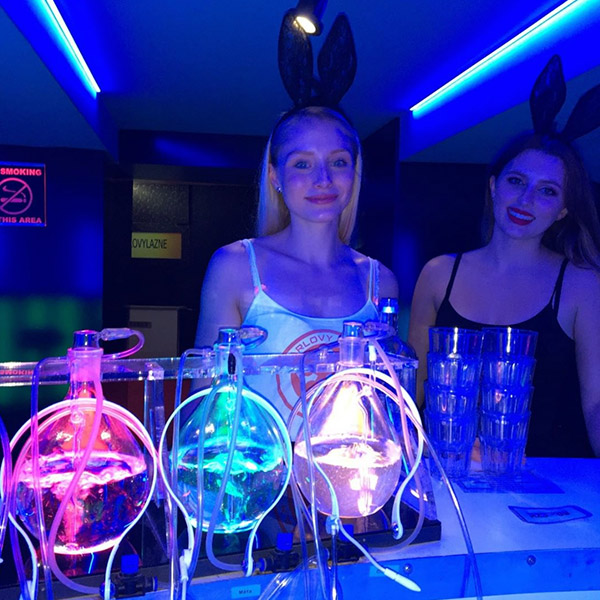 If you visited Steampunk during the day, you'd think it was just a cool restaurant with a well-stocked bar and interesting décor. After 10pm though, it turns into a den of dancing and drinking, with hundreds crammed into the venue as the bar staff dance on the tables and fling out shots to lucky customers.
This bar doesn't just use steampunk as an aesthetic: they live it, and love it, and so will you when you walk in. Open until at least 5am, this is the perfect place to stumble out of as the sun rises.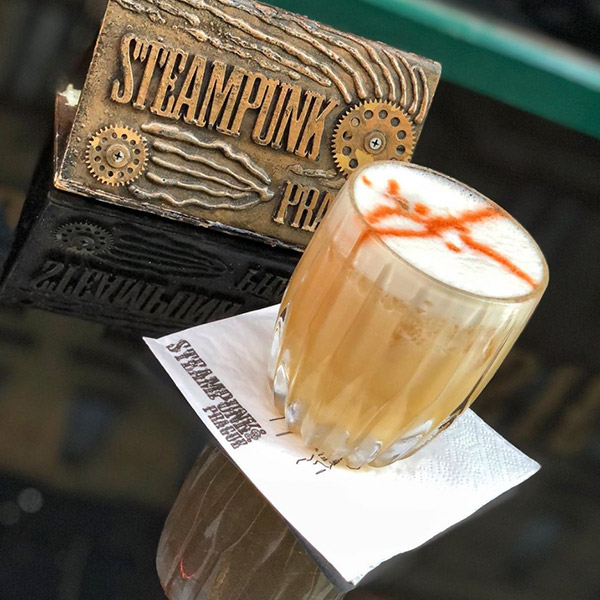 Rearing to get the stags on tour? Download the Orbzii app today to Dream, Plan, and Book your perfect pre-wedding blowout!