If news that Tour De France cyclists rate Tenerife ' s steep gradients as a top training ground gets you slipping your lycra in your suitcase sharpish, you ' ll want to check out the routes below first. With no real flat sections of tarmac, Tenerife cycling will test your fitness and endurance – even on the beginner routes. That said, we have got a scenic ride for beginners – that ' s got enough of a test in it to lure advanced riders considering a ' rest ' day. And we ' ve looked at ways for you to tackle Teide – and tackle it you must. It ' s all about the climbs. And if those hills were good enough to tempt Sir Wiggins and Team Sky, they're bound to tempt you.
Tenerife Cycling Routes
Beginner: 57.5km Playa de Las Americas to Los Gigantes loop
You ' re going to have to grind through some ascents to get your cycling rewards in Tenerife. But on this route, you'll see some lovely cliffs. So it's not all bad. Hop on your bike in Playa de Las Americas and cycle towards Adeje.
From there, you'll cycle the TF-47 to follow the coastline towards Los Gigantes. Passing banana plantations on route – you'll swing by the unmistakable red colossus that is the Ritz Carlton – home to one of the best golf courses in Tenerife. A pit stop here could be pricey, so soldier on to the fishing village of Alcal á where the eats at the Sun Bean Bar Cafe are spot on.
In Los Gigantes it's all about the cliffs, but the small but perfectly placed harbour's a nice spot to stop, relax and spot stingrays and trumpetfish. Homeward bound – it's climb time. A 10km stretch of slope to Tamaimo – where there's no let up. Only 3km more – then it ' s mostly downhill all the way, passing Guía de Isora before reaching Playa de Las Americas.
Intermediate: 50 - 100km Anaga Laurel Forest Loop (with added options)
This intermediate cycling route comes fully loaded with a variety of views, route options and detours – plus some pretty testing climbs. Cafe stops, quiet back roads and the chance to pedal along one of Tenerife's most beautiful cycling routes makes it a 'must see' that often gets overlooked by more obvious choices.
Starting in Santa Cruz, head anticlockwise on the TF-12. You'll want to give Santa Cruz rush hour a miss, but once the traffic's behind you, you're going to pass through the urban but charmingly colourful – and UNESCO World Heritage listed – streets of San Cristobal de La Laguna. Take it all in before pushing on to Anaga Rural Park. Peaks, ravines and all things craggy are nicely accessorised with a carpet of laurel trees. Lush green forest is a nice change from the sometimes stark, arid, volcanic-scape of Tenerife. Here you can peel off on the glorious hairpins cut into the steep, steep mountains. Without add-ons, the loop is a 50km mix of forest, coast and urban pedalling. Yes, it'll test your fitness, but you'll see some of Tenerife's best bits.
Advanced: 136km Chio to Teide via La Orotava Loop
To say all roads lead to Mount Teide would be pushing it. But, in Tenerife, cycling routes to the volcano are numerous.
So, which one to pick? You'll not go far wrong if you start in Chio. Let's just take a moment to remember you're cycling up a volcano here. It ' s a climb not to be undertaken lightly. That said, yes this route up is advanced, but it is doable. From the first pedal rotation, you're climbing and headed towards Icod de Los Vinos. Forest, fields and villages will be your backdrop before peeling off on the TF-342 to La Orotava.
Here you might consider a stop. An olde world spot – with a World Heritage listing. You'll definitely want to stop and appreciate this moment – because it's all uphill from here. 38 gruelling kilometres to the Teide summit and an altitude of 2300m+. We know this isn't your first time in the saddle – but do prepare for the weather. To say it's changeable is an understatement. You'll be passing through clouds on the way up – bringing damp conditions, and chilly thinner air at the top. The good news? The climb is fairly gradual – with sections for recovery on the way. The tarmac's in great shape too. Non-stop views and a fun descent back to Chio round this one off nicely.
Mountain Biking in Tenerife
It's not all tarmac and road routes. For a volcanic, sun-baked island there are also a surprising amount of forest MTB trails in Tenerife. Over 200kms of dirt track are waiting to be shredded. Just don't set out without making sure your trails are legal. You definitely can't bike the slopes of Teide – but Tenerife's alternatives more than make up for that.
Easy: 9.3km Guia de Isora Route
In the north west of the island, this easy little taster track sits nestled in the Corona Forestal Park. You're in for almost entirely pure downhill or flat-ish fun. Though there's a 2km climb at the end that'll add a nice test of the legs after the ride along the river. Fun, forest and a good start to any mountain biking trip in Tenerife.
If you're mourning the Teide slopes – you can still feel what it's like to control your bike over lava terrain. Loose lava gravel means that you'll need a decent amount of mountain biking experience. Controlling your descent, traversing the lava flows still in place after the Chinyero eruption in 1909 and seeing the pines rising from the black rock makes this a trail you'll rarely see elsewhere.
Cycle Hire
The cost, admin and hassle of checking your bike in as excess baggage is less than appealing. But when it comes to cycle hire, Tenerife has some pretty impressive options. Hire locally, or have your chosen bike delivered to your hotel, house or apartment. Quick, easy and there's options ranging from road to mountain bikes – with high spec models to woo even the most serious cyclists among you.
Wilier bikes are the order of the day here. From a pootling e-Bike to the carbon frame Wilier GTR team – your road options are well covered. Mountain bikers aren't left out – the Wilier 503x should get you on the dirt tracks in good shape. Costs vary by model and length of hire. As an example, a one day hire of an alu frame bike comes in at € 20. They'll deliver to your door.
Not limited to one make of bike, Bike Point Tenerife also go the extra mile when it comes to
customer service. A great bike range that's fully serviced after each hire, your cycle will also come with a kit to keep you on the road. A Teammachine ALR costs €24 for one day – with daily prices decreasing for longer hires. Shops in Las Am é ricas and El Médano where you can collect your kit. They'll also deliver to hotels on the south of Tenerife – delivery charges start at €10.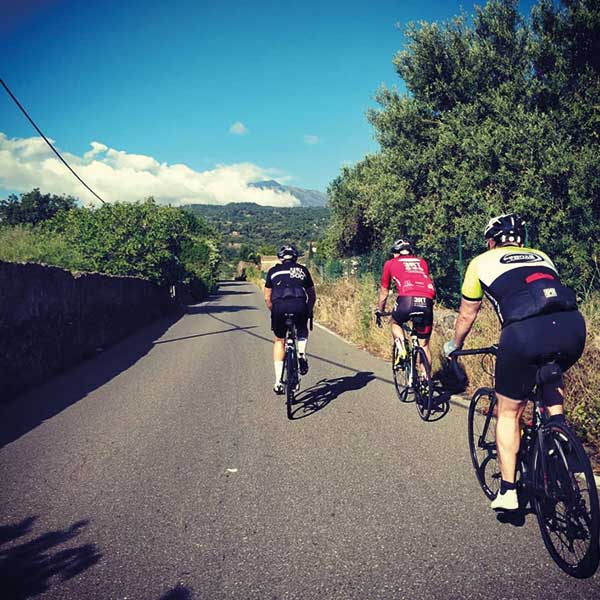 Helmet and energy bars aren't the only accessories you'll need. Orbzii app is a nifty little tool that'll get you in the saddle in Tenerife, sharpish.