Tokyo is a city of extremes, housing thousand-year-old temples and towering skyscrapers. It's an urban jungle with enough green space to escape into. All in all, it's an excellent place to snap a few photos, no matter what type of photography you're into. Cityscapes, natural splendour, and intriguing street photography: you can do it all in a day here, if you so please. Of course, some shots are overdone and, frankly, overrated, but we've developed our knowledge to show you the best places to memorialise your Tokyo adventure.
Golden Gai
In the heart of the Shinjuku business district lies this small area full of buzzing, traditional bars, where salarymen slump down after one too many beers.
This collection of ramshackle drinking holes remains as it did in the post-war era, and most venues can only fit a few people in. At night, the winding alleys light up with the alluring lights of dozens of establishments, and punters scuttle between the golden orbs of light that seem to hover above the backstreets. An excellent spot for Tokyo photography, especially when it rains, and the district gets an ethereal, dreamlike feel to it.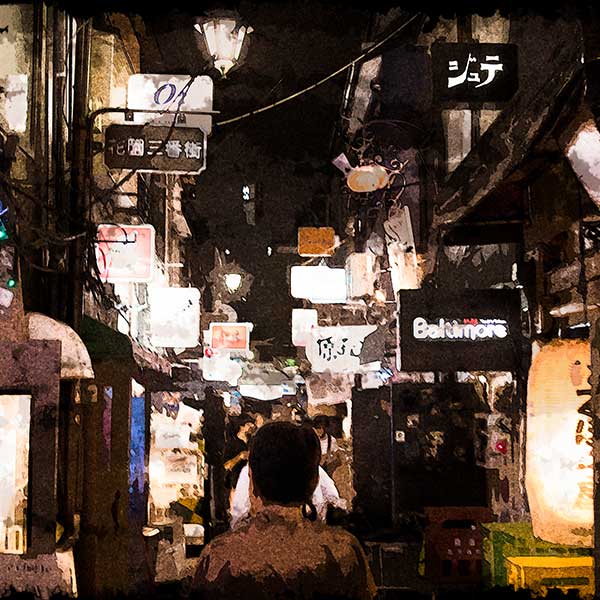 There are a lot of skyscrapers in Tokyo, but many don't allow access to the public or charge for the privilege.
The observation deck at the Tokyo Metropolitan Government building, however, does neither of those things, so is the perfect spot to get sweeping views of the famous skyline. There are two decks, so you can get panoptic views. Importantly, a lot of people don't know about it, preferring the more famous Tokyo tower viewing deck, so you're less likely to be incumbered by massive groups.
Shinjuku Gyoen is a natural oasis in the vast urban jungle of Tokyo, and as a result offers some excellent opportunities for Tokyo photography.
Not only do you get the sweeping green spaces that most of the other parks in Tokyo offer, but Shinjuku Gyoen has the added benefit of being home to various smaller botanical gardens, where you can capture great shots of English, French, and Japanese flora. It's also right next to Shinjuku station, so it's incredibly easy to get to, and is a great place to see the Cherry Blossom bloom if you're around in early Spring.
The more famous Rainbow Bridge tends to collect a lot of budding photographers keen to get a picture of the Tokyo cityscape, but this bridge on the north eastern side of town is an underrated alternative.
The bridge has been around in some form since the 18th century, but the most recent redesign took place in the early 20th. Azumabashi is great for shooting at all hours, but dusk is definitely the best time to snap a picture; the red bridge contrasts beautifully with the darkening water and bright city lights in the background.
Kawasaki industrial area
Steampunk fans and those who just love a post-apocalyptic vibe need to head to this industrial area south of the main city. During the day, Kawasaki serves as Japan's engine, with all sorts of industry giants having their home here, although many of the factories also run through the night.
If you're coming here for photography, you need to make the trip down in the evening when everything suddenly takes on a dystopian feel. The area is massive, so there's plenty of opportunities for unique Tokyo photography, and you can get there by bus or even take your snaps during a night time river cruise. It's totally fine to wander around, too, so if you want to go alone you can. If you're an early bird, have no fear: in the morning light it looks great, and on a clear day you can even see Mt. Fuji in the distance.
Traditionalists should head over to Asakusa, the centre of what locals call "the low city".
Here, you don't get the modern Tokyo, but almost feel like you've been whipped back into the past. The main attraction is Sensoji, a millennium old Buddhist temple, but there are plenty of beautiful ancient buildings that weren't destroyed in the war, so you don't need to focus on that. Take shots here during the day so you can really take it all in.
If you're more interested in people than places, then Takeshita Street in Harajuku is the ideal location for you to snap to your heart's content.
The street and its surrounding areas are the epicentre of Japanese teen culture and fashion, and a visit there will give you a glimpse of some of the most interestingly dressed people you're likely to meet during your Japanese adventure. Garish, unique, and never boring, it's a street photographer's dream. For some bonus snaps of cool graffiti, head early before the shops open, as most of the shutters are covered in eye grabbing street art.
Hoping to snap some shots of Tokyo's natural beauty? Heading here during cherry blossom season is a must – check out our guide on the best places to enjoy this beautiful phenomenon.
Can't wait to get snap happy in this wild city? Download the Orbzii app today to Dream, Plan & Book your trip of a lifetime.