Whilst the land of Oz isn't quite open yet to everybody, rest assured that Australia is waiting to welcome you back with a huge g'day sometime soon. However, this Australia Day, why not take some time out to dream of some of Australia's most loved sun-drenched beaches, vibrant cities and unique wildlife as you Dream, Plan and Book your next adventure Down Under.
Five unmissable things to do in Australia
There's more to Australia than just the iconic landmarks of the Sydney Opera House, the Great Barrier Reef and the set of Neighbours as impressive as they are. Did you know that there are over 20 UNESCO World Heritage sites, a glorious foodie scene and some pretty stellar street art throughout Australia that are certainly worth exploring? Australia might be the smallest continent on Earth, but this bountiful continent has so much to offer.  So, where are the five top hidden gems you should add to your Aussie bucket list?
Dine under the stars at Uluru-Kata Tjuta National Park
This awe-inspiring national park with its world-famous geological formations in the heart of the Central Australian desert is named after two of Australia's most spectacular sites: the world-famous sandstone monolith of Uluru and the red domes of Kata Tjuta. Sunset over the rust-red flanks of Uluru is a magic moment that you simply won't want to miss. Lose yourself in the local Anangu culture and the park's natural environment by day and dine under the stars of a dazzling night sky of the Australian outback where you can enjoy a menu of delicious dishes that feature ancient Indigenous flavours.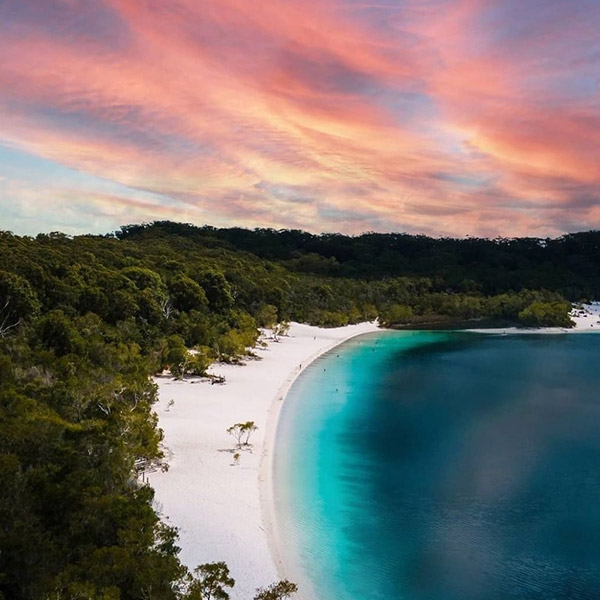 Go whale spotting at Fraser Island
Home to some pretty unique flora and fauna, the iconic dingoes and some of the world's most beautiful unspoilt beaches, Fraser Island with its rugged and wild landscape sits off the southeast coast of Queensland is one of the jewels in Australia's crown.
From the rainforests and the majestic freshwater lakes to the powder-like sands and natural spas, you will have a plethora of incredible photo opportunities that are great for the 'gram. With different habitats such as lakes, ocean, beach, rainforest and rivers, it is easy to understand why Fraser Island has such a diverse and amazing population of wildlife. Whales, possums, turtles – the list goes on! You can spot some amazing wildlife whilst exploring the stunning landscapes, making this a haven for those who adore the great outdoors.
Get snap happy with Melbourne's Street Art
Did you know that Melbourne is one of the best places to see world-class graffiti, murals and street art in Australia? Whilst it's known for its foodie fanaticism, coffee hotspots and rooftop bars where you can enjoy sipping a delicious cocktail? Melbourne also has a strong art scene which includes over 100 art galleries and an ever-changing and world-renowned selection of street art . Each district that houses the art has its own distinct feel and any self-respecting Instagrammer will be spoilt for choice when it comes to snapping some of the highlights from Melbourne's street art hit list. Explore independently or why not take a guided tour?
Get salty in Sydney
Sydney – we love you! From its rich heritage and stunning vistas to its prodigious cultural, culinary and creative offerings, visitors to the city can choose from quintessential Sydney experiences as well as appreciating under-the-radar local secrets. Whether you favour camping in some of the most gloriously beautiful spots in the city or chowing down in Chinatown, you will have plenty to see and do. 
We love the Bondi Icebergs Pool, which is the most photographed pool in the world and it's easy to see why. Located on the shore of the iconic Bondi Beach and this saltwater pool is a popular haunt for sunbathers and swimmers galore.
Make friends with the quokkas on Rottnest Island
One of the cutest animals on the planet, the adorable quokka has to be one of the most instagrammable sights of Australia. The quokka is a captivating and inquisitive wallaby-like marsupial who has the reputation as the world's happiest animal thanks to their cheeky smiles. They can be found on Rottnest Island, an protected nature reserve island which can be accessed by taking a short boat ride off the coast of Perth.
That's your Aussie trip itinerary sorted! Why not download the Orbzii app on your phone today to plan your ultimate holiday in Australia when it reopens?