Florence wedding venues are just as lavish and historic as you'd expect. Always dreamt of a castle wedding, palace wedding or even a countryside escape wedding? This is the city where those dreams can come true. Castles aren't in short supply – and urban palaces seem almost ten a penny. Naturally, the best wedding venues in Florence come fully packaged with wedding butlers, menu choices and vast chandeliers – but even the local registry office is a history-packed option. Rustic options lie out in the Tuscan hills and while you may be tempted to stay close to the city, don't forget those all-important terrace views. 
Palazzo Borghese
Chances are, regardless of your budget or guest list, if you picture a dream Florence wedding venue, Palazzo Borghese hits all the right notes. Palatial setting, huge chandeliers, high ceilings, multiple banquet halls and there's space for a not-too-shabby 300 guests. Add in the historic clout of this 16th century palazzo and things are shaping up to be suitably antique-strewn and luxurious. Located in the heart of the city, there's little more this neoclassical venue can do to woo brides and grooms to get wed within its walls. Despite the size, there's an exclusive use option, which ties in nicely with the dance floor, DJ facilities and in-house wedding planner. As you'd expect for a venue of this stature, there's little you can't tweak to make the day your own. All-vegan menu? The catering team have got that covered. In a place where anything is possible, fairytale weddings can happen. 
Castello Di Vincigliata
If the inner city vibe at Palazzo Borghese doesn't quite match your ultimate wedding dreams, then the sprawling countryside pile of ramparts and towers that is Castello Di Vincigliata just might. Sat just a few miles from the city, this 11th century Florence wedding venue is almost a scene-stealer. Getting hitched inside a real castle certainly adds a certain prince and princess touch to the day. And the torchlit courtyard only adds to the medieval royalty spin. Though this is another venue stuffed with history, art and antiques, it never feels fusty. There are enough modern touches to make the venue suitably old-world glam. The views from the terrace are certainly something – but here, it's the overall castle package that will win your heart. The only downside? Such a huge venue will need quite the guest list to make it feel cosy. 
Orbzii tip: Superstitious couples may want to dig into the castle's tragic love story before booking their special day. Rumour has it, one of the earlier occupants saw the demise of her future spouse from the towers and is thought to still roam the castle, broken-hearted in her wedding dress. 
St Regis Hotel
If you've been eagerly googling the best Florence wedding venues already, you may have seen the St Regis Hotel crop up a few times. It is, quite frankly, another jaw dropping venue. Yes, it's part of the Marriott chain, but the French interiors couldn't be further from your typical hotel vibe. You're looking at almost Versailles levels of palatial, where the term 'Renaissance grandeur' is used without the merest suggestion of exaggeration. Here, the wedding packages are bespoke. You'll have your own dedicated wedding butler to ensure proceedings run oh so smoothly and, one imagines, almost anything your heart desires on your wedding day. 250 guests can join you to frolic under the frescos – and, naturally, stay in one of the many guest rooms. 
Though, with only 80 bedrooms, you will need to shop around for additional accommodation. The exterior views can't quite rival the Castello Di Vincigliata – but you do still benefit from a scenic glimpse of the river.  
Orbzii tip: The St Regis' Winter Garden Restaurant might not be listed among the many Michelin star restaurants in Florence, but it is on Michelin's radar. The food here comes highly recommended. Worth noting for your wedding breakfast plans. 
La Crociona
Until now, we've been delving into the rather lavish and extravagant side of Florence wedding venues. So now we're heading 1.5 hours south east of the city to visit La Crociona. An agritourism farm located in the heart of the Tuscan countryside, that also happens to have an onsite chapel. Surrounded by vines, crops and rolling green hills, this intimate wedding venue has space for you and 10 guests to stay overnight. More guests can swing by for the ceremony and celebrations – but La Crociona is winning on the luxe but low key front. The candlelit farmhouse – or outdoor terrace – are gorgeous reception options. 
When it comes to catering, you're in good hands. When not organising weddings, the estate runs cooking classes that teach all who sign up how to make delicious, home-cooked, Tuscan fayre. Lines blur here between rustic and luxurious. Which really just makes it dreamy, without any unwanted pretentious touches. 
Orbzii tip: Do take full advantage of the impressive menu of wedding services La Crociona offers. They can take care of everything from paperwork to wedding favours. Their sizeable list of reliable, local vendors is worth its weight in gold. 
Villa Le Fontanelle
Love Florence, but want to exchange your vows somewhere a little less urban? We think Villa Le Fontanelle could be the answer. It strikes a middle ground that mixes a combination of all the venues we've looked at so far. A grand building that boasts castellations – without being a castle – sets the backdrop. A plush garden chockfull of 30,000 plants sets a manicured tone that the agritourism farm can't quite muster. And the onsite chapel is clean, bright and airy – but still has a historic feel. As event spaces go, we'd have to file it under 'perfect setting' in our Florence weddings run down. If you've pictured your big day to be mostly spent outdoors, this is the villa for you. The natural beauty of the gardens allows for minimal decorative planning – by you – or your wedding planner, while the size and scale can host a very sizeable guest list.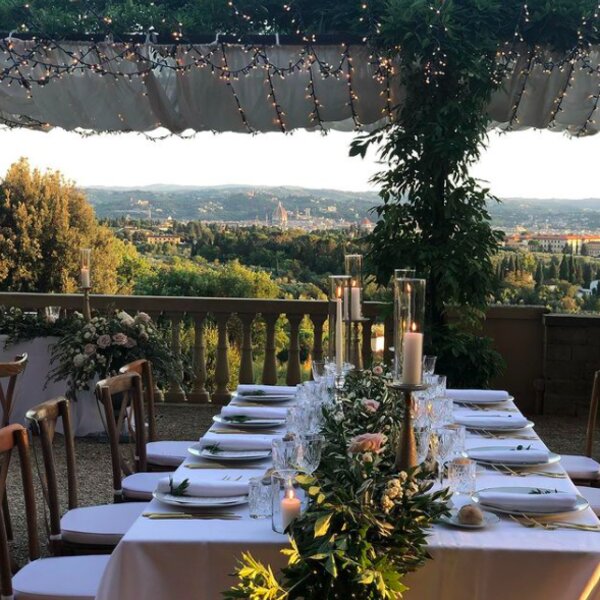 Orbzii tip: We'd recommend getting a wedding planner to help you design your day here. It's very much a blank canvas that lends itself to fairy lights, candle topped tables and varied colour schemes.  
Civil Weddings
Your Florence wedding plans needn't stretch to the endless logistics of booking banquet halls, compiling colour charts and arranging seating plans. Civil weddings in the city take place in a slightly more glamorous location than your average UK registry office. The 800 year old Palazzo Vecchio (city hall) is a grand old building complete with very Italian antique stylings. Giant paintings don the walls, sculptures line the hallways and all-in-all it's a very cost effective way to get a pared back version of some of the more swish wedding venues we've covered. Vows exchanged, you're then free to celebrate in style in any venue across the city.  
Orbzii tip: In Florence, wedding planners can do much more than help you decide how to fold your napkins and where to seat your 300 guests. Paperwork and logistics are tiresome enough, without having to tread the tricky waters a second language throws up. Having a fluent Italian speaker to keep on top of the admin is almost essential – regardless of the size and scale of your day.