Still trying to wrap your head around that name? We feel you. The aboriginal tongue-twister means "place of plenty" or "young black kangaroo" depending on who you ask. Either way, Woolloomooloo (shortened to 'Loo by locals) is one of the most historic areas of Sydney and a real mecca for foodies thanks to its deluge of epic eateries.
Nestled right on the water and just a stone's throw from Sydney Royal Botanic Gardens, Woolloomooloo has had a serious facelift in recent years. Once lush farmland and the location of the city's naval base before becoming a ramshackle working-class area, the harbourside district is now buzzing with hip places to wine and dine – especially around jazzed-up Finger Wharf.
Wondering why you should make a beeline for Woolloomooloo while you're in Sydney? Put simply, it's crammed with first-rate restaurants, awesome Aussie pubs, genuinely interesting heritage sites and quirky cultural enclaves. To convince you, we put together the following guide…
What to see in Woolloomooloo
Despite its relatively small surface area, Woolloomooloo Sydney sure packs a punch when it comes to things to fill the hours. Check out:
Finger Wharf
Woolloomooloo's most prominent feature has to be Finger Wharf: the longest timber-piled pier in the world. Back in the 1910s, it was the heart of Australia's wool trade before becoming a major passenger port in the 1950s for newbies to the nation. The wharf was set to be demolished in the 90s before an ingenious idea came about to redevelop it into a luxe waterfront complex.
Nowadays, Finger Wharf is a magnet for hungry residents and visitors after great bars and eateries with Sydney Harbour outlooks, plus it's home to one of the coolest apartment blocks in the city.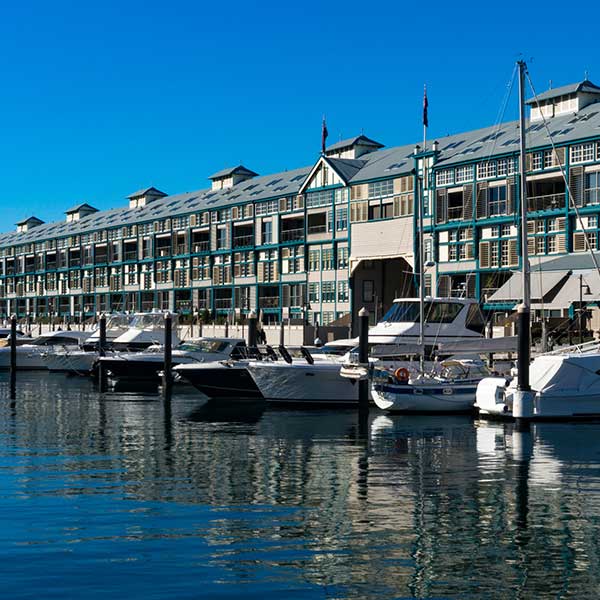 The Royal Botanic Gardens
While technically part of the Central Business District (CBD), Sydney's lush Royal Botanic Gardens border Woolloomooloo. Nearby spots worthy of a visit include the Domain parkland (which houses Sydney's longest moving walkway beneath it) and the Andrew (Boy) Charlton Pool, where you can practice your front crawl with spectacular views of the harbour.
If you fancy a stroll, head deeper into the Botanic Gardens to wander through tropical hothouses and past trees teeming with fruit bats.
Old Fitzroy Theatre
Lodged inside the cosy Old Fitzroy Hotel (the closest thing you'll get to a British pub in Woolloomooloo), the Old Fitz Theatre is one of the best kept secrets on Sydney's indie theatre scene. The 60-seat venue, run by Redline Productions, in the building's basement is no stranger to staging fantastic home-grown and world-renowned shows – from Shakespeare comedies to Oscar Wilde tear jerkers. What's more, you can tuck into some decent pub grub (think rump steak and fish and chips) upstairs beforehand.
Garden Island
Stroll southeast from Finger Wharf and you'll eventually hit Garden Island. Despite its name, it's actually attached to the mainland and has been a major naval base since the 1780s. Access is restricted by foot to civilians for obvious reasons, but it's possible to catch a ferry from Circular Quay on the west side of the Royal Botanic Garden straight to the public Garden Island Wharf.
Once there, you can swot up on your Aussie naval history at the small, but surprisingly informative RAN Heritage Centre and have a gander around the landmark's leafy grounds. There's even a fragrant rose garden, plus lawn tennis courts which are apparently some of the oldest in Oz. The highlight of Garden Island is the old Signal Station whose roof terrace boasts arguably the best views of Sydney after the iconic Harbour Bridge itself.
Awesome hotels in Woolloomooloo
There's a handful of first-rate snooze spots in Woolloomooloo that'll leave you feeling fresh as a daisy for a full day of exploring. Here's the pick of the bunch, with an option to suit every bank balance:
This five-star beauty is located right on Finger Wharf and is, in our opinion, the district's top hotel. All of Ovolo's contemporary rooms have been thoughtfully designed to include the building's original features, plus there's imaginative artwork which subtly tells the story of the area's past. Rooms might be pricey if you're in the city longer than a weekend, but a free minibar and yoga mat definitely sweeten the blow.
Price: $$$
Self-catering is the way to go if you're in Sydney for a longer stint. Nesuto Woolloomooloo has a range of spacious apartments at its site right next door to the Frisco Hotel on Dowling Street, with each one coming with all the essential mod cons you'll need. The décor is hardly designer, but it's clean, modern, central and good value for money, so who cares?
Price: $$
Sydney Star Backpackers
If you're hotfooting it around Oz with nothing but a pair of hiking boots and an overstuffed rucksack, the Sydney Star Backpackers is a good spot to bed down for a few nights in the city. Rooms are cosy and feature private lockers to secure your belongings. The best things about this hostel are the basic yet free breakfast and the rooftop terrace that's the perfect place to chill out with a cold one at the end of the day.
Price: $
Close to Woolloomooloo
This up-and-coming area is close neighbours with another hip Sydney suburb – Potts Point. Once known as Woolloomooloo hill, the elevated neighbourhood is one of the oldest parts of the city and where you'll find one of the oldest buildings: Elizabeth Bay House. The area is connected to Woolloomooloo via the famous McElhone Stairs – 113 steps that'll really have you working up a sweat in summer.
Woolloomooloo is also within walking distance of the CBD, Haymarket and Circular Quay, where you'll find Sydney's most iconic attractions – think Sydney Opera House, Sydney Harbour Bridge, Sydney Chinatown and various amazing museums. Heading out of the city and can't stand sitting in traffic? The M1 runs right through Woolloomooloo, giving you a quick getaway both north and south.
Ready to start planning your dream Sydney holiday? We've got an app for just a thing. Get ready to dream, plan and book to your heart's content with Orbzii.