The best beaches in Fuerteventura place you a world away from the Canary Islands. Which isn't a slight on the islands – but testament to the natural beauty of these shores. Looking more like an African coastline than the volcanic shores you might be expecting, Fuerteventura adds a little tropical touch in too. Turquoise waters, hot, hot sun and dunes that go on for days are a nice surprise after the lunar landscapes you might find on neighbouring isles. And, if those nearby islands pique your interest, there's a cracking beach on the Isla de Lobos that's just a ferry ride away. Brace yourself for beautiful beaches and book a spot close to your pick from the bunch below. 
For facilities and convenience
If you've acquired a little intel on Fuerteventura beaches and their benefits, you'll have heard of Costa Calma. The goldilocks of the island's beaches, it's 'just right' for, well, just about everyone. 2kms of sand makes find a spot to sunbathe easy – even in the peak months. You're right at the centre of a purpose built resort town in the south – so grabbing a bite, sun lounger, umbrella or any of the many things you'll need for a day on the sands is easy. Lifeguards keep an eye on swimmers. Currents never get too challenging and shallow waters let little ones paddle safely. If we had one gripe? The views aren't quite as stunning as some other parts of the island. But on balance, it's a cracking, convenient beach.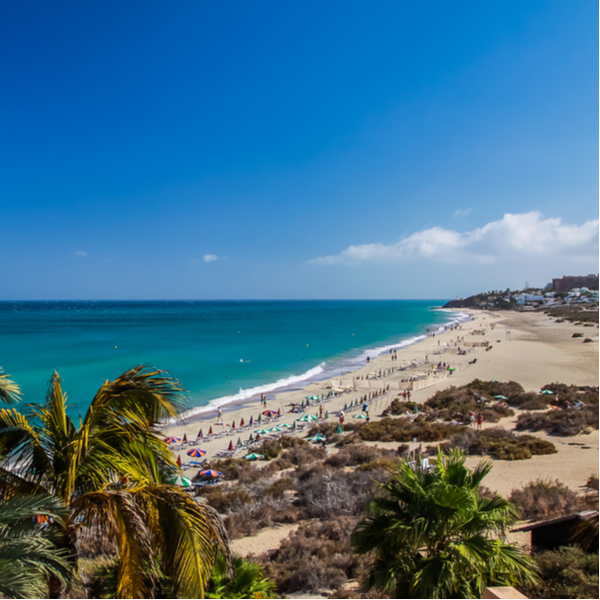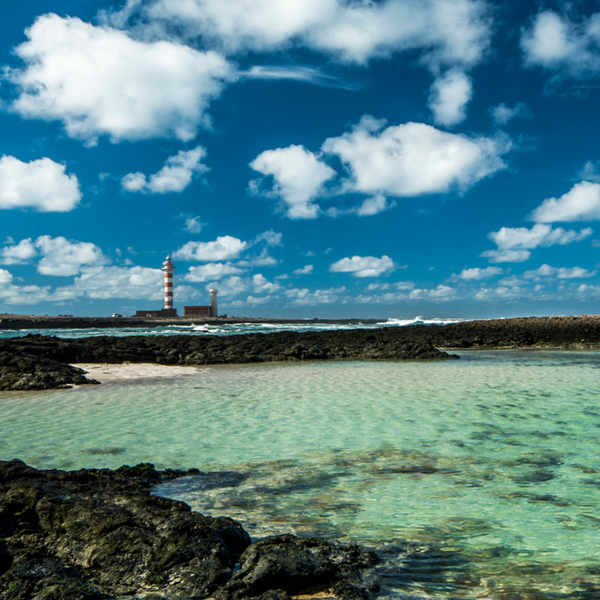 Calm and clear waters
Far from the convenient shores of Costa Calma, Caleta del Marrajo is everything that beach isn't. Up in the north, it's a remote kind of place where, despite the glorious sand on offer, you'll find few sunbathers. Summers do see the sands dotted with a few 'in the know' types who've done their homework. So what's here to lure you to this El Cotillo adjacent spot. Firstly, the waters are wonderfully calm and clear for little ones or anyone with an hour or two to spend snorkelling. Mini natural pools formed by lava rock are havens of privacy to paddle or recline in – when the tide's in or out and the soft sands are ideal for a stroll or two.  
Fuerteventura's secret beaches
Before you plot a course for an isolated cove, make sure your hire car's up to the task. To say the roads that lead you to some of the best beaches in Fuerteventura are bumpy is an understatement. Go 4×4 and possibly prepare to pay a little excess when you wheel your ride back looking a little dusty and forlorn at the end of the fortnight. Is it worth it? For Fuerteventura's beaches? Oh yes. To start, we're going to tip you off to a remote spot few tourists ever see. From there, it's up to you to track down more secrets. First up, head west to Playa de Jarugo. You'll contend with a lengthy stretch of gravel road – but the coastal views and occasional goat herd make up for it.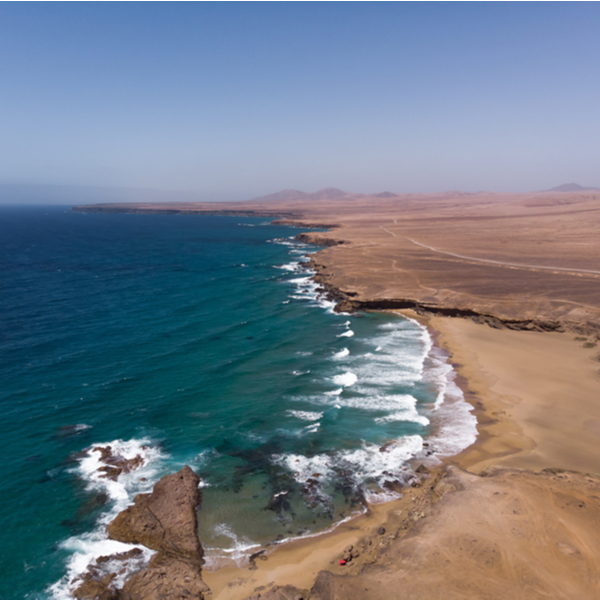 When you arrive, the only facility you'll find is a car park. Beyond that, it's 400 metres of wild, untouched sands to frolic on. Flanked at either end by cliffs, it's a rather dramatic spot. Crashing waves of white water and craggy rocks make this one a smidge treacherous for swimming.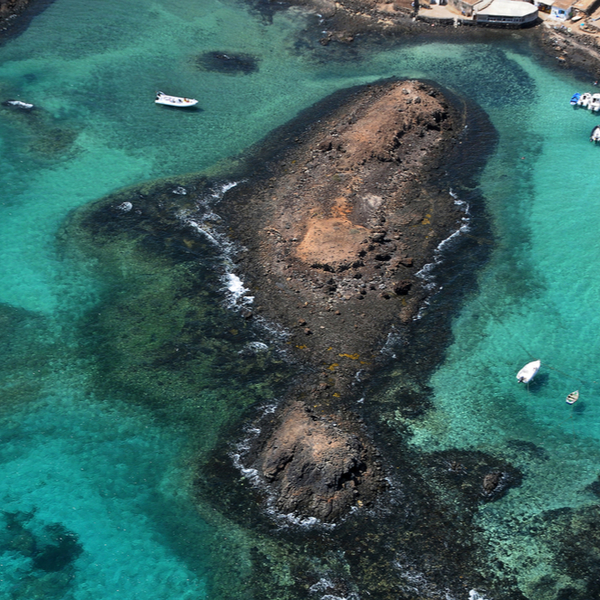 For the best snorkelling
To the untrained eye, Fuerteventura's soft sand beaches, with shallow sand shelves look like the ideal spot for a snorkel. And, sure enough, those clear waters are a bonus. There's just one problem. The fish aren't so keen. They prefer to hang out close to rocks. Which is where Playa el Puertito comes in. Yes, you'll need to hop on a ferry to Isla de Lobos to get there, but when you do, there's a craggy fish heaven waiting to explore. Pop your flippers on and explore the lagoons to your heart's content. We don't want to get your hopes too high, but as well as the little critters that dart about along the sea bed, there have been visits from rays and turtles. Fair warning, this beach isn't a looker. Here it's all about the underwater action. 
To catch a few waves
There are waves to challenge all kinds of surfer on Fuerteventura beaches. Goofy-footed, newbies, advanced boarders … everyone. But we're going to point out a beach that's really all about chilled out holiday surfing. There's nothing too technical to worry about at Flag Beach in Corralejo – other than making sure you stay out of the way of the kite surfers. Also known as Punta Prieta, it's popular with watersports fans. But with over 1km of coastline to enjoy, it's easy enough to find a swell to call your own. If you're just starting out, Flag Beach Watersports centre can get you up on a board with a couple of lessons – or some kit hire. You can also kitesurf, windsurf, SUP or head out on a catamaran. If that all sounds too much. Sit back and enjoy the watersports spectacle set to the back drop of Isla de Lobos in the distance.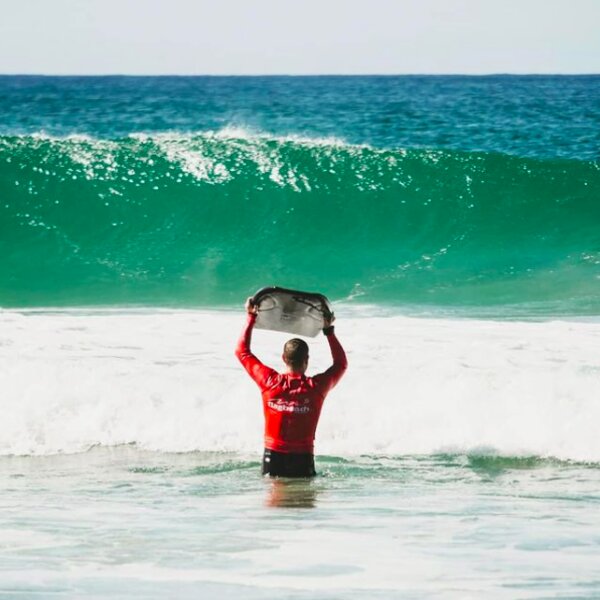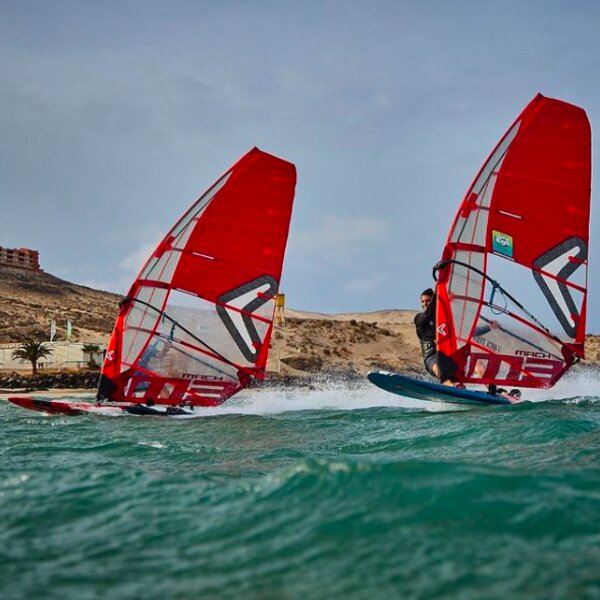 For the best windsurfing … in the world?
By all means drop by Flag Beach to catch some windsurfing action. Or even swing by the windswept shores of Playa del Matorral or Playa de Jandia in the south. But for the very best windsurfing conditions – or perhaps the most challenging in the world, Sotavento Beach is the one. This is where the windsurfing world championships are held every year and where the pros come to practice. Of course, it helps to know that, if you hug the shoreline and stay in the tidal lagoon, it's easy enough for newcomers to the sport to learn the ropes. The René Egli windsurfing centre holds the exclusive license for lessons in the 4km, shallow lagoon. An absolutely stunning spot to pick up some new skills. 
The all-rounder
It was a close call but Grandes Playas Corralejo just edged out Costa Calma to claim the ultimate 'all-rounder' crown. One of best beaches in Fuerteventura, it's got all the nearby convenience of Costa Calma, with a few little extras. This peach of a beach nicely blends the facilities of an urban beach with some truly remote sands. There's a whopping 10kms of coastline to explore, with stretches of shoreline in the protected Corralejo Natural Park. Wildlife, dunes and a stretch of desert that seems never ending. Coastal birds and geckos are the top nature spots. On the water, windsurfers zip along the trade winds and surf schools get newcomers up on boards – or flying high with a spot of kitesurfing. The further you stray from the urban stretch of Grandes Playas Corralejo the more likely you are to encounter a spot of beach nudity. But that matters not a jot when all eyes are firmly on those alluring turquoise waters. There's little this beach hasn't got.