Although it's home to just under 200km of shoreline and surrounded by the sparkling blue oasis of the Mediterranean, not all the beaches in Malta are equal. A lot of the places where locals lounge and listen to the lapping of the shore are rocky outcrops, away from the bustle of more popular, sandy beaches. With that said, whether you're looking for a lively beach with plenty of others around to give it some atmosphere, or a secluded spot where you can slip in and out of the cooling sea without stepping on someone else, we have you covered. Read ahead for Orbzii's guide to the best beaches in Malta. 
Mellieha Bay (Ghadira Bay)
Located on the northern tip of the island, Mellieha Bay is the largest beach in Malta and possibly the most popular – especially among tourist in the summer. If you've got kids or don't want to be too far from amenities, it's the perfect spot as it's surrounded by beach bars and laid-back restaurants that cater to all kinds of groups. There's the usual sunbed and parasol hire available, and if you're not driving there's a bus stop adjacent to the beach, so you won't have to walk too much to get there. The water around the shore here is quite shallow for a decent distance, and hardly ever gets rough, so it's a safe spot to swim. If you're looking for a classic holiday beach or want to have a good time with some beers to go along with the sand between your toes, there isn't a better spot on the island.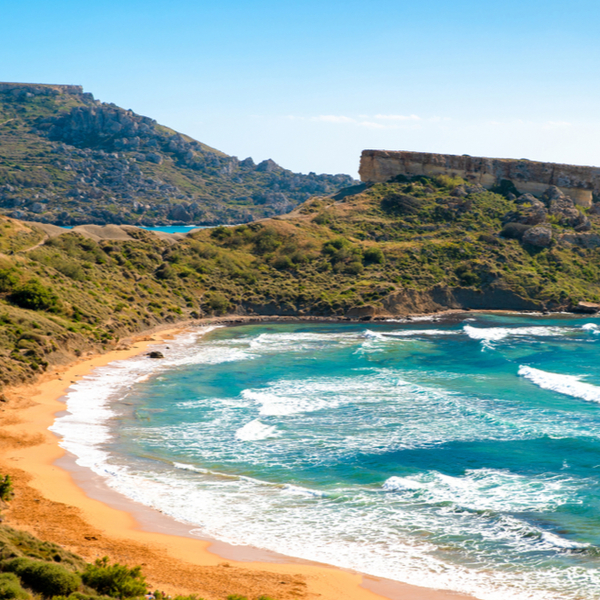 Ghajn Tuffieha
A short walk from the much-vaunted Golden Bay Malta (see below) this is its more serene little sibling and, say it quietly, maybe the prettier of the two. What makes Ghajn Tuffieha one of the best beaches in Malta is its unique red sand and gorgeous views. The beach is not wheelchair accessible as there are around a hundred steps to get to it, but if you are at the nearby, more popular Golden Bay you can still walk past and stare across Ghajn Tuffieha from the top of the stairs, where the panoramic view is absolutely unbeatable. It's also a good spot to go snorkelling thanks to the relatively shallow water and abundance of colourful marine life. While it's not a completely secluded beach, it's quieter than most. 
Golden Bay Malta
Considered one of the best beaches in Malta because of the soft yellow sand that gives it its name, Golden Bay Malta is small but packs a big punch. The best times to visit are in the early morning and for sunset, otherwise it can get quite crowded. The water surrounding the beach is crystal clear, and the tide tends to be quite calm so it's a great spot for those with kids. There are plenty of amenities if you don't want to lug around everything you need for the day, as well as a plethora of laidback bars and top-notch restaurants surrounding the beach – so, if you're looking to get the party started, you'll be able to here. 
Ghar Lapsi
Not so much a traditional beach as a bay where you can relax, Ghar Lapsi is a perfect spot if you want to spend the day somewhere secluded, while being surrounded by locals. The bay is rocky, so no soft granules of sand between your toes, but Ghar Lapsi is also just 2km from the famous Blue Grotto Malta, making it the perfect stop-off point on your way to see this natural marvel. The area doesn't have many amenities, but it is home to a number of seafood restaurants who serve up fresher fare than anything you'll have had before. It's an ideal spot for swimmers who don't want to be surrounded by playing children and lounging tourists, and also a cool spot to snorkel in thanks to the abundance of interesting marine life that's around. The only issue is that you'll likely have to drive or get a taxi out here, but it's worth it if you want some peace and quiet. 
Ramla Bay
When it comes to deciding what the best beaches in Malta are, this idyllic little spot on the northern tip of Gozo is definitely in the conversation. This is the main sandy beach on Malta's second island, and as such is the most built up, catering to tourists who are day-tripping from Malta proper and want a break from the throngs who pack the major Maltese beaches over the summer season. The beach is quite thin but stretches over a long distance of coast, and if you are driving it also has plenty of parking spots – we wouldn't recommend walking, as it's around a forty-minute trek from Xaghra, and in the heat of summer this can be quite dangerous. The beach is known for its orange-red sand, and it's also the perfect spot to combine learning with lounging: there are loads of Roman ruins around, and Calypso Cave overlooks the Western portion of the bay – allegedly the cave referenced in Homer's The Odyssey. A must-visit for beach lovers and history buffs. 
Paradise Bay Malta
This gorgeous little beach is tucked away on the northwest corner of the island and is exactly what it says on the tin. Often confused as part of the nearby Paradise Bay Hotel and Resort, the beach is accessible for free for non-residents of the hotel. There are a lot of steps to get up and down, but if you can manage it the experience is totally worth it. The combination of steps and confusion around ownership of the land means it's often secluded, making it the perfect spot to hang out if you just want to relax with the sounds of the sea lapping against the shore. Its location also makes it one of the best beaches in Malta for viewing the sunset. The beach is a combination of sand and rock, and despite its quiet nature there are amenities available: one small bar/restaurant and the ability to hire parasols and deck chairs. Other than that, it'll be like you've found your own little desert island paradise. 
Ta' Fra Ben (Qawra Point)
Another beautiful little spot on the northern tip of Malta that combines history with great views and invigorating early morning swims. Locals also tend to have evening barbeques here, so it's a great spot to soak in some Maltese culture. It's easy to get to with or without a car, as many Maltese buses start or end in Bugibba bus terminal, which is just a short walk from this Malta beach. The water is sheltered from the wind for the most part and is also home to excellent snorkel spots. Behind the beach is one of the ancient coastal watch towers that dot the Maltese shoreline, this one allegedly built during the time of the Knights of Malta. There's also a bar and restaurant nearby as well as places to rent umbrellas and sunbeds, so you don't need to bring everything along.