One of the best things about Valencia is that it's a world class city by the sea – which means beaches. Being such a populous area, there are busier stretches of sand where you'll be able to have a few beers and have a go at some water sports. If you're the sort of person who hates seeing anybody else on your little patch of paradise, then there's no need to worry: just a short car, bus, or even metro ride away are a number of stunning, secluded Valencia beaches that you can while away the day at.  
Of course, some beaches that seem secluded and small simply aren't worth it, because of any number of factors. We've done our research to make sure we won't send you somewhere that seems idyllic but is avoided by the locals for a reason. If you're keen for sun, sea, and sand on your Valencia trip, then read on: this is our guide to Valencia beaches.  
The Best Beaches
La Malvarrosa
La Malvarrosa, just north of the Valencia bay/port area, is without a doubt the busiest beach in Valencia, and for a good reason: its central location, easy accessibility, and wealth of amenities make it popular among locals and tourists alike. The fine, golden sand is matched by warm waters, and there's plenty of opportunity for thrill seekers to get their kicks by windsurfing. If you're looking for something more physical, they have beach volleyball courts too.  
Of course, being the most populous also means it's surrounded by the most bars and restaurants to carry on your night. The premier beach club in Valencia is located right at the southern foot of La Malvarrosa: The Marine Beach Club. It's a dress-to-impress vibe, so you might want to head back to your accommodation to sharpen up before you join the queue, but with a plethora of classy cocktails and late opening hours, it's the perfect place to party after a day at the beach in Valencia.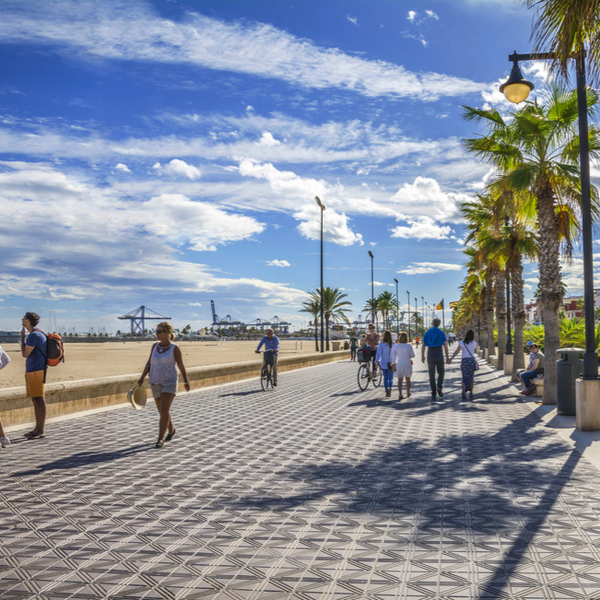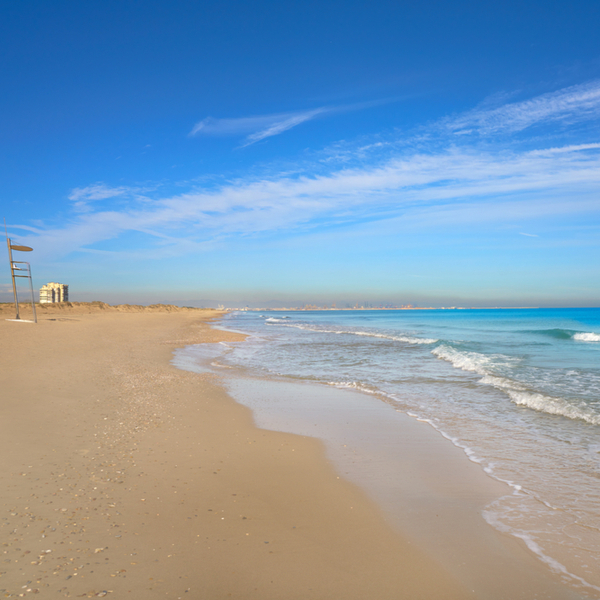 Playa del Saler
South of the city and just on the northern edge of Albufera National park, this quiet little spot is a fantastic place to watch the sunrise, if you get up early enough, and also quite nice to watch the sunset from if you're more of a night owl. It's a short drive or bus ride away from the Valencia – the 25 runs frequently from the city centre – so not too much hassle to get to. Despite being quite quiet there are some basic amenities available at this Valencia beach, including shops and restaurants.
Patacona
North of the more famous La Malvarrosa, you'll be astounded just how different a few hundred metres makes when it comes to how secluded a beach can feel. If you really don't want to leave the city but also want some serenity, then Patacona is your best bet. The beach is also wheelchair accessible, unlike many of the ones further out of town. It's easy to get to from the centre by most of the same routes as La Malvarrosa, and because of it's proximity to the city there's plenty of amenities about. The best of both worlds when it comes to Valencia beaches.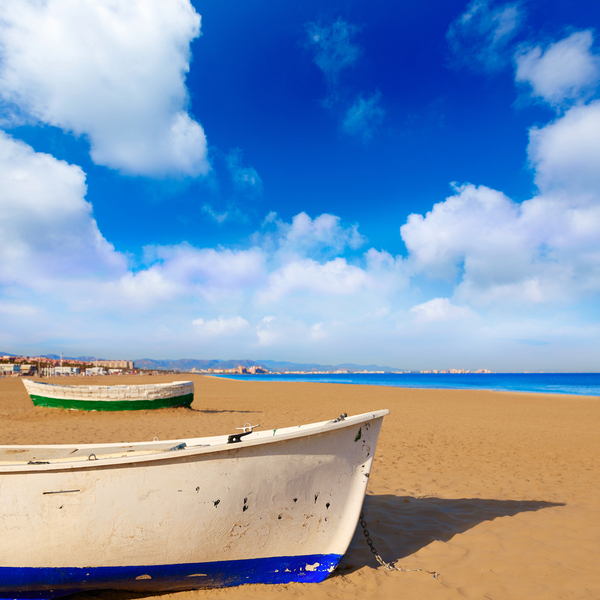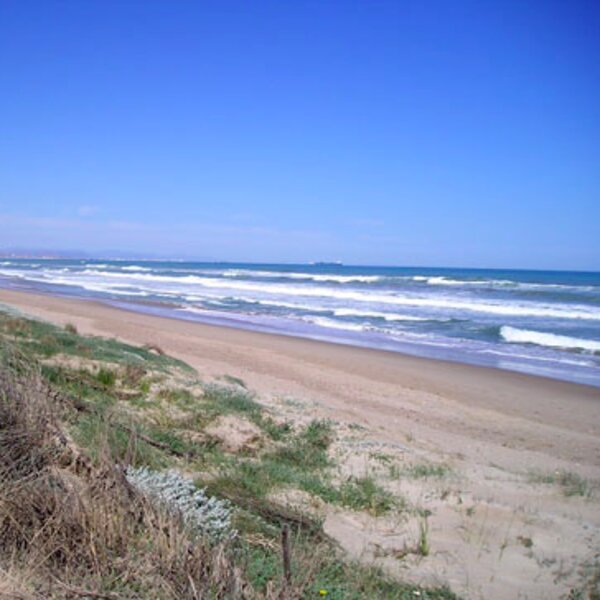 La Devesa
A little more south of Playa del Saler, this smaller Valencia beach is an oasis just a short drive from the city. The beach itself is sandwiched between the Mediterranean and L'Albufera, the largest freshwater lake in Spain, and as such feels like a new world. The beach stretches for five kilometres and is surrounded by lush greenery thanks to its amazing location. 
Unlike most beaches this wild, La Devesa is wheelchair accessible, and through a short footpath you'll have access to plenty of shops and restaurants. It's also accessible by the 25 bus. Despite all this, because it's so long, you can truly feel like you're alone on the beach, which is why there's also a large nudist section on this beach, off to the right when you walk in through the main path. Clothes on or off, La Devesa is a blissful experience and one for any beach lover visiting Valencia.  
Pinedo
The main draw of this beach is it's the only one near the city that allows dogs – so there's plenty of chances to see our adorable (and often dopey) friends enjoy the water. It's also got a nudist section, so if you want to let it all hang out, this is the ideal place to go.  
Like all the other beaches to the south of the city, it's accessible by the 25 bus, although because it's only on the southern tip of the city it's also reachable by bike. There are also a fair few facilities here, including a canal for water sports, and there's plenty of picnic areas and restaurants on the promenade, so you can be fed and watered without worrying about flying sand getting into your food.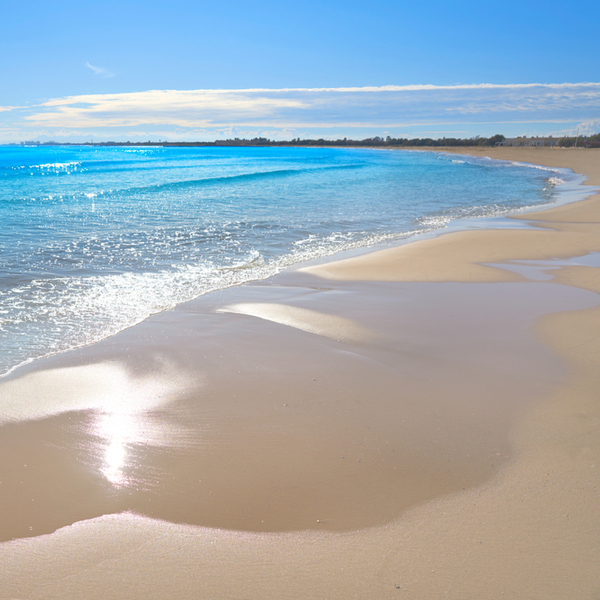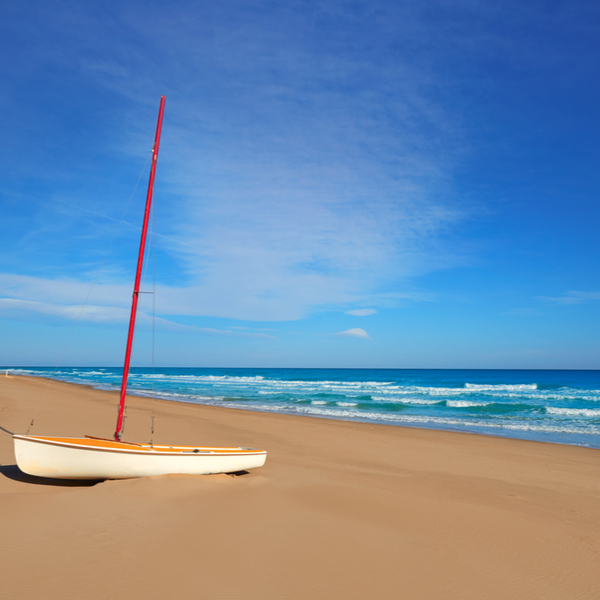 El Puig de Santa Maria
We're heading north of the city here, but if you're looking for more of a beach town vibe then this little municipality is your best bet. There are a number of beaches here, some sandy and some rocky, but all with excellent facilities and wheelchair accessibility. Some of the beaches are busier, like Puig Val-Play, where there are a fair few bars and hotels lining the strips, and some are a little less developed but just as stunning, like La Torreta.  
The village is accessible by car – it's about 14km from Valencia, and is an easy, short drive. The 110, 112, and 115 buses also all go there, as does the overground C6 line, from Valencia Norte to Castellon.  
Valencian Beach Route
If you want to make beaches the heart of your Valencia trip, then you should give the Valencia beach route a whirl. It covers most of the beaches we've mentioned here and then some, although it doesn't go more north than La Malvarrosa.  
The trail is near impossible to do in one day unless you don't want to relax or enjoy the beach, but if you are feeling fit and healthy it can be done by bike over two or three days.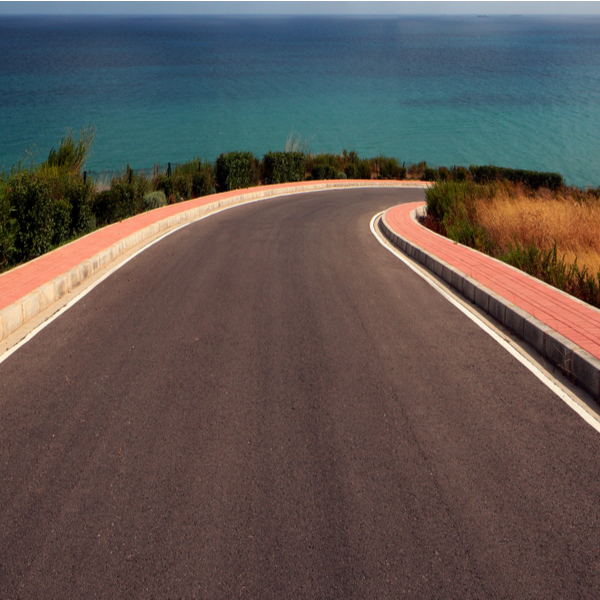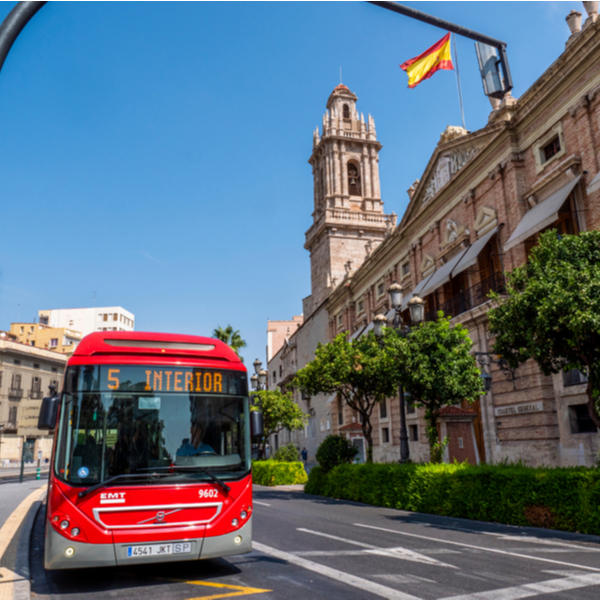 Getting There and Back
Obviously, the easiest way to get to most of these beaches is by car or taxi, but if you don't mind public transport then we'd heavily recommend the bus. To get to the beaches in the city, like La Malavarrosa, from Xativa is easy: there are a number of buses, including the 32 and 93. It's also easy to get there by metro, taking either the 3 or 9 line north, then the 4 or 6 line east. To get to the beaches in the south, you only need to take the 25 bus.  
Most of the beaches mentioned are within the first transport catchment zone, so it should be EUR 1.50 (GBP 1) for a one-way ticket. If you're going to be making multiple trips, then it's best to get a Bonobus, or 'Bono' for short. 
A bus only one costs EUR 7.50 (GBP 5.50) for ten journeys, plus another EUR 2 (GBP 1.50) for the card, an overall saving of over a third. You can also turn it into a Bono Transbordo if you think you'll be using the metro – this costs EUR 8.35 (GBP 6.60) for ten journeys including metro rides within 50 minutes of tapping in. These cards are available from tobacco shops, newsagents, and newspaper kiosks.