Mention diving in Crete and you'll likely hear about the top-notch visibility. Yes, the waters are crystal clear in places, but what is there to look at? Plenty, as it turns out. Scuba diving in Crete takes you to underwater WWII fighters, caves filled with unlikely finds and shore dives that deliver on the holiday essential – a relaxing dive where there's little to worry about. And, if you're keen to feel the freedom of diving without heavy tanks and gear, snorkelling in Crete isn't too shabby either… 
Wrecks
Messerschmitt 109
24m down on the sea bed and just 800m from Crete's shoreline, you'll find a Messerschmitt 109. Well, most of it. The tail, a wheel and some fuselage did fly off in the crash, but the plane is pretty much intact. Divers Club Crete keep this one for experienced divers only, as the site comes with its challenges. Currents, visibility and depth all play their part in keeping this plane off limits until all conditions align to explore the cockpit, inspect the machine gun and comb the surrounding area for pieces of the puzzle to this crash. We might not know how she got here, but the morays and smaller marine life do seem to like their new home.  
Orbzii tip: This dive isn't all about the 109. It's a full day trip that includes an hour's boat ride just to get to the site. Which could mean the chance for dolphin spotting on route. In the water? It pays to know that there's a reef nearby to explore when you're done with this mini artificial reef. 
Byron I
Scuba diving Crete's shoreline at Kala Limania gives you the chance to explore 450ft of cargo ship. So we're looking at wreck diving on an industrial scale, where weaving your tank and flippers through the mangled wreckage can only be described as mesmerising. The Byron I met her fate on January 17th 1985. Loaded with sugar, and on route to India, the vessel couldn't cope with the storms and ended her sailing career on the seabed. Despite a few decades under the waves, the Byron hasn't quite become the fully-fledged artificial reef it could be. But that just gives scrap fiends and metal heads the chance to see her inner workings in all their glory. Eco Diving Center can get you here – and throw in a guided tour of Kala Limania, along with lunch, as part of the trip. 
Caves
Elephant Cave
Elephant Cave is pretty special. This secret little nook near Souda Bay lay undiscovered until 1999. Explorers marvelled at the stalagmites, stalactites and the ability to combine caving and diving. And then they found the elephant bones. Not just any elephant, but an extinct species that's been lying undisturbed and fossilised here for thousands of years. Some of the bones remain – along with a scattering of deer bones. Omega Divers can get you in the water to see the fossils – which include a tusk, and the stunning cave which is well worth seeing, regardless of your paleontology leanings.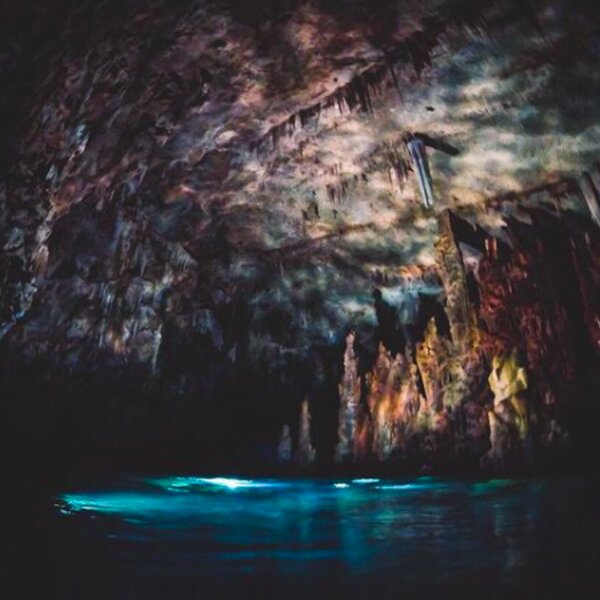 Orbzii tip: Crete's very protective over its ancient treasures. Yes, it'll be tempting to pick up a souvenir from the sea bed, but these bones – and any treasures you spot on your dives are very much off limits. 
Blue Cave
If you prefer your cave dives to come with a smidge more sea life, join Divers Club Crete on their Blue Cave dive. Suitable for both beginners and advanced divers – depending on the depths you reach, the dive mixes wall, reef and cave diving to great effect. Snapper and jack fish watch you warily as you enter the deep blue, where torchlight reveals coral and sponges vibing with the gentle current. In early summer, lobsters like to hang out in the cave when food is plentiful. Otherwise, it's all about the micro-organisms and shrimps – who keep the cave in order ready for divers to drop in. An ideal option if you're diving Crete's waters with a group of mixed ability diving buddies. 
Shore dives
Skinaria
In Crete, shore dives aren't just cracking places for beginners to figure out how to frog kick. They come with top notch visibility, caves to explore and a reasonable amount of sea life to spot. Pick of the bunch has to be Skinaria – which is why you'll likely be sharing the water here with snorkelers. More on that below. But on a dive with Evelin Divers, the action starts right from the shore. You'll swim out over a rocky sea bed, where small fish and shrimps dart into the shadows. As the waters deepen, caves big enough to swim through give newbies a taste of what's to come in the deeper ocean. With depths of up to 33m reachable from shore, Skinaria's also an option for advanced divers looking for a relaxing holiday dive to sharpen some skills or just enjoy Crete's warm waters.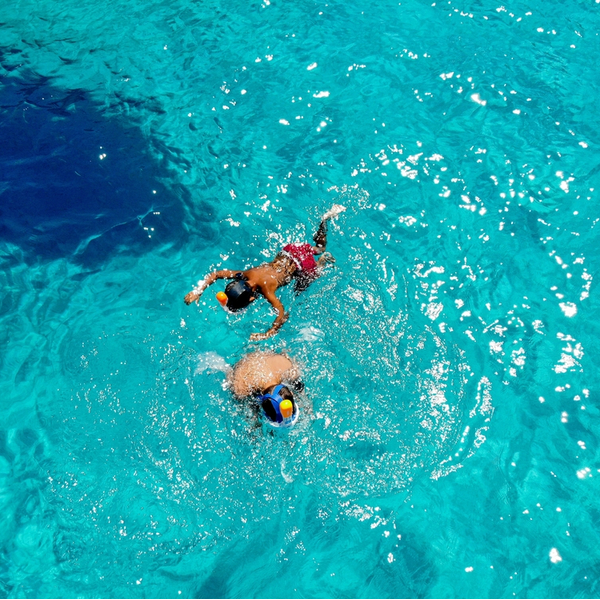 Kalivaki beach
We're back with Evelin Divers for another chance to slip into the sea from the beach. This time, you'll be heading to Kalivaki beach on the north coast. And, as soon as you take your first flippered steps into the shallows, you'll feel the cooler waters lapping around your ankles. Still perfectly dive-able – but not as balmy as waters to the south, the waters are chilled from the mountain run off from nearby rivers and streams. Fair warning, sea life isn't the focus here. It's very much a spot for beginners to learn their craft and take a peer at the crumbling Venetian harbour hidden beneath the surface.  
Snorkelling
Skinaria
To get in the water, free from tanks and limits on your exploring time, slip on a snorkel and fins at Skinaria. Great visibility pairs with a rocky seabed to giver snorkelers plenty to look at. You might not spot any big winners – though turtles do come ashore to lay their eggs around the island. You're far more likely to see small fish darting between the rocks – along with anemones making a home on the sea floor – and, perhaps, an octopus or two. 
Kourna Lake
Not all snorkel spots need come with a coastal postcode. For this one we're sending you inland to Crete's unique freshwater pool that's – surprisingly, a hit with snorkelers. Though, you'll need to be prepared for temperatures more associated with wild swimming than a dip in the warmer ocean waters. Braced for a goosebump or two? Hop into spy water snakes, terrapins and eels going about their daily lives in Crete's only freshwater lake. Definitely a view through the snorkel mask with a difference, it makes a refreshing change to swap coral and sponges for reeds and mosses. 
Elafonsi beach
Elafonsi crops up in so many best snorkelling in Crete guides. And, we're usually keen to steer clear of an obvious pick. But, if you can snorkel away from the busier stretches of sand, Elafonsi is worth your time. Over 100 species of rare plants – and a smattering of scampering wildlife, welcome you almost as soon as you set foot on the nature reserve. In the water, you can swim in the shallows and marvel at the coloured sand – but the sea life gets far more interesting if you can swim around 50 metres from the shore. You'll be swimming away from the smaller fish that live in the shallows and mingling with octopus, lobster, banded bream, rays, snapper and – if you're lucky, a turtle. 
Orbzii tip: Don't be in a rush to get in the water. Elafonsi's sands. The sea daffodils and scorpion-tail violet are reason enough to tip toe – and not tramp, through the nature reserve.