It's a sign of how idyllic Sharm el-Sheikh is that you can spend your entire time in the city and not feel like you're missing out, despite being in one of the most historically and culturally rich nations on earth. However, as much as we love being pampered in palatial surroundings by the sea, no visit to Egypt is complete without seeing at least some of its vast swathes of national treasures.  
Thankfully, Sharm el-Sheikh excursions allow you the chance to get out from the dreamlike bubble of the resort town and see the best of what else Egypt has to offer, from astounding ecological highlights to awe-inspiring architecture – and we're not only talking about the pyramids. If you're excited to explore everything else Egypt has to offer, read ahead for Orbzii's guide to the best Sharm el-Sheikh excursions. 
Take a Boat to Hurghada
Just across the Gulf of Suez from Sharm el-Sheikh is the stunning gem of Hurghada, a resort town on mainland Egypt's Red Sea coast that rivals even Sharm for its natural beauty. The town itself is full of charming traditional cafes, and a blend of high-end restaurants and tiny, family-run spots that could feed an army with their generous portions. It also has a thriving bar scene and a seemingly endless stretch of shoreline. It's not just the town's attractions that make an excursion here so fun either. On the boat ride over you can stop at some of the remote, serene islands between these two tourist hotspots, like Jaza'ir Jiftun and Mahmya. A trip to Hurghada rolls many of the best Sharm el-Sheikh excursions into one – what more could you want?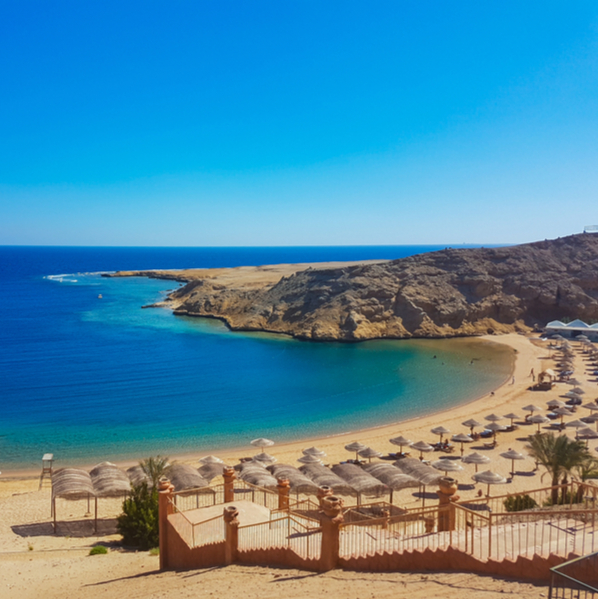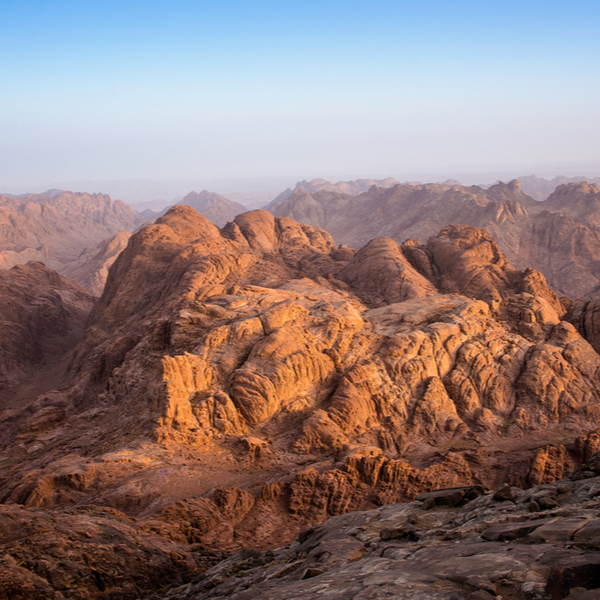 Walk a Holy Trail to St Catherine's Cathedral and Mount Sinai
Egypt has long been at the centre of Abrahamic religious mythology, and nowhere is this more apparent at St Catherine's Monastery, also known as Sinai Monastery. In the shadow of the mountain that many believe Moses heard God's word on, this ancient structure is currently administered by the Orthodox Church, but its history goes back nearly seventeen centuries, predating most divisions in the Christian world. It's also home to the holy relics of Saint Catherine and the place where the Burning Bush and the Well of Jethro were said to be, and as such is an active pilgrimage site. 
The mountain backdrop offers more than religious history and aesthetic pleasure. There are plenty of hikes available but do be warned: in the middle of the day it's advised to stick to the cooling shade of the ancient religious building.
Sharm el-Sheikh Pyramid Tour
While the Giza pyramids are all the way in Egypt's north, that doesn't mean you can't enjoy them with a Sharm el-Sheikh excursion. If you're up for spending a night in Cairo, there are plenty of two-day package tours that include the six-hour drive in an air-conditioned bus and accommodation, so you can make the most of Cairo too. However, if you're keen to get back to the cornucopia of delights that is Sharm el-Sheikh's luxury hotels, there are plenty of day-tours available that consist of a short flight and guided tours of the complex in Giza. If you're really interested in all kinds of pyramids and Egypt's history, you can also turn this excursion into a two or three-day pyramid trail tour, that takes you in the same direction as the Nile, following various pyramids until you reach the epicentre just north of Cairo.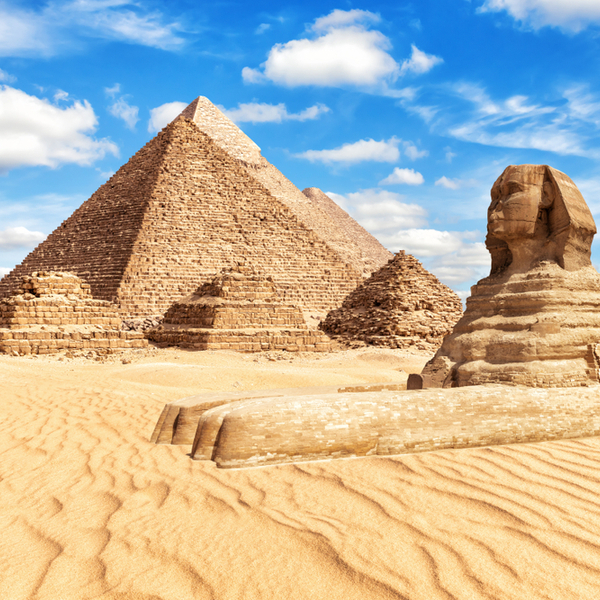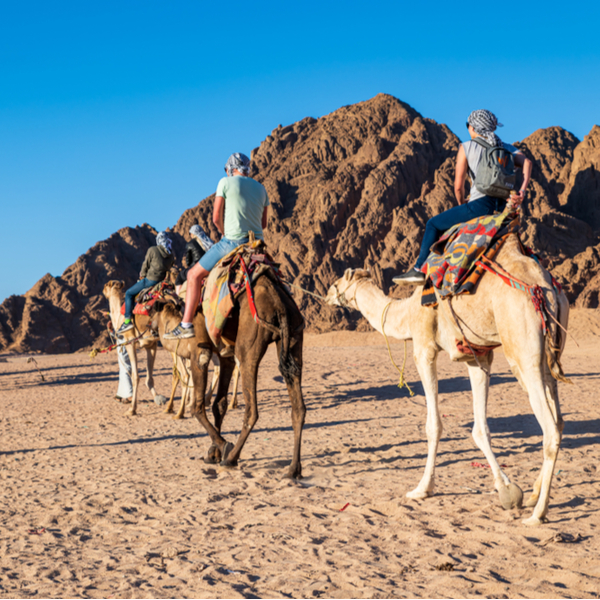 Check Out the Desert with a Camel or Buggy Safari
When you ask most people to picture a desert, they probably think of vast swathes of sand and maybe the odd cactus, but with a Desert Safari excursion from Sharm el-Sheikh you'll see just how diverse and full of life this landscape is. From the drama of sand dunes to seemingly endless views from mountains, the sights are almost beyond description. Turn it into a day and evening affair to see the stars as you never have, bursting with colour and light. For a more traditional experience you can rent a camel, although some businesses offering this service keep the animals in terrible conditions, so make sure to do your homework beforehand. You can also take quad bikes, 4x4s, or larger SUV type vehicles, so the possibilities are vast. 
Head to Majestic Luxor
Nestling on the Nile's eastern bank, Luxor sits on the site of where the ancient city of Thebes once was. The city is often called the 'world's greatest open-air museum' thanks to its endless number of architectural and archaeological treasures, including the ruins of various Egyptian temples, the Theban Necropolis, the Valleys of the Kings and Queens, and a number of other palaces and grand buildings. 
Tours are usually one or two days, depending on the transport option you take. One-day tours mean flying there and back, a journey of less than an hour most of the time. Two-day tours usually include the cost of accommodation in the city, meaning you'll also get to experience its buzzing nightlife, with plenty of wonderful restaurants to enjoy dinner in.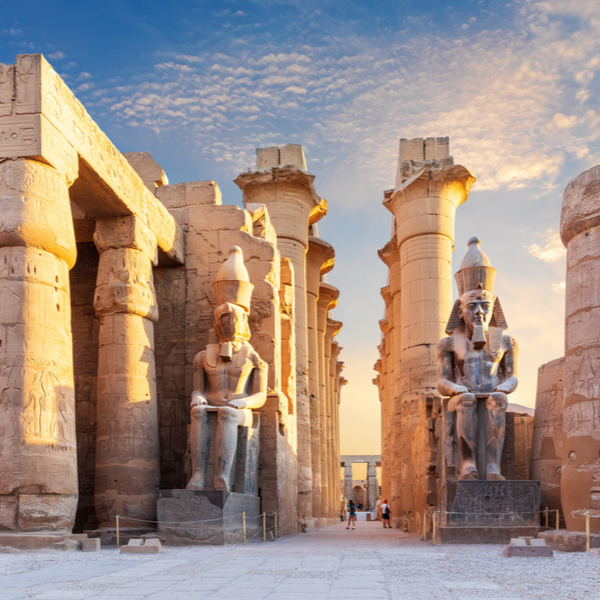 Many group tours also include dinner at one of the premier restaurants in the settlement, so you're sure to be well fed and watered, as well as awed by the best of Egypt's historical gems. One of the most rewarding Sharm el-Sheikh excursions you can do.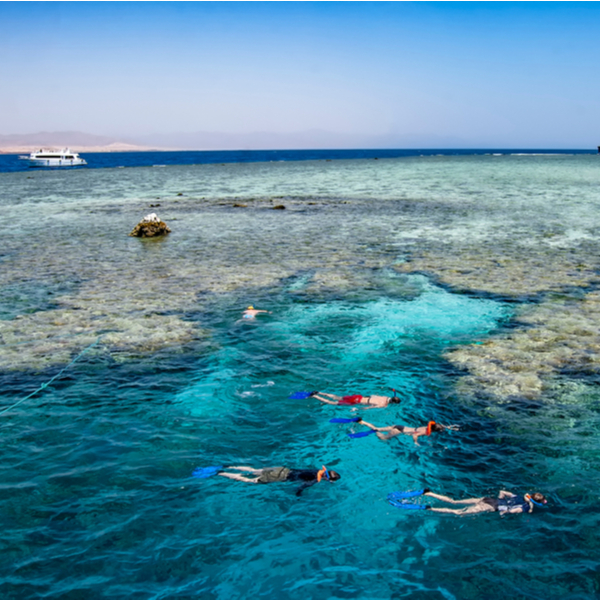 Discover the Beauty of the Water with Tiran Island Boat Tours
If you prefer your Sharm el-Sheikh excursions to be more paradisiacal than ancient treasures, then a one-day boat tour around this Saudi Arabian island is the day trip for you. This is an especially great tour if you love snorkelling and swimming, making it perfect for families. Most of the excursions last from breakfast until the late afternoon, with hotel pick up and drop off, and include lunch and refreshments to keep you hydrated under the sun. The boat will usually stop in multiple places to swim, and you'll be able to spot some astounding marine life, like barracudas, sharks, and coral to rival anywhere else in the world. The perfect Sharm el-Sheikh excursion for making a splash.