The Algarve has long been known as an unparalleled golfing destination, and the perfectly located beach town of Albufeira is an ideal base for those looking to wander the fairways (or more likely rough) on their Portuguese holiday. In this wonderful region there are world class courses alongside hidden gems, and plenty of places to practice so you can make the most of the excellent weather. If you're keen on checking out what courses this stunning region has to offer, then read ahead for Orbzii's guide to playing golf in Albufeira.  
Driving Ranges, and Other Practice Facilities
While most courses you play on will have their own driving ranges and practice greens to help you get into the swing of things before your round, there are some days you might want to fine tune your game without having to pay an entire green fee. Thankfully, there are plenty of golf courses near Albufeira that allow you to use just the practice facilities. 
Balaia Golf Village and Resort is a short hop from the Albufeira strip, and has a well-stocked pro shop, huge driving range, and numerous pitch and put greens to perfect your short game on. You can take advantage of these facilities even if you're just flying by. Stopping off for a drink in the wonderful clubhouse afterwards is well worth doing too, with the manicured course providing a beautiful background.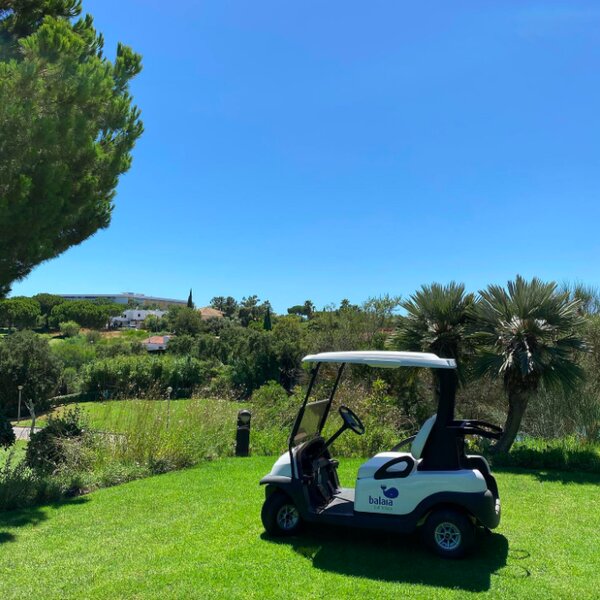 Another good option if you're just looking for practice space is Pestana Carvoeiro Golfe. A little west of Albufeira, the complex is home to a two-storey driving range, as well as chipping and putting greens to hone your short game on. Club rental is also available if you've not brought your own bag but still want to hit a few balls. 
Golf lessons in Albufeira
Pine Cliffs Golf Academy is without a doubt the premier option in the Algarve to learn the game, or to help you shave a couple of strokes off your round if you're already a regular player. Every skill level, from high handicappers to semi-pros, can benefit from a private or group lesson here.  
Prices vary depending on the time of year and length of lesson, and if you want to have multiple lessons over the course of your holiday you can usually get a discounted rate per session. The pros are among some of the best in Europe, meaning you're sure to get fantastic tips and advice to stop you from slicing and hooking your way round these stunning courses. If you are keen on getting a lesson in, ring ahead to make sure there's space as Pine Cliffs is incredibly popular. 
Balaia Golf Village and Resort  is perfect if you're looking for somewhere right next to Albufeira with world-class teaching. Its proximity to the town makes it convenient, but it's the famed Golf Academy that's a real draw. You can practice on the massive driving range and well-maintained chipping greens, and then see your progress on the tricky but fun 9-hole Par-3 course. 
The best Golf Courses near Albufeira
Dom Pedro Old Course in Vilamoura
When it comes to Algarve golf, there aren't many better nor more famous venues than the incredible Dom Pedro Old Course. Satisfying and infuriating golfers for decades, this expansive, undulating Par-73 track is one of the most rewarding courses to play in all of Europe, delivering serene surroundings, dramatic views, and perfectly manicured greens. Designed by Frank Pennink, it's defined by its pine trees, hilly terrain, and high-risk, high-reward nature, which is encapsulated by the very first hole's narrow landing zone.
Buggy and trolley hire are available, and the bar and restaurant in the clubhouse is a fantastic spot to unwind after eighteen. The pro shop is among the best in the region, and you can warm up on the excellent practice facilities.
Green fees vary depending on the season and time of day, but generally a round here in the summer season will set you back EUR 175. However, the Dom Pedro Group often has promotions available, and discounts for booking multiple rounds or large groups, so you can probably shave a fair amount off if you plan ahead. 
San Lorenzo
A round at San Lorenzo is a truly exquisite experience. Tee times are only available to members and guests of certain hotels, meaning exclusivity and an uncrowded golf course, so you can relax and take your time on this stunning track. The Bermuda grass fairways have been welcoming well-struck drives for over three decades now, snaking through delightful pine woodland and saltwater lagoons. While the course is tricky in parts, the ocean views make up for any lost balls and missed putts. 
The green fees, like most in the region, vary. During peak season you'll be looking at about EUR 152 per round. 
Though this can seem steep, the exceptional course, unbeatable facilities, and unparalleled surroundings mean in reality it's a bit of a steal. An idyllic golfing experience, a round at San Lorenzo should be on any golf nut's Albufeira itinerary.  
Palmares
Home to 27-holes of excellent golfing, Palmares Golf Club is one of the best established in the region, and for good reason. With ocean views, the three links courses that make up the resort have elements from other designs too, meaning an unforgettable round that will test every aspect of your game. All the courses were designed by the renowned Robert Trent Jones Jr, and you can see his signature style in the trick slopes on greens and sneakily placed bunkers.
Palmares is also home to some of the best practice facilities in the region, and the pro shop can hire out everything you might need for a round, from buggies to clubs. The green fee is EUR 115 for 18 of the 27 holes, giving you the chance to pick and choose between the three excellent courses. Palmares may be younger than some of its more established fellow resorts, but it doesn't lack anything when it comes to delivering an unbeatable golfing experience.