In just a few decades, Paphos golf courses have popped up along the coast to make this area a strong contender for a Cyprus golfing holiday. Big names in the course design world have applied their signature styles to greens and fairways, luxury clubhouses lure you in for a post round bite to eat and new developments are keeping the older courses on their toes. Golf academies are the place to hone your skills. Though, if you forget your clubs – or can't face the faff of excess baggage, there's a pleasing 9 hole, par 3 that'll lend you a set to get your golfing fix. Let's look at your Paphos golf options… 
Aphrodite Hills
When a golf course designer declares his latest creation to be the embodiment of over three decades in the field, you know something special is afoot. And, well, Cabell Robinson certainly seems to have packed everything in his playbook into the championship course at Aphrodite Hills. 18 holes, a huge canyon – and a rather nice clubhouse are all well and good, but what does it play like? Beginners and strong drivers will love the wide fairways. Though, Robinson's signature design features – such as horseshoe shaped greens – coupled with tricky bunkers and water hazards – make the track a technical challenge that's memorable long after you've left the 19th hole. Sitting at a reasonable 25 minute drive from Paphos, it's not a bad shout for a round in the sun.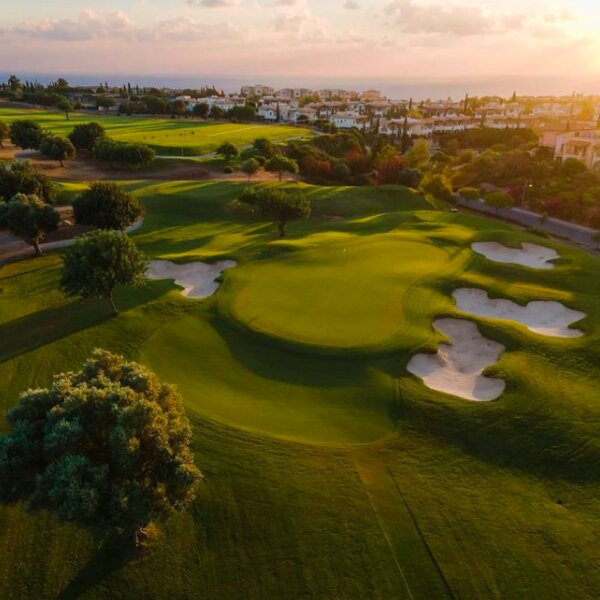 Orbzii tip: You might hear murmurs of the greens being a touch slow in the summer. Blame the Cypriot sun for that. Longer grass keeps the greens, green. Just remember to give your puts that little something extra and you should stay on par.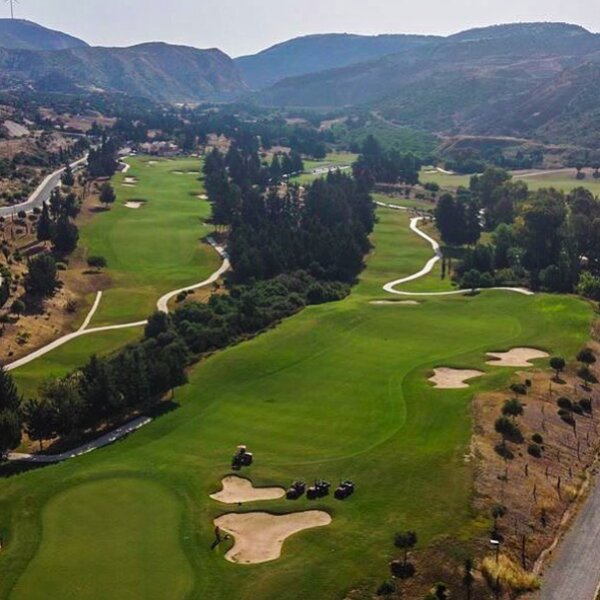 Secret Valley
For a few sweet years, Secret Valley was the KING among Paphos golf courses. Mainly because, it was the only Paphos golf course. Then the lush new greens of Aphrodite Hills came along and Secret Valley had to up its game. And boy did it step up to the tee. Tony Jacklin fronted a redesign in 2013, and the course has gone on to regularly be named the best course in Cyprus. It owes part of its charm to the spectacular valley surroundings. The greens and fairways are flanked by mature trees and striking rock formations you just won't see on other Paphos golf courses. Unlike Aphrodite's forgiving fairways, your driving needs to be reasonably accurate to avoid the rough. And, you need a steely focus not to be put off by the eye-wateringly gorgeous landscape. 
Some may pigeonhole this course as a fun, 71 par, short track that's strictly for holiday golf. But, really, where's the harm in that? 
Orbzii tip: Not got time to get round 18 holes? Secret Valley's driving range facilities include 3 large practice greens. Stop by and work on your putting or chipping game before sharpening up those drives. 
Elea
So far our round up of Paphos golf courses has hopping in your hire car and whizzing along the coast for a game. If you're keen to stay as local to Paphos as possible, Elea is your course. A not too taxing 10 minute drive from Paphos centre, Elea does its best to put the lux in luxury golf resorts. But fancy trappings don't always make a good golf course. Wheel in a big golfing name as course designer and well, then you've got yourself a technical track that might just make you question your hobby choices. And at Elea, that name is Nick Faldo. His design team have made their signature move, namely befouling the course so liberally with bunkers, it borders on being frustrating. Yes, you'll need to use your sand wedge a little more than you'd prefer, but plot a course between the bunkers and you'll enjoy a thought provoking round.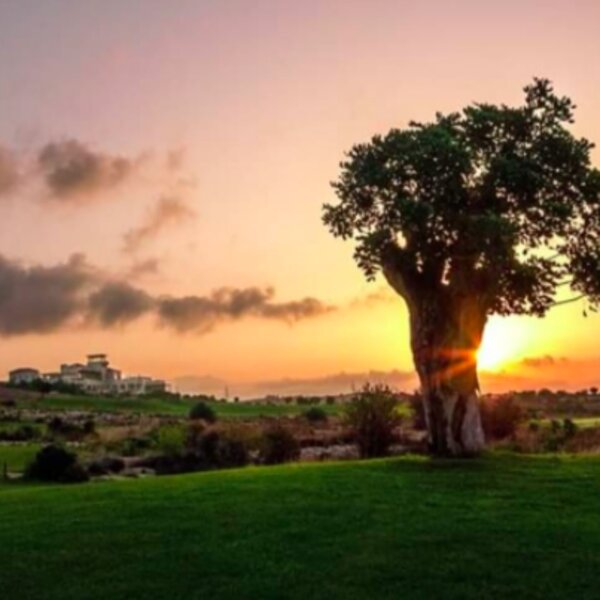 Orbzii tip: This course's undulating hills make hiring a buggy an attractive option – especially when Cyprus really hots up.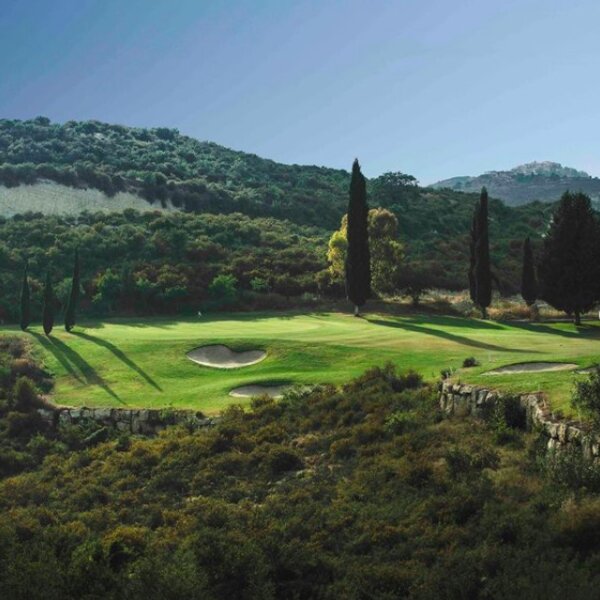 Minthis
Can the newly renovated greens at Minthis Resort lure you away from the Paphos golf courses that come with built in sea views? It might steal you further away from the best beaches in Paphos, but we think it's definitely worth heading into the mountains to test your skills on this hilly track. You'll be driving, chipping and putting your way through 18 holes of championship course that has some unique quirks that will make – or break – your round. The island green on the 13th may well fill you with dread. Come up too short and your fishing for your ball, go long and you'll be met with the same fate. Happily, pinpoint accuracy isn't needed on every hole on this par 72 stunner. And, if your game could do with a tune up, there's always the option to book some time with a PGA Pro in their Golf Academy. 
Marios Golf Park
If a lengthy, 18 hole, battle of wits against bunkers and water hazards doesn't put you in the holiday mood, take a look at the cheeky 9 hole, par 3 track at Marios Golf Park. A fun little round that delivers a snippet of golf for everyone. Hire clubs, get the family on the course, and chip your way around the holes for bragging rights. Of course, there's the option to take things a little more seriously and really work on the putting side of your game here. Golf lessons are available for refining your skills across the board. Or you could try your hand – or foot – at a game of foot golf. The mini golf, foot golf and pitch and putt could fool you into thinking that Marios is just for holidaymakers, but you'll see lots of golfers lining up to take advantage of the cheaper facilities on offer.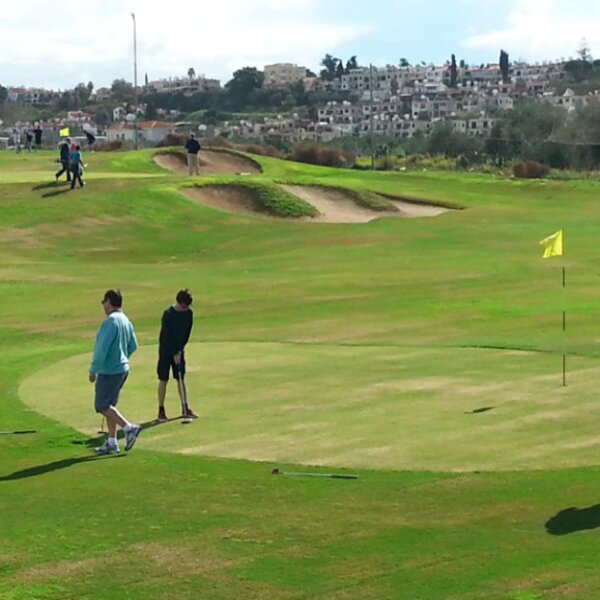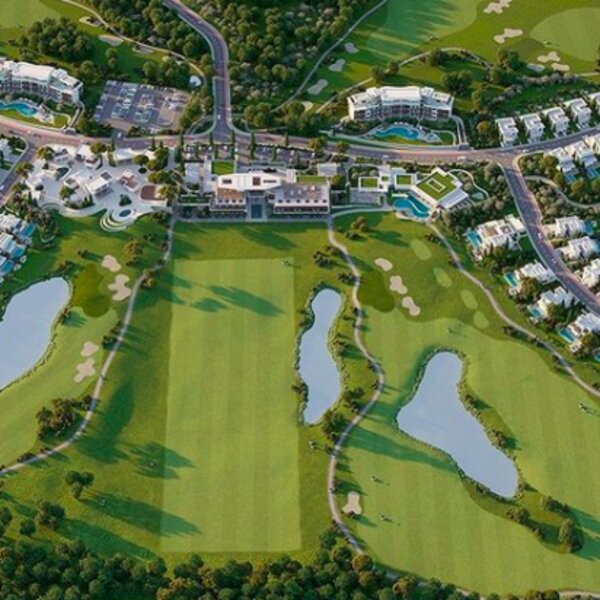 Limassol Greens
Although we're strictly supposed to be looking at Paphos golf courses, when the name Cabell Robinson crops up at a nearby resort, it pays to take a peek. And, what you'll find is the new and suitably lush, Limassol Greens. If feels a little trite to roll out the 'no expense spared' line. But the developers have managed to drop an 18 hole, championship course – complete with the requisite Bermuda grass – right in Limassol's very urban heart. The clubhouse wouldn't look out of place in a very exclusive country club – and the surrounding villas could tempt you to sell up and live here permanently. A little too much? Possibly, but the course and resort designers are selling a dream. And that dream is a swoon-worthy round of golf, served with a side of aspirational living.