As the city is blessed with an abundance of retail options choosing what the best Toronto shopping malls are is a tough ask, but we've stomped through outlets and perused endless racks of clothes to make sure your Canadian shopping experience is as seamless as it can be. If you're looking to add a little retail therapy to your Toronto getaway, then read ahead for our guide to the best places to shop in Toronto. 
The Best Shopping Malls in Toronto
Sometimes you just want to spend a day meandering through rows of stores, and there's no better way to do that than visiting Toronto's premier shopping malls. Here are our favourites. 
CF Toronto Eaton Centre
When it comes to Toronto shopping malls, CF Toronto Eaton Centre is one of the best. With a huge variety of stores, restaurants, and even pop-up venues, you're bound to find whatever you're looking for when you visit. There are four stories of shops and a basement food court to explore, with global brands like Apple and Nordstrom alongside smaller Canadian businesses like L'intervalle. Whether you're looking for souvenirs or just want to spruce up your wardrobe, you'll find it here. 
The mall is open from 11.00 – 19.00 daily, except Sundays where it closes an hour earlier. It's really simple to get to thanks to its central location, between the hipster Kensington Market and Toronto Old Town, so accessible by streetcar, bus, and subway. 
Yorkdale
A shopaholic mecca, Yorkdale has two expansive floors of stores selling everything from designer shoes to artisan coffee. Just under an hour from the heart of Toronto by public transport, and around twenty minutes by car depending on traffic, this complex spans two million square feet and has over 270 stores.  
This Toronto shopping mall is open from 11.00 – 19.00 every day, except public holidays, so if you want you can spend the entire day wandering through the brightly lit halls and clouds of perfume from beauty stores and stalls. There's also a food court on the top floor with a combination of fast food and healthier treats, so there's always something to nibble in case you get peckish.  
The Best Outlet Malls in Toronto
While we love shopping in general, nothing beats the rush of snagging an unexpected, good deal on your dream item. Luckily, Toronto is full of outlet malls where you can find high quality products for absurdly low prices. 
Toronto Premium Outlets
The aptly named Toronto Premium Outlets is one of Toronto's biggest and most popular shopping malls, and with over 130 stores selling discount premium items it's no surprise that's the case. Brands like Versace, Nike, and Kate Spade all have outlets here, with plenty of rock-bottom deals to keep an eye out for. 
The mall itself is located well southwest of the city, between a thirty- and forty-minute drive from downtown, but there's plenty of food available on-site for you to get your energy back between sessions of deal-hunting. Like the previous two malls, Toronto Premium Outlets is open from 11.00 – 19.00, and there's plenty of parking if you've rented a car.  
Dixie Outlet Mall
One of the largest enclosed outlet malls in Canada, Dixie Outlet Mall has a huge variety of stores selling products at unbelievable prices. There are over a hundred shops in the centre, which is just a twenty-minute drive along the highway from downtown Toronto. With the selection of stores ranging from GUESS to Nike, there's plenty to splash the cash on, whether you're looking for some last-minute snow wear or a new evening look. You won't feel the need to rush either: Dixie is open from 11.00 – 19.00 in the week and until 18.00 on the weekends.  
Best Souvenir Shops
While the above Toronto shopping malls are great for choice and savings, when it comes to mementos and souvenirs, you'll probably want things that are more authentically Canadian – items you couldn't buy at home, made by people in the city. Here's our top picks for souvenir ships in Toronto. 
Blue Banana
There are a few quirky souvenir stores in Kensington Market, but we think Blue Banana just might be the best. An unconventional store for artists and art lovers, Blue Banana was once a loose collection of artists selling their wares out of stalls, but now has the organisation and range of a proper store. They still get tonnes of their stock from local artists, with over fifty producers from the Toronto area selling their goods here. 
Blue Banana also sell a range of greeting cards, again from local artists. Their reach into the Toronto community goes beyond art, too. They're an ethical brand, supporting community projects across the Canadian capital, so you can feel extra good about splurging here.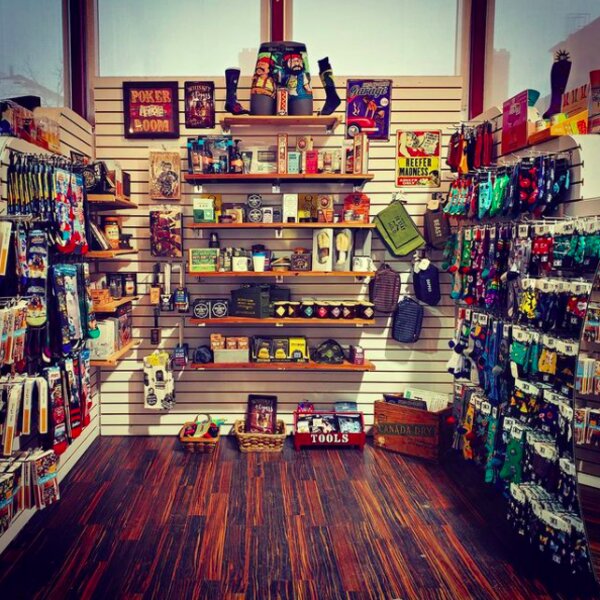 Open from 11.00 – 19.00 daily, the central location means they're easy to get to. They have so much variety, from clothing to cards and even hot sauce, so you're bound to find the perfect gift when you visit.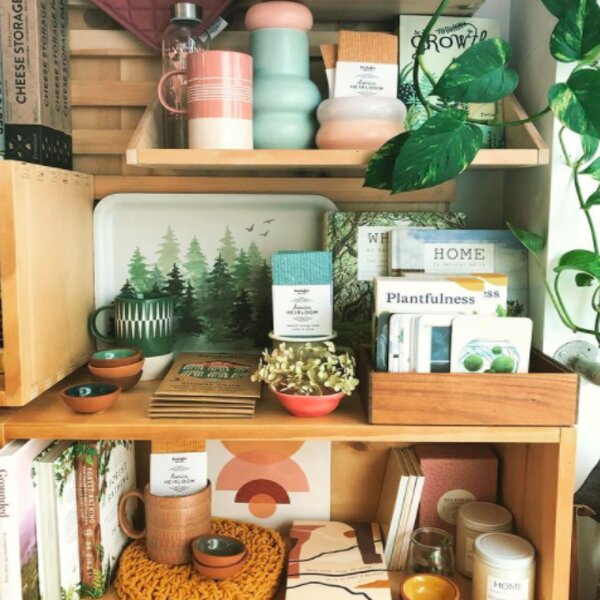 Labour of Love
Further east in the bohemian Cabbagetown lies Labour of Love, a cool little spot that doubles as an event and arts space. Like Blue Banana, they promote local, independent Toronto businesses, as well as new artists from the area. They are only open for in-store shopping from noon until five in the evening on Thursdays, Fridays, and Sundays, but the wait is worth it. The wealth of gorgeous items on offer is astounding, with products as diverse as cross-stitched prints and cocktail kits, so it's the perfect place for getting a memento or gift. 
As with the other souvenir shops on this list, shopping here means you'd be supporting local, small businesses beyond the brick-and-mortar store you're visiting. Labour of Love has many long-standing connections with local artisans, and while we do love a good deal, there's no better incentive to spend than helping Toronto culture thrive. 
Arts Market
In just under ten years, this business turned from a ramshackle collection of artists and entrepreneurs in Leslieville to two Brick-and-mortar stores in Riverside and Junction, and multiple 'Best Unique Gift Store' wins from Now Magazine. We are not surprised by this, as Arts Market does exactly what it says on the tin: like the other two stores on this list it allows you to wander through shelves and shelves of items from local artists that are perfect as gifts, or even to keep. 
Open daily from 11.00 – 18.00, they're always looking to promote up-and-coming talent, so you never know what potentially fancied item you could be getting for cheap if one of the artists gains fame. At worst, you'll get something lovingly crafted while supporting independent businesses – so plenty of reason to get your souvenirs from Arts Market.