Madeira hiking tends to focus on the island's levadas. Which are essentially ingenious irrigation channels that transport water to the many, many farms and fields carved into the island. Agri-architecture might sound a little tame, but it's the key to routes through mountains and forests. 
Coastal adventures deliver on head-spinning views, rare wildlife and challenging terrain. Endemic trees, flowers and animals await. And, best of all, the walks are all free to find and enjoy. There's even a free guided walk through Funchal to take advantage of. You just need to bring your hiking A-game and a torch. Those mountain tunnels get pretty dark… 
PR1: Verada do Areeiro
Beginners, don't be intimidated by this beast among Madeira's walks. Yes, it's a 6-8hr trek through 14km of Madeiran landscapes, but it can be broken down into smaller sections. Advanced hikers, this is THE walk do to in Madeira. Starting at Pico do Areeiro, the route links the island's two highest peaks. Taking you up above the clouds, past intriguing caves, up steep – and slightly unnerving staircases and passing by wildflower pockets of colour. Five tunnels whisk you swiftly into darkness – an ideal time to pop on that headtorch you've been dying to roadtest – but your eyes will be all the more ready to view the entire island of Madeira when you reach the final peak. 
Difficulty: Moderate – Advanced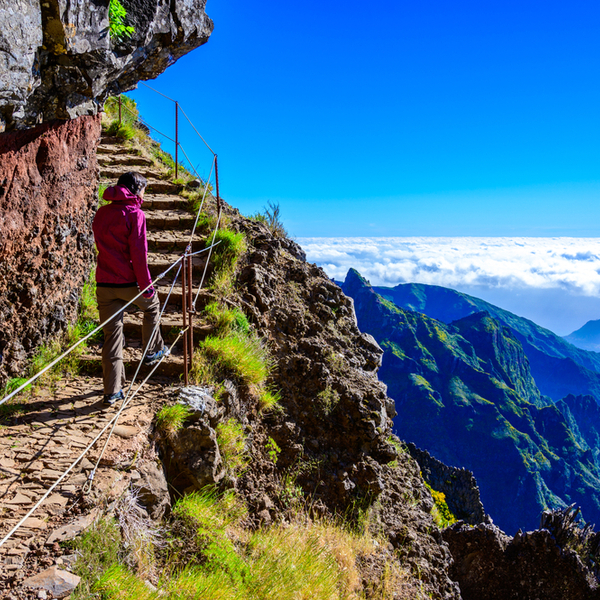 Orbzii tip: Keep an eye out for Madeira's endemic Zino's petrel. One of Europe's most endangered seabirds has chosen this route for its nesting grounds.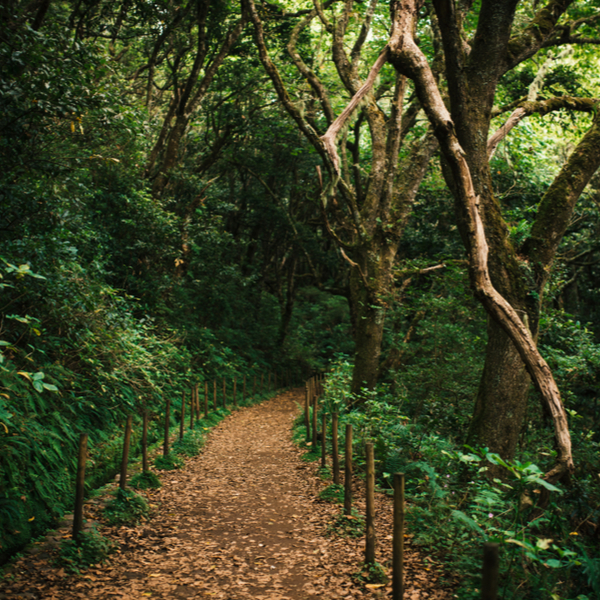 PR22: Vereda do Chão dos Louro
Madeira hiking options come with a side order of forest bathing on the Chão dos Louro trail. A short, but tranquil and uplifting 1.9km loop of Laurissilva forest more than delivers on zen vibes. It's also a UNESCO Heritage Site – making it a nice way to tick off a couple of items on your things to do in Madeira list. The views over the São Vicente valley are definitely easy on the eye and the even trail makes the route accessible for all. Families, hikers of all ages and anyone looking for an uncomplicated mooch among the Madeira mahogany trees will love it here. Looking for something a little more challenging, we've got another forest route for you below. 
Difficulty: Easy 
PR9: Levada of Caldeirão Verde
Pack a picnic, some water and brace your glutes and hammies for over 17kms of São Jorge valley scampering. Starting in the Queimadas Forestry Park, you follow the Caldeirão Verde levada as the water winds its way through the mountains. Waterfalls, lakes and the intriguingly complex irrigation system are your companions on this one. You might also be joined by buzzards, long-toed pigeons and firecrests – so plenty to interrupt the frankly, lush and gorgeous vegetation. Do take a good look at Achada do Marque on your way through. Historically significant, the settlement is now protected and a chance to peer back in time to Madeira's agricultural past. This isn't a loop walk, so you're headed back the way you came. Not all is lost, that firecrest you didn't get a picture of may be posing for a portrait as you pass by. 
Difficulty: Moderate – Advanced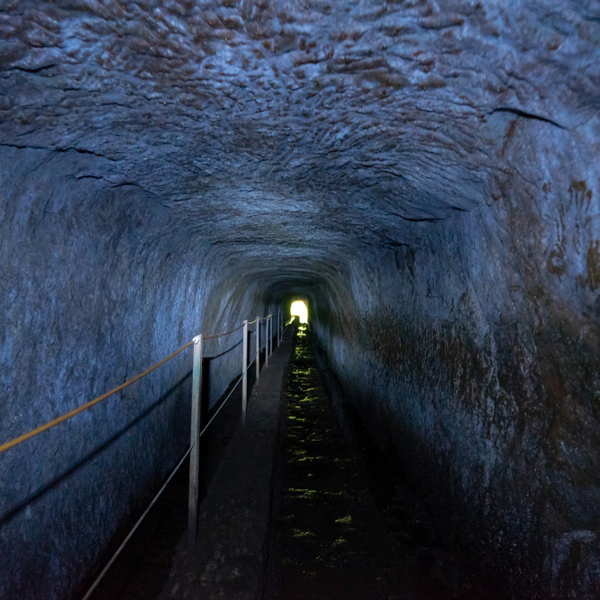 Orbzii tip: You'll be following the waterways through several tunnels on this one, so bring a torch, or a phone with a decent amount of battery life.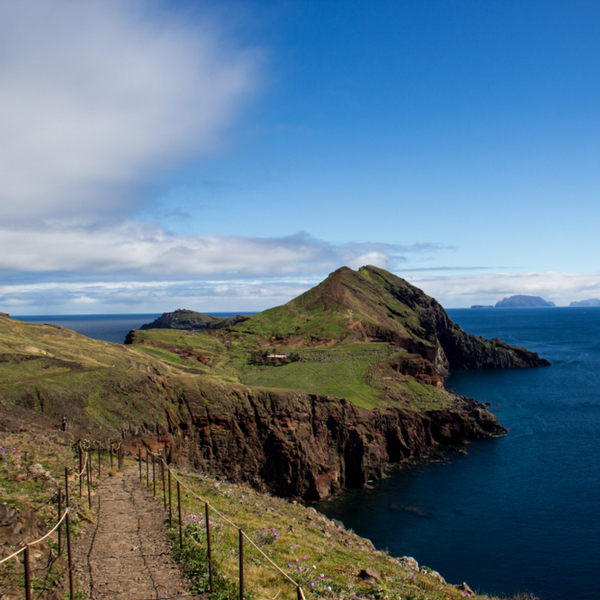 PR8: Vereda da Ponta de São Lourenço
All Madeira walking holidays should include a hike along PR8. Cliff top paths take you to the very edges of the island – and bring just the kind of craggy views you're expecting. Don't worry, the paths are a suitable distance from the precipices, though it rarely stops the Insta crowd from creeping ever nearer for that perfect selfie. And, really, it's hard to blame them. Getting a (safe) snap of Madeira's São Lourenço peninsula is one of the rewards on this 6km round trip through the Madeira Natural Park. And, as much as this walk delivers on sea views, it also gifts you several wildlife spotting opportunities.
Binoculars should be primed to point towards pipits, goldfinches, shearwaters, storm petrels and Madeira's only reptile, the aptly named, Madeiran lizard. But, perhaps best of all, the shore is home to the rarest seals in the world – the Mediterranean monk seal. Islanders call them sea wolves – which sounds far more exciting. 
Difficulty: Moderate 
Orbzii tip: To uncover more than 50 trails on Madeira, download the WalkMe app. It includes options to download maps and directions – all created by local hikers. 
PR4: Levada do Barreiro
In Madeira, hiking typically involves the three v's. Views, villages and vegetation. And, with the higher peaks, occasionally a little vertigo. Happily, this trail avoids the dizzying sheer drops of other walks and concentrates on Madeira's heritage and intriguing agricultural landscape. Over the course of around 5kms you'll explore the Levada do Barreiro and part of the Ribeiro de Santa Luzia valley. Swing by the ice reservoir – and contemplate what carrying a chunk or three all the way into Funchal would have been like back in the day. Easy on the legs, this is a walk for musing and soaking up the sights. When the walk ends, you've the option to continue a little further to the village of Monte. Once there, you can let the Madeira toboggan runners slide you down the hills and back into Funchal. Fun with a capital F. 
Difficulty: Easy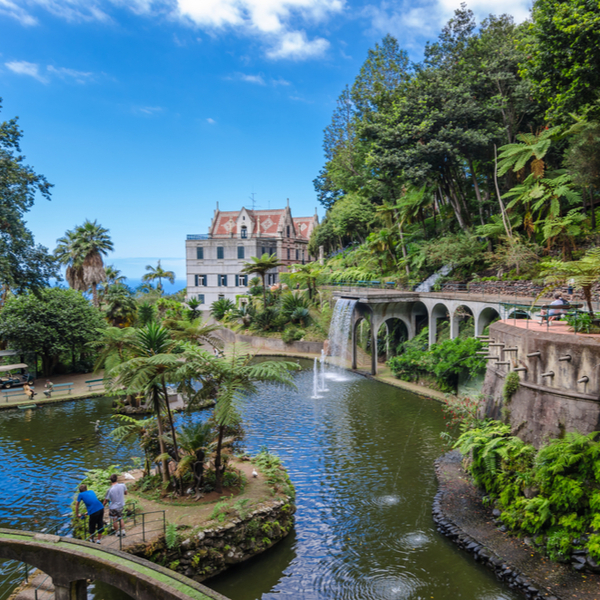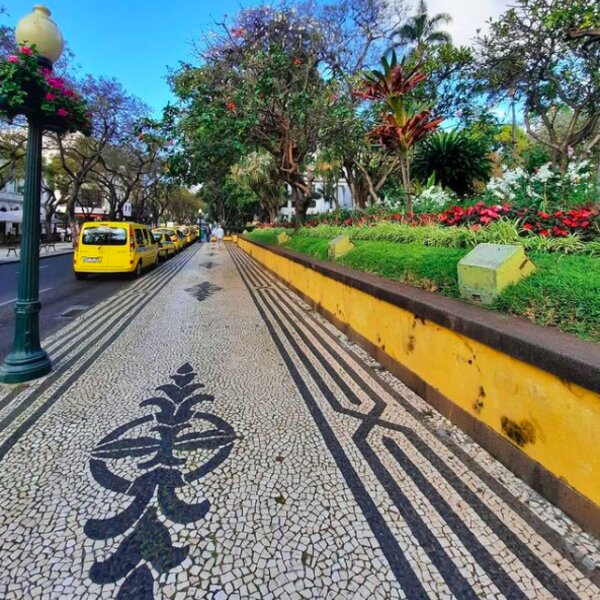 Funchal Walking Tour
Madeira walks needn't always be extended romps along coastal cliffs or forest tracks. Funchal has several urban routes to explore, full of historic sights and experiences. Though, for cosmopolitan adventures, it helps to be in the company of someone who knows a thing or two about their city. In Madeira, you want to talk to Lisa. She's the guide behind Funchal's Free Walking Tours. In exchange for 2.5 hours of your time, Lisa will whisk you around the city's squares, gardens and top sights. On weekdays, you'll swing by the biscuit factory (free biscuits often included) and you'll learn about the city. No price to pay – though, naturally, Lisa's happy to accept a tip – or online review. Alternatively, for €40 you can take a private tour.  
Difficulty: Easy – though does take in Funchal's hills and steps. 
Orbzii tip: Always ask your guide for secret, locals only intel and your free tour will undoubtedly uncover at least a few hidden gems to track down.