Krakow's Christmas market is a light-twinkled spectacle at the centre of the city's iconic market space. Yes, there's wooden huts mulling anything they can get their hands on, but the general vibe feels a smidge less commercialised than other Euro-festive favourites. So what else can you expect? Ski slopes just a road trip away from the city and choirs, carols and concertos fill the churches and gig halls with music. Everything might feel a touch twee until you order a snack at a food stall. Portion sizes are huge and the souped-up nativity scenes, make this a Christmas that feels a little different. 
For Christmas shopping
Unlike some cities, where the Christmas markets sprawl through each district, Krakow Christmas market keeps itself contained in Rynek Glowny. Pretty apt really, since this square has been central to Krakow's trading history for centuries. The huge square is filled with stalls selling classic Christmas market staples – think sweets, decorations and food stalls. But there's also a hefty slice of Krakow-centric produce and knickknacks to browse among. Bling here leans towards Poland's favourite treasure – amber. Golden chunks glint out from jewellery stands, where amber's been added to rings, brooches, earrings, necklaces and cufflinks. Soft, winter warmers are another city – and festive season, favourite, so expect gloves and slippers to be warmer than those you might find back home. 
Elsewhere, wood carving isn't restricted to statues and ornaments. Functional items, including kitchen utensils, make handy gifts for foodies and new homeowners. 
Orbzii tip: Make sure to bring plenty of zloty as most of the stalls only accept cash.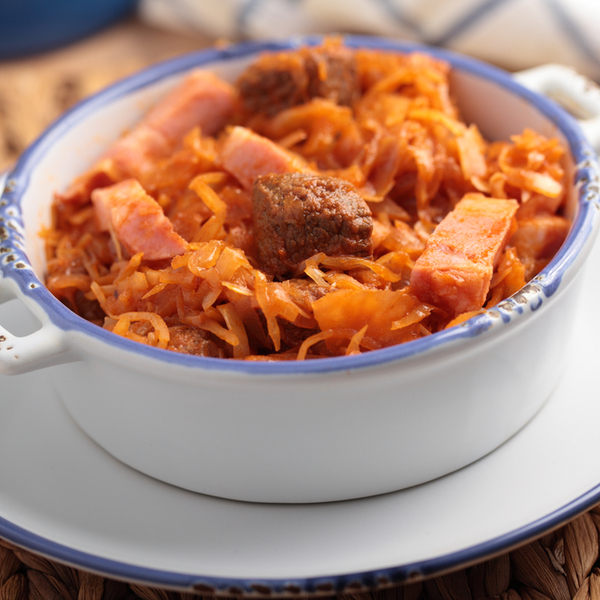 For warming Polish fayre
Whether you're a full on foodie or just love the warm hug only a mug of warm wine can provide, Krakow Christmas market is the gift that keep on giving. By and large, the food stands sell hearty Polish fayre, with very little regard for the season. Which, if you're not overly keen on cinnamon, comes as quite a relief. Yes, there's mulled wine to be quaffed – but you'll find a pint of mulled beer sitting close by too. Controversial? Perhaps, but welcome when you've been out in the Krakow winter air for a while. Pairing your hot brews with carp – the traditional Polish Christmas Eve feast meat – might be a step too far. Instead, plump for pierogi dumplings – pleasing Polish palates since the 13th century. Tuck into oscypek, a smoked cheese from the Tatra mountains, enjoy Krakow's sausage varieties or nibble on obwarzanek – which is a bagel, pretzel affair that's taken on the mantle of promoting the city. A bold move for a baked item. 
The menu gets a little more festive when you turn to sweet treats. Gingerbread is a global seasonal hit, but more local produce includes makowiec (a sweet poppy seed filled swirl of dough) and almond strudels. 
Orbzii tip: Street food in Krakow is best described as hearty. Expect the sausages to often sit alongside potatoes and veg – rather than slid into a hotdog roll. Arrive hungry! 
For carols, choirs and concertos
Rather than dusting off Mariah's Christmas classic and playing it from October onwards, Krakow tends to keep its choirs and carols under wraps until Christmas Eve. That is, all apart from one key event in the carol calendar. Krakow's annual Advent and Choir Festival lands in the city on the first weekend in December. Competing amateur choirs from across the globe unleash their choral festive favourites in churches across the city. Entrance is free – and comes with the chance to hear the churches fill with the sounds of seasonal rejoicing. Music lovers, try to bag a ticket or two  for Krakow Royal Chamber Orchestra's Christmas concert. Classics from Tschaikovsky's Nutcracker make the playlist, along with Silent Night, Walking in a Winter Wonderland and more.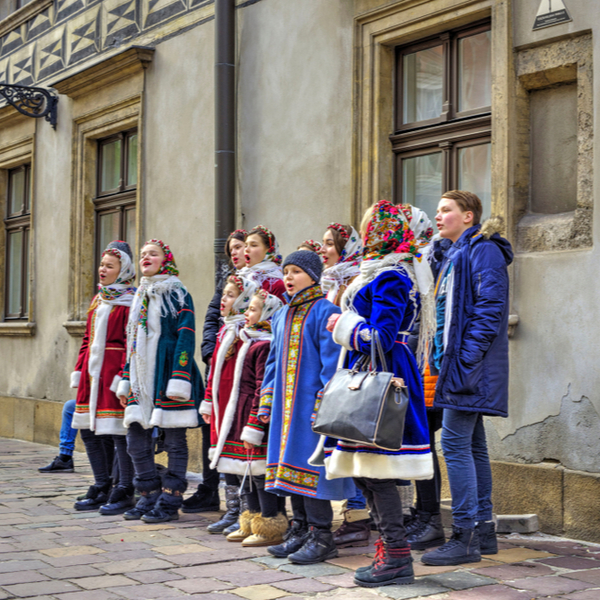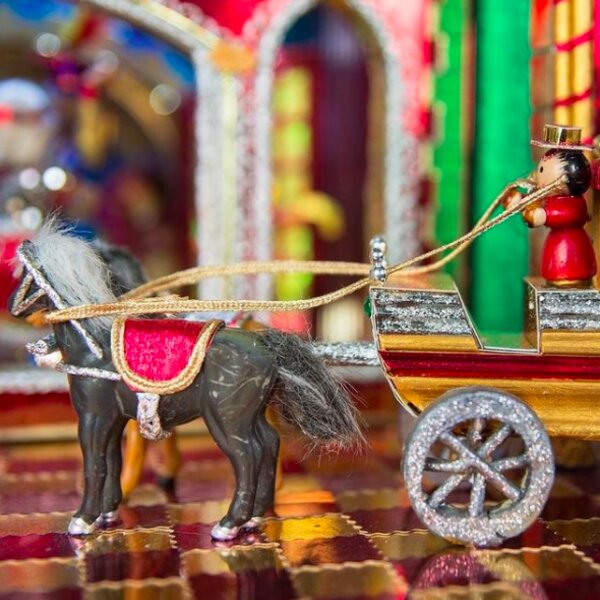 For nativity scenes
A traditional Krakow Christmas is less about commercialism and gluttony and more about observing a more chaste Catholic festive season. Where the residents really go to town? On their nativity scenes. Known as Christmas cribs, the 'szopka' were historically used for puppet versions of the familiar nativity story. Each one trying to be more techicolor than the last, today crib makers across the city create larger and more extravagant iterations to take part in local competitions, sell on their stalls or just pass on the family tradition as a crib carver. Gone are the wooden mangers and dusty straw stables. In their place? Tall gleaming towers painted from every hue that draw inspiration from some of Krakow's most intricate architecture. 
For a whistle-stop tour of the best cribs, swing by the Krakow Museum. They hold the most hotly contested crib competition every Christmas. 
For a festive parade
You'll need to stay in Krakow long after you've filled your case and carry on with Christmas gifts for this one. The Three Kings Day parade doesn't kick off until January 6th. Handy if you've flown in for some New Year antics – less so if you're here when the Christmas markets start in early December. If you do make it, expect the streets to be packed with crowds waiting for the magis and holy family to gather in the nativity scene, before walking through Krakow to the sound of Polish Christmas carols. Everyone can join in the parade – crowns are optional, but other fancy dress is off limits. This one's all about the three kings and the baby Jesus. A hugely significant cultural and religious event observed across Poland, the entire country gets a day off to join in the fun.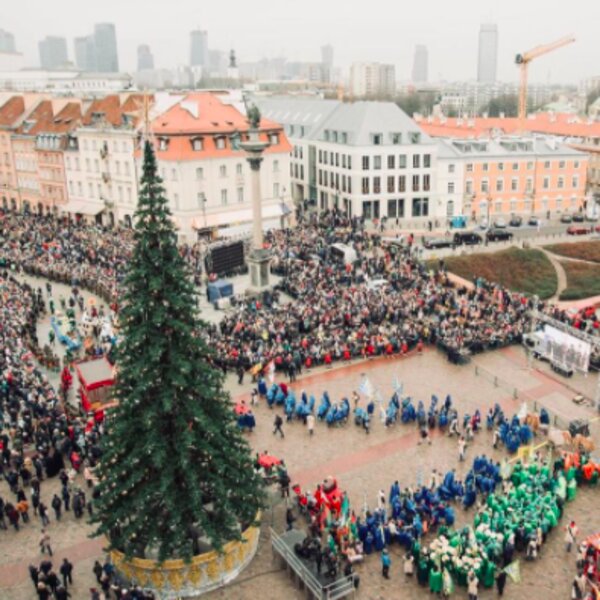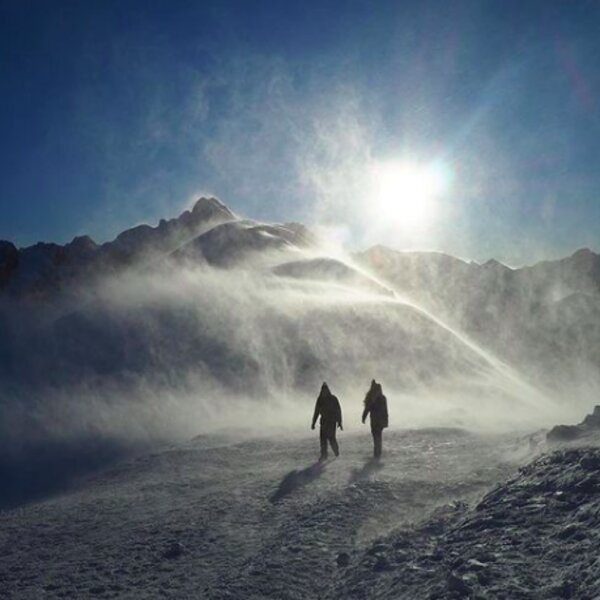 For guaranteed snow
Krakow Christmas market does occasionally achieve peak festiveness with a smattering of snow. For guaranteed powder, head south. You'll be winding up into the Zakopane mountains, where ski runs and snowy peaks can make all your winter dreams come true. If you're a beginner or intermediate skier, you'll be happy enough with the single run resorts. For the full alpine ski resort experience – at a fraction of the price of its European neighbours, point your ski boots towards Kasprowy Wierch. Black runs and challenges await – along with unforgettable views over Poland's Tatras.