The crystal-clear seas around Corfu offer much more than the chance for quiet contemplation. Scuba divers and snorkellers will both find plenty to write home about if they take an excursion off the coast of the Greek island, with a plethora of marine wildlife, wrecks, and reefs to keep even the most avid of diving lovers excited. 
There's plenty to see in the waters around Corfu, but like all things in life there are some parts which are simply better than others, whether that be because of the stunningly vivid colourscapes on show or the sheer volume of cool fish you can make friends with whilst swimming around. If you're an avid diver, an underwater adventure novice, or prefer the simplicity of the snorkel, then read on: we've got the information you need to make the best of Corfu under the waves. 
The Basics
Corfu diving is best enjoyed in the summer months, and most diving schools run trips from the beginning of May until the end of October, although you should always book ahead to make sure you don't miss out. 
The seas are generally calm and quite warm here, and as a result it's a fantastic place to learn how to dive in open water. 
There is an abundance of wildlife, reefs, and shipwrecks to be seen by those willing to take the plunge, so every diver will be satisfied.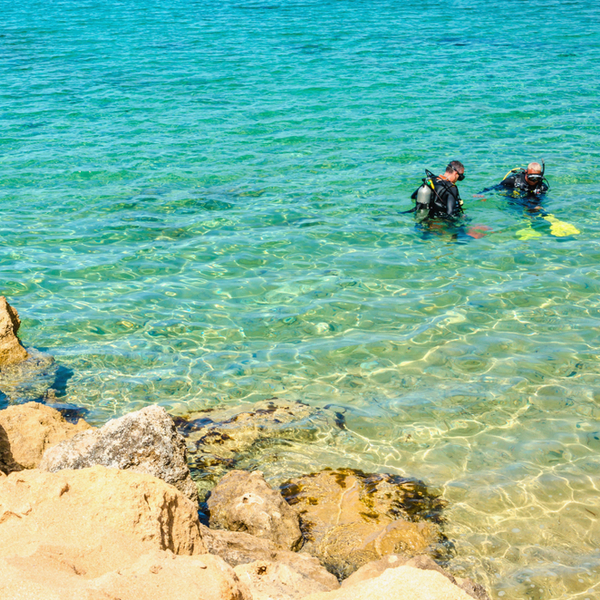 If you're worried about ecological sustainability, Corfu is the place to dive. As one of the most famous and established areas for diving in the world, the schools here have plenty of incentive to keep their waters clean and to teach others how to dive safely, responsibly, and with minimal damage to the natural sights that sustain their livelihoods. 
Diving Schools
Even the most practiced of divers know that the experience can be enhanced with tours. Making new friends in the community is part of the joy of the scuba diving, and the serenity of deep diving means you can feel true seclusion in the water even if you're with a group. Beginners will need instruction because scuba diving can be incredibly dangerous, but that's why it's so rewarding.  
Divers looking to get PADI certified can get in touch with Paxos Oasis Sub, located on the idyllic island of Paxos just a few miles south of Corfu. They offer day courses for beginners, but also a four-day certification course if you want to make the most of your holiday (with the written side of the certification done online before your diving trip).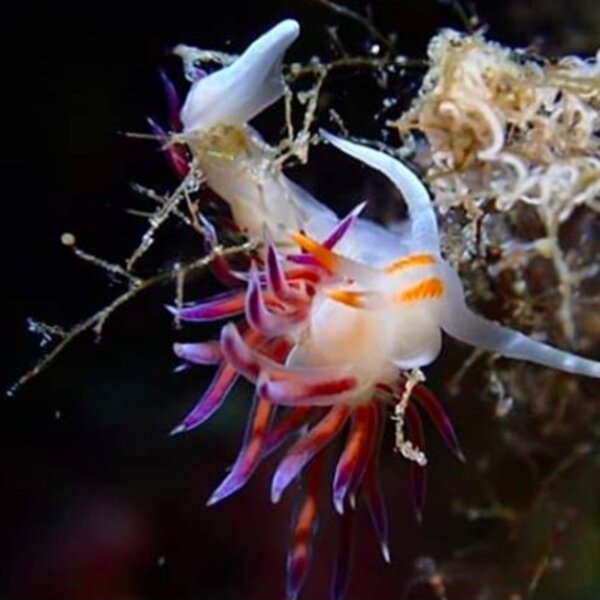 If you're travelling with kids they also have a "Bubblemaker" course tailored for young ones, so they can catch the bug early on. Not only that, but Paxos Oasis Sub offer plenty of excursions for experienced divers, meaning that you can get the best of Corfu diving as recommended by experts. These excursions last around 4 hours and include two dives as well as all the necessary equipment. Costs for all of these courses and excursions vary depending on the time of year and numbers, but they can be requested via the website.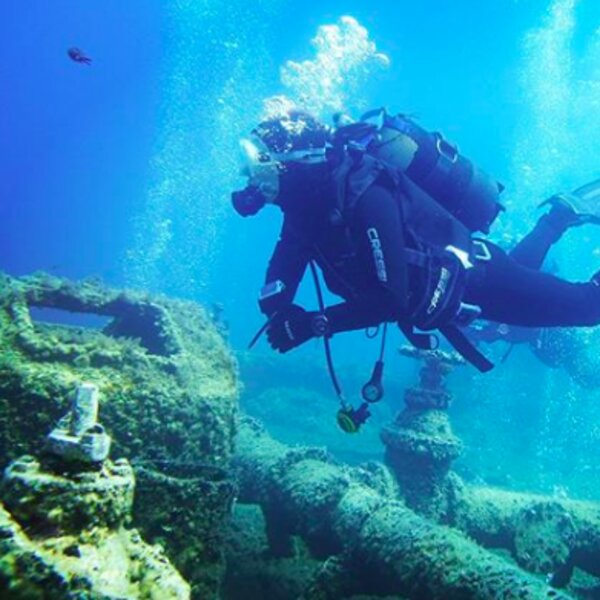 If you want to stay on Corfu, Achilleon Diving Centre come highly recommended by divers of all stripes. Beginners can go on their introduction course for as low as EUR 50 (GBP 46), which includes a brief lesson in the calm, shallow waters of Agia Triada beach, all of the equipment, and a slightly deeper dive of 12m. Those looking to get PADI certified can also do so here (again, with the theory section done online before your trip) under careful instruction. Experienced divers just looking for some community can join excursions to amazing dive spots like Paleokastrista or Othoni Island.  
Achilleon are also well regarded for the atmosphere they cultivate and their location on the West coast, where the most exciting caverns to dive in are located. They also have a real commitment to educating their divers about sustainability and taking care of the beautiful spots they visit. Those who want to make the most of scuba diving in Corfu can also join a night dive, where you get to see the ocean in a whole new (lack of) light. 
Diving Locations
Paxos
This small island is just a short boat ride from Corfu and offered as an excursion by many Corfu based diving companies. Known primarily for calm waters and excellent visibility, there are a couple of standout spots. Blue Grotes (sometimes known as the Blue Caves or Blue Grotto) is one such location: at a minimum depth of 25m it's only for certified divers who are comfortable, but the scenery is absolutely worth the effort. 
Angelos Cave is another treasure trove of underwater adventure. The area is massive, so you'll never be able to explore it all in one or two dives, but everything you get to see is so incredible you'll want to spend all that time down there. Not only is the cave itself bathed in a stunning azure glow, but there are monk seals and other interesting wildlife swimming through fairly often. The average depth is around 30m but there aren't many currents, although we'd still only recommend this site for well-practiced divers.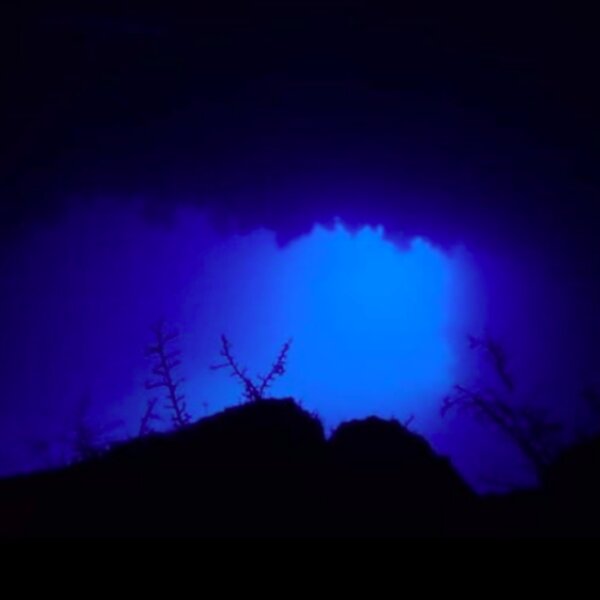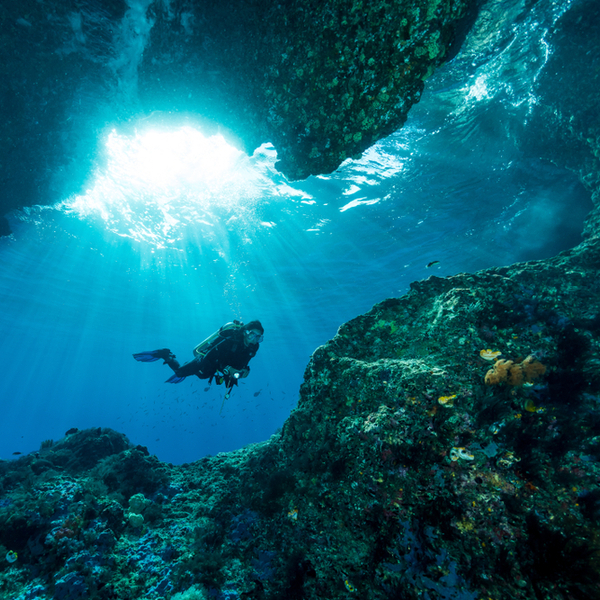 Colovri
Reefs, cliffs, canyons and caverns aplenty exist in this area that seems like it was chiselled purely for diving purposes. Considered to have the very best of Corfu diving, Colovri has phenomenal visibility up to 30m, as well as fairly warm waters and an abundance of wildlife. The dive goes up to 40m, but there's plenty nearer the surface for beginner or less confident divers. If you're scuba diving in Corfu, this is a must visit. 
Monastery
With a max depth of 22m and visibility extending to 20m, this is the ideal spot for scuba diving in Corfu if you're particularly keen to spot wildlife. Here, octopuses, shrimps, and other sea creatures swim about freely. The other scenery isn't too shabby either, with the dive generally finishing with a swim through a 10m long tunnel. The entrance is only 3m deep, and you only have to dive past 20m if you want to visit the second cave, so it's suitable for all levels of scuba diver.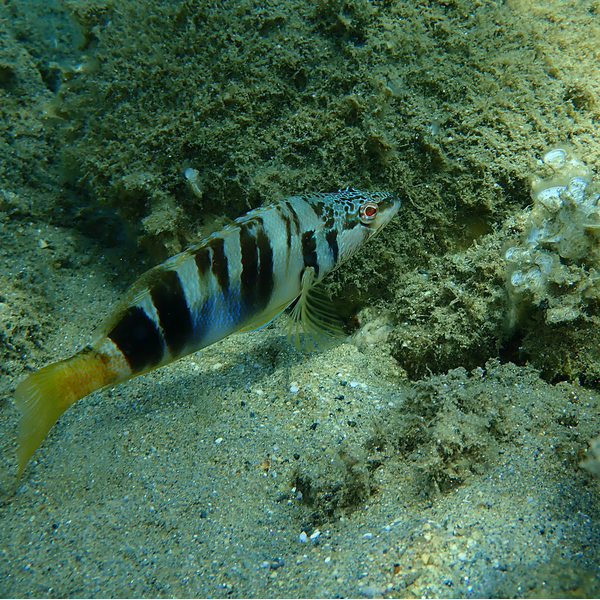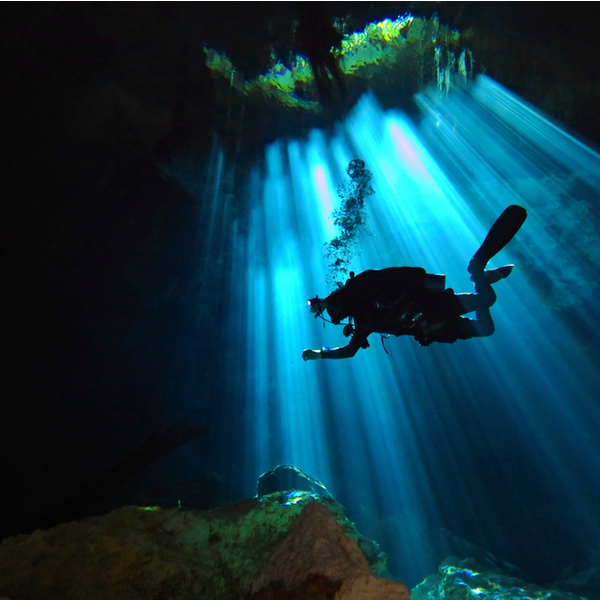 Hole of Ha
This dive is contained in a cavern that goes into a mountain. The cavern is roofless, which means you can see into the outside world despite feeling a million miles away. There's a maximum depth of 18m, and aside from the technicolour miracle created by the sun beaming into the open top, you'll get to see stalactites and fossilised conch shells. When people talk about cavern diving, the Hole of Ha is considered a global world standard, so is a must see for any Corfu diving trip. 
Othonoi Island
We've explored options for reefs, caverns, and wildlife enthusiasts, but if you're a diver who's a fan of shipwrecks you need to visit the area around Othonoi Island. There are two shipwrecks to explore, as well some of the famous caverns that define scuba diving in Corfu. Achilleon Diving Centre offer a great day excursion here, which includes the chance to laze on the wonderful "White beach" and snacks, as well as transport.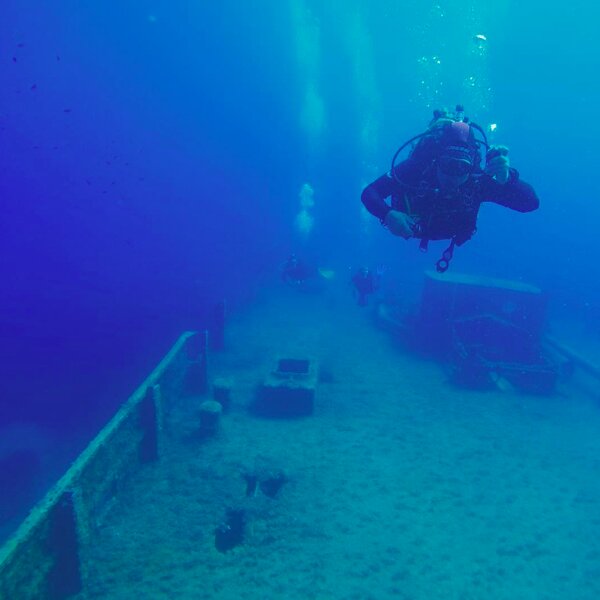 Snorkelling Corfu
If you're a fan of underwater adventure but don't have the time or financial means to commit to learning how to dive, then you can explore the beautiful world of snorkelling in Corfu. There are plenty of great spots to head to if you're keen on spotting some wildlife, with the best all being fairly secluded. 
Megas Choros is an incredibly quiet beach that's only accessible by dirt track. The water here is calm and warm, and because it's more secluded than other areas of the island wildlife tends to flock to it. It's the place in Corfu where you're most likely to spot dolphins, which in itself makes it worth a visit. Other wildlife that can be seen whilst snorkelling in Corfu include the Mediterranean Damselfish, the Rainbow Wrasse, porpoises, and the occasional sea turtle.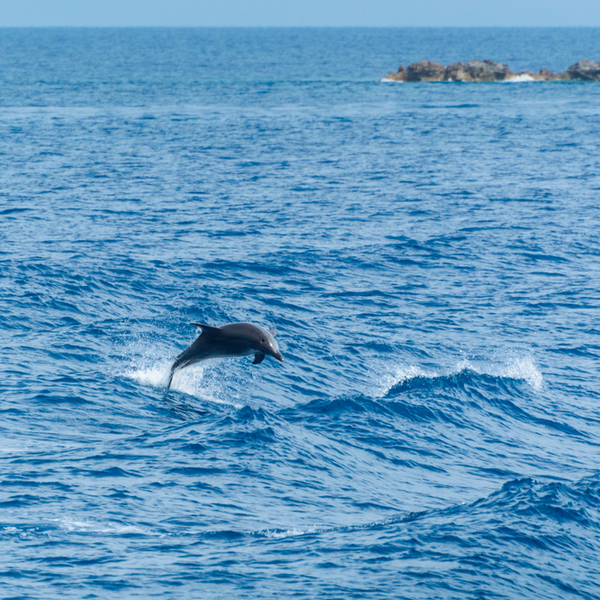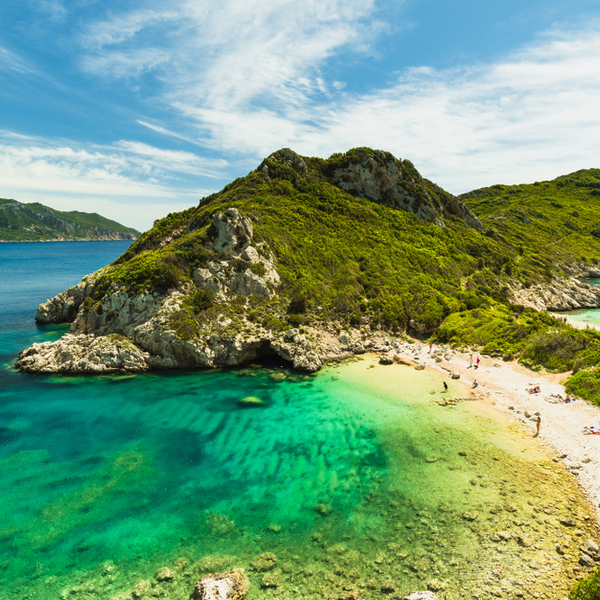 Afionas is another excellent spot to don the snorkels. Like Megas Choros it's incredibly quiet, only accessible by a near hour long hike or a boat. Here you can see all sorts of beautiful marine wildlife and coral formations, with very limited numbers of people to interrupt your journey. 
Paleokastritsa village is famous for its snorkelling and diving community, and they're both based here because it's such a good spot for both activities. If you're just looking to give snorkelling a go instead of basing your entire trip around it, this is a good place to visit as you'll have access to all the resources you might need.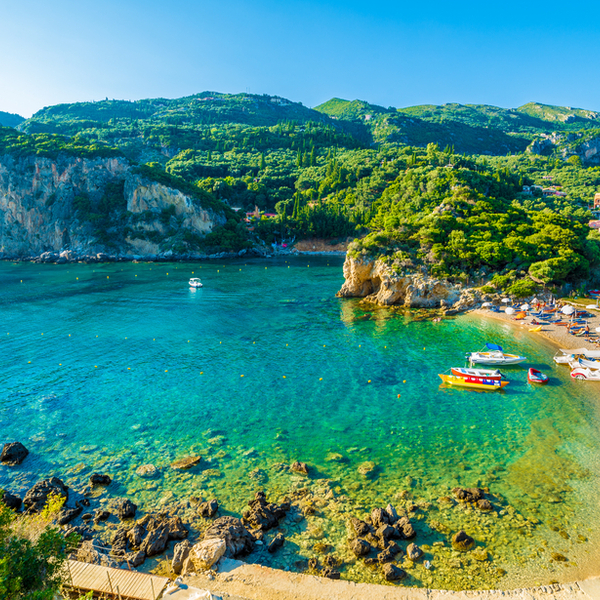 If you'd rather do an organised snorkelling tour in Corfu, then once again we'd recommend using Achilleon Diving Centre. Here, they give you the basics of snorkelling before taking you out on a boat ride out to some of the more secluded areas of the ocean so you can frolic in the sea to your heart's content. Drinks and a snack are included, and it's suitable for those with children too, so nobody has to feel left out. 
Ready to dive into your next Ionian adventure? Download the Orbzii app today to Dream, Plan, and Book your trip.