Fuerteventura diving gives divers of all abilities the chance to explore the island's underwater world. Volcanic topography isn't in short supply and provides just the sort of nooks and crannies with everything from nudibranchs and sea sponges to octopi and seahorses love. Morays, wahoos and barracuda add a bit of predatory action and there are spaces for gentle giants. Turtles and, occasionally, whale sharks drop in. Add in the proximity of another stellar diving spot – Isla de Lobos – and you've enough dive sites to keep you busy for weeks, nevermind a fortnight. Fuerteventura's diving centres are liberally dotted around the island, making each dive site easily accessible with locals that know their stuff. We've handpicked the best from both islands to get you started. 
Beginners
The Anemone Fields
Just to the west of Morro Jable there's an uncomplicated little dive known as the Canyon. Others call it the Anemone Fields, which is far more apt. Chock full of anemones, their tentacles gently wafting in the ocean currents – it's also a cracking beginners dive. There's plenty scope for newbies who feel ready to level up and Jandia Buceo are the dive shop to talk to if you want to get there. Among the anemones, get ready to spot shrimps scuttling about while morays and sting rays provide a degree of foreboding drama above. If you're into underwater photography, you'll love the colour show the anemones put on.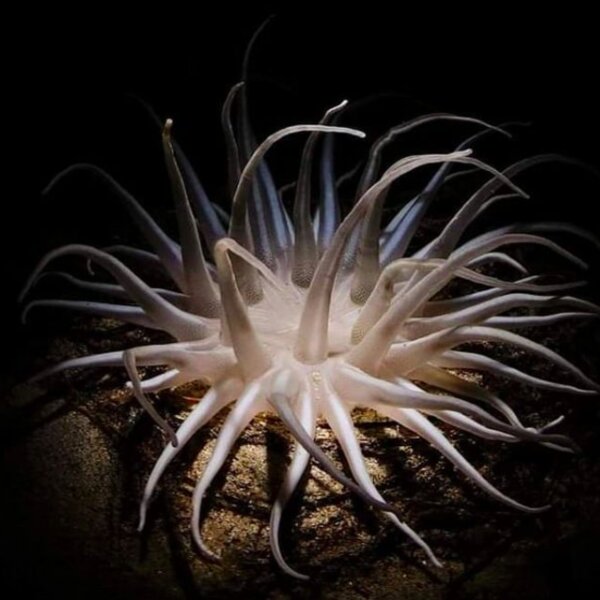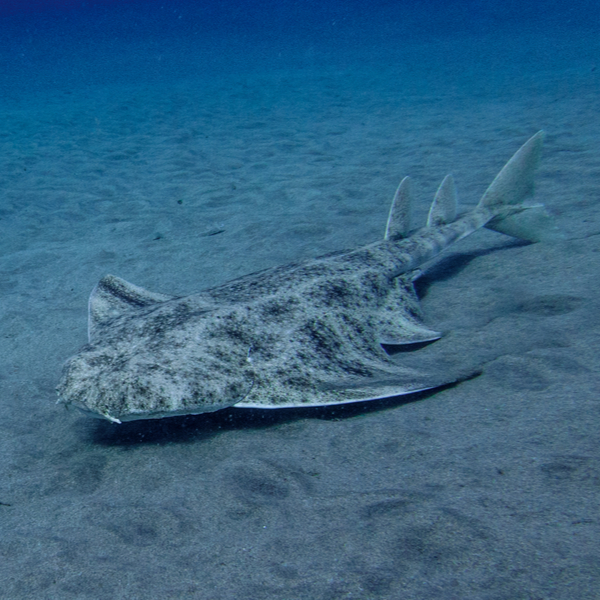 El Jablito
Though this north eastern pearl of a dive location has the beginner label slapped on it, experienced divers may want to give it a look. Depths never stray beyond 15 metres, the marine life is impressive and there's a mixed topography – if you're into that sort of thing. Marine life spots include seahorses, parrotfish, scorpion fish, octopus, spider crabs and juvenile angel sharks. A beach dive that delivers on relaxed holiday vibes if you're just in town to take a peep at the island's marine life. 
Orbzii tip: This spot lends itself well to night dives – join one if you get the opportunity. 
Intermediates
Veril Grande
Head to the south of the island for this dive site that hits the intermediate sweet spot. You'll be heading out around 200 metres from shore, right in front of the Jandia lighthouse. Once there, a wall and a few caves are ripe for exploring – depending on your experience level. And, if you've got a fair few dives under your belt, the 40 metre drop off is rich in sea life. Though, eels, angel sharks and bream have a habit of popping up to greet divers – so you're unlikely to miss out on sightings. Garden eels, grouper and darting shoals of sardines are the mainstays here, though divers pop back time and again to try and catch sight of the whale sharks that have been recorded here.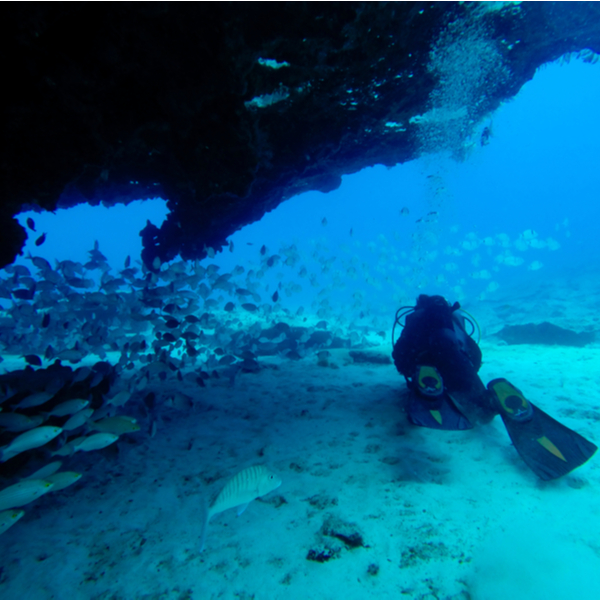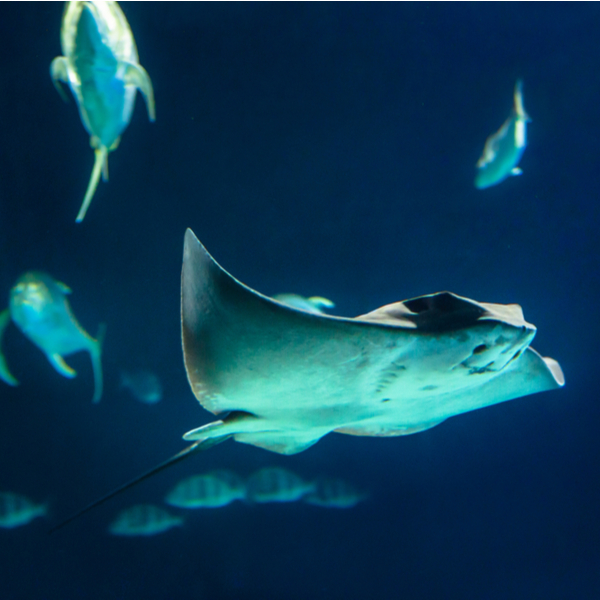 El Bajón del Río
Wedged nicely between Fuerteventura and Isla de Lobos, El Bajón del Río is a tricky dive to add. Mainly because it's not your everyday dive. Tides, currents and weather conditions have to be spot on to make this one accessible. When the stars align, it's a dive suitable for beginners and intermediates that also happens to be the shining star on the Fuerteventura diving scene. Enthusiastic types could even peg it as one of Europe's best spots. We'll let you decide on that one. But there are three large rock formations that make a home for nudibranchs, grouper and mackerel. The mushroom-shaped rocks are surrounded by a sandy sea bed, where angel sharks and rays glide by.  
Advanced
Barranco
Although this spot is suitable for all divers, advanced divers will want to explore the 25 metre depths of this reef to its full extent. Nooks and crannies make the perfect homes for a broad range of morays. Mask, tiger, and black moray eels call this spot home – along with eagle rays and angel sharks. On the smaller scale of sea life, zebra breams are common sightings. Good visibility and weak currents make life easier, considering the advanced dive status. For something a little more challenging, the shores of the Isla de Lobos have plenty to offer.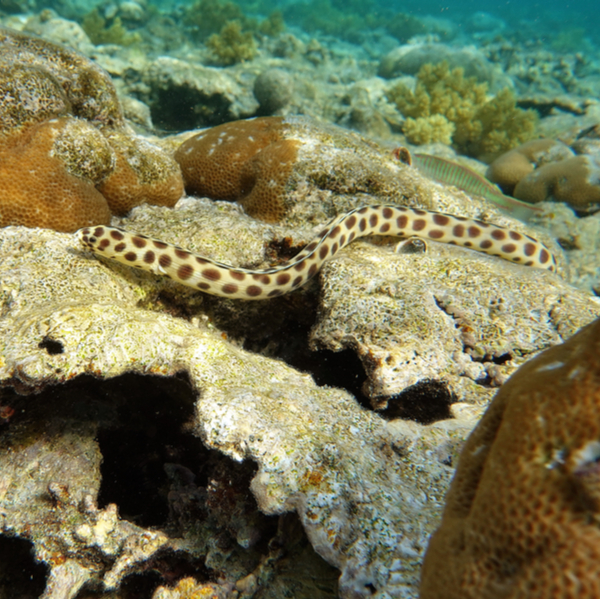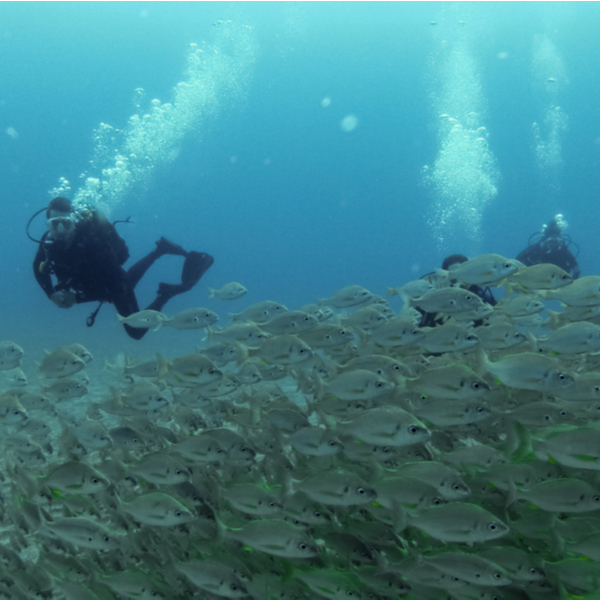 Las Anclas
Fuerteventura's diving diversity can feel a little lacking at times. There are no real dive-able wrecks to speak of and the volcanic topography can tend to feel a little samey if you clock up enough time in the depths. So the ancient and sea-worn anchors of Las Anclas do at least provide some marine architecture of interest. Of course, this site has much more to offer advanced divers than scattered ship debris. A wall drops to 25m and, as you descend, tuna, grouper and scorpionfish pass by. Turtles have been spotted here – along with the more usual sights of crabs and shimmering fish shoals. 
The Secret Cave
Fuertventura diving doesn't get more technical than this. Far from the north shore of the island, you're actually a little closer to Isla de Lobos when you drop anchor and prepare to dive to depths of 30m+. Your destination? A secret grotto with gorges and tricky walls to navigate. Your company? Eagle rays are one of the highlights, with amberjacks and grouper putting in the odd appearance. The real draw is the rock formations and the chance to explore a very different dive in Fuerteventura.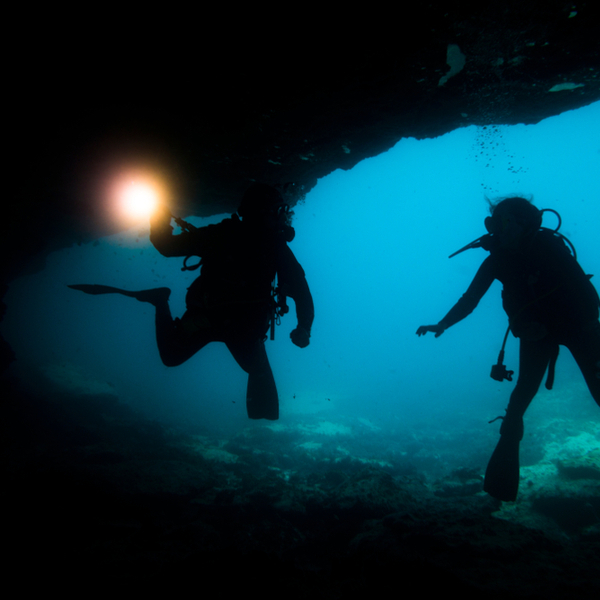 Isla de Lobos
La Laguinita
It's worth making the short journey to Isla de Lobos to hunt down the more advanced dives this region has to share. And the La Laguinita dive site doesn't disappoint. After a boat ride east of the island, you drop to depths of around 25 metres. On the sea bed you can expect to encounter a broad range of sea life in just a few square metres. The biggest of the bunch? 2m long wahoos bring the predator action, while sea breams, damsels and grunts go about their business along the wall. Barracudas are always exciting to spot but sometimes it's catching sight of the big groupers chilling out in La Laguinita's caves that feel like the biggest spot of the dive.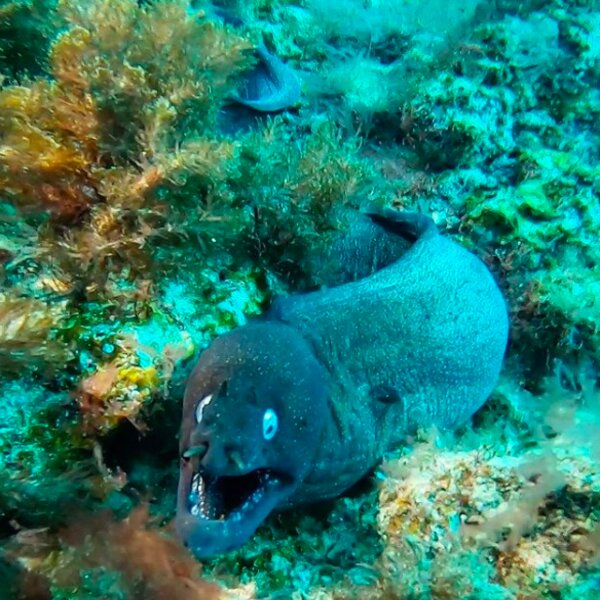 Orbzii tip: Fuerteventura diving centre, Punta Amanay, recommend Nitrox to lengthen the dive here – and it's easy to understand why. This form of diving isn't for everyone though, and the spot can be seen without it.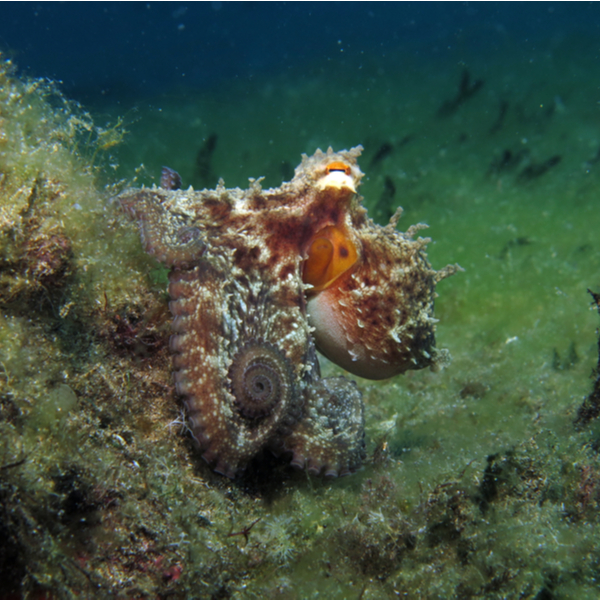 El Marrajo
There are, of course, plenty of opportunities for beginners to experience the magic of Isla de Lobos. At depths of around 8 metres, El Marrajo gives beginners much to see without having to worry too much about the technical side of things. The spot's sheltered from currents and winds are typically light. Despite the shallow waters, barracuda's often zip by while zebra breams hang out with the mackerel. The rock formations are the big draw here. Photography goes up a notch thanks to the light that comes packaged with shallow dives. Octopi like to camouflage themselves against the rocks – so it's always worth checking every nook. 
La Carrera
The ledges, caves and platform at La Carrera bring together the best bits of all of Fuerteventura's diving sites. The Isla de Lobos white sands contrast nicely against the remnants of the black lava flow for some nice photo ops. The topography makes homes for Fuerteventura's standard spots – those stingrays and angel sharks are here too. But, things do get a little more tropical in the ledges. One of the island's most easterly dives, at depths of around 15 metres, pufferfish, glasseyes and the otherwordly trumpetfish add a touch of colour to the dive. Beginners can dive here with ease – but the biodiversity attracts advanced divers looking for a relaxed dive where they can concentrate on the sea life action.