15 years ago, this run down of the best dive sites in Santorini would have been a very different beast. For decades Greece banned diving in most of its waters. With so much treasure in their surrounding seas – they had to stop it being pilfered. The ban was lifted in 2005, but a much bigger haul was lost. Fishermen have caught the colourful bounty most snorkelers and divers in Satorini are looking for. But before we pop our flags at half mast and observe the correct period of mourning – all is not lost. Dive centres have staked a claim to a reef, where life has returned. And, if you're PADI proficient, there are drop offs, walls and even geothermal vents to explore … with care.
Of course, there are still rules to observe. Essentially, don't remove any archaeological finds you might spot on the sea bed. Shame really, we're in the market for a 5BC sea-addled Greek urn.
Snorkelling in Santorini
Before you get too carried away, keep snorkelling expectations low in Santorini. Yes, the waters are crystal clear, but the sea life can be sparse in the shallows. You'll need to head relatively far from shore to see anything pelagic. Of course, everything changes if you add scuba gear to the equation – but you're here for some light flipper and mask action, not a full on suit up and dive in vibe. That said, you can spot some colourful critters, if you know where to look …
Kamari
Definitely not one to add to your 'hidden gem' files, Kamari is a busy, black sand beach with plenty of facilities. Not the setting for a spot of solitude in the shallows, here banana boats and souvenir shops definitely set the scene. Mask on, flipper your way to the breakwaters and you'll soon be spotting the local underwater residents. Very much a place to snorkel if you're here for a day's sea and sun.
Orbzii Tip: Resist the lure of sunset cocktails and snorkel later in the evening for a chance to see more fish.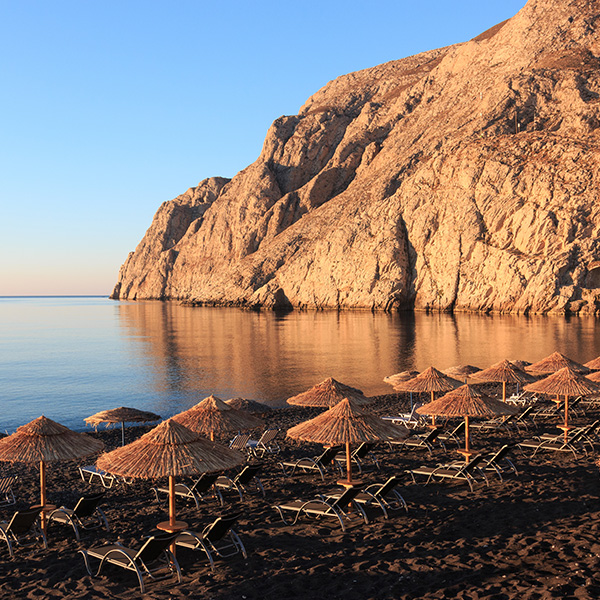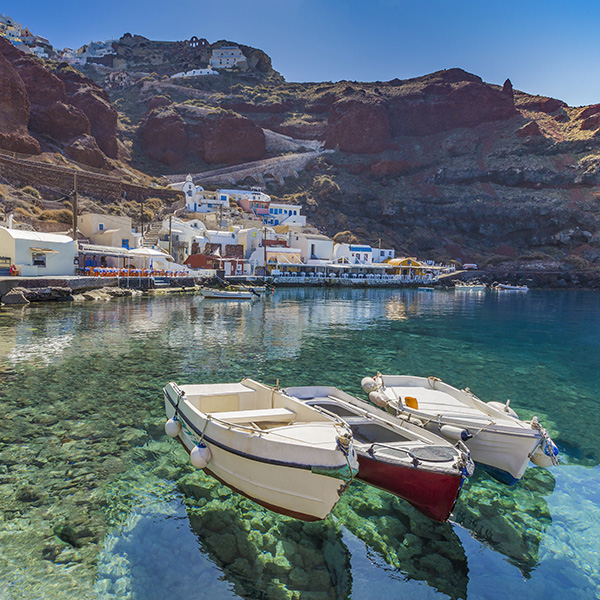 Ammoudi Bay
If you forget your snorkel here, prepare for some serious FOMO. Crystal clear waters is a phrase overused by many – but there's no other way to describe this bay. Jump in – there's no beach, just some easy to climb rocks – and get spotting. The lucky will spot octopi, the unlucky will spot – or tread on a few sea urchins. Swim shoes are essential here folks.
Orbzii Tip: Keep an eye out for boats, especially if you're snorkelling close to the shore. A rogue swell could see you swept onto the rocks.
Perissa
Can we say Perissa is the best place to snorkel in Santorini? That all depends on your skill level. Holiday snorkelers will have fun spotting a few catfish, plenty of sardines and maybe an octopus in the shallows. Serious swimmers should head approx 20 metres away from the shore to the drop off. This is bream, wrass and potentially even barracuda territory.
Orbzii Tip: It pays to watch for the currents here. You'll never encounter anything too treacherous – but weak swimmers may find even the mild current off-putting.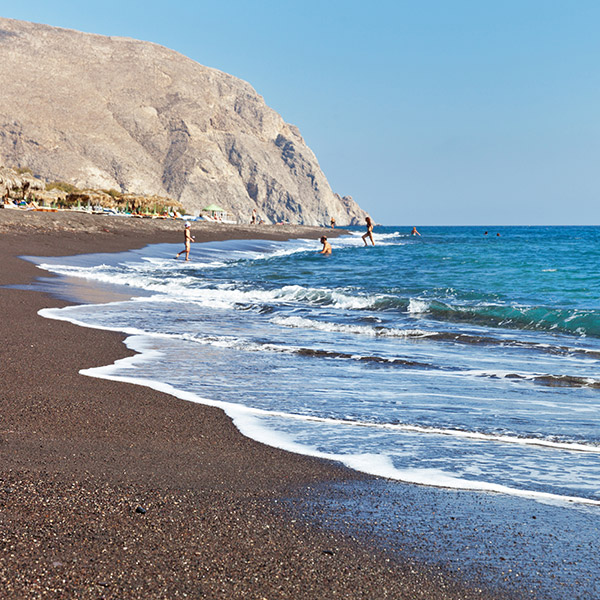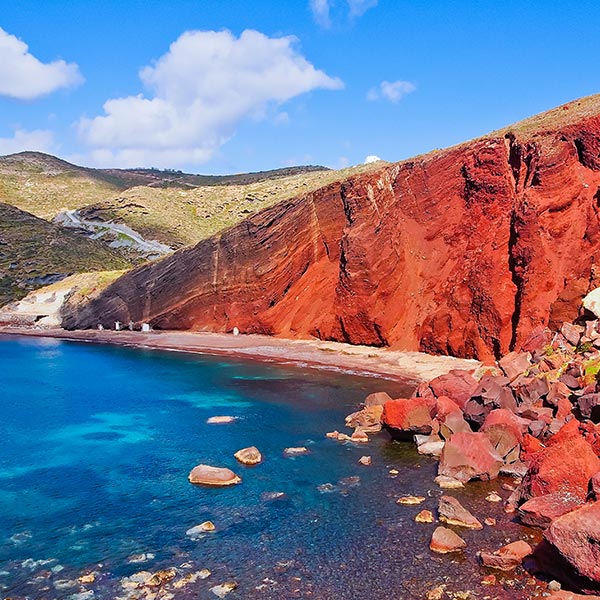 Red Beach
Snorkelling at Santorini's Red Beach can be fraught. Frequent rock slides make swimming close to the shore questionable at best. But, the red cliffs and sparkling blue waters are insta' gold. So expect plenty of eager tourists looking to get in on those stunning views. Getting to the viewpoint is straightforward – but the path to the beach is a 10 minute, danger strewn walk. Far safer to approach from the water – by water taxi or swish catamaran.
Orbzii Tip: The unique sea bed formations are the highlight here. Yes, you'll spot a few fish but the red beach and cliffs are the real draw.
Akrotiri
While everyone's on the Red Beach, give the other coves nearby a look. Vlychada Beach is only accessible by boat – or on foot from the Red Beach. Like most beaches here, snorkelling in Santorini isn't quite a colour-strewn romp through the seagrass. But, there are undersea treasures to be found. Sea urchins, lava formations and a few hidden fish only the eagle-eyed will spot.
Orbzii Tip: Pop a loaf in your beach bag. A slice or two can lure timid fish to you – if you're keen to get really close to nature.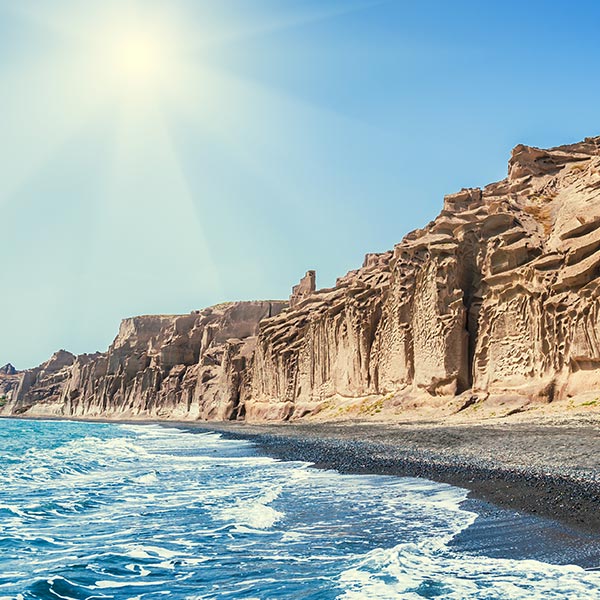 Dive Sites in Santorini
Ok, so the snorkelling might not be setting your flippers on fire, but the diving? Top notch, so long as you remember these aren't tropical, marine-life rich waters. You do get access to wrecks, lava caves, volcanic rock formations, wall dives and pinnacles in some of the clearest waters you'll dive in. Though you might not encounter the sheer numbers of fish you'd see on a tropical dive, Santorini's waters are far from barren.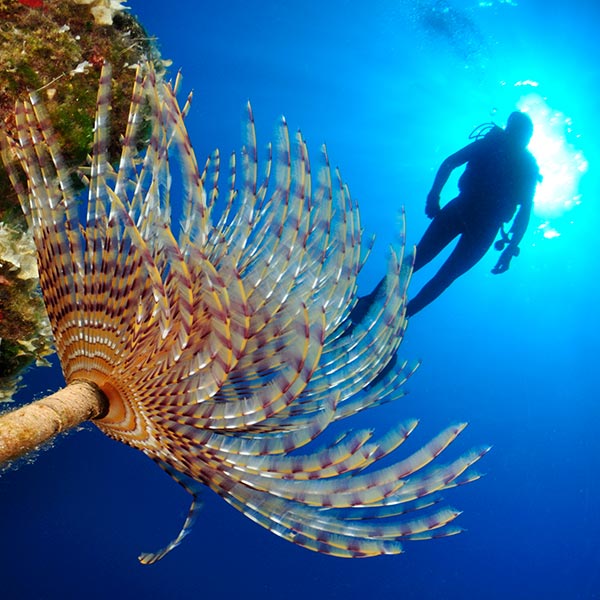 Nea Kameni
If you've just one day to dive, this is the place to do it. We're going to go all in and label it among the best dive sites in Santorini. It's no secret spot – but rarely will a dive that features caves, a wreck, reef and a volcano be kept quiet for long. Your wreck is the Santa Maria and gives you 112ft of passenger ship to explore. But, for most, it's that caldera rim that'll be intriguing you. Geothermal vents create attract groupers, wrasse and barracuda. Life is abundant here – so expect plenty of coral and sponges too.
Orbzii Tip: This one's for divers with their PADI cert only. The 400m drop off is not a place to test your dive skills as a newbie. As there's so much to see, most dive centres split this into two dives as part of a one day package.
The Caves
A great dive for fans of geological formations. Which all sounds very high brow, but essentially, we're talking lava caves. You'll never be in waters deeper than around 10m – so fairly relaxed – but you will need to be happy navigating through caverns and swim throughs. Santorini diving centres will be more than happy to show you the ropes here though. A popular spot on the south coast. Marine life plays second fiddle to the formations, but expect glassfish, morays and perhaps an octopus or two to show up.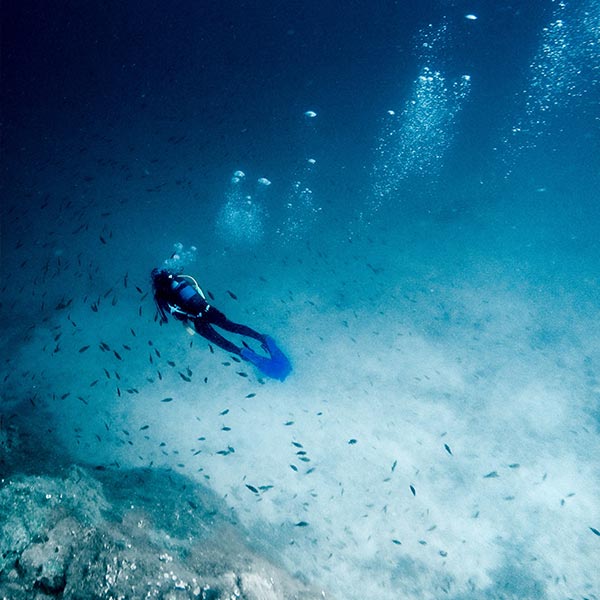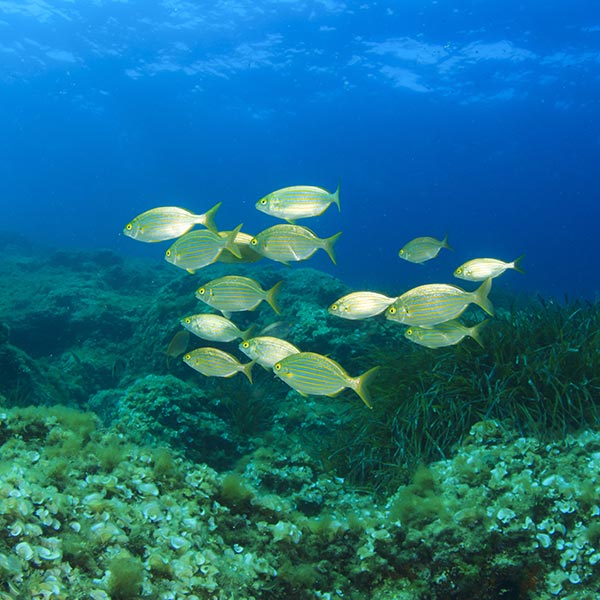 Santorini's House Reef
It's fair to say Santorini's waters have suffered from over-fishing in recent years. But, savvy dive centre operators have stepped into create a sea sanctuary of sorts. Just metres from the Santorini Dive Centre there's a shallow reef that starts close to the shore and stretches all the way to the caldera. Protected from fishing activity, it's a hotspot for everything from nudibranchs to barracuda. This is one of the few places in Santorini to find anything close to a large shoal of fish.
Adiavati
Head to Akrotiri for the Adiavati dive site. This is a spot that's inside the Caldera and has surprised divers with its relatively abundant fish life. A rocky reef with a vertical wall – it's the wall you want to follow. The warm waters provide a home for sponges and coral. So with the basics sorted, a few fish have set up shop here. Parrotfish, wrasse, grouper and red snapper can be spotted – along with clams and anemones.
Orbzii Tip: If you like wrecks and found the Santa Maria a little lacking in sea life, seek out Santorini's WWII tug boat. Santorini Dive Centre sank this in 2003, so it's had plenty of time for life to establish.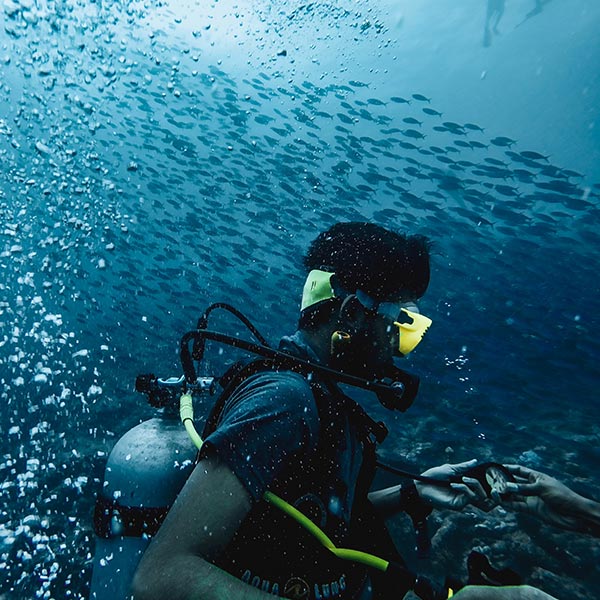 Are you already cramming your snorkel gear into your case? You'll just need one more essential item. Our app. Pop it on your phone (no cramming or wedging needed) and you can Dream, Plan and Book your way to your pick of the Santorini dive spots.