For a tiny island in the middle of the Med, Malta packs a punch when it comes to music festivals. The near-perfect summer weather makes it the ideal place to put on a big, outdoor show without fear of everything getting rained off (UK festivals, are you listening?). It's not just pop and rock that get their showing on the island nation: Malta festivals showcase a diverse range of music, from traditional folk music to world-class Jazz and Blues artists. If you want to sing your heart out in the sun, then read ahead for Orbzii's festival-goer's guide to Malta. 
Things to know before you head to a Malta festival
Malta is a highly developed nation where one of the two official languages is English, so coming to a festival here shouldn't be too stressful and won't require too much pre-planning, other than booking flights and accommodation (if you're not camping).  
However, as most festivals take place in the late Spring and Summer, you need to be aware of just how warm Malta can get. Because of its location in the heart of the Mediterranean, and the relative lack of greenery on the island, it gets astonishingly hot – so make sure to drink plenty of fluids and head to the shade when you can. If you are at a camping festival, make sure to choose a shaded spot for your tent – you'll be thankful at 6am when the sun is high and strong, and very much turning your tent into an oven. 
They use the Euro in Malta, and although it isn't quite as expensive as places like London or Paris, it's not a cheap place to buy food and drink either – especially with inflated festival prices. So, make sure to budget so you're not left eating chips and drinking tap water on your last day. 
The best festivals in Malta
Isle of MTV/Malta Music Week
Without a doubt the biggest Malta music festival every year, Malta Music week is the six days leading up to the massive Isle of MTV concert that has been broadcast live across Europe for over a decade now. While Malta Music Week doesn't have the same gargantuan acts we see perform at the showpiece festival that tops the week, there are plenty of smaller events on with local musicians and artists, dotted all over the island. With that being said, there are still plenty of larger, international acts who don the stages at this island-wide festival of fun. 
The week is full of sunset beach parties, and clubs and bars tend to open their doors for free to make sure people keep visiting despite the plethora of open street celebrations. There's music of all kinds, although obviously a focus on more popular forms of music, like electronic, RnB, and pop.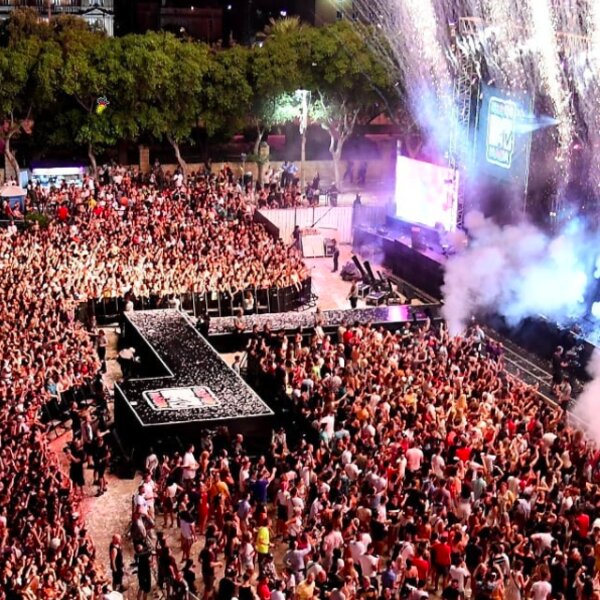 The main event – Isle of MTV – is completely free and has no age restrictions, but there is a capacity of 50,000 so you should get there early to avoid disappointment. In previous years, the event has hosted shows from global megastars like Lady Gaga, Wiz Khalifa, and Martin Garrix. 
The event takes place annually in Sliema on the north-eastern part of the island, at either the end of June or beginning of July. There's plenty of public transport to get to and from the concert from all corners of Malta, and when you get there, there are food and drink stalls around so you won't really have to leave. The acts tend to start around six in the evening with some Maltese artists, and the big international stars usually come on around eight.  
The 1st of May Free Massive Dance Festival
This event mostly does what it says on the tin: always taking place on the first day of May, always massive, and always full of big beats. It is, however, not free if you turn up after five in the evening, but even then it's not too expensive to get in.  
The festival has been running for over a decade now and is usually held in Malta's premier nightlife destination, Gianpula Village, which is right in the heart of the island. Artists who've graced the stage here include Steve Caesar and Nervo, so it's definitely one for the dub heads. The event starts at 14.00 and goes until 04.00 the next day, so make sure to drink plenty of water while you're dancing the day (and night) away at this Malta festival. 
International Spring Orchestra Festival
This Malta festival – often shortened to ISO – is a complete change of pace from the other two mentioned, with a focus on classical music and opera. Held in the capital Valletta, the four-day festival has a different theme each year that all the major acts are based around. There's everything from opera to string quartets and even occasionally dancing, as well as a few local Maltese acts who integrate traditional instruments into their performances. 
The festival usually takes place in April, and while there is a focus on classical performances you do get some avant-garde performers to add a bit of variety to the line-up. A laid-back Malta music festival that will nourish the mind and soul. 
Ghanafest
This Malta festival takes place in the perfectly manicured Argotti Gardens in Floriana, just outside of the capital Valletta. The festival is named for Ghana (pronounced without the 'g'), which is a type of traditional Maltese folk singing. However, they don't just focus on one narrow genre – Ghana has plenty of subgenres that all make for interesting shows, from the 'Ghana tal-Fatt', a kind of storytelling that's reminiscent of how we used to pass on legends and stories, to 'Ghana spirtu pront', a sort of ancient rap-battle prototype, where the performers freestyle witty lyrics that are less than flattering to their stage opponents. 
Ghanafest takes place over two days in June, so right in the heat of summer. As far as Malta festivals go, it's certainly one of the most unique, and definitely a great one if you're keen to take in some traditional Maltese culture.