In the Azores, island hopping opens up a world of volcanic experiences, stunning lake views and underground antics you'd otherwise miss if you simply stayed on São Miguel. Though, with nine islands to choose from, plotting an island hopping route around the Azores could induce a fair amount of FOMO. We've broken down the best islands to hop to, how to hop and what to see. There really are none that we'd recommend swerving altogether, but some are a little more tempting than others. All it really comes down to? How you like your island adventures served… 
Island hopping
Before we break down the islands and their unique nooks and crannies, let's get the travel bit sorted. In the Azores, island hopping falls into two categories. Ferries and planes. And, neither are exactly swimming with choice when it comes to options. Azores Airlines has cornered the market on flights and as the only inter-island operator, prices aren't always reasonable. But you're paying for speedy island connections, so if time is critical, this is the option for you. As an example, you can expect to pay around €90 for a one way flight from São Miguel to Pico. 
As for the ferries, well, they are a little more competitive on price – but the Atlantico Line operates all of the region's ferry routes. Sailings are relaxing enough, providing the Atlantic ocean swells are at a minimum. But with seasonal schedules and some routes only available in spring/summer, island hopping by ferry takes a little more planning. But you're saving as you sail. As an example, you can expect to pay around €32 for a one way trip from Faial to Terceira. On to the islands… 
Islands worth hopping to…
São Miguel
The biggest of the Azores islands, São Miguel could also be the best. The majority of your 'things to do in the Azores' checklist can be ticked off on this beauty. Whale watching tours are numerous, the two big scenic sights – the Islet of Vila Franca do Campo and Sete Cidades are right here. And this is the island you'll most likely fly into. Allocate a hefty amount of time to São Miguel, but perhaps don't make it the entire focus of your stay. 
Why you should go: Despite plenty of ancient volcanic activity in the Azores, this is the only island where you can soak up the geothermal heat in thermal baths. If you like your dips a little cooler, this is your gateway to the best of the best on the Azores diving scene: the SS Dori, just off shore. 
Pico
On to the second biggest island (we promise this list isn't in size order) and there's, unsurprisingly, a very volcanic theme. More on that later. But away from the lava tunnels, Pico's landscape is made for biking, horse-riding and hiking. There's also a chance to peer into the recent history that charts a very different attitudes to the sea life in the nearby waters. Whale watching in the Azores is now big business, but the Whaling Industry Museum walks you through why that wasn't always the case. 
Why you should go: If scaling volcanoes is your thing, you can climb Portugal's highest on Pico. It's not for casual strollers this one, but a basic level of fitness – and some suitable supplies and clothing should see you through the four hour climb.  
Corvo
Head north for a spot of remote relaxation on Corvo. This tiny island is home to around 450 people, so expect to feel a little cast away once you head ashore. Part of the UNESCO Biosphere Reserve (along with Graciosa and Flores) a day or two here is about immersing yourself in nature. The big item on everyone's ticklist? The collapsed caldera. Try to see it at sunrise, sunset and take at least one hike through it. It's absolutely stunning. 
Why you should go: For the birdwatching. A stop off on the migration route for many American species, it's a chance to spot yellow-billed cuckoos, savannah sparrows and the American bittern before they continue their journey.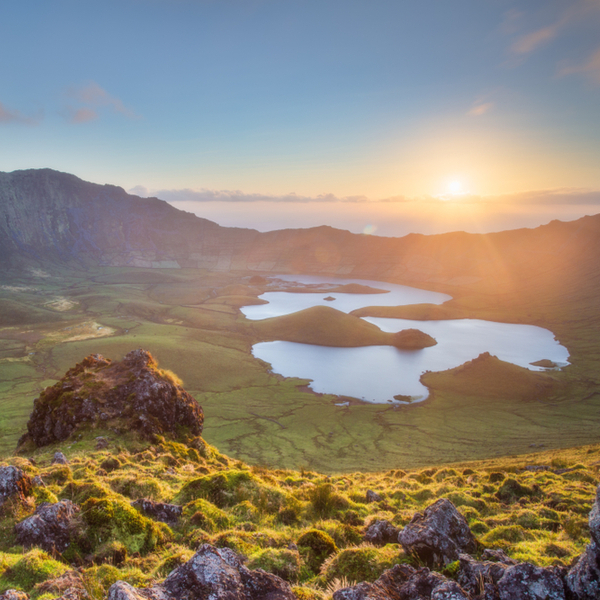 Flores
Another island that's in the UNESCO Biosphere Reserve, Flores is remote and rustic. The big draw on this island is the waterfalls. Stay in Aldeia da Cuada, the resort that's been rebuilt from an abandoned ghost town and made into a sustainable rural resort. Flores is all about listening to the birdsong, tucking into fish stews and hiking to the Poço do Bacalhau waterfall. 
Why you should go: One word: Canyoning. While everyone else is pointing their phones at the waterfalls, you'll be skipping from one to the next in an adrenaline-fuelled day of exhilarating fun. 
Santa Maria
As São Miguel's nearest neighbour, Santa Maria is the obvious first stop on your Azores island hopping list. The most southerly of all the islands, it's a sunny, beach-strewn spot that makes it as popular with the locals as it does incoming visitors. So is that a reason to give it a swerve? Yes… and no. Yes, it's a bit busier than some of the other islands, but it's got some stand-out spots you'll want to explore. The Grande Trihos is a coastal walk that rivals any you'll find in the Azores. And, if you're in the market for a little history and architecture, as the first island to be colonised (and spared by the volcanic activity) the buildings here are older than any of the other islands. 
Why you should go: Azores beaches are all beautiful in their own way, but this is the only island with golden sands. Make the most of the shoreline at Sao Lourenço for those classic holiday snaps. 
Terceira
Golfers, pop Terceria on your Azores islands radar. This island is home to one of only three  courses in the Azores (the other two are on São Miguel. Add in vineyards, oceanic lava pools for wild swimming and a clutch of lakes to hike to and your golfing holiday might start to be a little light on the golf. For the BEST reasons. Though, as the third largest island in the Azores, Terceira is a little more commercial than some. Worth bearing in mind if it's remote and wild that you're after. 
Why you should go: You can journey into the centre of the Earth. Well, 300 metres in, if we're getting technical. You'll be trotting down ancient corridor of cooled magma known as the Algar do Carvao. 
The best of the rest…
São Jorge
It's close proximity to Faial and Pico makes São Jorge almost too tempting not to visit. Drop by as part of an Azores diving holiday, or if you're really into your wildflower meadows and hiking. São Jorge's best kept secret? The coffee. The local cafes sling beans into their roaster that have been grown on the island. Perfect if you're keeping an eye on your food miles and can't resist a perfectly brewed cuppa. 
Faial
If you know how to skipper a yacht – or fancy chartering one – Faial's Horta Bay is the place to be. The harbour's home to all manner of nautical sports and a few famous boats (and sailors). Don't miss the art-strewn dock wall where mariners have left their mark. Elsewhere the focus is on snuffling out Faial's unique landscape. The lush, green island has a lunar landscape tucked away in the Capelinhos. Just the spot for a 4×4 safari through the barren lands created by the 1957 eruption. 
Graciosa
Just as gorgeous as the other islands, Graciosa will appeal to those that like to blend natural beauty with a meander around a church or scenic windmill. Graciosa's hidden gem is the lava cave at Furna do Enxofre that hides an underground lake that's brimming with sulphur. Nose pegs at the ready – along with sturdy legs to tackle the spiralling descent into the cave.