333 Fiji islands stretch out over the horizon, covering over 1m square kilometres of ocean. Island hopping can take anything from minutes by helicopter or plane to 14 – 15 hours by ferry. And, with stats like that, even the most seasoned travellers among you are going to want a few Fiji island pointers. Our best tip? Don't concern yourself with ticking off as many islands in Fiji as you can. Go for your must–haves and must–sees. With so many islands to choose from, there really is a space for everyone. And, though you can travel for hours by boat, your perfect reef may be closer thank you think… 
Where to start
Before we even get to island hopping, you're going to want to curate a list of Fiji islands to explore. Which could be a little time consuming without a helping had from the info below. Mainly because, the question of how many islands are in Fiji is a tricky one. Official numbers stack up at around 333 – but that doesn't count islets and sandbanks. They add a further 540 possible destinations into the mix. Which is all a little bit daunting when you've 10 -14 days and a reasonable but still modest budget to dabble with. The good news is, everyone starts on Viti Levu. Fiji's largest and most adventure-filled island comes with hike-able mountain peaks, dense jungle, winding rivers and glorious beaches. It's also the portal to your island–hopping adventures.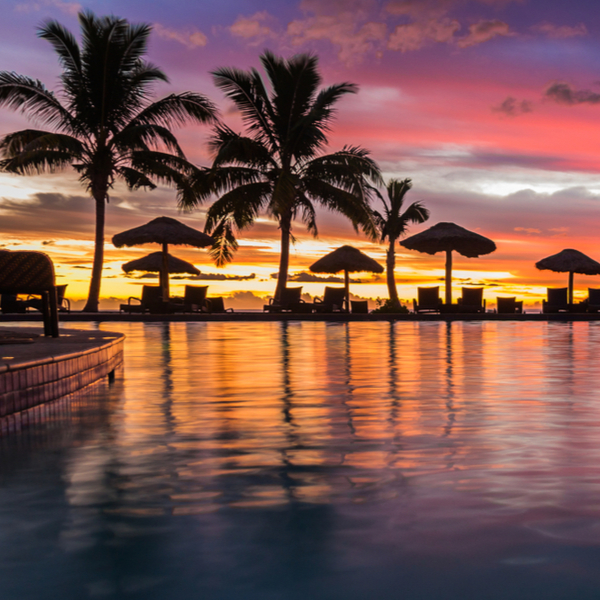 Start with the easiest hop of them all – a day trip across the causeway on the west coast to Denarau. A man-made island, this lux resort has come a long way from its early days as a mangrove swamp.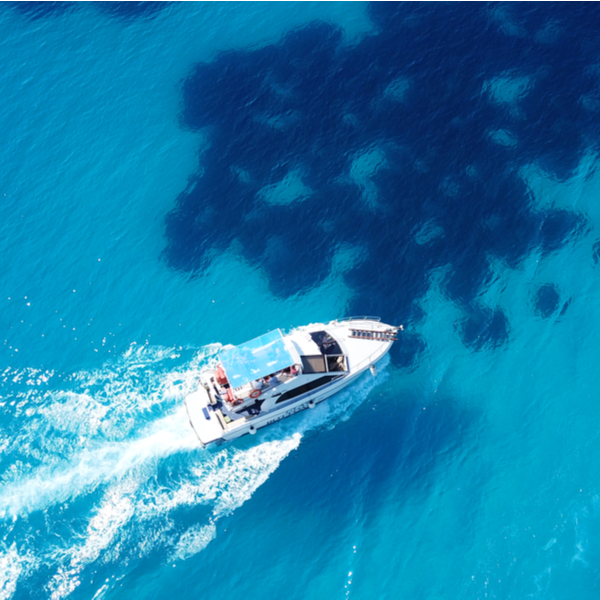 How to hop
Not all islands can be accessed as easily as Denarau. Happily, your travel options are numerous. Sea kayaks, hydrofoils, yachts, speedboats, catamarans, private boat charters, ferries, sea planes and helicopters are all waiting to make your island dreams come true. Naturally, public ferries are the easiest – and most reliable, way to get from A to B. Except, they tend to move between the larger, more visited, islands. To get really remote, you might have to do a little chatting in resort and see what your options are. For a hassle free way to island hop – and keep a check on your budget, the Bula Pass is a hop-on/hop-off ticket for a catamaran that makes daily trips to the Mamanuca and Yasawa Islands. Passes last between 5-15 days and prices start at $208. 
Island Groups
Yasawa Islands
If you only find time to visit a handful of Fiji islands, you'll not go too far wrong in the Yasawa Islands. 20 palm-topped slices of tropical heaven are yours to plunder. Waiting for you on the north-west coast of Fiji, they will more than satiate your paradise island dreams. They mix being far enough away to feel like you're really exploring – without demanding too much of your travel time. Of course they come with the usual Fiji trappings – jungle-topped peaks, coral gardens and sands so soft you might as well make a bed and spend the night on them. But they also happen to be visually stunning. There's a reason everyone from reality show producers to Hollywood directors drop anchor here… 
Travel time: 30 minutes by plane from the mainland or 2 hours by boat.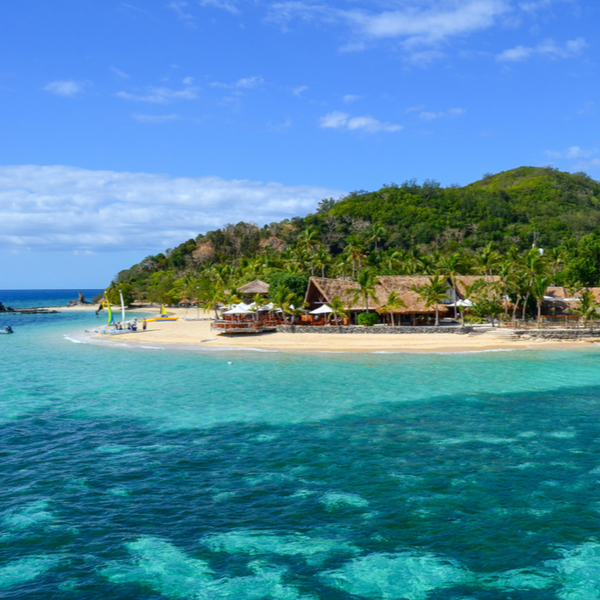 Mamanuca Islands
Spending almost your entire stay on Viti Levu is a legitimate option. But we think the Mamanuca Islands are so temptingly close, it's almost impossible to ignore them for a day trip. So accessible, you'll barely even notice you've left the mainland, this is another clutch of 20 islands to frolic among. And it certainly is a playground for everyone from little ones looking for shallow paddles to scuba fiends searching for wrecks to explore. While the huge menu of activities makes the Mamanuca Islands popular, it also makes them some of Fiji's busiest islands. Not that you'll notice if you take up the options provided by the luxury resorts here.
Away from the private islands, yacht charters, spa days and helicopter tours you can still find some low key activities. Though, in reality, there are other islands that are better for that.  
Travel time: 5 minutes by plane from the mainland or 20 minutes by boat. 
Individual Islands
Remote and rugged: Monuriki
Ready your best 'Wilson!!!' shoutout and book a day trip to Monuriki. Yes, this Hollywood starlet featured in THAT Tom Hanks film. Not to be confused with Castaway Island, Monuriki is an uninhabited gem of spot. Hang out in the memorable places from the film, eat a picnic and be thankful you don't have to fashion anything useful out of a couple of ice skates and some VHS film. As you'd expect, this famous island gets a lot of attention, but if you're a movie buff, this is one location you don't want to miss.  
Travel time: 45 minutes by speedboat from the Mamanuca Islands.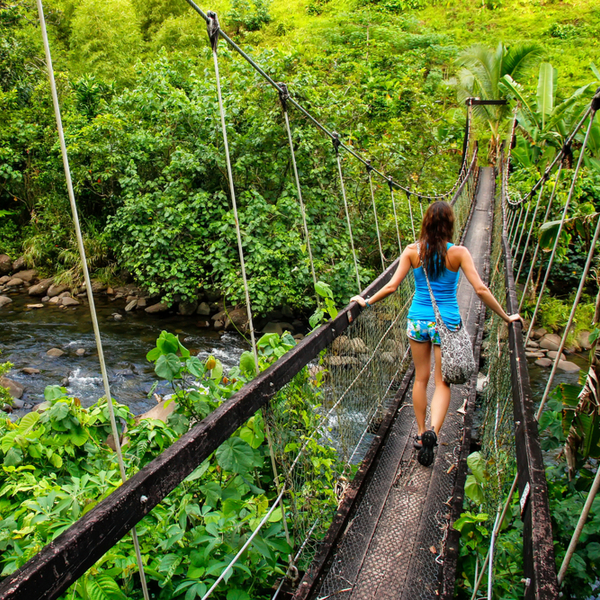 Filled with wildlife: Taveuni
Looking to tick off as many endemic to Fiji animals as possible during your stay? Island hop your way to Taveuni. Nicknamed the Garden Isle, the lush forests, cascading waterfalls and bright coral reefs almost border on the ridiculous at times. A third of the island is a protected heritage park and much of the northern coastline lies within a protected marine park. Which means just one this for nature lovers – it's a true haven for wildlife. Birdwatchers – keep your eyes peeled for the shy but beautiful Orange Dove. Divers – you're here for the Rainbow Reef, which is just as spectacular as it sounds. Taveuni isn't the closest island to get to, but it just might be the most stunning. 
Travel time: 85 minutes by plane from the mainland or 14 hours by boat. 
Budget-friendly beach parties: Beachcomber Island
If you just want to drop into Fiji for a bit of low budget, relaxed fun, it's worth giving Beachcomber Island a look. For a tiny, speck on the map, it really does cram a lot in. Perhaps aimed at a slightly younger crowd, the theme here is beach parties and water sports. Though, pleasingly they still take their conservation responsibilities seriously. And, without being too indelicate, there's even an elaborate breakdown of the ingenious lengths they go to in order to protect their waters from 'waste'. Which in any other travel destination might be unseemly, in Fiji it warrants a big thumbs up. Fly in, have fun and feel good knowing you've done no harm.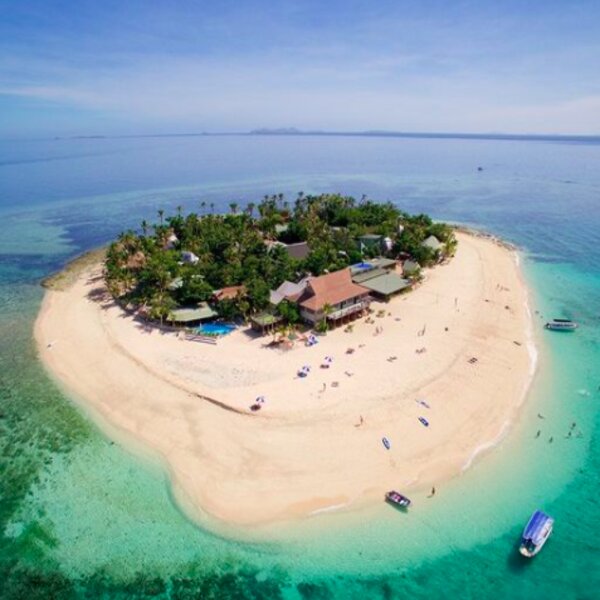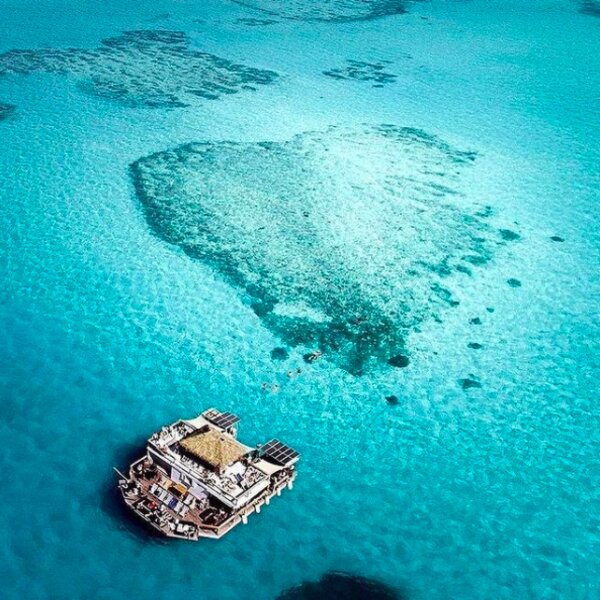 Surfer's Paradise: Namotu
Fiji's winter brings big waves to certain islands. But the island every surfer serious about their sport will want to hop to is Namotu. Home of the Cloudbreak, this 6 metre monster of a wave is the stuff of legend in the surf community. Expect surf competitions and challenging waves from April through to October. And, if the Cloudbreak is a little too much, the island happens to have some thoroughly rippable waves for all levels of ability. Try the 'swimming pools' waves – named after the frankly gorgeous blue hue of the water. And, when you're done surfing SUPing or kite surfing, the insanely Instagrammable floating bar – Cloud9 is just a boat ride away.  
Travel time: 50 minutes by boat.