Naples has earned a reputation for having somewhat shabby streets. Shame really, because every island in the bay of Naples is a work of art. Time then to get your island hopping plan sorted. Happily, we've got the low down on the pick of the bunch, as well as perhaps a couple of the more intriguing and unusual islands near Naples. Gather your island chic wardrobe, ready your eyes for the picture postcard Italy you've been dreaming of and generally prepare to bask in island life … 
Capri
If there's one island in the bay of Naples that will test your credit card to the max, it's Capri. Yes, you'll pay over the odds for, well, anything. But you're in with a more than decent chance of spotting a celebrity. Big screen stars aside, the real beauty of Capri is the island itself. And, if you bring a few supplies from the mainland, it's easy enough to see the best bits without blowing the budget. This is the very best of Italy on a micro-scale. Bougainvilleas bloom over gorgeous villas, piazzas murmur with the chatter of espresso culture and jewellery shop windows twinkle with aspirational riches. The best part? The hiking, hilltop views and window shopping come for free, and the rocky coastline hides a few beaches. In terms of sandy acreage, you're looking at postage stamp sized plots, but that rarely stops anyone laying down a beach towel or two. 
Getting there: Hop on a high speed ferry from Molo Beverello or, for a more leisurely journey, catch the ferry from Calata Porta di Masso. 
Must sees: Take a chairlift ride to the top of Monte Solaro, people watch in La Piazzetta and escape the tourist crowd at the quiet and unassuming village of Anacapri.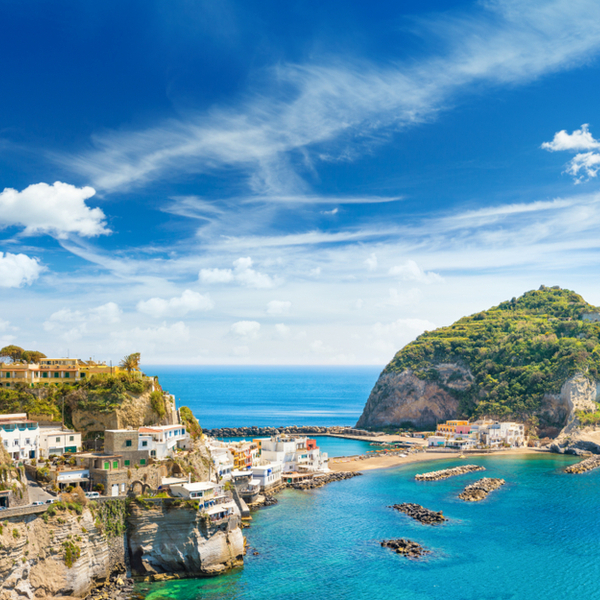 Ischia
If we had to describe Ischia in the most basic terms, it's the yin to Capri's yang. Free from the trappings of celeb sightings and the expected glitz, Ishcia's a green and pleasant island to spend a few days on. Despite its volcanic start in life, there are sandy beaches that stretch a suitable distance along the coast, natural thermal spas add a touch of luxe life and fertile vineyards deliver on everything from viticulture laden wine tours to a simple glass paired with a leisurely lunch. And though Ischia's zen vibe practically demands a laidback approach, there's much do besides a mooch along the shimmering harbours. Diving, hiking, pony trekking and zip lining are just some of the ways to make the most of Ischia's clear waters and climbable hills. Do skip over the Ponte Aragonese to explore Aragonese Castle.  
Getting there: Zip to Ischia on the hydrofoil from Pozzuoli. 
Must sees: Explore the gardens of Giardini la Mortella, hike the slopes of Monte Epomeo and experience the nightlife in Ischia Porto.  
Procida
Few make it to the shores of Procida, such is the allure of Ischia and Capri. Those that do, wonder why there's not a Procida marketing board shouting about this island from every rooftop – or social media account. It packs all the pastel-hued punch of the Amalfi Coast, racks up a reasonable amount of medieval history and even clocks up a couple of great beaches. Yes, there are bigger islands to explore, but few can match Procida's cosy vibe. This isn't a place for adventure. Sleepy harbours, crumbling palaces and glorious sunsets are there to amble among – and, as cliche as it sounds, soak up the atmosphere.  
Orbzii tip: Plan your stay for midweek. This island near Naples might be off the tourist radar, but Neapolitans love to come here for the weekend. 
Getting there: Pop over from Molo Beverello on the hydrofoil or ferry. There's also a ferry connection from Ishchia. 
Must sees: Check the view from the Terra Murata, snorkel the clear waters at Marina Chiaiolella, dine at a restaurant in Marina di Corricella. 
Palmarola
If you like your island life to be little more rugged and isolated than most, Palmarola is for you. It's a 3.5km long stretch of volcanic rock, peppered with craggy outcrops, caves, bird-filled grottoes and sheltered bays. All of which practically demands you to bring your binoculars – and your swim wear. The only way to get here is by private charter – or via an organised tour. In summer, the surrounding waters are dotted with yachts, catamarans and small boats – all trying to get a slice of the idyllic castaway life. Entrepreneurial Neapolitans sometimes go ashore and set up pop up stalls selling the essentials, namely gelato and snacks, which nicely bolsters the summer season restaurant offering at O' Francese.
The cuisine here won't rival Naples restaurants, but Palmarola's a mostly uninhabited natural wonder that will delight wildlife lovers and nomads looking for a secluded spot to go ashore. The transparent waters are a gift to snorkelers and scuba divers. 
Orbzii tip: O'Francese has a few basic rooms to rent for overnight stays on the island. Perfect for catching the glorious sunsets from the beach, long after the day trippers have left. 
Getting there: Pick up a private charter or hop the daily organised tours from Ponza. 
Must sees: The Cala Brigantina grottoes, the La Cattedrale rock formations and the island's abandoned cave houses. 
Nisida
How do you experience an island that's off limits to visitors? Your best bet, when it comes to Nisida, is to take to the water. Local boat operators offer sightseeing tours – and, if you're in the market for a boat trip, the scenery is worth it. This circular island just off the Naples coast houses a prison and the Italian Navy – which explains the lack of access. Shame really. It's hiding a rather magnificent volcanic crater – and, if you pop your scuba gear on, there's talk of archaeological wonders to be found on the sea bed. One for adventurers who like a challenge!  
Orbzii tip: If you want to get a little closer to Nisida, without signing up to the Navy, trot across the stone bridge (Via Nisida) from mainland Naples. You'll not make it past security once you reach the island, but there's an impressive marina to peer at on the way. 
Ponza
Since the Roman era, Ponza has been THE go–to island in the bay of Naples for well-to-do types looking for a little island mystique. Bizarre then, that few outside of Italy have heard of this spot. Or, more likely, many have chanced upon it in the atlas, but deemed it too far for a day trip. Which, you'll have probably guessed, should put it straight to the top of your island hopping itinerary. As is the norm on any island, life here centres around marinas, boats and the sea. Though, you don't have to be a seafaring skipper to get around. Plenty of beaches are accessible by land, it just takes a little extra effort. Cliff-perched homes are the norm, though, the star attraction here is Italy's elite, milling and mingling in peak season. If that's not exactly your comfort zone, skip July and August for May or September – when the vibe's a little more inclusive. 
Getting there: Hop on the SNAV ferry from Naples for the 2hr 50m journey. Or, if you're on Ischia, head to the Casamicciola port, from there the journey takes just 1hr 55m.  
Must dos: The aperitivo experience in Porto, skippering your own boat to the island's secluded spots, sea kayak into one of the island's many grottoes – especially Grotta della Maga Circe. 
One to miss? Gaiola Island
There's one island near Naples that you might want to swerve. The veritable pipsqueak of a plot of land, known as Gaiola Island, has certainly caused some serious trouble in its time. Various wealthy owners have met with a more than tragic demise, found themselves in jail or fallen into poverty. The chequered history has lead to Gaiola Island getting a well deserved rep as a cursed place few would dare to visit. Which, for some, makes it all the more intriguing. You can't go ashore, but the surrounding marine park is a great place to snorkel, and take a peer at the ruins on the island…