Want to get a real feel for everyday life in Lisbon? Easy – just head to one of the city's many local markets. Part of everyday life in the capital for centuries, today these bustling events are enjoyed by tourists and locals alike. If you're looking for a special memento of your time in the city, you'll find plenty of solid options here. From vintage clothing and kitsch knick-knacks to books and arts and crafts, it's all here and waiting to be rooted through.  
Of course, this is Lisbon, and there are some solid market choices for foodies, too. Basically, whether you're out to hunt for bargains or just looking for somewhere with a great atmosphere to stop by for lunch, Lisbon markets are always a worthy addition to your itinerary. Here's our pick of the best of the bunch. 
Feira Da Ladra
If you want the full Lisboa experience, hop on the famous 28 tram to Voz Operário and spend a morning wandering around the Feira da Ladra. Translated as 'thieves market', this is one of the best Lisbon flea markets to hunt for a steal (sorry). You'll find all kinds of second hand goods here; everything from clothes and crafts to furniture and trinkets. The market takes place every Tuesday and Saturday. It's bigger on Saturdays, and has a more local feel on Tuesdays. Whichever day you visit, you'll be greeted with a buzzy vibe and a whole host of interesting objects from days gone by. Traders expect some negotiation, so don't be afraid to flex your inner David Dickinson.  
If you've worked up an appetite after all of that haggling, head to Açores na Feira just outside the market to fill up on authentic dishes from the Azores islands. If you need a caffeine fix there's Copenhagen Coffee Lab next door; the coffee is great and the views of the Panteão Nacional are a real treat.  
Tuesdays & Saturdays, 9am-6pm 
Campo de Santa Clara, 1100-472 
LxMarket
If you're in Lisbon on a Sunday, it's definitely worth stopping by the weekly market at LxFactory in Alcântara. Without a doubt one of the trendier Lisbon markets, you can get your hands on all kinds of hipster-approved goods. Clothing, homeware, music, jewellery, art, vintage clothes and retro bits and bobs… it's all here and fairly priced.  
Not in the city on a Sunday? No worries – LxFactory is worthy of a visit itself. This former industrial space is now home to a wide range of painfully cool shops, galleries, bars and cafes – think the Lisboa version of London's BOXPARK. It's a great place to come on your way back from a day exploring the Belem neighbourhood – be sure to catch a cocktail at one of the rooftop bars for sunset views over the River Tagus.  
Summer Sundays: 11am to 8pm (11am – 8pm) 
Winter Sundays: 10am to 6pm (10am – 6pm) 
Lx Factory, 103 Rua Rodrigues de Faria, 1300-501 
Lisbon Time Out Market
If you're in need of a pit stop to refuel, the Lisbon Time Out Market has you covered. Brought to life in 2014, this buzzing hub of food stalls has been carefully curated by the lifestyle magazine's own staff. Only the city's most top notch eateries get the nod to set up shop here, and as a result it's a great place to come and fill up on fantastic grub. From sushi and steak to pizza and burgers, and, of course, authentic Portuguese dishes, you really are spoilt for choice here. Each vendor can stay for a maximum of three years, so even if you've visited before it will most likely have changed since.  
The Time Out food hall is located inside the Mercado da Ribeira; a domed market hall dating back to the 19th century. Today the space is home to the best of both worlds; with the hipster-friendly Time Out offerings sitting beside the traditional grocery and fish market stalls that still set up here every morning. If you want to get a real taste of everyday life in the city, make sure to stop by before 2pm, when both halves of the market are in full swing. 
Everyday 10am-11pm  
Mercado da Ribeira, Av. 24 de Julho 49, 1200-479 
Mercado de Campo de Ourique
Smaller than its Time Out counterpart, this market is still a foodie heaven. Originally a produce market dating back to the 1930s, this popular spot has been given a new lease of life in recent years following a facelift in 2013. Now much more than local fruit and veg sellers (although you can still see them here every morning), there are gourmet food stalls, organic produce and even a wine bar.  
 With its communal dining and regular live music it's a nice spot to enjoy a relaxed lunch or dinner, or to stop by for a sundowner in the evening. Housed in an impressively pretty domed building, this is one of the best Lisbon markets to visit for a cosy slice of life with the city's locals. The beautiful Basilica da Estrela is a short stroll away, and if you fancy dining al fresco the pleasant landscaped park of Jardim da Estrela makes a perfect picnic spot.  
Every day from 10am til late 
Rua Coelho da Rocha 
Anjos70
If you thought Lisbon flea markets were all dusty antiques and quaint knick-knacks, Anjos70 would like a word. The monthly market held in this former glass warehouse is a much cooler affair, with more than 100 traders selling some seriously funky second hand goods, including clothing, and furnishings. If retro isn't your thing, you'll find plenty of new products on offer too; everything from art and handicrafts to organic beauty buys.  
The market is only held on the first weekend of each month, so if you're just in Lisbon for a few days you'll have to be lucky to catch it. However, if you like your culture on the more alternative side of things, a visit to Anjos70 is a safe bet most days of the week. Stop by for a bite to eat, enjoy a drink on the terrace, or check out one of the many regular events; they're cheap and often include things like traditional Fado performances and jam sessions.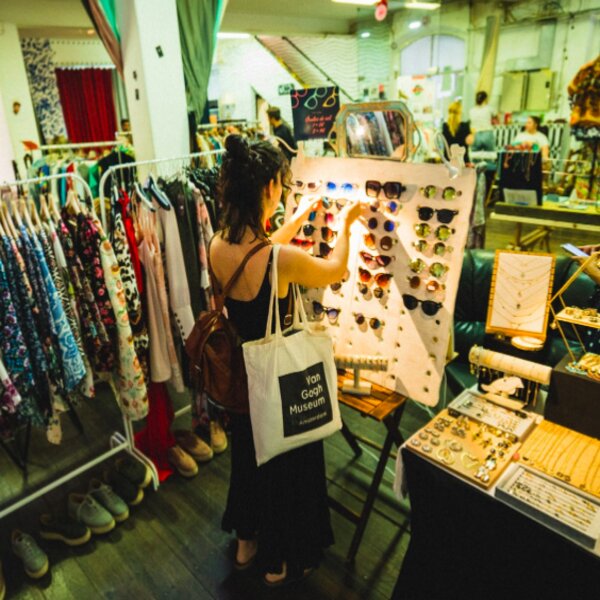 Christmas markets
It's fair to say that Lisbon has been a bit slow to join the Christmas market bandwagon. The good thing about that, though, is that the festive markets it does have tend to be more tasteful than the gaudy, often artificial-feeling affairs that spring up in some other European cities every year. However, it is all-out Christmas cheer you're after, Wonderland, held in Parque Eduardo VII throughout December, is your best bet. Similar to London's Winter Wonderland, there's everything from ice skating and stalls to a ferris wheel and santa's grotto.  
For a more laid-back dose of festivities, visit Rossio Square. Home to a number of markets all year round, during December you'll find wooden huts here with traditional festive staples including mulled wine. The Alvalade neighbourhood also hosts its own Christmas market, with traditional wooden huts and food stalls lining Avenida da Igreja. Finally, a little further out, the charming town of Obidos, about an hour's drive from Lisbon, is really magical at this time of the year. Transforming itself into a whole 'Christmas Village', there are all the festive activities you'd expect – including ice skating and fair rides – but with a more quaint and local atmosphere. 
Ready to scour Lisbon's flea markets? Those bargains aren't going to hunt for themselves! Download the Orbzii app now to start planning your perfect holiday in the city.