Lisbon with kids – is it doable? You betcha! Not only is Portugal's capital happily affordable, it has a warm but breezy climate and plenty of things to do for all ages. Sure, it's a city full of hills, but there are plenty of kid-friendly ways of getting around – a few of them are even fun. Whether you're stopping by for a weekend or planning a longer holiday, here's our guide to planning a memorable family break in sunny Lisbon. 
Things to do
Itinerary looking a little empty? Here's our pick of the best things to do in Lisbon with kids: 
Castelo de São Jorge
Even if they're not quite ready to appreciate the historical background of this striking 11th century castle, little ones are sure to enjoy spending an afternoon exploring the various ramparts, towers and courtyards. There are some seriously magnificent views here too – great for wrangling the kids together for some memorable holiday snaps. While you're wandering through the grounds, be sure to keep an eye out for the resident peacocks – they've even been known to chill in the trees.  
Set on the city's highest hill, you can bet that getting here by foot is a serious calf workout. Thankfully, you can avoid the steep walk by getting the 737 bus that stops right outside, or ascending via the Elevador Castelo – a fairly new, and still little-known elevator that will take you close to the castle entrance for free. Entrance to the castle is free for under 12s. 
Ride the tram
Riding the city's iconic trams are a must-do for any visitor, and make one of the best Lisbon activities for kids. Not only do they help tired little legs, they also provide a great sightseeing tour. The most famous route is the number 28, which travels through most of the tourist districts including Alfama, Baixa and Graca, with some impressive views along the way. You'll need to go early morning or later in the afternoon to avoid crowds, and it's a very good idea to board at the first stop along the route as seats fill up quickly – you won't be able to see much standing.   
For quieter alternatives, try the red tram; a sightseeing route that travels along the same line as the 28, or the number 12; a 20-minute loop that offers the tram experience with fewer crowds. 
Oceanário
Wondering where to take kids in Lisbon if the weather turns? The Oceanário is a safe bet. One of the largest aquariums in Europe, you won't find any depressed animals stuffed into tiny tanks here. Instead, there's one huge aquarium featuring authentic marine habitats and a wide range of species. Home to everything from penguins and otters to sharks and giant octopi.  
The queues can be impressively long during peak season, so buying tickets online in advance is a good idea. After visiting the aquarium be sure to have a ride on the telecabine (cable car) located just outside; it's only a ten minute ride, but has great views and is sure to be a hit with the kids. 
Beach time
Lisbon may be best known as a city break destination, but the beach is just a short train ride away. The child-friendly resort town of Cascais is lovely for a bit of seaside action, and has plenty of activities for kids. Get your buckets and spades in the local shops, fuel up at a local cafe and then get to work building sand castles and splashing in rock pools. There are also dolphin-spotting tours and the maritime museum to explore.  
If you have time, a visit to nearby Sintra is another great addition for travels to Lisbon with kids. With its grand palaces, lush forests and striking mountain scenery, it looks and feels like something out of a fairytale. 
KidZania Lisboa
For something a bit different, a day at KidZania is a good choice. One of the best Lisbon activities for kids of all ages, this small-scale city allows them to try their hand at a wide variety of jobs. There's everything from an airport and police station to a racetrack and TV studio. Kids can go shopping in the supermarket, rent a car (only if they have their driving license of course) or earn a degree.  
Admittedly this one isn't so much fun for adults; you're essentially being dragged along behind them while they do their job at McDonald's or go for a drive, but there is the option to leave kids aged eight and over under the supervision of the centre's staff. 
Orbzii's Lisbon with kids tips
Now you know where to take the kids in Lisbon, here are our top tips for a smooth family holiday… 
Bringing a pushchair
If you're travelling with little ones, you're probably wondering how doable Lisbon is with a pushchair. While it's definitely not impossible, if you're able to use a carrier instead it will make things easier. The city's cobbled streets aren't very welcoming to buggy wheels, and they're also not ideal for pushing up and down hills. If you're planning on using the tram you may find that you're not allowed on with a pushchair; particularly on the most popular (and crowded) routes such as the number 28.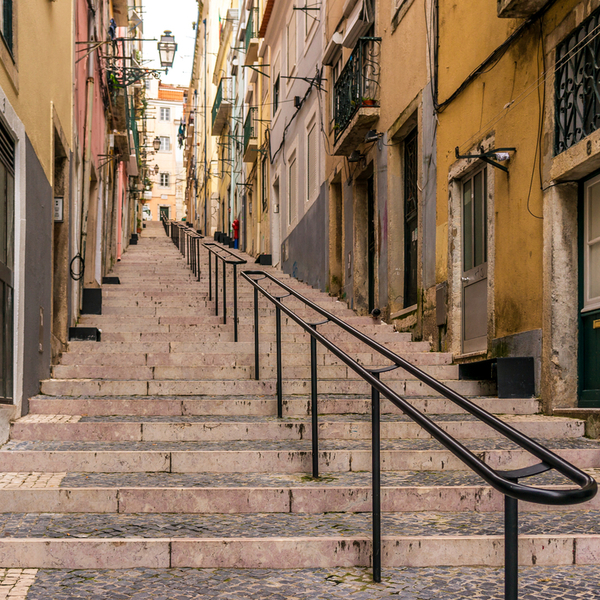 Getting around
If you're considering a rental car while in Lisbon, our advice is… don't. Navigating the city by car is something of a challenge, with plenty of traffic, confusing road networks and a lack of parking spaces. Thankfully, there's plenty of public transport to get you around instead. The metro system is quick and easy, buses are plentiful and air conditioned, and there are also taxis and Ubers to make use of.  
Best neighbourhoods
When it comes to choosing child-friendly neighbourhoods to base yourselves in, there are a number of good options. Chiado, Baixa and the area surrounding Avenida da Liberdade are great; central, not too steep and everything you need nearby. The main areas we suggest avoiding would be Alfama (way too hilly for little legs) and Bairro Alto (noisy bars and clubs). While the neighbourhood of Belem is nice, it's quite far from the centre of Lisbon, so you might want to avoid it for that reason. 
Eating out
Meals in Portugal are usually eaten fairly late, with dinner starting at around 8pm. Because of this, kids are often welcome in restaurants until well into the evening. If your little ones are unlikely to cope with a late dinner, it might be worth booking accommodation that has its own kitchen facilities.  
Language barrier
This is pretty much a moot point, because the truth is you're unlikely to run into any problems with a language barrier. English is widely spoken in Lisbon, especially when it comes to the tourism sector, and menus and signs are usually translated for English speakers. Still, of course it never hurts to learn a few words and phrases ahead of your visit! 
Pickpockets
As you'll see from the notices displayed inside the trams, pickpocketing incidents are unfortunately not a rare event on Lisbon's public transport. Don't let kids hold anything valuable on trams, and try to get seats wherever possible.  
Ready for your best family holiday to date? Download the Orbzii app now to plan and book your perfect kid-friendly trip to Lisbon.