In Milan, bars in every district are waiting to tempt you. From the early evening aperitivo to late, late nights on the dance floor in the city's hottest clubs, there's a Milan nightlife scene for everyone. Hidden cocktail joints are perfect for those looking for something a little … different. Bars stocked with over 100 gins cater to distillery aficionados looking for a botanical they've yet to try. And simple cafes and craft beer joints offer a middle ground for anyone hoping to drink with the local Milanese crowd on a casual evening out. 
Aperitivo
The Botanical Club
Milan bars that offer the aperitivo experience aren't in short supply. At most, you'll find antipasti, cold cuts and, well, it can all feel a little same-y. By all means lean into the uber-Italian vibes elsewhere, but for a different take on Milan's favourite pastime, drop in to The Botanical Club. You'll have a choice of 101 gins, poke bowls, cocktails, sushi and Japanese beer. Yes, the gin menu is bafflingly long, but while you're in town, pick a couple of the bar's own botanicals created in their own, on site distillery. Expect to want to linger a little longer than the 6-8pm happy hour that covers all things aperitivo. But, if you do choose to move on to another venue, there are few better places in the city to start the night.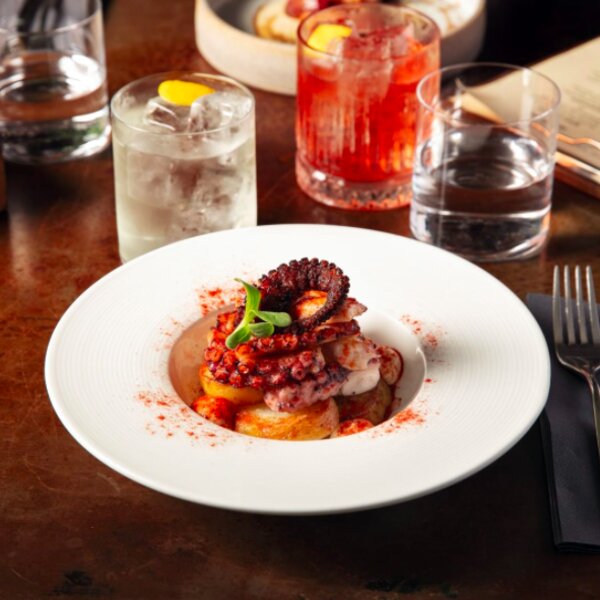 Orbzii tip: The Botanical Club only launched in Milan in 2017 but has two locations – one on Via Pastrengo, the other on Via Tortona.  
Basara
It seems almost criminal to recommend Basara as a casual place to swing by for a quick sashimi and Soave session. As a self described sushi pasticceria, the dishes here aren't really meant to be scoffed on route to the next bar. But as a start to a rather swish evening in Milan? Basara is unbeatable. You'll find a few locations bearing the restaurant's moniker, but you're looking for the chic and neutral tones of the Via Tortona venue, mainly because this little nook of Asian cuisine opens in time for the aperitivo crowd. Watch the chef create artistry right before your eyes, enjoy the zen-like decor and savour the taste sensations before the wasabi hits the fire receptors in your tastebuds. 
Bars
Signorvino
You can't curate a list of Milan's nightlife hotspots without covering two things: wine and views of the Duomo. To pair both together, drop in to Signorvino. More specifically, their bar/restaurant on Via Pattari. Serving Italian wines across the three storeys of their Duomo adjacent real estate, the restaurant neatly pairs some Italian classics on the menu with red, whites and sparkling wines to tempt your palate. Which can sometimes feel a little restrictive, but here, it helps avoid any viticulture FOMO. There's a cellar of 1500 wines waiting to overwhelm you. Of course, you're really here for the views, but with a menu oh so agreeable, it's hard to say no to a cheeky glass from the cellar. 
Mag Cafe
By day, Mag Cafe is THE spot on Naviglio Grand to grab a croissant, a coffee and watch the world go by. At night? The baristas at Mag trade places with bartenders who have more than a little mixology magic up their sleeves. Cocktails, a strong spirit selection and a solid soundtrack to unwind to make Mag a place to unwind – rather than have a riotous night on the canal. But that's not necessarily a bad thing. Grab a place in one of the Argentinian antique leather chairs, take time scouring the cocktail menu and let the ambience of the cafe take you to another world. One where a chat with the bartenders could see you hopping to another bar altogether. Mag's got quite a collection of quirky venues, if you know the right questions to ask… 
1930 Speakeasy
Ready for a moderate amount of schmoozing and a little detective work? Excellent, you're all set to try and find 1930 Speakeasy. There's no address, no website and no way to track this bar down apart from sheer determination and a little inside info. 1930 Speakeasy is Milan's hark back to the prohibition era. A time when booze was forbidden and all drinking took place behind well-hidden closed doors. But is the search worth it? Well, it's a solid YES from us. This is more than just a gimmicky slice of 30s nostalgia. 1930 serves up the kind of cocktails worth going the extra mile for. The piano notes, sumptuous food and spot on interior design add to an evening of style, secrets and seasonal flavours that influence everything from the menu to the soft drinks. 
Orbzii tip: 1930 Speakeasy has links with Mag Cafe – start your enquiries there to find this secret space in Milan. 
Hop veggie / craft beer
Looking for something a little left of uber-chic aperitivo spots, cocktail-laden menus and achingly hip hidden hangouts? Head to Hop. You won't need a password or dress code to get in, just a fondness for craft ales, veggie food and chilled vibes. Of course, this is Milan, so there's still a niche to be exploited. Though, Hop keeps things refreshingly simple. All the ales on tap are from the north of Italy. Keeping the beer miles low means you'll never find a Doom Bar in the barrel, but there's plenty of time to sup familiar ales back home. And, if ales aren't to everyone's taste, there's a smattering of grappa, rum and whiskey on offer too. 
Nightclubs
Just Cavalli
Dress to impress if you want to mingle with the A-listers that pile into Just Cavalli. Milan's upscale nightclub attracts more than a few celebrities to its VIP tables. Though, with interiors designed by owner and fashion designer Roberto Cavalli, it would be reasonable to expect bigger names behind the DJ booth than Tinie Tempah, Paris Hilton and Craig David. They have all played a set here, along with Alec Monopoly and Marco Carola but the bigger names are perhaps playing elsewhere? No matter, at Just Cavalli, the vibe is see and be seen. Party in the open air Cavalli Garden, get gastronomic with caviar, wagyu and oysters in the restaurant or get on the suitably glam dance floor in the nightclub.
Alcatraz
Leave the glitz, glam and 'gotta be in the right crowd' scene behind and dance the night away at Alcatraz. Monday to Thursday, Alcatraz hosts events, concerts and even a few corporate dos, but at the weekend, this vast space invites everyone onto the dancefloor. 90s nights bring the chart topping memories – and dance crazes, back in style, while the three rooms of this whopping club offer up different music styles ticking that something for everyone box.