Varied, vibrant and not to be missed, welcome to the exciting landscape that makes up the exciting landscape that is Rotterdam nightlife. From gin bars and microbreweries to laid back evenings over dinner or dancing until the sun comes up at one of the city's best nightclubs. However you want to end your days out in Rotterdam, there's an evening with your name on it.  
Best bars in Rotterdam
De Witte Aap
If you want to mingle with the locals then head on down to De Witte Aap where the Rotterdammers take advantage of this late night bar and restaurant. It is one of the most popular bars in Rotterdam and this is reflected in how busy it gets. 
Ideal for night owls, De Witte Aap stays open beyond 3am every night of the week and even later over the weekend. Aside from its late-night business hours, the bar boasts an extensive drinks menu, featuring many Belgian and Dutch craft beers, plus a decent selection of wine and bubbly spirits. Guests at De Witte Aap can also expect on-point music, friendly service and one of the largest heated terraces in the city.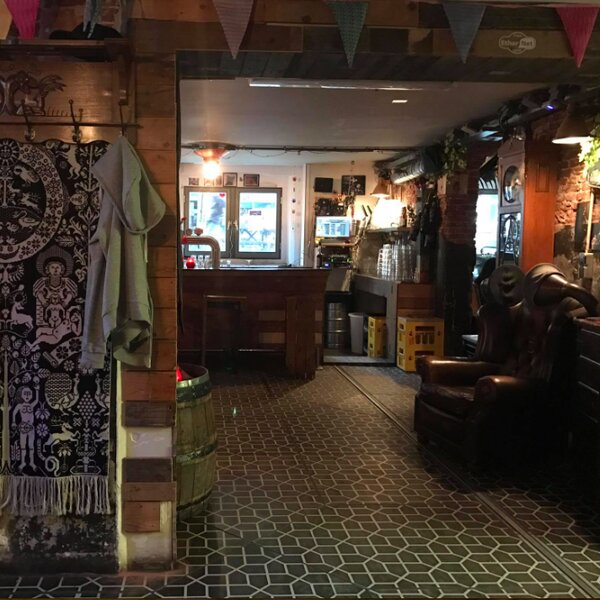 Wunderbar
Wunder by name and wunder by nature. If an awesome vibe is high on your list when it comes to Rotterdam nightlife then this quirky, slightly weird but wonderful bar is the one for you. It's got a lovely mixy matchy style which creates a fun undone DIY aesthetic that is also a performance venue for local musicians and international artists too.  
If you are looking for an alternative to some of the more glamorous bards, then Wunderbar is certainly worth checking out. If you are swerving alcohol, then you can enjoy a range of  imported soft drinks, including Fritz Cola and Club Mate. 
Tiki Bar
Well Aloha! If tantalising tiki cocktails are your thing, don't even think about visiting Rotterdam without trying one of the Tiki bar's Banana Daiquiri with fresh banana and rum. A popular choice for tourists and locals alike, this has an excellent cocktail menu from the classics to more quirky mixtures such as the Margherita to the Godfather (Amaretto and Jack Daniels).  
Best rooftop bars in Rotterdam
Can you say you have been on a city break if you haven't had at least one drink on a rooftop bar? The jury's out! However, when it comes to the fantastic selection of rooftop bars in Rotterdam it's unequivocally case closed. There's not a never-ending collection, but when Rotterdam does a rooftop bar, they definitely do it right. Whether you walk there, cycle or get a water taxi. 
Cocktail bar on the Rocks
With the most epic views of Rotterdam, Cocktail bar on the Rocks which sits atop the Mainport hotel – a luxury design-led 5 star hotel is one of the most glamorous places to people watch in the city. Arrive by water taxi and enjoy the most spectacular views over the water and Leuvehaven harbour. Enjoy classics such as the Mojito, the Margarita and the White Russian from the expansive cocktail menu. 
Euromast Bar
We mentioned visiting the Euromast as one of the best things to do in Rotterdam, but if you prefer to relax with a delicious drink as part of your Euromast experience, that's certainly an option too. It's easy to see why it has earned the moniker 'top of the city' as it really is one of the best go-to spots for the most impressive views of the Rotterdam skyline. 
Not content with just having one rooftop restaurant where you can enjoy drinks, the Euromast also has a cool pop-up rooftop bar where you can snuggle into a  Laui Lounge bean bag and enjoy a tipple or two. 
Bistrobar
Perfect for budding thespians, the Bistro Binnenrotte can be found inside the Central Library of Rotterdam. It's not the highest rooftop, but we love that spacious and lush feel. It's ideal for day and night and is open for lunch, dinner and drinks seven days a week, year-round inside, and up on the terrace when the weather allows. There is an excellent mix of beers and classic cocktails on offer.  Plus, it's a three minute walk from the Cube House too! 
Best nightclubs in Rotterdam
If great beats, dancing until dawn (or as close to it as possible) floats your water taxi, then a cheeky sojourn to one of the best nightclubs in Rotterdam is most likely on the cards? If you are looking to discover the best nightclubs in Rotterdam, then you are in the right place as if you only have a few days (and indeed nights) in the city, then you need the lowdown on the best spots to hotfoot it to. 
SuperDisco
D.O Y.O.U L.I.K.E T.O D.I.S.C.O? At SuperDisco, it's practically mandatory. Situated in the basement of the achingly-cool eatery in the renowned Witte de Withstraat. In the early evening you can enjoy delicious cocktails and Latin-American street food including nachos & tacos, then mosey on down to the basement to dance the night away to some cool retro and retro-inspired tunes. 
Club Vibes
Small is beautiful, and this cosy and intimate club is the epitome of bijou cool. Club Vibes may only open every Friday and Saturday at around midnight, but despite its limited opening hours, it's worth waiting for. Upon occasion, they open for special events and concerts, but they really can't wait for the weekend to begin. If you are looking for unabashedly delectable fusion of retro dance classics as well as some of the latest tracks, then Club Vibes is most definitely for you. 
Toffler
The epitome of Rotterdam nightlife, Toffler offers one of the best nightclub experiences in the Netherlands. Not only does it have an innovative lighting and sound system that has transformed what was formerly a pedestrian tunnel into one of the best nightclubs in the city, but also some of the best music too.  
Entirely exclusive, Toffler only has a capacity of 600 people and it's where those in the know hang out when the lure of dancing grabs you. Genre wise, the DJs play the likes of techno and house music.  
Orbzii Insider tip: Be sure to get there in time as it's the most popular club in town where everyone goes for an epic night out![Text Wrapping Break]