As much as we'd love to send you off-piste, and recommend some less trodden routes when it comes to your San Francisco to Los Angeles road trip, there's just one thing stopping us.
The California coast. And, more specifically, the Pacific Coast Highway.
We'll be trailing it all the way to LA. It's a must-do for any first-time road-trippers, with enough beach towns and detours to lure back any that have driven the route before.
We've rustled up an itinerary that works whether you plot a LA to San Francisco mooch or a San Francisco to Los Angeles road trip.
Whether you head north or south, brace yourself for the Californian experience of a lifetime.  
The San Francisco to Los Angeles road trip itinerary
If you're setting out right now on your San Francisco to Los Angeles road trip, we've got the basic route mapped out here.
Wondering what wonders these stops hold?
Check out our full run down below. 
San Francisco – Half Moon Bay – San Jose – Big Basin – Santa Cruz – Monterey Bay – Carmel-by-the Sea – Big Sur – Pismo Beach – Santa Maria –  Santa Barbara – Santa Monica – LA 
If we had one tip? Don't get too caught up in the stats. Yes, it's handy to know how far LA is from San Francisco when planning your San Francisco to Los Angeles road trip- but when there's so much to see and do along the way, mileage numbers tend to drift higher, so let's be ok with that.
San Francisco
Don't just view this city as a start or finish point on your San Francisco to Los Angeles road trip.
San Francisco's steep streets hold too many hidden joys to list here, but rest assured, you'll want to spend at least a few days ticking off some must-dos.
Things get pretty slick (and pricey) around the financial district – and Silicon Valley will treat you to some high tech wonders. 
But, there are some distinctly old school vibes to be found.
Underwater memorials to Gold Rush icons, vintage tea rooms and museums charting everything from illegal images to memento mori curios.
A mere scrape of the cities surface, but with so much to see and do, a fortnight here probably wouldn't cover it.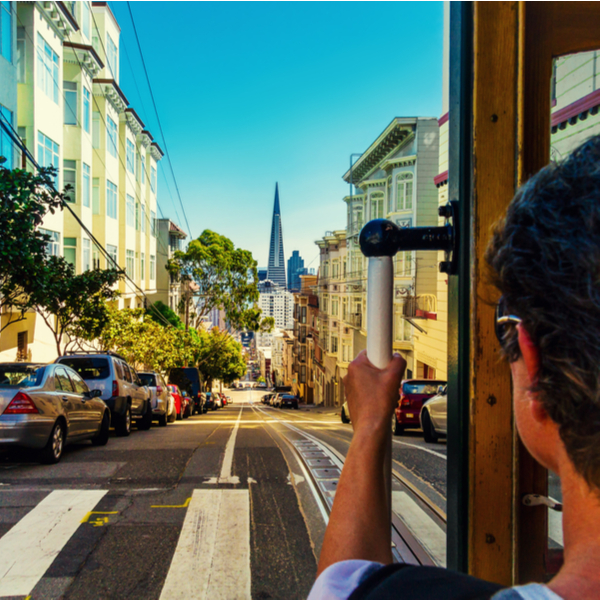 Orbzii tip: Short on time? Get a Four Barrel Coffee, hop on a cable car and definitely do Chinatown. Fisherman's Wharf is the spot to tick off the big three. A bay cruise, Alcatraz and the Golden Gate Bridge.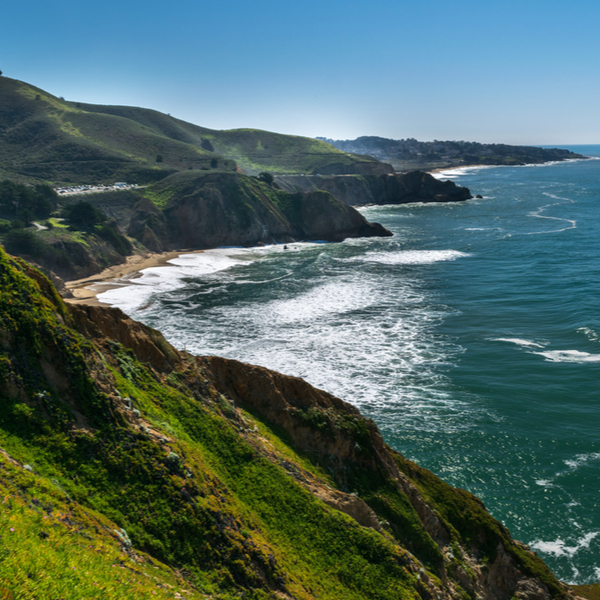 Half Moon Bay
Could there be a better first stop on a coastal adventure during your San Francisco to Los Angeles road trip?
Yes, it's just 45 minutes from the city, but it's not a place to casually ignore. Even if you just stretch your legs along the two miles of coast, you'll be impressed.
The Half Moon Bay Kayak Co can get you kitted out with a kayak, but you might want to consider a bike instead.
There's a coastal trail to whizz along to see all the sights, including wildflowers, babbling creeks and plenty of sand-strewn spots. 
Orbzii tip: Get here early to miss the crowds. When you're done kayaking, biking or stand up paddle boarding, Caffe Mezza Luna has all the calories you need to see you on your way. 
San Jose
Do you know the way? An utterly essential pit stop on your San Francisco to Los Angeles road trip is the city of San Jose.
A contender for an overnight – or 2-3 day stop – on your itinerary, there's a lot to pack in.
California's first city is a diverse spot that has a touch of high-tech intrigue about it.
Yes, there are pastel-painted houses, traditional museums and mouth-watering eats.
But then there's Silicon Valley's touch too. Intel and Apple's visitor centres are first-class, but the Tech Interactive is the spot to geek out over gadgetry.
If you're on a digital cleanse? Sunday's farmer's market in Downtown Campbell is awash with organics.
To really get away from it all? Treat yourself to the 1,500 acres of Ed R. Levin County Park.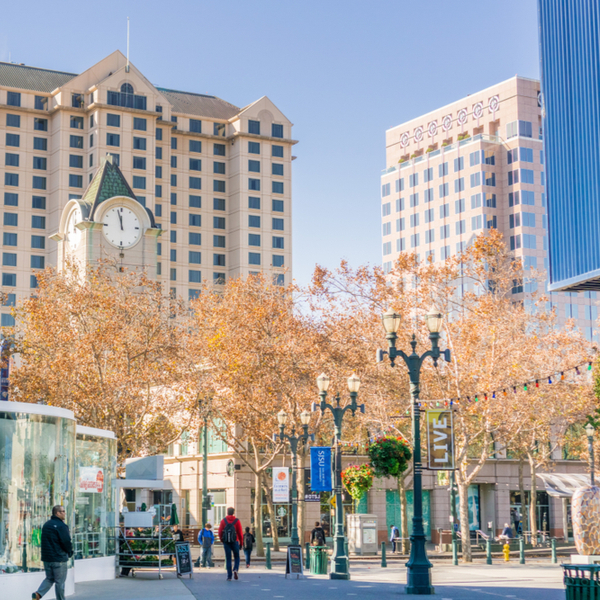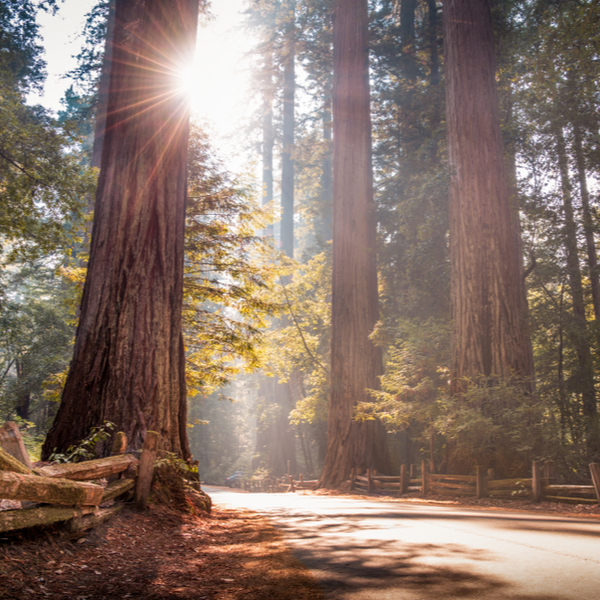 Big Basin
If you do one thing while you're in San Jose, make a trip to Big Basin. We think it's a pretty essential part of your San Francisco to Los Angeles road trip.
The oldest state park in California, it's also home to some pretty impressive giant redwoods.
Actually, be prepared to be overwhelmed by the whole forest. 80 miles of trails take you past BIG trees, some as tall as the Empire State Building.
Scampering about below? Bobcats, deer, raccoons, California woodpeckers, jays and egrets.
Waterfall trails are the ones to follow for that magical forest feel.
Our pick? Berry Creek Falls – the 65 feet of cascading water takes some beating. 
Santa Cruz and Monterey Bay
Let's be clear. Monterey Bay is a must-do on your San Francisco to Los Angeles road trip schedule.
Why, well, having a rep for being the Serengeti of the Sea is a major part of the appeal.
You could drop into the aquarium, but why bother when you can literally eyeball sea otters from the shore.
Better still, hop in a sea kayak and gently paddle past the furry critters.
Still on the shore? Binoculars at the ready for whale sightings. Again, you're better off taking to the water. If sea life isn't your bag, Monterey's still a bay to reckon with.
It might look a smidge familiar if you're up on your pop culture. Recently used as a filming location for Big Little Lies, there's character at every turn.
Being coastal, there's a canning and whaling history but today things have taken a far more conservational turn.
Santa Cruz is an eccentric stop off on route to Monterey.
It needn't take up more than a morning, but the mix of new-age chic and trust fund millionaires makes it a prime place for people watching.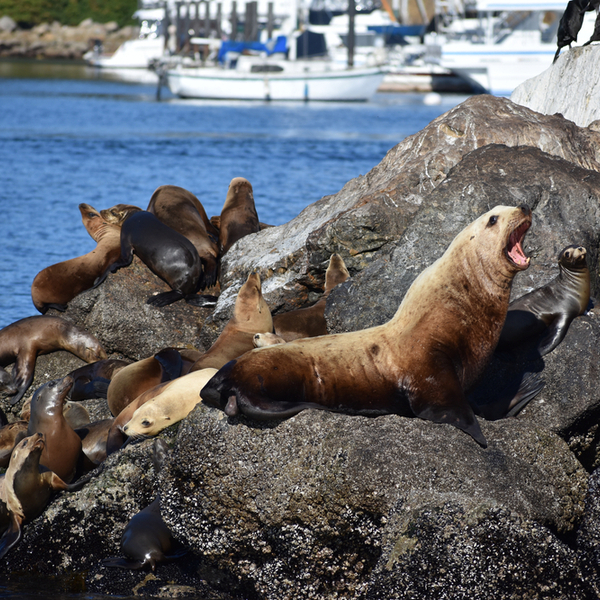 Orbzii tip: There's a handy 'Path of History' to follow in Monterey. The map covers all 55 points of historic interest. Your best bet is to whizz along by bike.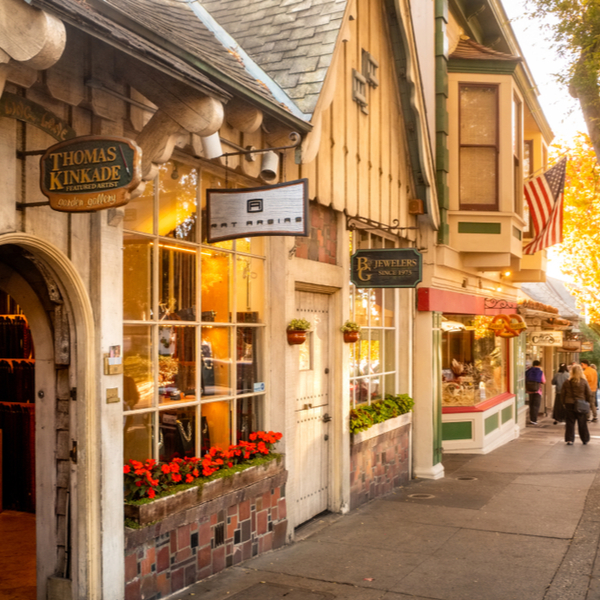 Carmel-by-the-sea
If you can tear yourself away from Santa Cruz, Carmel-by-the-sea is a square mile of charm served with a more than healthy supply of wine.
Over 19 tasting rooms vie for your tastebuds – and it would almost be rude to not indulge when scheduling in the hot spots on your San Francisco to Los Angeles road trip.
Though, you might be too busy exploring the many spots linked to Clint Eastwood. Landlord, mayor, landowner – there are few leading roles left for Clint to take in Carmel. He absolutely adores the place.
Stop in, and you'll see why.
Carmel is perhaps the perfect example of why stopping off at this routes beach towns shouldn't be dismissed from your San Francisco to Los Angeles road trip.
Orbzii tip: For a wistful weave along millionaires row – drive here via 17-Mile Drive.
There's a toll to pay to peep at the vast mansions with a coastal view, but it's a must for any window-shoppers planning the best way to spend a lottery win. 
Big Sur
Catch plenty of rest in Carmel, because Big Sur is a stretch of coastline and state park that'll you'll want to fling yourself headlong into during your San Francisco to Los Angeles road trip.
When people describe a stretch of coast as unspoiled, you can still expect some degree of human intervention.
Not so at Big Sur. An expanse of American wilderness to conquer, with a few carefully placed luxurious spots to enjoy it from.
The Post Ranch Inn does an excellent line in sea views and cliff-top luxury. Though nothing quite beats camping under Big Sur's stars – and trees – at Fernwood. 
Essentially, Big Sur, isn't the place to stay in a standard hotel. Go eccentric, splash out and make the most of every second here.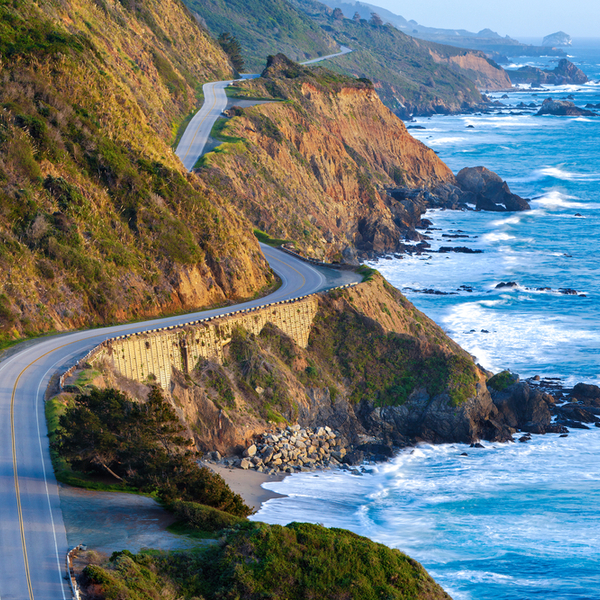 Orbzii tip: Big Sur's Mcway Falls get the waterfall headlines in these parts – and yes, they are impressive, but everyone has them on their 'must peer at' list.
So perhaps drop by, but allow more time to seek out Limekiln Falls instead. Unline Mcway, you can actually frolic in this creek.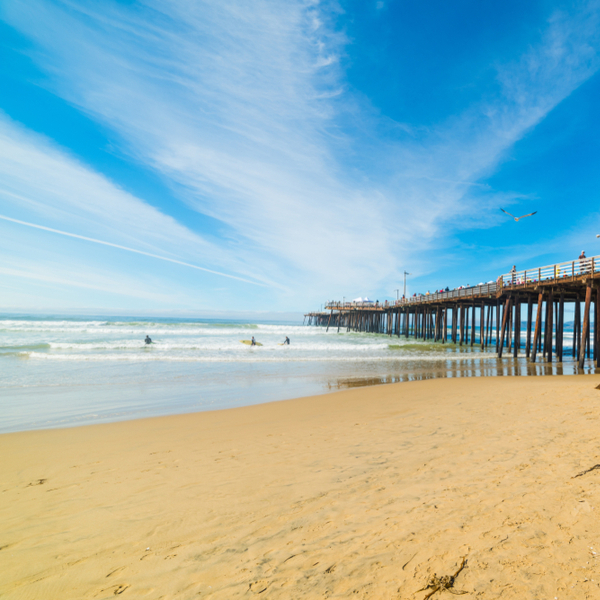 Pismo Beach
Leaving the craggy wonders of Big Sur behind, turn your attention to Pismo Beach's dunes.
Far from being desolate, this is the spot for some adrenaline boosting fun. You'll want to off-road them for max thrills.
If you want to maintain your Big Sur chill, try the Shell Beach Bluff Trail. 
Though do monitor the tide times to avoid any unseemly coastguard rescue action.
Essentially, Pismo's a beach town with a lot going on. Slinging everything at you from pretzels and locally brewed beers in the buzzing brewery to the calming zen of the Butterfly Grove.
Pismo's a smorgasbord of choice after Big Surs' green acres.  
Orbzii tip: You'll need to time you trip to see the Butterfly Grove in full flight. Drop in between November and February when the Monarch butterflies migrate. 
Santa Barbara
By all means drop into Santa Maria on your way to Santa Barbara during your San Francisco to Los Angeles road trip, but we think this is the better option of the two.
If after all the coastline above, you still want more, Santa Barbara's East Beach is the one.
Less crowded than its counterparts, the sands are just as good. Stearn's Wharf bundles history, mooching and a working fish market into one well placed bundle.
And the botanic garden lets you spot the rare and elusive local fauna – without hunting them down in the wild.
If by now your budget is starting to look a little lean, Santa Barbara won't rob you of your last few dollars.
Wallet-friendly options span everything from board to beers and brunch.  
Orbzii tip: If the whales eluded you in Monterey, Santa Barbara's your second chance. Blue whales drop by between May and November, it'd be a shame to miss them.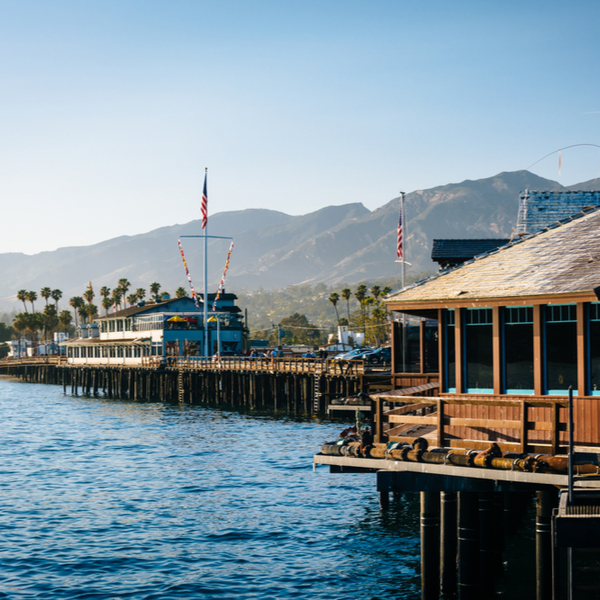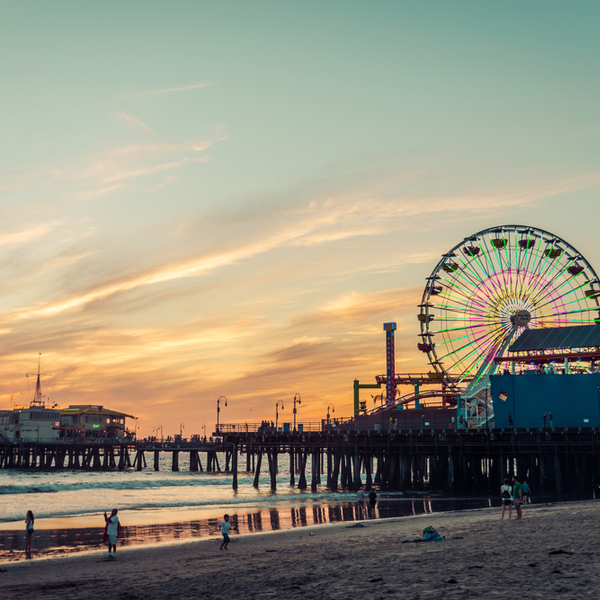 Santa Monica
It may be just 20 minutes from central LA – but unless you're short on time, don't skip this one.
Santa Monica's a world away from LA's city-centric streets.
The pier's the place to reminisce – with traditional fairground games and a ferris wheel still charming families of all ages.
Take on California's most ripped at Muscle Beach, browse boutiques in Santa Monica place or just hit the beach. Again.
Sure, we've recommended a lot of sandy stops so far. But on a grey day in February, these are the memories that'll lift your nomadic spirits.  
Orbzii tip: Wellness and good living are the norm in Hollywood. If you need to ease into the dairy-free, veggie and plant-based lifestyle, drop in to Erin McKenna's Bakery beforehand.
Are vegan donuts really a health food? Who knows, but Erin's come highly recommended. 
LA
You've made it to the end of your San Francisco to Los Angeles road trip!
Driving into LA – spotting the Hollywood sign for the first time – you may well want to take time out for a rest.
A hotel, pool and cocktails combo could well be on the cards. But, while you're here, you may as well take a look at the place.
The walk of fame and all manner of red carpet shenanigans do go on, but LA has much more to offer.
Quirky must–sees include the Time Travel Store – for all you need to travel back or forward in time.
Then there's the Hollywood cemetery with regular cinema screenings. Sitting among big screen legends while watching new on screen legends is … not for everyone.
So perhaps something a little more mainstream might be in order?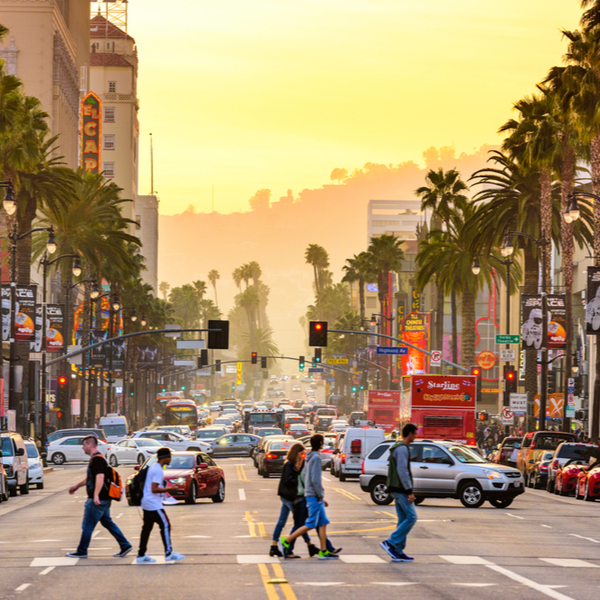 Of course, the shopping is legendary, but everyday activities are too.
Catch a Dodgers game, people watch on Venice Beach or mingle with millionaires in Malibu. LA's every day is far from ordinary.
Do drop into Universal Studios for the rides and shows. But film fans will do just as well roaming around LA's many movie locations. 
There's just one last San Francisco to Los Angeles road trip essential to pack.
The Orbzii app. Yes, old-school maps are THE way to plot your course, but when it comes to planning and booking the ultimate trip? This app is the one.