Scuba diving in Madeira comes with a host of reefs, walls, wrecks, islands and pinnacles to explore. Clear waters, volcanic sea beds and a strong serving of eco-diversity makes this a fantastic spot for divers of all levels. There are plenty of shore dives for beginners to get their fins wet in. Looking for something a little more technical? Open water, boat dives and deep wrecks are waiting to be explored. Depending on the site, currents tend to be low to moderate, meaning you can enjoy a spot of relaxed holiday diving and focus on the sights, rather than the technicals.  
Walls
Reis Magos
This Madeira diving spot really is the one to rule them all. Enjoyable for beginners, delightful for advanced divers and serving up options for night dives it ticks so many boxes. Add in the minimal currents in this shore dive and we're really getting into must do territory. Never reaching depths of more than 13 metres, this wall dive is THE place in Madeira to find seahorses gently clinging to sea fronds and being just about as photogenic as they come. Bigger scores include moray sightings and octopus, but here it's all about the smaller, tropical fish going about their daily life close to the walls. The ever-endearing but always strange-looking frogfish like to hang out here too.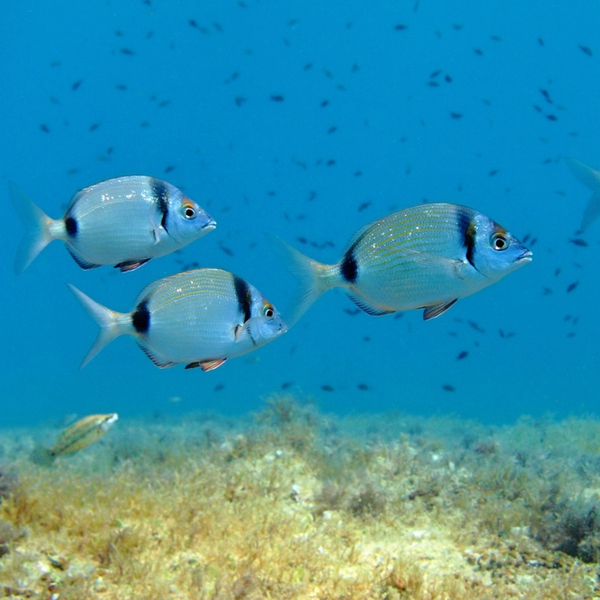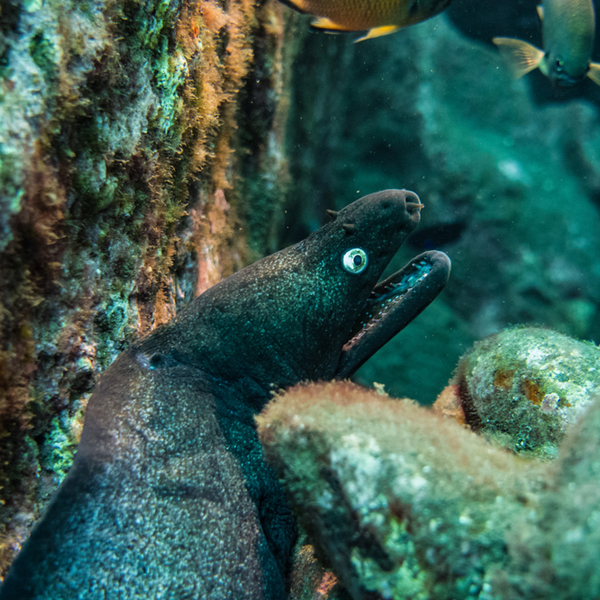 T-Reef
The T-Reef or T-Riff dive in Madeira is known mostly for its two pinnacles. Rising upwards, from a max depth of around 30 metres, the nearby wall is covered with the usual sea suspects – anemones. But the pinnacles are the focal points for the area's ecosystem. Shoals of triggerfish swim by, schools of amberjacks circle, and on the outer edge? Menacing looking barracuda wait for their chance to pick off a meal. Morays lurk in the pinnacle crevices, stingrays patrol the floor ensuring there's rarely a dull moment on the whole dive. 
Orbzii tip: If morays are your thing, this is the dive for you. You can see each of the four species of Atlantic Moray here, if you know where to look. 
Reefs
Lavafinger Reef
Some of the best scuba diving in Madeira is accessible to all levels of divers. One of those 'perfect' places? Lavafinger Reef. The good folks at Manta Diving know the area like the back of their hand … and have a name for the resident Moray. Whether Esmeralda will be up for selfie or not, this reef just has to be explored. Part of Madeira's National Marine Park, there's much more here than the reef. Walls, a cave and nooks and crannies are filled with a whole host of sea life. You'll also get some larger fish dropping into the local cleaning station. Anemone, garden eels, ghost crabs, and parrot fish are the permanent residents to look out for. Maximum depth is around 20 metres and currents can pick up, but never go above 'medium' in strength.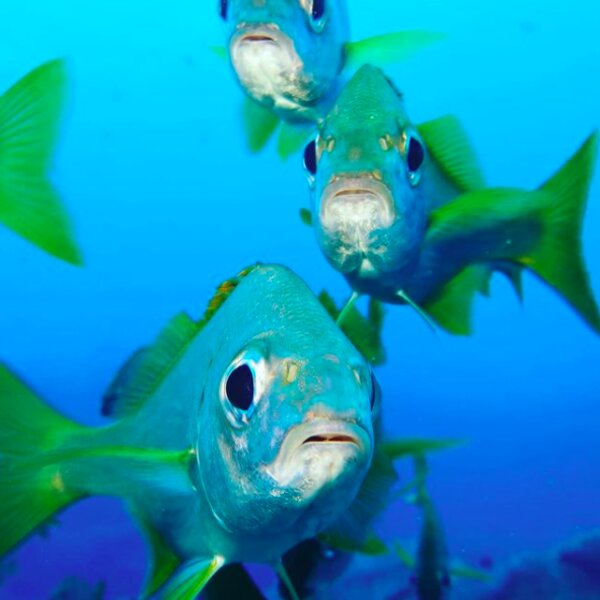 Orbzii tip: This reef is big – and there's possibly too much to see in one dive. If you fancy it, book it early in your stay so you have the option to go back.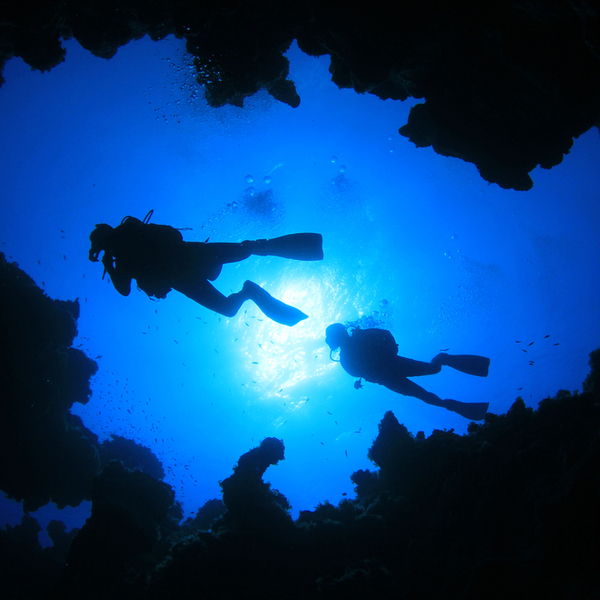 Canyon Reef
Book yourself on to a dive with Atalaia Madeira to see the best of the spot they call Canyon Reef. A huge expanse of sea floor topography, that includes gorges and canyons, makes an impressive backdrop for the biodiversity here. As well as Madeira's common species, eagle and cow rays can be spotted gliding over the sands. The large schools of white seabreams are always an impressive sight and the macro world is pretty spectacular here too. Urchin shrimps scuttle into the shadows, dominated by the scorpion spider crabs and slipper lobsters. Another great reef to see morays do their thing on. That is, of course, if you're not distracted by the butterfly rays. Technically, you're looking at depths of up to 21 metres. Though beginners can get a taste of the reef with dives starting at just 4 metres. 
Wrecks
F488 - the Afonso Cerqueira
As recently as 2018, an area of seabed near Cabo Girão has been turned into a National Park. Forget corals, reefs and walls. Here, you're scuba diving Madeira's largest wreck. The entire 85 metres of navy ship that is the Afonso Cerqueira. Now a massive artificial reef, the locals have already moved in. Sea bream shoals and scorpionfish really dig those maritime steel vibes. For divers, the joy comes in being able to swim through all of the decks and the ship's individual rooms. How long this will last? Who knows. Probably best to dive this to its fullest extent before the barnacles and decay start making some of the rooms inaccessible.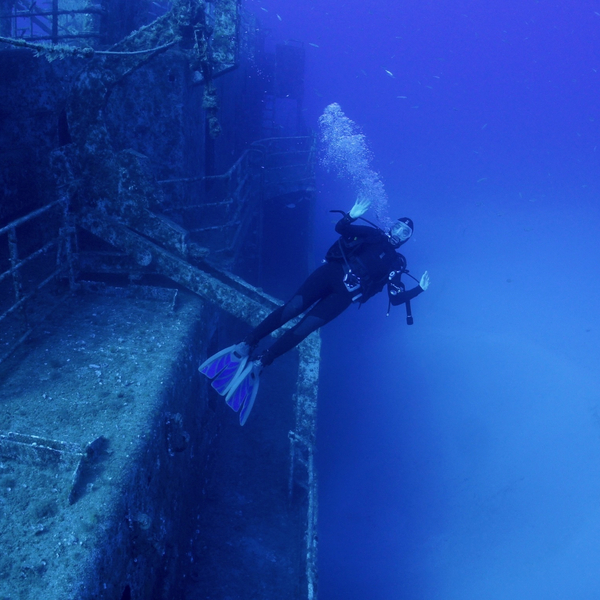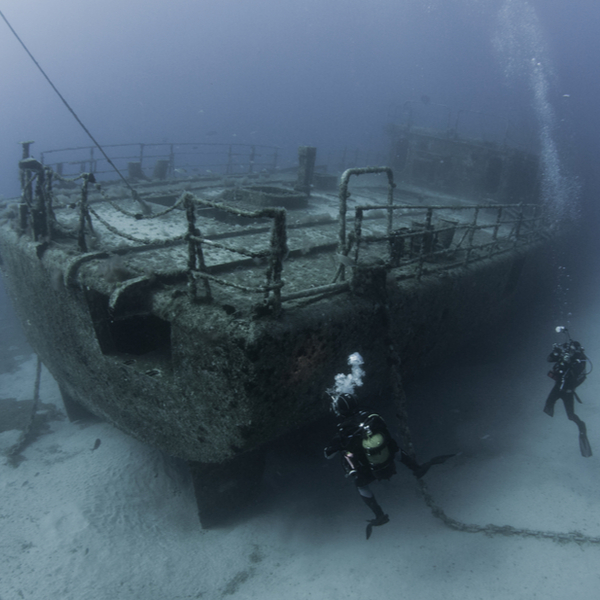 Madeirense - Porto Santo
If you've added island hopping to your things to do in Madeira list, add in diving the wreck of the Madeirense. Lying on the sea bed, just off shore from the island of Porto Santo, this old cargo ship has been on the sea bed for over 20 years. Triggerfish, sea spiders, barracudas, groupers, parrotfish and anemone have all claimed ownership over time. At 34m deep, it's an advanced dive that delivers marine life year round. Currents a mild though, making it easier to concentrate on the architecture of the Madeirense.
Orbzii tip: Don't just linger around the hull. Visibility is always 20m+, allowing scope to explore. Ancient cannons have been spotted on the sea bed in this area too.  
Islands
Desertas Islands
We've mentioned island hopping in our wreck dive section, but the Desertas Islands really deserve a section to call their own. A mini archipelago of three islands to the south east of Madeira, the islands themselves are fairly inaccessible. But, the dive team at Atalaia Madeira can get you there to dive and swim in the surrounding open ocean. Anchoring is prohibited near one of the protected islands – so it's best to go with a team who can show you around. You'll have the small, local colony of rare seals to keep you company in the water, along with the chance to see some of Madeira's whale and dolphin population. This is a full day's excursion, with the catamaran ride to the islands taking up to three hours.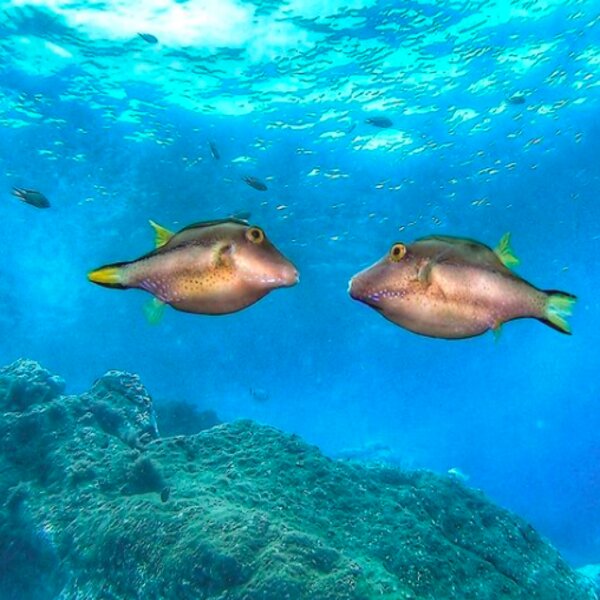 Shore dives
Garajau Beach
Pop yourself in the water at Garajau Beach and you've got some of the most popular diving in Madeira straight out the gate. Some say its clear waters make this spot THE one. But, in reality, it's the chance to hang out with what the locals call a sea wolf. The 'wolves' or seals do swing by. As do sharks, occasionally, which is perhaps a rarer sight than it should be. Calm waters and big, friendly groupers make it tempting to wade in right from shore. Though, if you're looking to get out to the prime dive sight – about 100 metres from shore, the currents can get a little tricky. If that's the case, a boat dive is your better option.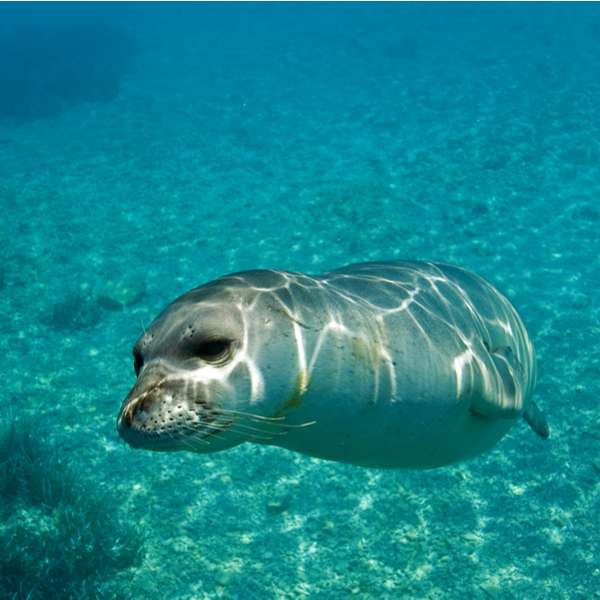 Snorkelling
Apart from some pretty sweet beaches to snorkel from, Madeira has one other essential snorkelling activity. Here, it's possible to snorkel with dolphins. And, occasionally, whales and turtles. A few operators run tours that offer the chance to snorkel with the sea life. The team at Madeira Dive Point can whisk you out to the stomping grounds of spinner dolphins, common dolphins and Atlantic spotted dolphins. The tour lasts around 2 hours, costs €45 and includes the chance to snorkel over their house reef afterwards. Bring your own wetsuit – snorkels are available to hire.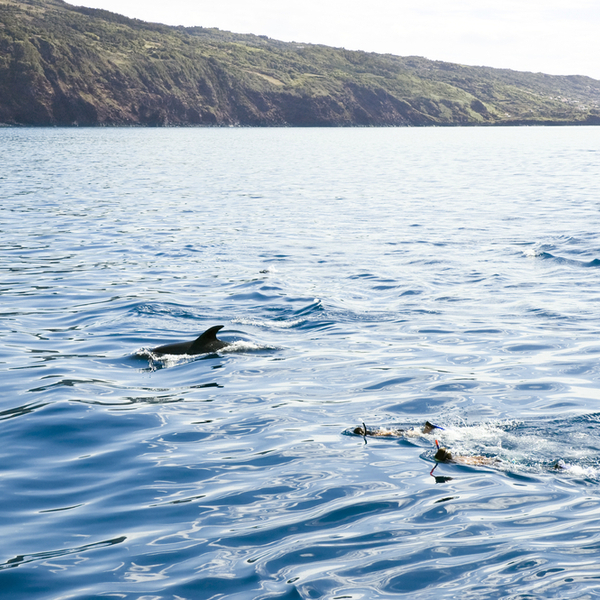 If you'd rather do your own snorkelling, Madeira comes with many, many options. For the best experiences, visit any of the beaches in Canical, Galo or Mangos. From there you can see many of the sea creatures you'd normally expect to have to scuba dive to. Morays and barracudas have even been spotted by keen eyed snorkellers here.