Shopping in Istanbul is an experience in itself. The city is the fashion and economic capital of Turkey, and as such there are tonnes of different places to indulge in a bit of retail therapy, from modern malls to the centuries-old Grand Bazaar in the Fatih district. So, if you're looking for somewhere to splash your hard-earned holiday cash, then you're in luck. If you're a thriftier shopper then you're covered too: there are plenty of deals available to scoop up in this magnificent city. You just need to know where to look.
Where are the best malls?
While there are dozens of great shopping centres and areas dotted around the city, there are a few behemoths that are worth visiting simply for their own sake because they're so impressive. However, these aren't just architectural marvels – there's plenty of great retail options within their walls, and you'll certainly be able to find whatever you're looking for in Istanbul. 
The Mall of Istanbul, located on the outskirts of the European side of the city, has over 350 stores in its vast interior, with the best of international and Turkish brands. Easily accessible via motorway and public bus, the Mall of Istanbul also has plenty of food options, so you can spend the entire day there. 
This area is actually very good for shopping in Istanbul, as nearby the Mall of Istanbul is Arena Park Shopping Mall. Although much smaller than its impressive brother, there are still a massive amount of shopping options here. 
If you're looking for the cheapest mall in Istanbul, then Istanbul Cevahir is your best bet. Although as modern and luxurious as the others, this shopping and entertainment centre is known for massive deals and cheap goods, especially compared to the more upmarket Mall of Istanbul.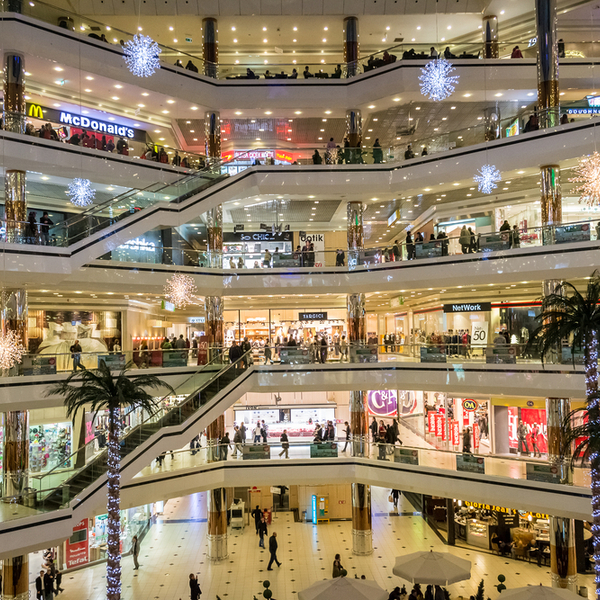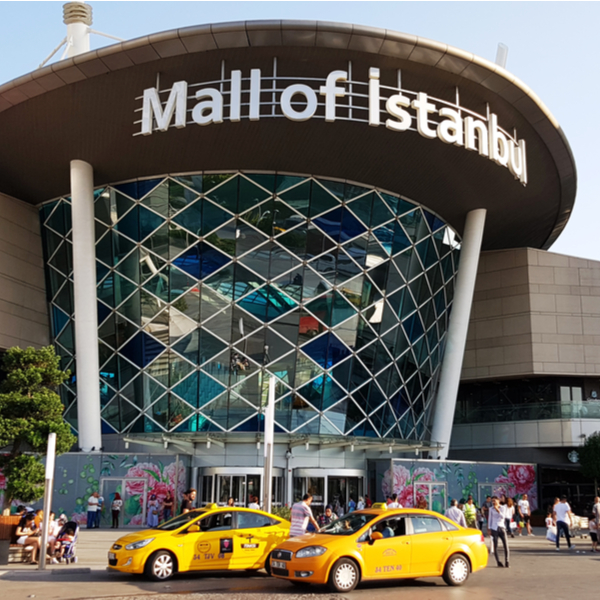 Located on the other end of the European side of the city, Istanye Park is another massive Istanbul mall, again offering up the best of international and Turkish shopping. Between these shopping centres, there's basically nothing you can't find in the city, so if you are a shopaholic or just want to spend some time delighting in the comforts of a mall, then you'll be sure to find everything you're looking for here. 
If you want a really unique shopping experience, then Venezia Mega Outlet is for you. This creatively laid out mall is its own little community with offices and housing in the complex, and has an artificial river passing through that you can take boat rides through. The architecture of the building is heavily inspired by the city of Venice, and even if you don't buy anything here, it's a cool place to visit. 
What about outlets?
If your main motivation is finding the best deals for high-end, luxury goods, then shopping in Istanbul is for you too. There are a number of different outlet malls dotted throughout the city, providing consumers with the best deals possible.  
Viaport Asia Outlet Mall is probably the most high-end of these, offering some of the services a normal shopping mall does like food and entertainment, but the focus is definitely on shopping for deals. Located on the Anatolian side of the city, it's a bit of a trek to get to, but the deals are worth it. 
StarCity Outlet is a similar vibe although more centrally located and on the European side. Again, there are some aspects to this Istanbul market that are similar to shopping malls, but this is outweighed by the sheer number of deals available, and the number of stores and brands.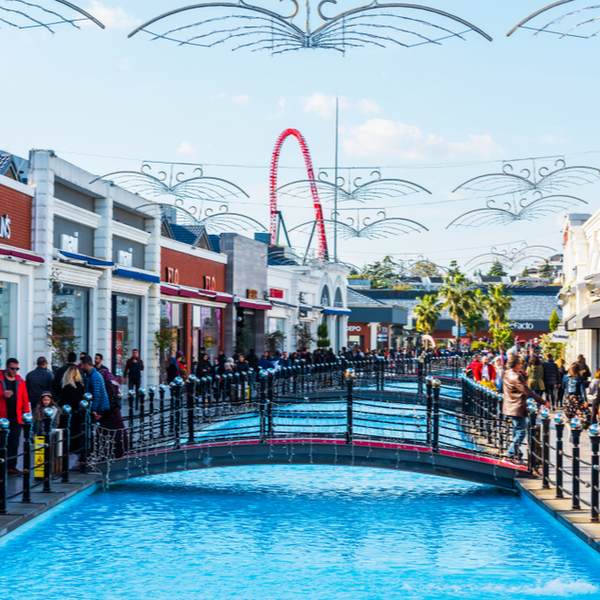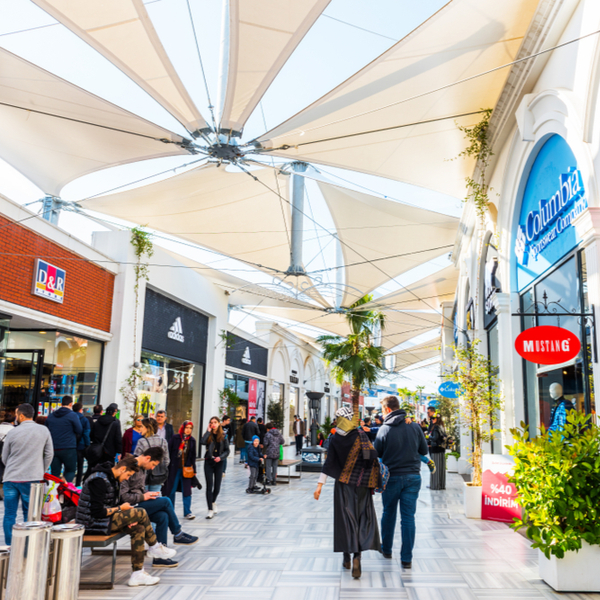 Traditional Istanbul Shopping and Buying Souvenirs: Bazaars
While it's always exciting to find a great deal on something, shopping in Istanbul is so much more than high-end malls and cheap designer goods. The city has a long history as a centre of commerce and nothing symbolises that more than the gigantic Grand Bazaar, which has over 4,000 stores spread over 60+ streets.  
Navigating the Grand Bazaar is an adventure in itself, and you can spend the whole day wandering through it and not see a fraction of what's available. If you are looking for the cheapest mall in Istanbul, then the independent sellers who run the stalls that make up this vast space can help you with deals and savings. Plus, unlike in the malls, here you get the chance to haggle. 
Some usual souvenirs bought from here include local teas, jewellery, carpets and other furnishings, homeware, and ceramics. However, there's a whole host of other items that can be purchased here as a reminder of your trip to Istanbul.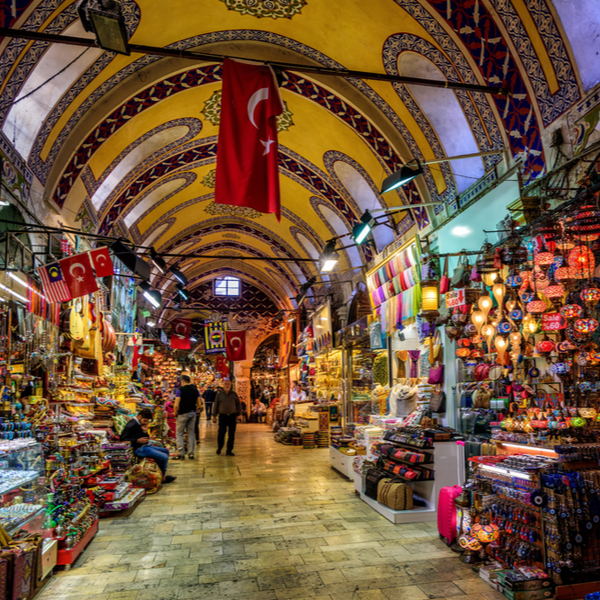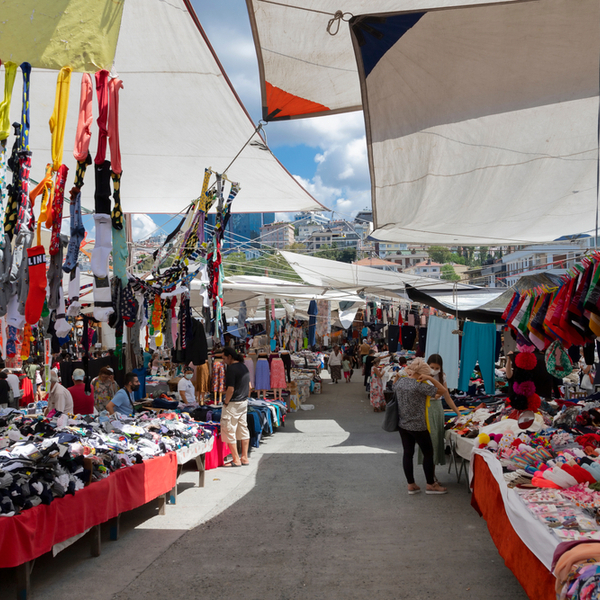 If you don't fancy getting lost in the labyrinth of the Grand Bazaar, you should still check out the nearby Spice Bazaar, or Mısır Çarşısı as it's known in Turkish. Much smaller and focusing on, you guessed it, spices and other foodstuffs, the sights and smells of this Istanbul market are enough to put anyone in dreamland. There are under a hundred sellers here, so it's nowhere near as bustling as the Grand Bazaar, but there's still plenty of shopping to be done, especially if you want to be able to recreate the authentic food and drink of your Istanbul trip when you get back home. 
If you want a truly authentic bazaar experience, then try to plan your trip so you can spend a Saturday at the Besiktas Saturday market. While the Grand Bazaar is incredibly Turkish, there's no doubt it's in some way set up for the vast numbers of visitors who stream through. The Besiktas market, however, is a truly local affair, meaning lower costs, less haggling for show, and the chance to get some traditional Turkish items in the same place the residents of the city do. The market is full of food, drink, and trinkets, as well as larger items that you might struggle to take back in your bag. 
The market is incredibly easy to get to, being a 20-minute walk from Besiktas pier, or the same distance from Osmanbey Station. It's also easy to get a taxi or drive there from the more central areas of the city.