Skiing in Alaska is glorious. Seven resorts make the most of the ridiculous amounts of annual snowfall, with heli-skiing, vintage chairlifts and other quirky ways to get up the mountain. This state has never been one to let a little snow, ice or seemingly impassable slopes get in the way of a good time. So expect to have to fly – or ferry your way into some resorts. That said, once you're there, there's plenty to see and do. Fair warning: In Alaska, the Northern Lights, overnight cabin stays and ocean views can distract even the most committed skiers from their piste… 
For an ideal set of slopes for beginners: Hilltop Ski Area
What's not to love about a day on the powder at Hilltop Ski Area? This non-profit organisation in Anchorage relies entirely on donations, sponsorships and ticket sales to fund projects for young Alaskans. So you've ticked off your sustainable travel list as soon as you hit the slopes. And, yes Hilltop does focus on getting young and newbie skiers on their feet – rather than catering to experts looking for moguls and black runs. That said, there's a ski jump here if you're looking to Eddie the Eagle your way into the air. Elsewhere, expect 10 trails, 3 ski lifts, a solid ski rental offering, proximity to Anchorage, heart-warming community work and a fun little terrain park. Champion.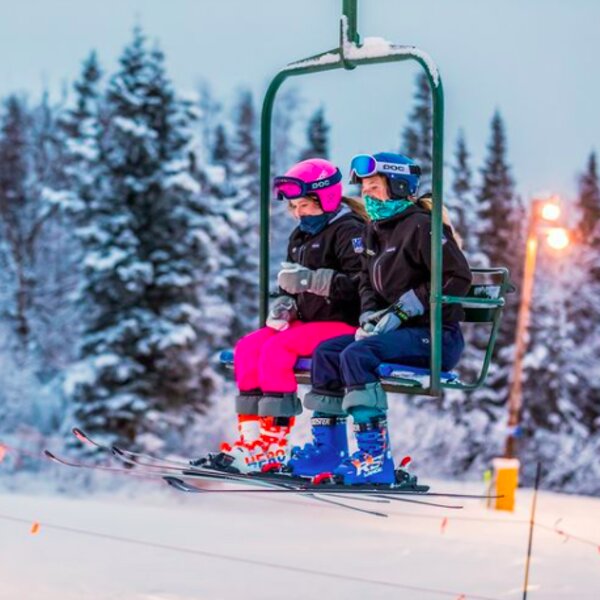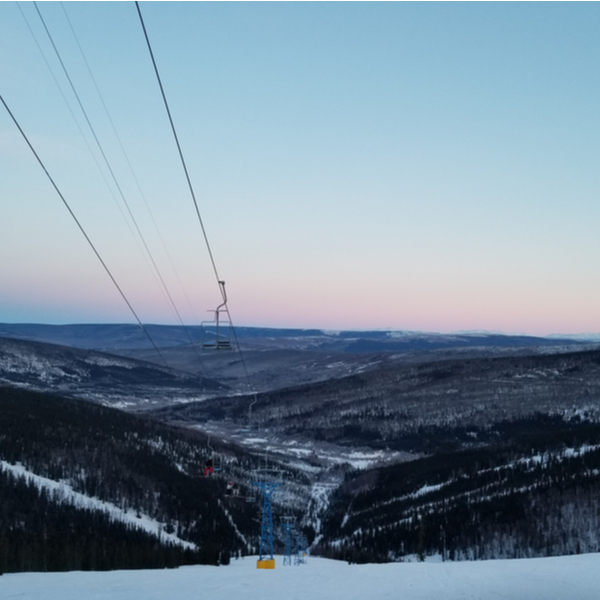 To après ski under the Northern Lights: Skiland Ski Area
To ski or ski to ski isn't the question at the Skiland Ski Area. Your visit here all hinges on whether you pop back to the resort's Aurora Cafe after dark. And, frankly, it's a must. Not that you'd know it from a good scout about the official website. No, this slope likes to keep its stellar attraction firmly under wraps. Pick a seat right by the oversize windows and order a hot chocolate for one of the best views of the Northern Lights in Alaska. And the skiing? The 40 or so runs are perfectly skiable – but again, it's the views that really sell it. You'll want to whizz down the mountain in a flash – just to enjoy the 10 minute chair lift to the top all over again. 
To see the ocean while you ski Alaska's biggest resort: Alyeska Resort
This is Alaska's premier ski resort – in EVERY sense of the word. You're looking at high end skiing, close to Anchorage, that comes with just about every ski facility you could ever need. Brace yourselves for some impressive ski stats: 76 trails, 1,600 acres of skiable terrain and 650 inches of snow a year. Already rummaging in the cupboard for your salopettes? Don't blame you, but we've more to tempt you. At the top of Alyeska Resort the views are incredible. Though, will you be eyeing the ocean while your skis (or board) carve through some of America's finest powder? Perhaps not, but it really does make a fantastic backdrop for a selfie. The night skiing option is handy if you're staying at the nearby ski in / ski out luxe hotel. But then their on–site spa looks tempting too…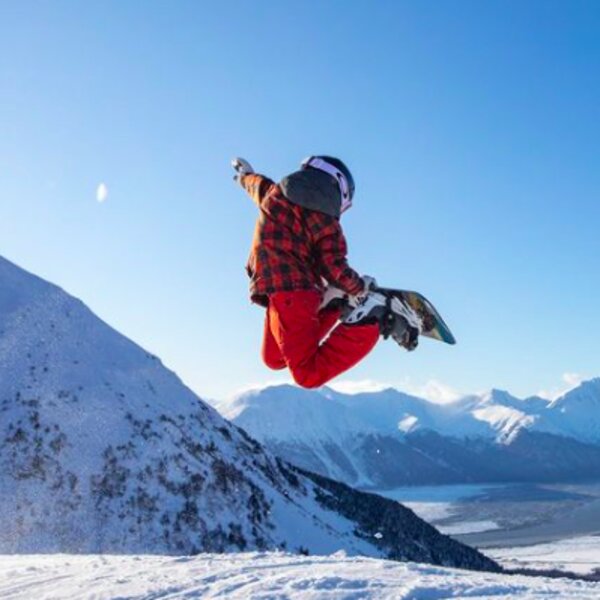 Orbzii tip: Top marks to Alyeska for their accessible facilities. The Adaptive Ski and Snowboard School has its own accessible slope to help people with disabilities experience the slopes.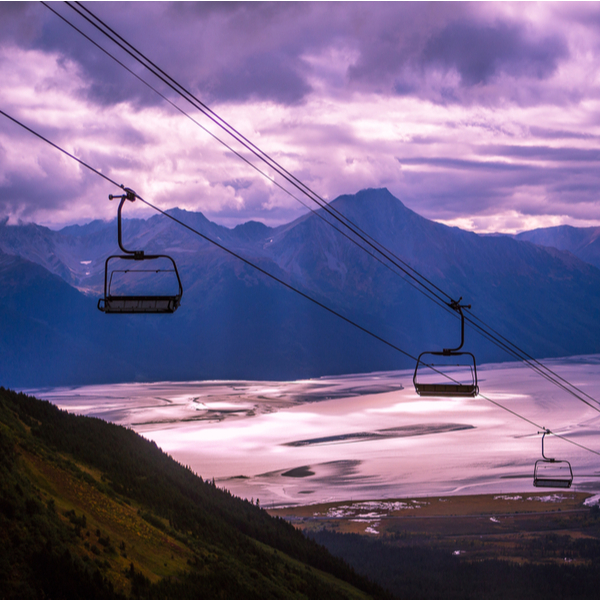 To heli-ski your way into remote Alaskan slopes: Mt Eyak
If you like a challenge, Mt Eyak – and skiing in Alaska, is for you. For a start, you can only reach the nearby town of Cordova by boat, plane – or helicopter. This didn't stop plucky ski pioneers from hauling in the oldest chairlift in America. Installed in the 70s, the chairlift you'll be riding on was originally in Idaho. Let's not let the fact it dates back to the 30s deter us from heading upward! Once at the top, you've got 30 trails to choose from. And, if Alyeska Resort caters to Alaska's wealthy skiiers, Mt Eyak definitely looks after those with a more modest ski budget. The most you'll pay for a lift ticket? $30.  
Orbzii tip: Fancy experiencing the REAL Alaska while you're here? One of the state's rustic, public access cabins overlooks the inlet below. The views might be magical – but you'll need to keep the wood stove running to keep that cabin cosy. 
For the scenic 5k Nordic track: Eaglecrest Ski Area
Maybe you're in state to see Alaska's mountains and glaciers and don't want to get too serious about your skiing. In that case, nip along to Eaglecrest near Juneau. Don't get us wrong, it's an absolute cracker of a resort, but then there's the gently rolling terrain of the Nordic track to contemplate. Take your time to get chest bracing, lung–fulls of fresh mountain air or push yourself to get a little cardio in while you take in the trees. This part of the resort just feels that little bit more zen that the bustling ski scene around the lifts. This isn't as luxe as Alyeska – but doesn't have the budget, pared back feel of Mt Eyak. Essentially a ski area for everyone, if you only ski one resort in Alaska, make it this one.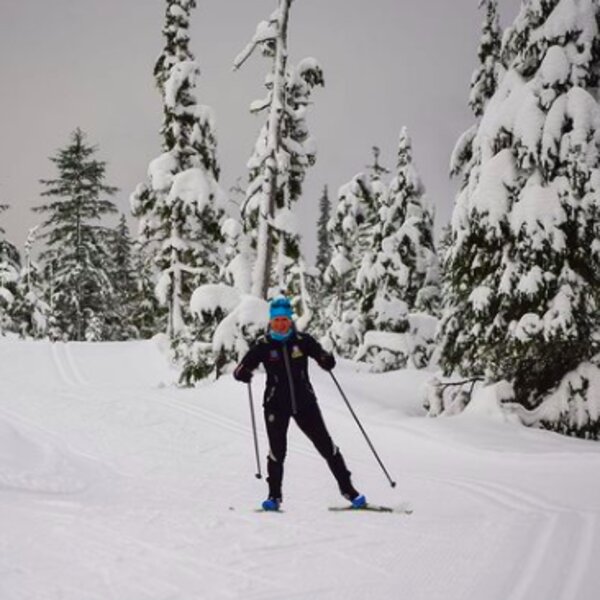 Orbzii tip: This is another resort that's not accessible by road. Though, ferries and flights arrive daily from Anchorage, making it still relatively easy to swing in for a few days on the slopes.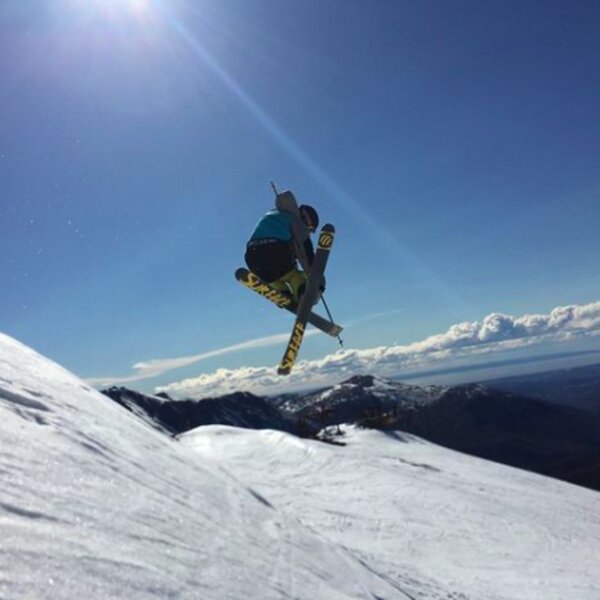 For family-friendly, backcountry-style skiing: Arctic Valley Ski Area
If you feel a little uneasy about relying on beacons in your backpack to track you in the backcountry, consider skiing at the Arctic Valley Ski Area. Part of their ski area gives you those off-piste vibes, without needing to stray to far into the wild. Of course, there are well-groomed slopes for skiers and boarders of all ages, but the family-friendly facilities makes this one super-appealing for anyone travelling with non-skiers. Little ones can build snowmen right next to the quiet slopes and the tube pack is just too much fun to ignore – no matter your age. 
Orbzii tip: Though you're a little safer skiing the backcountry here, the off–piste areas aren't checked for avalanches – so you'll still need to be super ski-savvy to stray from the trails. 
For sunshine - and fun, on the slopes: Moose Mountain
Just as with resorts the world over, each ski slope in Alaska caters to a certain audience. The high-flyers, the families with budding skiers in tow and then there's Moose Mountain. We'd say they're aiming for the chilled crowd who want to pull some gnarly moves on the pow' in the sun. Hip vibes, huckers, and vintage style is definitely in. Snakes are definitely out. If you understood all of that, you'll want to Shred the Moose a.k.a take on the slopes of Moose Mountain. The sun beams down all day on the south facing slopes, life is good and pass prices are reasonable. Epic.