Having a last hurrah to celebrate the demise of your singledom is always a fun experience, but there aren't many better cities to do it in than Madrid. The Spanish capital is the perfect place to let loose, with a Madrid stag do offering almost everything you could want, from fun, group activities during the day to a thriving nightlife to dip your toes into after a few cervezas. If you're a best-man planning something for the groom-to-be, then look no further: Orbzii's stags on tour guide will give you all the information you need to create the perfect stag do in Madrid.
DAY
Tour the world famous Bernabeu
Home to Real Madrid, one of the most famous and successful football teams in the world, the Bernabeu is a footballing mecca and an architectural wonder in itself. The stadium was completed just after the 2nd world war and can seat over 80,000 passionate fans, and there's plenty of history within the walls that isn't just football related, given Real Madrid's status as the representative of Castilian Spanish unity.  
The tour includes taking in panoramic views of the inside of the vast stadium from a few different viewpoints, a tour of the museum where you can learn about the history of the famous club, and a tour of any temporary exhibitions, which usually include the chance to get up close and personal with whatever trophy the club has recently won.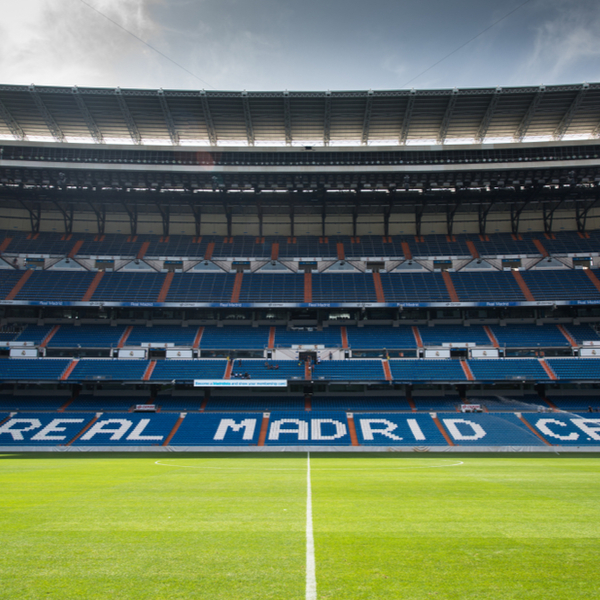 The Classic tour costs EUR 14 (GBP 12) and is on a set date, or you can get a flexible one that allows you to pick and choose when you want to go for EUR 17 (GBP 15), which can be useful if you want to spend a morning in bed recovering from the night before!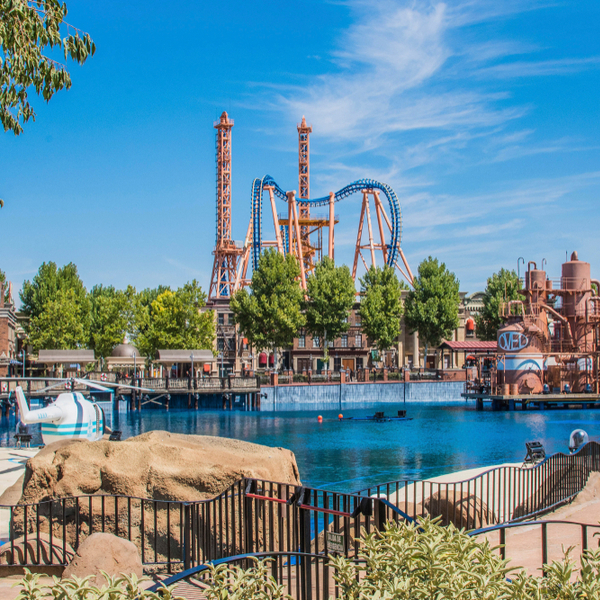 Get Wet and Wild at Parque Warner
If you're looking for adrenaline pumping activities for your Madrid stag do, then Parque Warner is the ideal place to head. This theme park is home to dozens of high-octane rides and water slides that will get even the biggest thrill-seekers excited.  
The park is located under twenty miles south of the city centre, and is easily accessible by car and public bus, although you can also get a shuttle pass with your ticket that picks you up from Estación Sur de Méndez Álvaro in the Pacifico district of town.  
Ticket prices are relatively cheap compared to other Theme Parks, with a day pass going for EUR 29.50 (GBP 25.50) if you book in advance and go during the week, and EUR 35 (GBP 30) for weekend days. 
Watch Over the City with Cocktails
Before the debauchery of the night, it's always good to have a few classy moments. Oscar's Terrace in Madrid is one of the more iconic venues for rooftop drinks in the city, offering panoramic views of the Spanish capital and a great place to watch the sun go down over the city.  
Designed mostly as a place to lounge as opposed to party, the bar here offers a wide range of beer and wine, as well as being home to some world class cocktail makers who will be sure to find something to fit your tastes. In the spring and summer there's access to a pool, and in winter the terrace is heated to help negate the large drops in temperature that happen, especially as night comes in. Unless you're a guest you will have to reserve a spot, but it's well worth it for the views alone.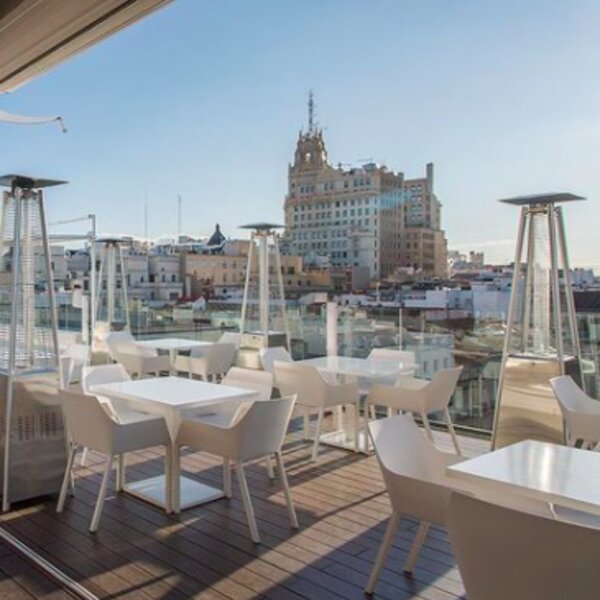 NIGHT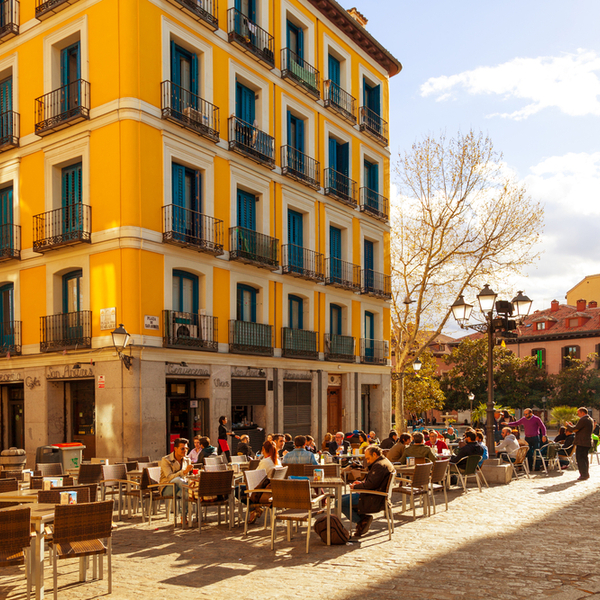 A Madrid Bar Crawl
Considering clubs here don't start to fill up until well past midnight, spending the late evening hours warming up at the bars that dot the centre of Madrid is always a good idea. Not only will you get a range of venues, but you'll get a chance to experience different areas of the city.  
La Latina is probably the best district in the city for this. Cava Baja and Cava Alta are home to most of the bars and restaurants in the area, and there are a few great venues that are must visits, including Debonair Bar in the heart of the district. Most places serve up delicious (free) tapas options alongside the drinks, so there's plenty of grub to keep the stomach steady throughout the crawl. 
Calle de las Huertas is the main 'strip' area in Madrid, although calling it that is a bit of an understatement as there is so much more than bars and restaurants here. The neighbourhood was once the intellectual and literary centre of the city, but now is host to a thriving social scene. Bar Santos and the ME Hotel terrace are both great spots for getting in a couple of drinks, with the latter also often hosting regular DJ sessions.  
From both of these areas it's a short taxi or walk to many of the major nightclubs in the city, so there isn't too much planning involved or wrangling of tipsy people to worry about. All you have to do is think about where you want to go next. 
See the night off at Teatro Kapital
This super-club has seven floors to choose from, so no matter how large and diverse your group is there will be something for everyone. Each floor has a different vibe and type of music, although Madrid stag dos will likely head to the 2nd floor, where their karaoke section is. The other floors cover electronic music, Hip Hop and RnB, Commercial pop and Reggaeton, and there a couple of classier cocktail areas if you want a break from the madness. 
Entrance prices vary but before 1.30am it's usually EUR 18 (GBP 15.50), which includes two drinks. However, if you call ahead to book a space for your group, there's a chance you can negotiate an entry discount or drinks deals. The club is open until past sun rise, and a visit here is sure to be a memorable one, even if you've had a few too many.