Sufi Whirling is an ancient practice that has its roots in the Sufi branch of Islam. Although it's still primarily a religious spectacle, it has taken on a unique and slightly separate cultural role, and nowhere is this truer than in Istanbul.
Watching a Dervish show in Istanbul, as they're sometimes known, is a unique experience that would add to any trip. There are a whole host of different ways to see this, from the higher-end shows aimed at tourists, to quieter (and cheaper) local affairs, where you have more of a chance to get involved with the performers and dancers afterwards, sometimes even getting the chance to ask them a few questions.
If you're a culture vulture looking for a special experience when you visit Turkey then read ahead: our guide to Sufi Whirling in Istanbul will tell you everything you need to know about this ancient and fascinating practice.
What is Sufi Whirling?
At it's most basic, Sufi Whirling is a repetitive dance through which practitioners believe they can reach God. Sufi's tend to refer to it as 'turning' instead of whirling, but this distinction isn't seen as insulting, so don't feel like you've misspoken if you are corrected by a practitioner when you go to see a display of Sufi Whirling in Istanbul.  
During the whirling, Dervishes (practitioners of Sufi belief systems) recite an Islamic prayer that invokes the remembering of Allah – known as a dhikr. This is said to help them reach a kind of meditative bliss, much like the Buddhist concept of enlightenment. 
It's practiced all across the Muslim world but mostly in Turkey, which has one of the largest Sufi populations in the world. Although it is an inherently religious practice, there are many shows dedicated to bringing the art to the masses in a more secular way. 
Sufi Whirling in Istanbul, and other places, is performed by people in a traditional outfit, known as tennure: a sleeveless white frock (destegul), a jacket that covers the arms, a belt, and a black overcoat (khirqa) which is removed prior to dancing, symbolising the dancer being spiritually reborn so they can see the truth. When they start their whirling, they usually add a felt cap known as a sikke to their costume.   
There are usually around twenty-five performers and around forty musicians per session, so it's quite the spectacle when it gets started.  
Each separate order of Sufism will have their own unique way of chanting and dancing, so no two groups of Sufi whirling Dervishes in Istanbul will do the same, but there are some similarities. They'll almost always hold their arms in a cross before starting to symbolise the unity of Allah, before turning their right hand out to the sky, an act that invokes the idea of being ready to receive God's glory. The most striking difference between Sufi orders is usually the dhikr they recite.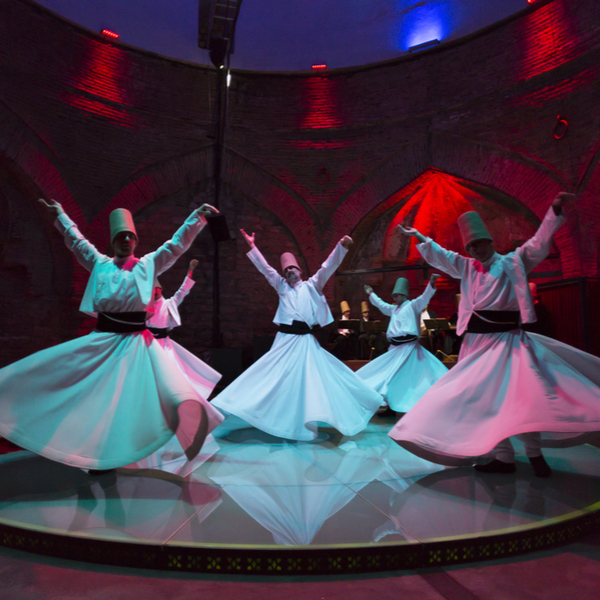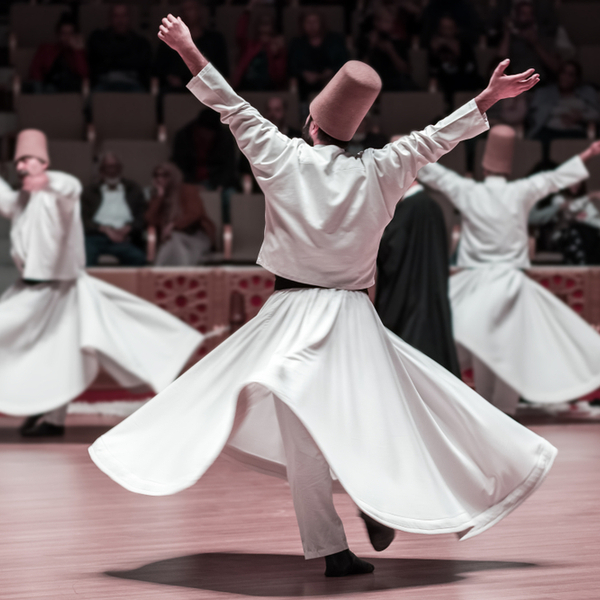 What is the History Behind it?
The Sufi Whirling Dervishes can trace their art back to the physically active meditation of their ancestors, who believed that Allah was reachable by abandoning ego and spinning in repetitive circles – allegedly a symbolic imitation of the planets orbiting the sun. The practice was started by the famous poet Rumi and is associated with the Mevlevi order he founded, and was one of the many contributions he made to not just the Sufi world, but the Islamic world in general.  
The first dances were quite prescriptive, much like the physical movements in Islamic prayers we see believers engage in today, and this remains so today. The practice was banned after the fall of the Ottoman empire and the rise of Atatürk's secularism, but continued in private for a few decades before rules were relaxed again, at which point it became a kind of cultural phenomenon, drawing in tourists by the bucketload. This rebirth of the art took place at Konya, Anatolia, where Rumi spent most of his life.  
While some people might feel uncomfortable about watching what is essentially a religious act, they shouldn't fear: Sufi Whirling has always been performed with an audience, and the entire aim of the event is to bless those watching, so by going you're really helping them fulfil their aims.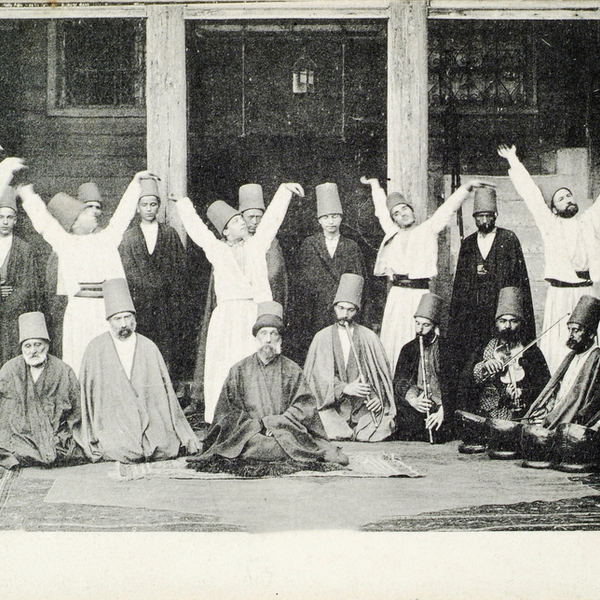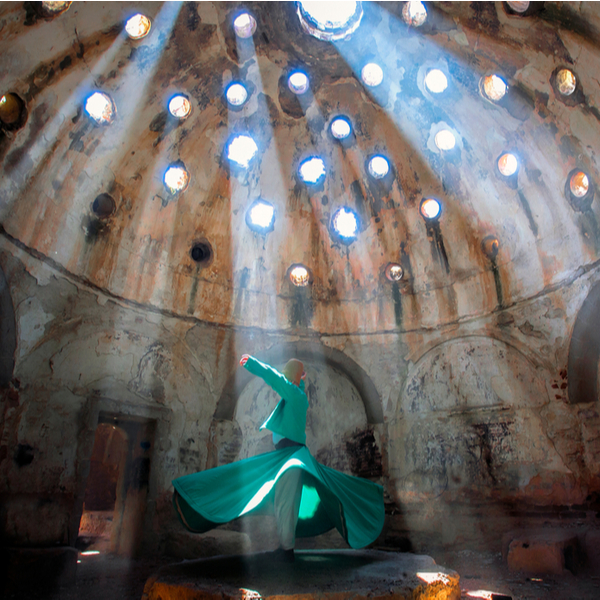 Where, When, and how much to See Sufi Whirling in Istanbul?
There are a few places to catch a Whirling Dervish show in Istanbul, each with their own unique benefits. Here are some of our favourites:  
Galata Mevlevi Museum
The primary cultural centre for the Mevlevi Sect outside of Konya, this is the place to see the most popular of the Sufi Whirling performances in the city. The building was the first Sufi Lodge in Istanbul, established in the 15th century, and was a school during the secularisation of Turkey and banning of Sufi practices like turning. Since 1946 and the relegalising of various religious ceremonies, it's been run as a museum. 
They run one show a week at 5pm, and it's incredibly popular, selling out more often than not. You can buy tickets from the museum on Saturday, so we would recommend doing that to avoid disappointment. The cost of the show is TL 70 (GBP 6.70).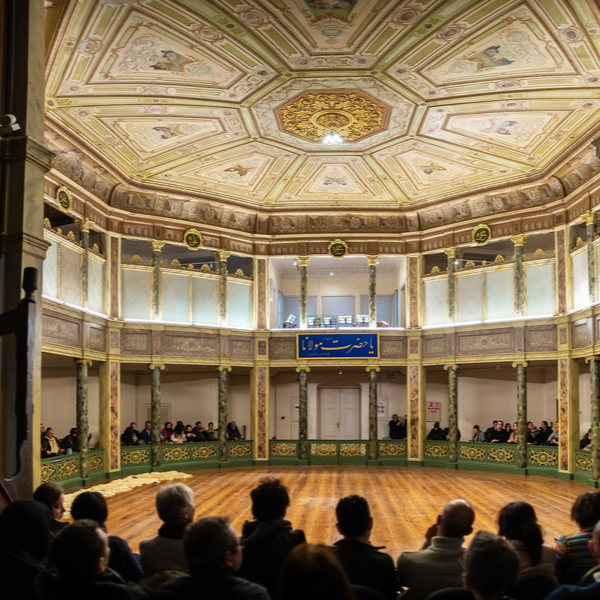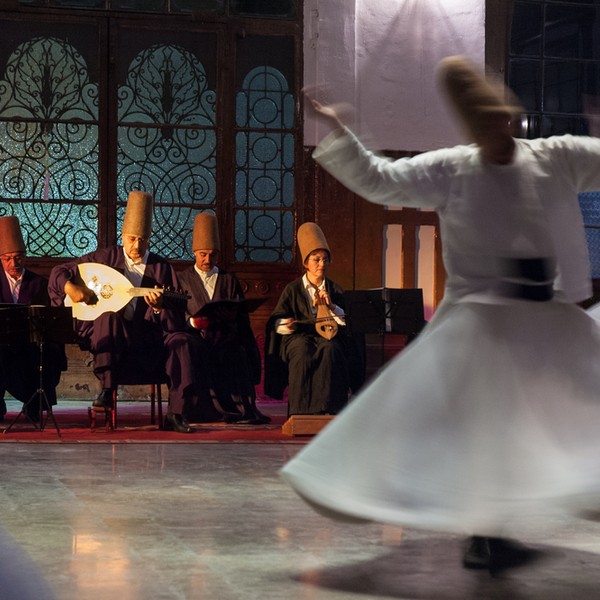 Sirkeci Train Station
Originally built as the Eastern terminus for the Orient Express, this iconic station is so much more than just a transport hub (although it is currently under renovations, so train services are limited). Nowadays, the Sufi Whirlers take over the former Orient Express waiting room and perform for an hour, every night at 7.30pm for thirty minutes.  
Tickets cost TL 50 (GBP 4.65) and can be bought from a stand next to the Orient Express Café right until a few minutes before the performance starts. 
Hodjaphasa Culture Centre
Formerly one of the many hammam's that dot the city, this cultural and performance centre is home to a daily Whirling Dervish performance. This is by far the most commercialised and tourist-filled of the performances mentioned, but the centre itself houses a Dervish/Sufi exhibition that gives you a lot of background into this oft-maligned branch of Islam. 
Tickets are priced at TL 120 (GBP 11.80) and the show starts at 7pm every day.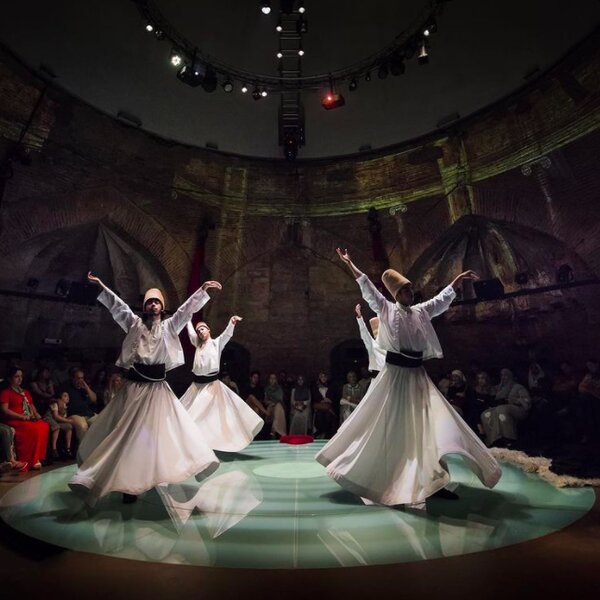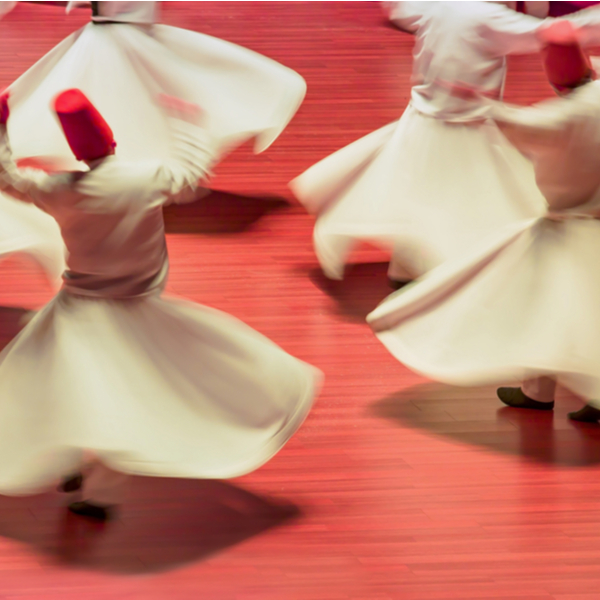 EMAV Silivrakapi Meviana Cultural Centre
Considered the most 'authentic' of the Sufi Whirling performances, this four-hour spectacle takes place once a week on Thursdays. It also includes a question-and-answer session with the performers after the performance, although this is entirely in Turkish. 
Admission here is by donation, and the show is every Thursday from 7.30.