You can't travel to Hawaii without making the most of its infamous waves, can you? Learn to stand on a board for the first time. Catch your first tube, ride the biggest barrels. It's all up for grabs. But with so many islands, so many beaches and options galore, where are best places to surf in Hawaii? For beginners, it could be a challenge. You don't want to be faced with a wall of surf – or be paddling about in ankle busters. Fear not. You're in good hands. Read on for surf intel suitable for all. 
Best beaches
The nuances of beach types, wave directions, wind speed, and more, need to be considered before you can slap on a best beach label. Beginners will want soft, sandy sea beds for those inevitable wipeouts. Which island you're on, naturally plays a part too. On Oahu, Diamond Head Cliffs somehow manages to cater for all. Waves stay calm early doors – letting newbies in on the action. As the day develops, so do the swells.  
Moving to Kauai, and you've got another amenable stretch of coast. Beginners – watch the world-class surfers at Kiahuna Beach. Tips locked in, you can dabble in the shallows and avoid full FOMO. You'll not hear much talk about Big Island, but experienced surfers can grab some tips from locals at Honolii Beach Park. The swells are reliable, making it easy to really iron out any kinks in your techniques.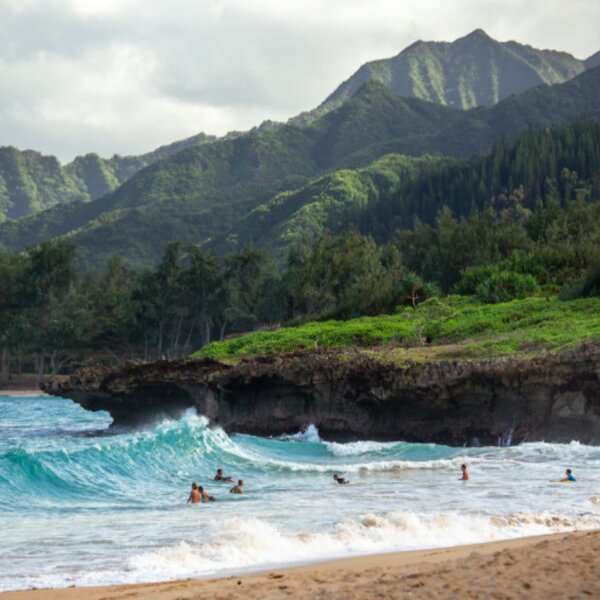 Can we talk surfing without mentioning Waikiki? It's hard to ignore. Yes, it's iconic, but every surfer – from newbie to old timer – wants to surf these waves. On Oahu, you're better off seeking out less touristy spots. Do drop by for the scene though, it's almost compulsory. Beginners, stick to  Diamond Head Cliffs. More experienced surfers, pop along to Ehukai Beach Park. The surf reef is only for the most experienced riders. The pipelines are daunting, but ever so tempting.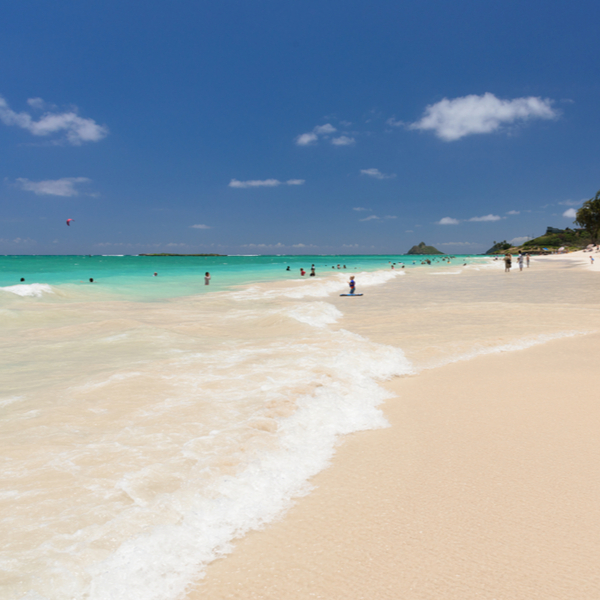 Best beginner spots
Let's face it. Figuring out the best places to surf in Hawaii for beginners isn't easy. Renowned for its epic waves, there's a reason Hawaii hosts international surf competitions. And, if it's the spot that pros come to ride the biggest waves, should novices even try surfing here? Happily, there are beaches where even the greenest of newbies can learn to ride a wave.  
Our pick is Launiupoko State Wayside Park on Maui. The waves are easy to ride. And long. Which buys you time to pop up, drop in and feel that burst of exhilaration surfing brings. THE beach for your very first foray into surfing – it's also popular with experienced surfers looking for laid back vibes. If Hawaii's heavy waves are too daunting, Maui's got another beach for beginners. At Kalama Beach Park, there's a cove for you. Its small swells are the ideal training ground – and they are consistent. 
Orbzii tip: Don't be too shy to embrace alternatives. Boogie boards get you in the water – and waves, if you haven't quite perfected your pop up. 
When to go
When do the big waves hit Hawaii? Well, you're looking at year round swells on the most reliable beaches. But for the REALLY big waves? You're looking at winter in Hawaii. This is when the big competitors head to the islands for the pro surfing competitions. November through to February could be considered peak wave season, though the waves can keep coming right through until April. The real question could be, where to go. The biggest waves crash on the north shores. And, usually, Oahu is the pick of the islands for pro-competitions. Though, with the influx of spectators, surfers and organisers, accommodation prices tend to rise too.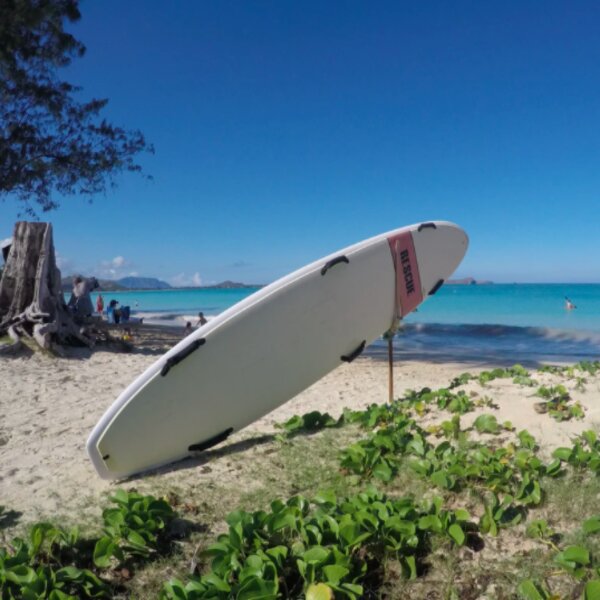 Lessons
Surf Yoga Maui
If Kalama Beach Park is just the stretch for your first surf lessons in Hawaii, it makes sense to find a nearby surf school. And, there are plenty to choose from. Our first pick? Surf Yoga Maui. The crew here approach things a little differently. But it's their focus on low student numbers that stands out. That and the yoga mingled with surf tips. Being flexible really helps – so it only makes sense to get some serious stretches into your surf know-how. Private lessons start at $165, semi-private lessons (for a family or couple) start at $115 and group lessons are $75.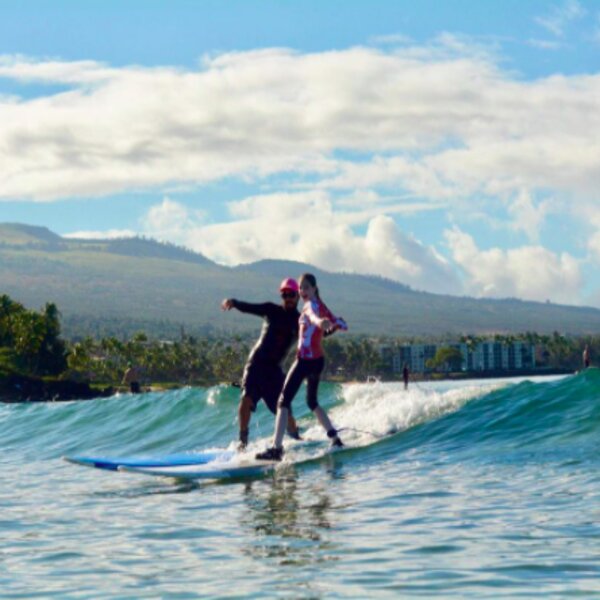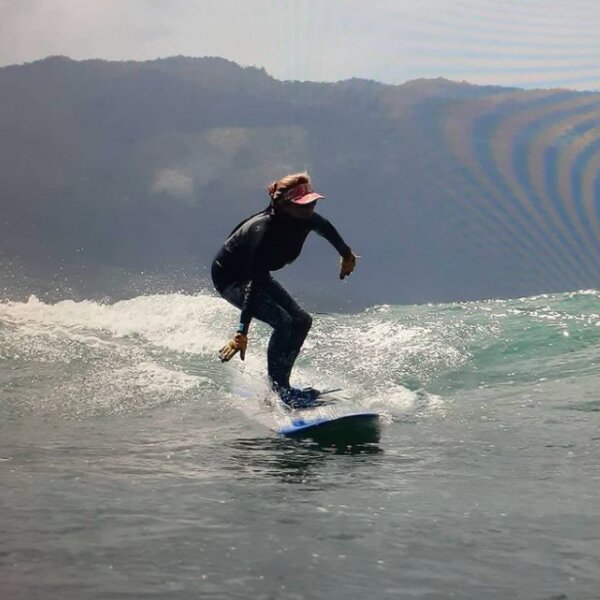 North Shore Surf Girls
If you've mastered the basics, the North Shore Surf Girls on Oahu have a range of lessons, options and tours. Yes, they cater for beginners, but being taught some pro-surf moves by ex-movie stunt doubles sounds appealing. As does their turtle and surf tour package, where two hours of surf lessons is combined with turtle encounters of the eco-friendly kind. Boards, rash guards, wetsuits and lifejackets are included (where needed) and at $189 it feels like good value for money. Their lessons? Group lessons start at $59.95 for 1 hour. Private lessons start at $119 for an hour or $189 for 2 hours. 
Orbzii tip: North Shore Surf Girls do request that you wear reef friendly sunscreen. It's worth investing in one if you're going to be spending any time in Hawaii's waters. Look for brands that are free of oxybenzone. 
Kauai Surf School
Let's talk big brands. Even those yet to dip a toe in the water are likely to be familiar with Billabong. And, the Kauai Surf School comes with that all important big brand affiliation. But what does that really bring. Well, on Kauai it's the chance to attend a surf camp where you'll learn techniques from one of Billabong's top sponsored riders. Sounds good? You'll need to be keen. It's a 6 day camp out at $200 a day. But that does bag you other experiences. Just in it for the lessons? The surf school has just about every package imaginable. Beginners can start with group lessons for $75 or private at $250 (1.5 hours). More experienced? The Surf Escort package – $300 for a half day – bags you coaching from a professional surf instructor, along with local knowledge of reefs, waves and conditions.