If you​'​re expecting Tenerife golf holidays to serve up a few mediocre rounds in the sun, jet in and let these courses prove you wrong. Yes, the setting serves up the sun and sea views you​'ve come to expect from holiday golf, but the courses themselves? Technical and pitted with some slightly different hazards than the ones you​'​re used to on your home course – but hugely enjoyable.
With just 9 golf courses to choose from, you could nip around the island and play them all. But there​'​s an off shore beauty that outshines all but the best Tenerife golf courses. And, if you are in the market for some suitably chilled holiday golf, of course, you​'ll find that here too. But flying all this way, golf clubs in tow? Give the true tests a look for a round you​'ll talk about in the 19th hole for years to come.  
Best Golf Courses in Tenerife
Part of Abama​'​s lure is the prestige of playing on the Ritz Carlton-tied Championship course. Whether that prestige is worth the hefty green fee is another matter. Still, the millions spent on the greens, fairways and hazards make this a tricky play that elevates it above the standard holiday golf fare. Perched on the west coast, the course designers have absolutely made the most of the views. Which is handy, because there​'​s little they could do about the undulating terrain.
It​'​s fair to say the blind spots, sneaky bunkers and fast greens will test you to your limits. So if you​'​re in the market for a truly taxing game – this is the place to swing your clubs. Bring your strategy A-game, a big budget and perhaps even your camera to capture the views. The most beautiful course on the island gets its allure from 22,000 palms and 20 lakes. All of which are ideally placed to send your drive completely off course.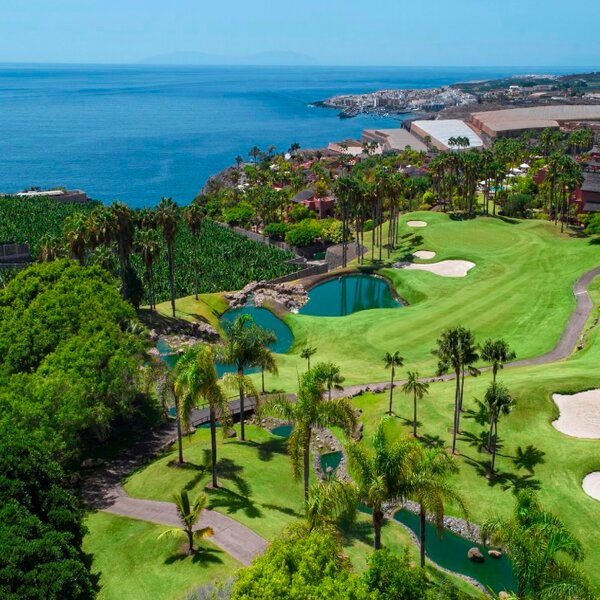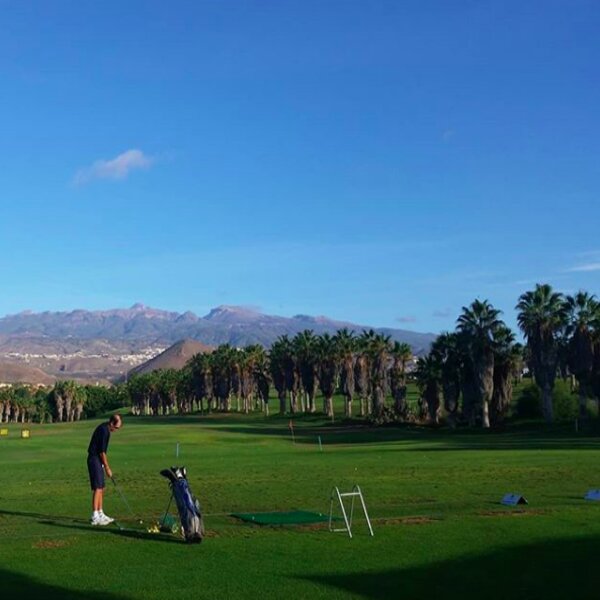 Golf Del Sur
Before you even tee off at Golf Del Sur, you​'​re well rewarded. Three nine hole courses can be combined into three 18 hole rounds. A plus if you​'​ve omitted a hire car from your Tenerife golf break. Each course has a balanced mix of yardage and pars – so nothing gets too strenuous – another tick in the always balmy Tenerife golf box. Del Sur starts to get interesting when you find yourself on the north nine.
The 3rd hole, a foxy par four, has received critical acclaim worldwide. And is worth a game at Golf Del Sur alone. The fairways are generous here – but watch out for the winds. The black sand hazards are an unusual sight – and make any bunker shots tricky. The course, volcanic sand doesn'​​t play quite as you'​​d expect.  
Buenavista
Keep your golfing wits about you at Buenavista. Everything is out to distract you. Even the drive here – an hour through the island​'​s steep mountain slopes threatens to see you ditch the game and sightsee instead. Though you​'​ll be missing out on a beauty. Very much taking its aesthetic cue from nearby Teno Country Park, this course is packed with views, views and more views.
So much so, that​'​s it​'​s easy to forget that the hugely enjoyable course was designed by Seve Ballesteros. Not a name to be dallied within golfing circles. Seve​'​s course definitely challenges you – but never so much that you​'​ll feel frustrated by it. A course for holiday golfers, which, on a Tenerife golf holiday, is probably just what you​'​re after.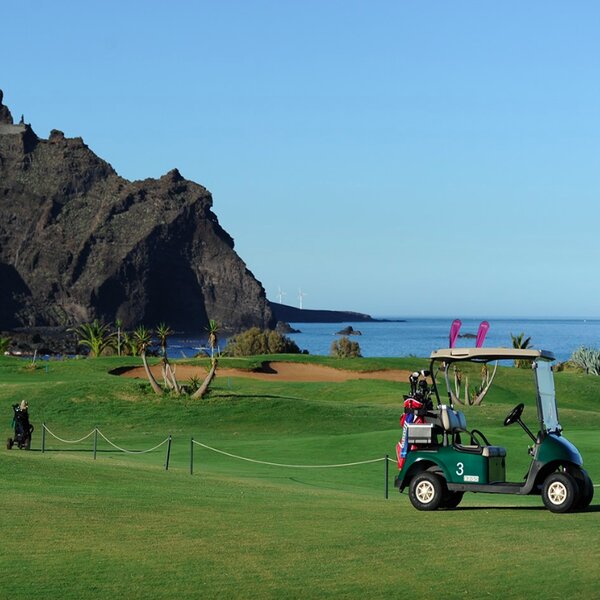 Go the extra mile…
From Tenerife​'​s Abama golf course you get a more than reasonable view of La Gomera. Nestled away on that isle lies one of the Canary Island​'​s best courses. Ok, so it'​​ s not in Tenerife. But that'​​ s just a matter of exchanging a couple of hours of your time and ​€​17 to get there. Ferries run from Los Cristianos – and will bring you back the same day. Expect to pay ​€​27 each way if you​'​re taking a hire car.   
First impressions don​'​t serve Tecina well. But don​'​t panic, the clubhouse and car park will be of little concern once you'​​re taking in the sea views from this cliff top course. You could be tempted to rank this as one of the world​'​s best courses. But is it the spectacular setting, the attention to botanical detail or the glimpses of Mount Teide in the distance that'​​ s swaying your heart? One thing that won​'​t trouble your ticker? The walk. A shuttle service takes the strain out of the climb to the first tee – and it​'​s all downhill from there. The gradients are subtle though, definitely something to factor in on the greens.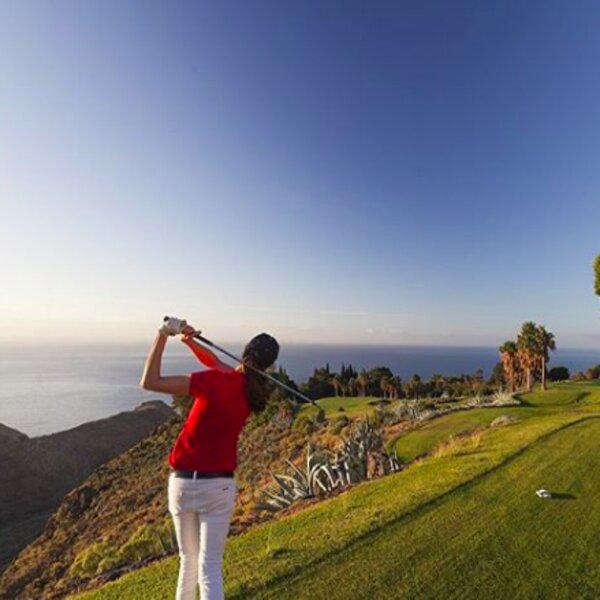 Beginner's golf breaks in Tenerife
If you​'​re not quite ready to stride the fairways on Tenerife​'​s golf courses, you​'​ve still got options. Abama and Buenavista have academies or golf schools to get you started. Or, if your swing​'​s a bit rusty, the driving ranges at Golf Costa Adeje and Golf Del Sur are a good shout.   
If you​'​re deeply concerned that your wayward shots will carve up the carefully manicured fairways, book yourself in to ​Peter Luyten's golf academy. Yes, some of his expert tuition takes​ place on a putting green – but you​'​ll do little damage there. The real draw is the 9 holes of play on a golf simulator. You can swing, thwack and generally hack your way to a better game without bellowing a panicky FORE! after every shot. Actually, a couple of hours in his company won'​​ t do your handicap any harm and the simulator​'​s well shaded from the often soaring temperatures.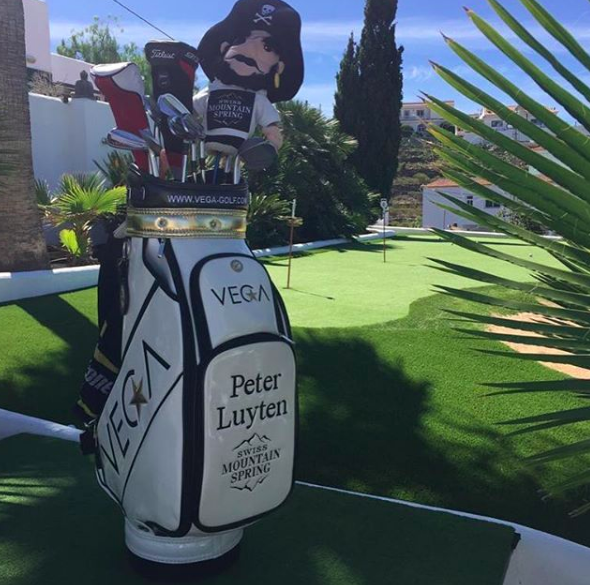 Mini Golf
Golf breaks in Tenerife rarely come with a mini golf recommendation. And, arguably, rightly so. But we​'​re not entirely talking crazy golf here. We​'​ll get to that in a second. No, we​'​re talking a cheeky pitch and putt session.
Head north where you​'​ll find a cheap and cheerful pitch and putt at Golf La Rosaleda. With more and more facilities being added, we can see this one soon stepping out of the best kept secret shadows. And, if you are on the island with family and friends – and can​'​t quite argue the case for yet another round, – a game or two of mini golf might just curb your cravings. Nothing will match the greens at Buenavista, but you​'​ll be able to get competitive, practise your putting at Parque Santiago Mini Golf  and Vivo Mini Golf.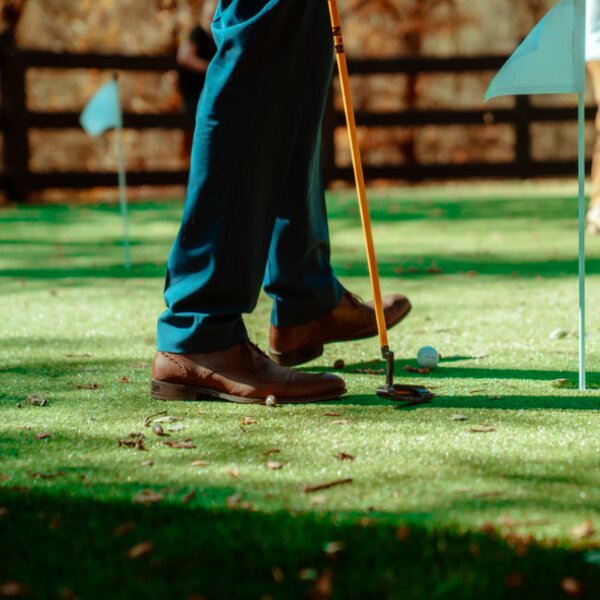 Suncream and golf spikes all packed? Now all you need is the Orbzii app on your phone. From there, you can dream, plan and book your way to the first tee.